Truex Gets Big Win At Sonoma
Sprint Cup: Truex's win special to Waltrip
Once upon a time there was a driver in NASCAR's top series who had gone 462 races without a victory, 15 seasons without finishing better than 12th in points and two straight seasons without finishing better than 27th.
A very famous owner gave him a ride anyway.
The driver rewarded the owner by winning the biggest race of the season, the Daytona 500, only the owner never got to see it happen because he died helping the driver he stuck by -- when others wouldn't -- get to Victory Lane.
Now, that driver is an owner, sticking by another driver who, until Sunday at Sonoma Raceway, felt much of the frustration the owner once did -- maybe more -- because this young driver had been much closer to wins and victories than his owner ever was before his breakthrough.
Michael Waltrip wasn't blocking potential contenders from catching his driver as Dale Earnhardt did for him at Daytona International Speedway in 2001, but there's no discounting the role the owner of Michael Waltrip Racing played in ending Martin Truex Jr's 218-race losing streak.
He showed the same faith in Truex that Earnhardt showed in him.
And, on Sunday, Truex rewarded him with a trip to Victory Lane that Waltrip never got to share with his boss.
"I built my team with Dale in mind," an emotional Waltrip told reporters at the 1.99-mile road course buried in the vineyards of California. "[Earnhardt] lives with me. He's part of who I am because I just appreciated who he was and how he went about things.
"We tried to build a cool shop like he built. I try to motivate and inspire people by showing them how much I love this sport and love this organization."
Waltrip was reminded of that when he leaned into Truex's window and saw tears.
He was reminded of the legend who stuck by him.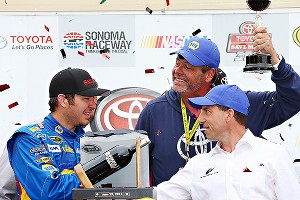 Todd Warshaw/Getty ImagesMartin Truex Jr., left, and Michael Waltrip celebrate a landmark win together.
"So it took me back to 2001, and while that was a really tough day, it was also a special day for me because I've learned something over the years," Waltrip said. "If I'm running third in the Daytona 500 and Clint [Bowyer] and Martin are going off to win and that's the end of my road, just know I went away happy.
"That's how I live with what happened to Dale is he was watching me and Dale [Earnhardt] Jr. go do what we did. I hate to bum up the moment, but damn, it was really special for me to see Martin today."
No need to apologize.
Sunday was a reminder for a lot of things. It was a reminder that Truex, a two-time champion in the Nationwide Series, is more talented than his two Sprint Cup wins indicate.
It was a reminder that four-time Cup champion Jeff Gordon, who rallied to finish second after falling to 37th following an early pit-road mistake, remains one of the best road-course drivers in the series.
Gordon's also still a threat for the Chase, moving up to 13th in points, only 12 behind Truex for the 10th and final guaranteed spot in the 12-driver playoff.
It was a reminder that Kurt Busch, who finished fourth despite two pit-road speeding penalties, is going to demand a look from sponsors and top organizations for 2014 if he decides to look outside Furniture Row Racing.
If Richard Childress Racing wants to return to the level it was on when Earnhardt won six titles, its owner will sign Busch today and convince any potential sponsor that the wins will overshadow any conflict the driver might or might not get into.
If Busch handled all his adversity the way he did Sunday's, he wouldn't even be in this position. He was penalized twice for speeding on pit road. His response?
"Yeah, we were fast, even on pit road -- twice," the 2004 Cup champion said, poking fun at himself instead of somebody else. "I messed up -- flat out."
Sunday was a reminder that this Chase to the Chase might be the best ever. Eight drivers are within 35 points of the top 10. Two -- Kasey Kahne in 12th and Tony Stewart in 15th -- have at least one victory.
Truex has gone from 17th to 10th in two weeks.
Sunday was a reminder that there are many quality drivers who have gone several years without winning. Jeff Burton is on a 165-race winless streak. Juan Pablo Montoya, who was poised for second until he ran out of gas on the final lap, hasn't won in 102 straight.
Jamie McMurray, who in 2010 won the Daytona 500 and Brickyard 400, hasn't won in 93 straight starts. Busch is at 68 in a row.
But, most of all, Sunday was a reminder that if you believe in somebody and stick by that person, you both might reap benefits.
In Truex, Waltrip has a driver with far more potential than he ever had himself. He has a driver who, through the humility of finishing second six times between Sunday and his 2007 win at Dover, has the demeanor it takes to contend for a title if given the right equipment.
Not once did Truex panic or worry that the horrible late-race luck that has cost him a shot at multiple wins the past few seasons would last forever.
Not once during the past few seasons has Waltrip considered giving up on his driver, another reason being there when Truex took the checkered flag was so important.
"He had just come onto pit road, and I leaned in and there were tears in his eyes, and you could feel the elation and the joy and the relief," Waltrip said as he recalled the moment for the second or third time. "And as I did that, it took me straight back to 2001 when I finally pulled into Victory Lane and was able to briefly celebrate what was the greatest racing day of my career.
"I saw all that same emotion and the same feeling in Martin. I'm glad I got to experience that, and it reminded me of a special day."
And another special owner who once upon a time gave Waltrip a chance when his statistics didn't suggest he deserved one.
ESPN Staff Writer
Covered Panthers, NFL for 11 years
More than 25 years experience covering NFL, college football and NASCAR
Joined ESPN in 2006
Nationwide: Allmendinger Earns Emotional Win
Nationwide: Allmendinger's day
This is one time when there are no complaints that a Sprint Cup regular -- or former regular who is now a Cup irregular -- won a Nationwide race.
AJ Allmendinger is on the comeback path, and Saturday's win at Road America was a big step.
A year ago at this time, Allmendinger was a few weeks from being suspended indefinitely for failing a drug test prior to the July race at Daytona International Speedway. He subsequently was released from his Cup ride at Penske Racing.
But unlike Jeremy Mayfield, the only other high-profile Cup driver to fail the random drug test that is part of NASCAR's substance abuse program, Allmendinger has done everything he can to make a comeback.
He completed the sport's Road To Recovery Program and was reinstated. He was given a second chance by team owner Roger Penske in his IndyCar program -- including an entry in the Indianapolis 500 -- and by James Finch to run some Cup races for Phoenix Racing.
That led to Saturday's Nationwide race for Penske, who always said he would give Allmendinger another opportunity in NASCAR if the right one came around.
Allmendinger repaid Penske with his first win in NASCAR at any level.
"It's just meant the world to me," Allmendinger told reporters from the Wisconsin track. "This was the only way I could repay him. I was trying so hard out there -- and, at times, probably over-trying."
That's why there are no complaints that a non-Nationwide regular won. Allmendinger is working his way back into the sport, not dominating in the Cup series and dropping down to rack up wins.
He is proving the Road to Recovery program is not a dead end for a driver's career, that second chances can be had in NASCAR just as they can in other sports.
He has Penske to thank. Many owners never would have given Allmendinger, average at best during his previous tenure in the Cup series, another shot.
Penske has given him several.
"I wouldn't have thought twice if he would have just kind of wrote it off and not called and went on," said Allmendinger, who said the failed test was the result of taking one Adderall pill from a friend. "He's got so much going on in his life, but he just kept checking up on me.
"I didn't expect anything from it. It was just nice to have a friend, somebody that I could bounce ideas off of."
Those in the Nationwide championship hunt got a second chance when points leader Regan Smith finished 32nd on Saturday to see his lead shrink from 58 to 28 over Justin Allgaier and 30 over Sam Hornish Jr.
Next up for the series is Friday night's race at Kentucky. Next up for Allmendinger's NASCAR comeback with Penske is the Aug. 15 Nationwide race at Mid-Ohio.
Camping World: Cup stars cometh
Truck Series regulars, beware. Cup series stars Brad Keselowski and Kyle Busch will be in the field for Thursday night's race at Kentucky Speedway.
It apparently has become an Ironman-like challenge for drivers to run in all three series -- Sprint Cup, Nationwide and Trucks -- on the same weekend. The track apparently likes the idea, too.
"Having two of our most successful drivers square off for all three of our races certainly ratchets up the intensity for our weekend,'' Kentucky Speedway general manager Mark Simendinger said when the drivers committed. "Both Kyle and Brad won't be satisfied unless they win them all.''
Unfortunately, one of them probably will win -- at least in Trucks -- because they are that much more talented.
I know. I wrote how impressive it was that Busch won all three races at Bristol in August of 2010. It really was. No driver had won all three races in the same weekend. It was history.
But the novelty has worn off. Let points leader Matt Crafton, second place Jeb Burton and the rest of the Truck regulars fight it out in Kentucky. We don't get to see them every week like we do the Cup regulars.