Jimmie Johnson Sweeps Daytona
Sprint Cup: Chasing Johnson and Kenseth
The halfway mark is here. Still eight races to the Chase, but is this already a two-man race for the championship?
It sure looks that way with Jimmie Johnson and Matt Kenseth as the standout stars in the first half of the 2013 Sprint Cup season.
After a late red flag and two big wrecks on the final lap, Johnson survived the carnage to win Saturday night at Daytona in another dominating performance by the No. 48 Chevy team.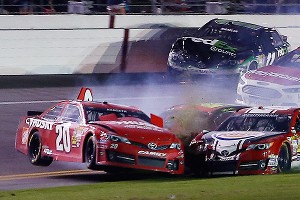 Tom Pennington/Getty Images)Matt Kenseth (20), a four-time winner in '13, limped to a 33rd-place finish Saturday night at Daytona.
It made Johnson the first driver in 31 years to win both Daytona events in the same season and the only man to do it in the restrictor-plate era.
Johnson has a 49-point lead over Clint Bowyer in the season standings, but more important, he tied Kenseth with four victories. Chase seeding is based on victories.
"When we get in the Chase, there are certain feelings that seem to come around," Johnson said Saturday night after his victory. "Right now, it's really about managing your team, managing your car, developing the car and things like that.
"I feel good. As we get later in the summer, if we're winning races then, the right feeling will start to come along. It's still a little early, and we're obviously trying to get every point we can to carry into the Chase with bonus points. But we have a little time before we focus in on that feeling."
Let's take a look at what stands out with half the season in the books:
• Kenseth made the best decision of his career -- Moving from Roush Fenway Racing to Joe Gibbs Racing this season seemed like a bit of a risk at the time for Kenseth.
He left the No. 17 Ford team, which made the Chase seven of eight years and won the title the season before the Chase started, for the No. 20 Toyota team, which failed to finish better than 16th in the four years Joey Logano was the driver.
But Kenseth has fit in perfectly at JGR. This is the first time in his 14-year career that he has posted four victories in the first 18 races. His career best for a season is five wins, which he likely will surpass this year.
• Johnson is racing like a five-time champ -- He's as good as he has ever been, except for restarts. Johnson easily could have won four of the past six races if not for getting outmaneuvered on late restarts.
The car has been dominant over the past month. Rarely is one machine so clearly better than the others in a restrictor-plate race as the 48 was Saturday night.
Of course, that leaves Johnson's critics plenty of ammo to claim he's just a lucky guy on a great team. Total baloney. He will go down as one of the best race car drivers ever to sit behind the wheel.
• The points system still needs some work -- Bowyer is second and Dale Earnhardt Jr. is fifth in the standings, and neither driver has won a race. Kenseth is sixth with four victories.
That just ain't right. It won't matter as to how they start the Chase, but it shows how a driver still could win the playoff without winning a race. And it proves why the Chase playoff is better than the old system of total points deciding the championship.
More from ESPN.com

You could see it well before the checkered flag flew Saturday night at Daytona. Jimmie Johnson wasn't just the driver to beat, he was the driver who couldn't be beat, writes Ed Hinton. Story
• SportsNation: Can anyone pass JJ?
• Kurt Busch deserves another top-tier ride -- Busch's performance this season in the No. 78 Chevy is nothing short of remarkable.
At the halfway point a year ago, Regan Smith ranked 26th in the standings without a top-10 finish for the Furniture Row Racing team. Busch has eight top-10s, including four top-5s, and ranks ninth in the standings.
He could become the first driver to make the Chase for a single-car team, although the Denver-based organization does have an affiliation with Richard Childress Racing.
"We have a long way to go, and yet, we still are getting better," Busch said after his sixth-place finish Saturday. "I'm just real proud of these guys and the effort that we've put forth.
"It's paying off. We've made mistakes here and there, but we're putting it together now and it's starting to bear the fruit. We moved into the top 10 in points, so that's pretty cool."
• Danica Patrick is a good plate racer, but ... -- Patrick probably was headed for another top-10 finish at Daytona on Saturday night (she was eighth in the Daytona 500) before getting caught up in the last-lap crash. But she has struggled at most of the races this year in her rookie season.
Patrick is 25th in the standings, which doesn't sound so bad, but it's the lowest rank of any driver on a quality team that has raced in every event.
However, boyfriend and fellow rookie Ricky Stenhouse Jr. hasn't been much better. He's 18th in the standings without a top-10 in the No. 17 Ford that Kenseth drove last year. Both his Roush Fenway Racing teammates rank in the top 10 -- Carl Edwards is third and Greg Biffle in eighth, and both have a victory.
• This could be the best race to the Chase ever -- Tony Stewart is 10th, but he's only 16 points ahead of Joey Logano in 15th, and Stewart is only 42 points ahead of Jeff Burton, who is 21st in the standings.
Martin Truex Jr. and Kasey Kahne hold down the wild-card spots for now with one victory each. Defending champ Brad Keselowski and four-time champ Jeff Gordon are outside looking in, but one win could change things for either of them.
Anyone in the top 21 still has a shot. Sadly, Denny Hamlin is not among them. Hamlin's nightmare of a season continued Saturday at Daytona -- he wrecked twice, including a brutal head-on collision with the outside wall before getting slammed into the air when he was T-boned by AJ Allmendinger's car.
Hits like that can't be good for Hamlin's previous back fracture, which kept him out of four races earlier this year.
ESPN Staff Writer
Covered the NFL at the Houston Post and Houston Chronicle, including eight Super Bowls
Received Citation for Writing Excellence from Hearst Newspapers
Also has covered NBA Finals, World Series, Finals Fours, Indy 500 and Daytona 500
Nationwide: Matt Kenseth Denies James Buescher
Nationwide: It's Kenseth's turn
Matt Kenseth showed he can win in more than one Joe Gibbs Racing car this season. He earned his first Nationwide Series victory of the year Friday night at Daytona, which was his first Nationwide win in a Toyota.
But it was the seventh JGR victory in 16 Nationwide races this year, including the six wins for Kyle Busch.

Kenseth
Obviously, all seven of those races were won by Cup stars. Cup drivers have won 11 Nationwide events this year. Friday was the ninth consecutive win by a Cup competitor in the summer race at Daytona.
JGR has two full-time Nationwide drivers this season in former Cup regulars Elliott Sadler and Brian Vickers, but neither of them has a victory. Sadler is third in the standings, only 14 points behind leader Regan Smith in the No. 7 Chevy for JR Motorsports. Vickers is seventh, 53 points behind Smith.
Sam Hornish Jr. is second, only six points behind. Smith had a 58-point lead over the field after his victory at Michigan on June 15 before two finishes of 30th or worse narrowed his advantage, but he earned his 12th top-10 of the year with an eighth-place showing at Daytona.
Only 17 drivers have competed in every Nationwide race this season. Maybe the most impressive has been rookie Kyle Larson, who ranks sixth in the standings with 11 top-10s, including four top-5s.
Camping World: Bound for Iowa
The Camping World Truck Series wasn't part of the July Fourth weekend fun but will be back in action Saturday at Iowa Speedway.
Ty Dillon, the CWTS rookie of the year in 2012, earned his first victory of the season last week at Kentucky Speedway. The win moved Dillon up to third in the standings, 40 points behind leader Matt Crafton and 18 points behind 2013 rookie Jeb Burton.
Dillon
Crafton is the only driver this season to finish in the top 10 in all eight races. His 10th-place showing at Kentucky was his worst finish of the season, which isn't bad, obviously.
But Crafton managed to turn some heads one night later when he finished third in the first Nationwide Series start of his career. At age 37, it's surprising Crafton hadn't raced in a Nationwide event earlier, but he didn't want to do it unless he had a quality ride.
Crafton had good equipment in the Kentucky race, driving the No. 33 Chevy for Richard Childress Racing. Seven drivers have raced in the 33 this season, but the only men to post a better finish than Crafton were two Cup veterans. Tony Stewart won the Daytona opener in the car, and Kevin Harvick finished second at Richmond.
Brendan Gaughan, who drives the No. 62 Chevy truck for RCR, has had possibly the most unusual season so far this year in the CWTS. Gaughan had five consecutive top-5s without a victory, but he ranks only seventh in the standings because of two finishes outside the top 25, including 27th at Kentucky.