Brian Vickers Wins At New Hampshire
Sprint Cup: Opportunity won -- and lost
What we saw and heard on Sunday was a 1-2 finish for genuine humility by two drivers who haven't always expressed that, or felt that.
Brian Vickers gushed gratitude for a career second chance that landed him in Victory Lane at New Hampshire Motor Speedway -- which in turn will likely launch him to a full-time ride with Michael Waltrip Racing next year.
Over on the pit road, postrace, second-place Kyle Busch essentially thought out loud with self-doubt -- a sort of helplessness, not because of his car but his own ability as a driver.
Usually this sort of thing comes out later, after the telecast has signed off, back in the more in-depth interviews inside the media centers. This time it all came out so freely that it was mostly said and done in front of the TNT cameras, minutes after the race.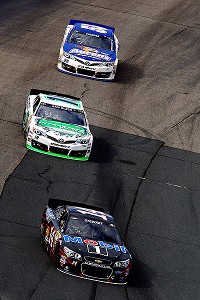 Jared Wickerham/Getty ImagesTony Stewart leads Kyle Busch and Brian Vickers during Sunday's Sprint Cup race at New Hampshire.
First came Busch, just after being left behind easily by Vickers on a green-white-checkered restart, largely because Busch had used up his tires.
"I just -- man, I don't know -- I think we were the fastest car out here today, definitely on short runs," Busch lamented to TNT, eliminating the car as an excuse, up front.
"I guess I burn the front tires off it when we're here," he continued. "I don't know what the deal is, but I definitely cannot -- we're out front, we're leading, we're doing fine, and when I get to lapped traffic, I can't turn anymore.
And that's when the leads evaporated on the long runs.
"It's just … how my driving style is, I guess, but I hate it because we have such a great car here [each time he comes to New Hampshire]."
He gestured toward his crew behind him and said, "These guys deserve to be in Victory Lane, and I -- I don't know what to do on the long runs, man, that's all there is to it, that's our day. Just got to get better and figure out what I've got to do in order to pass lapped cars."
Back when Vickers and Busch were prodigies, prima donnas, even teammates with Hendrick Motorsports in 2005-06, neither endeared himself to the public or his peers, what with an abundance of, well, early self-assuredness.
Both have learned humility the hard way, Busch with his myriad public tempests, but Vickers even harder, much harder: He bolted to the Red Bull team in '07, won only once in five years, then, three years ago, had to sit out much of a season with bizarre formation of blood clots in his lungs and legs. And then Red Bull folded out from under him after the 2011 season.
And so, in Victory Lane on Sunday, he was asked about "the road you've traveled."
"It couldn't have been filled with more trials and tribulations," Vickers confirmed, but wouldn't have another whit of self-pity, moving quickly to gratitude for the man who'd towed him out of the ditch of his troubles, Ty Norris, general manager of Michael Waltrip Racing.
"I gotta thank Ty for making that phone call and giving me the chance," Vickers said. "And Rob [Kauffman, Waltrip's financial backer] and Michael for believing in me."
He had fallen a lap down Sunday after a crewman left a wrench on the car and drew a penalty, but the Toyota was just sooooo good…
"We had a mishap in the pits and it got us a lap down, but we made it up," he said, his tone implying the ease of it all.
Enough analysis -- he needed to gush some more.
"Man, just thank God for the chance and the opportunity to come back, and this team and Rodney [Childers, the crew chief Vickers has known since he was 8 and Childers worked on his go-karts], and everyone believing in me and giving me a second chance.
"It means the world."
Asked whether this locked him in to a full-time ride with MWR next season, Vickers wouldn't back off the humility, even though Childers had just called it "a done deal" on the pit road.
"Nothing's guaranteed in life," Vickers said. "I've learned that the hard way. Even when you think it's done, it's not done. But this definitely goes a long way."
Norris, back in the media center afterward, told reporters just how far this win had gone toward the deal.
"Michael has made no bones about it," Norris said on behalf of Waltrip, who was in England participating in a speed festival. "In the last 30 to 45 days, he talks a lot about Brian as being the candidate that we want to go ahead and try to get moving forward with.
"All I can tell you," Norris continued, "is that wins help a lot in this business, and so this was a great day for that."
Nationwide: The Rundown from New Hampshire
Nationwide: The Kyle Show
In the Busch series -- Kyle is so dominant we might as well return Nationwide racing to its previous name -- Rowdy is batting .500 again.

Busch
Poor guy had been slumping. He'd gone four Nationwide races without a win. But he pulled out of his tailspin Saturday at New Hampshire Motor Speedway.
And now he has won seven of the 14 races he has entered this season. More than that, when Busch drops down to cherry-pick in the second-tier series, he doesn't just win. He knocks whole races out of the park.
For the seventh time in seven wins, he led the most laps -- this time 141, and he might have led closer to the full 213 if not for a tire-changing problem on his first pit stop that dropped him out of the lead for a while.
At least the triple green-white-checkered finish, which accounted for the 13 extra laps, provided some suspense at the end. Each time the yellow came out before the white, in each overtime, you could see crew chief Adam Stevens cringing mightily on the pit box.
They had a car that could overpower everybody else on restarts. Fuel was the issue.
"It was for everybody," Busch said to reporters at the track, of a finish when overtime bred overtime -- on the first G-W-C, Landon Cassill ran out of gas and stalled on the track to cause the second G-W-C.
The finish hurtled toward absurdity when Parker Kligerman got stuck in the infield mud because of a four-car wreck that necessitated the third and final G-W-C.
So this was a Kyle Busch runaway that didn't feel like one at the end.
"You just never know how much [fuel] you're saving when you're out there running around making laps," Busch said.
Turned out he had saved plenty, including enough for his burnout -- which the ESPN telecast crew rated one of his best -- and he was able to motor on into Victory Lane ... for what added up, G-W-Cs and all, to another dominant win in the Busch series of 2013.
Camping World: Peters on a roll
Yet another teenager flashed promise in Trucks on Saturday night, but veteran Timothy Peters held on for his second straight win at Iowa Speedway.

Peters
Peters, 32, first held off Ty Dillon, 21, on two late restarts. Then along came 17-year-old Erik Jones to win a duel for second place with Dillon, then take off after Peters in the final three laps.
Jones was driving in only his third Trucks race, and previously had two ninth-place finishes.
As Jones and Dillon battled with three laps left, Dillon's truck skated up, scraped the wall and fell back. Dillon later told Fox Sports reporters Jones didn't give him enough room.
"I feel like we gave him plenty of room," Jones told Fox. "We saw the replays. I thought we didn't take his line away. I felt like he had room out there and he got up in the wall. Just really a racing deal."
The Jones-Dillon battle let Peters slip out to a cushion up front, but Jones ran up to finish only .225 of a second behind.
The win was Peters' first this year, in what has been a hard-luck season.
"I was kind of fussy all night because I really couldn't drive the truck like I wanted to in the corner," Peters said in Victory Lane. "It would get really, really loose. Butch [Hylton, his crew chief] made a great call at the end there to put two [tires] on, and it tightened up where I could get that great restart and hustle into [Turn] 1 like I needed to."