Logano Holds Off Harvick At Michigan
Sprint Cup: Should Earnhardt be worried?
For months, Dale Earnhardt Jr. has appeared to be a lock to make the Chase, so comfortably inside the top 10 who are guaranteed a spot in NASCAR's 10-race playoff that neither he nor his nation of fans needed to worry.
Well, it's time to worry.
NASCAR's most popular driver finished 36th on Sunday at Michigan International Speedway, his second straight run of 30th or worse. While he's at No. 7 in the Sprint Cup standings, he's only 20 points away from 11th place with three races left in the regular season.
Without a win, the No. 88 team's margin for error has been reduced to one more bad finish (wins are the first tiebreaker for the Chase's two wild-card spots).
Is Earnhardt worried? He didn't sound like it on Sunday after a blown tire sent a potential race-winning car to the garage for repairs after leading 20 laps.
"There are guys in worse positions than us," said Earnhardt, who has fallen from fifth to seventh in the standings the past two weeks. "We ain't got to outrun just one guy; there's a lot of guys. And all of them have got to have clean races, just like we do. I think we'll be all right."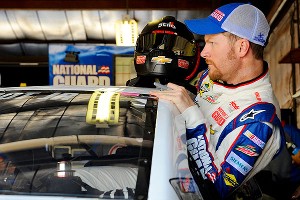 Jared C. Tilton/Getty ImagesDale Earnhardt Jr. on his recent spate of bad luck: "We're a top-5 team. We're consistent. We're more consistent than most. We've just got to shake this luck, whatever is going on."
He's right. There are drivers in worse positions. Joey Logano won on Sunday but is in 13th place, seven points behind Martin Truex Jr. for the second wild-card position. Reigning champ Brad Keselowski is eighth in points without a win, and 2004 champion Kurt Busch is ninth without a win.
But the difference between Keselowski and Earnhardt is down to 12 points, while Busch is only two points further back. Keselowski has three straight finishes of 12th or better, and Busch has three straight top-10s, including a pair of thirds.
Logano is hot, as well. The win gives him four straight finishes of eighth or better.
So expecting them to slip down the stretch might be a stretch, particularly on Saturday night at Bristol Motor Speedway. Keselowski was third at the half-mile track in the spring race and has won twice there since 2011. Busch was fourth there in the spring and is a five-time Bristol winner.
The good news for Earnhardt is he was sixth at Bristol in March, and the bad finishes at Watkins Glen and Michigan were not due to a lack of bad cars. He was headed for at least a top-15 at Watkins Glen before being caught up in a late-race crash triggered by Matt Kenseth getting into Marcos Ambrose.
Earnhardt likely would have been a factor for the win at Michigan.
And in the two races prior to that, he had finishes of fifth and sixth.
"We're not an 11th-place team," Earnhardt told reporters firmly at MIS. "We're a top-5 team. We're consistent. We're more consistent than most. We've just got to shake this luck, whatever is going on. It's something different every time.
"We've got good speed and we've just got to keep our head up and keep working hard and things will be all right."
Still, the next three weeks will be a nail-biter for everyone from Earnhardt to Ryan Newman (in 15th place with a win). One blown tire, one bad pit stop, one engine failure could be the difference between being a bystander for the Chase and a contender for the championship.
It can be as simple as what happened to Earnhardt on Sunday.
"It was down on the splitter getting into the corner," Earnhardt said of the tire. "I got it slowed down pretty good and then started getting close to the wall and put a little brake in it and it blew the tire out.
"It had a slow leak, and I don't know. ... We have had a lot of problems with this particular tire and it's getting frustrating."
That Earnhardt remains upbeat helps even though he said several times it's "kind of frustrating."
It will be that way for every driver on the bubble, and Earnhardt suddenly finds himself on it after ranking fifth in points with a 62-point lead on the 11th-place driver three weeks ago.
"It's a competitive sport and we've got some good teams behind us," Earnhardt said. "We are not sitting here with everybody in the distance. It's just a little closer than we would like it to be, but it's still 20 points. That is half a race ... so we got three to go; we should be all right."
But he added, "If we keep having bad luck, we can't do nothing about that."
Not with the margin this close.
ESPN Staff Writer
Covered Panthers, NFL for 11 years
More than 25 years experience covering NFL, college football and NASCAR
Joined ESPN in 2006
Nationwide: Allmendinger Wins At Mid-Ohio
Nationwide: Five observations ...
Five observations from Saturday's inaugural Nationwide Series race at Mid-Ohio Sports Car Course:

Allmendinger
• Winner AJ Allmendinger deserves a full-time ride in the Sprint Cup Series.
With two road course wins in Penske Racing's No. 22 Nationwide car and his performance in the Cup series for Phoenix Racing and JTG Daugherty Racing, he has more than earned the opportunity.
Penske Racing doesn't plan to expand to three or four Cup teams, so Allmendinger's best shot likely is the No. 47 for JTG since Bobby Labonte is in the final year of his deal. The company needs to take a chance on a young up-and-comer, and Allmendinger fits the bill.
"In a way, I feel like I'm playing with house money because I never expected to be back here at this level," said Allmendinger, a year removed from being suspended for violating NASCAR's substance-abuse policy and losing his Cup ride at Penske. "I'm just taking it all in and having fun with it."
• Mid-Ohio deserves to be back on the Nationwide schedule in 2014 and under consideration for a Cup event down the road. The Nationwide and Cup series need more road courses, and the action we saw on Saturday is evidence this track can handle a big event.
• By coming back from three laps down to finish 14th, Kyle Larson showed why Earnhardt Ganassi Racing must give heavy consideration to putting him in the No. 42 Cup car being vacated by Juan Pablo Montoya after this season.
And by getting into it with Max Papis on the final lap, the 21-year-old Larson also showed there will be growing pains; he had an amazing top-5 in his grasp but ended up 14th.
• If Austin Dillon loses the title by a close margin, he may look back on the decision to drive the No. 14 Cup car for Tony Stewart at Michigan in a different light.
Dillon went into the Nationwide race with a three-point advantage over Sam Hornish Jr. and a five-point lead over Regan Smith. He skipped qualifying to practice the Cup car, which forced him to start in the back.
He had moved near the top 10 going into the green-white-checkered finish, but got into the back of Parker Kligerman, spun off the track and finished 21st. He is now tied for third in the standings, 15 back.
His finish may not have been better if he hadn't been in the Cup car, but we'll never know for sure.
• Points leader Hornish has to be considered the favorite to win the title now.
He has a 13-point lead over Elliott Sadler, and the Penske cars have been the class of the field with four wins in the past five races and six wins in the past nine -- all in the No. 22, with three different drivers.
While Hornish hasn't won, he's had three straight top-3s and has finished second in three of the past five races. In the past nine races, his only finish outside the top 10 was at Indianapolis, where an overheating problem left him 34th.
Camping World: Kyle ... gets passed?
Kyle Busch and other Sprint Cup regulars get a lot of grief from fans and media for running in the lower-tier series, but not from the competition.

Buescher
Saturday at Michigan is why.
James Buescher likely got more satisfaction and attention from passing Busch for the lead with three laps remaining than he got by winning the race.
Fans probably got a lot of satisfaction watching it, as well.
Busch still isn't sure how it happened, which probably adds to the satisfaction for some.
"I don't know where Buescher came from, but he got by us, passed us, beat us, so that's all there is to it," Busch said. "I figured that once I got out front, I felt like I could hold everybody off because it was hard to pass. [Brendan Gaughan] got a run on me down the backstretch and I pulled a little bit low to block and I heard that the 31 [Buescher] was on the inside of him, so how the 31 can get a run on the 62, who's got a run on me, is beyond me. It blows my mind.''
The win was the first of the year for Buescher, the reigning champion in the series. It moved him to third place in the standings, 52 behind Matt Crafton.
But Crafton, who has a 51-point lead over second-place Jeb Burton, remains solidly in control thanks to a ninth-place finish.