Kenseth Clinches Chase Berth
Sprint Cup: Another setback for Johnson
BRISTOL, Tenn. -- They cheered uproariously when Jimmie Johnson spun out preceding his qualifying lap on Friday at Bristol Motor Speedway. And they jeered derisively when he strode to the stage during driver introductions on Saturday before the Irwin Tools Night Race.
Johnson gazed up into the stands, beamed, and muttered close enough for the microphone to detect, "I know you love me."
The five-time series champion knew better, at least about the ones making obscene gestures and cat-calling through cupped hands. He understands that in the strange schadenfreude-driven realm of fandom and anti-fandom, there will be those who simply revel in the misfortune of the successful. And unfortunately for Johnson, his performance has given his detractors much to love the past two weeks.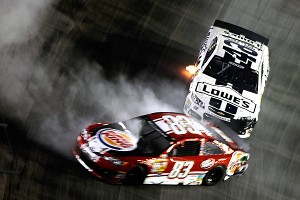 Jared C. Tilton/Getty ImagesJimmie Johnson (48) got collected in a Lap 360 accident that ruined his Saturday night at Bristol.
That point was underscored on Saturday by the reaction when his No. 48 Chevrolet was involved in a late wreck and finished 36th, reducing the Sprint Cup points leader's once-imposing 75-point margin over Clint Bowyer to a minuscule 18 points entering the penultimate race of the regular season. Troubling still, Matt Kenseth subsequently winning his series-best fifth Sprint Cup race of the season, moving the 2003 series champion provisionally ahead of Johnson in the jockeying for postseason position.
Johnson was running 17th and coping with a balky race car on Saturday when on Lap 360 he was collected by David Reutimann and forced to the garage for repairs. He returned to finish 36th. It wasn't the bounce-back Johnson needed after crashing in practice and requiring a backup car in Michigan, then having a blown engine resign him to a 40th-place finish.
"We will definitely come back next week and do all we can," Johnson said. "We had a decent finish. Last week, I really thought we had a shot to win and had an engine failure. This racing stuff happens."
All of this in three weeks. For a driver whose dominance has projected outward over stretches of weeks, months and a decade, such a period of malaise seems like a very long time.
And certainly, Johnson's rush of momentum is gone, with it any of the notions he could skip the regular-season finale at Richmond and attend the birth of his second child.
It's a slump, certainly, but Johnson's unparalleled success has made it seem such. It's a setback, but he is already locked into the postseason. Whether it's a trend, after fizzling in the 2011 Chase and succumbing to eventual champion Brad Keselowski in the finale at Homestead last year, remains to be seen.
In any case, it's Johnson's reality heading this week to Atlanta Motor Speedway, where he has won three times (but not since 2007) and finished 34th after crashing last fall.
"Luckily, we had a big points lead that we can kind of deal with right now," he said. "We've locked into the Chase. We certainly want to clean things up and have some great finishes rolling into the Chase.
"We'll keep after it, and be back again next week. There is still a lot of racing left. And then once the Chase starts, it is its own animal. So we'll just wait and see what happens during those 10 [races]."
And see who's cheering at the end.
Contributor, espnW.com
Brant James has covered the Daytona 500, Indianapolis 500, a World Series and Stanley Cup for the big hometown daily, an NCAA tournament and a Super Bowl. He's walked to the paddock with Kentucky Derby horses before post, ridden to the top of Mount Washington with Travis Pastrana and landed on an aircraft carrier with Dale Earnhardt Jr.
Nationwide: Kyle Busch Wins At Bristol
Nationwide: Kyle strikes again ...
Kyle Busch's victory on Friday in the Nationwide Series -- his record 60th in the series and milestone 15th overall at the .533-mile concrete oval at Bristol -- continued the season-long trend of Sprint Cup moonlighters pilfering wins as a handful of regulars continue to scurry for points.

Busch
Combined, the No. 54 Toyota from the Joe Gibbs Racing shop and Penske Racing's No. 22 Ford have won 17 of 22 races and seven consecutively, Busch capturing his ninth of the season on Friday. The run would have been 10, dating to Nationwide regular Regan Smith's mid-June win at Michigan, if not for moonlighting JGR Cup racer Matt Kenseth winning at Daytona in July.
The 54 and 22 have finished first and second in the same race three times this season. Sam Hornish Jr. -- who has one of four wins by Nationwide regulars -- maintained the points lead despite finishing 12th with a spark plug wire problem. The Penske driver leads Austin Dillon -- who finished third on Friday -- by just six points.
"You always want a little bit more when you go out and you feel like you had a good race car that you could have been in the top five with, but at the end of the day it's a real good feeling," Hornish Jr. said. "It's exactly where I wanted to be leaving here.
"I wanted to be in the points lead. It may be a little bit slimmer, but I love going to Atlanta and some of the tracks that we've got coming up in Kentucky and Chicago -- all places that I really enjoy racing at. There's not a place that we go to for the rest of the year that I don't feel like we've got a shot at winning if we put ourselves in the right position."
A Hornish Jr. championship in Nationwide this season could put team owner Roger Penske in position to become just the second to win both an owner and driver championship with different cars in the same season. The No. 22, which has been shared by Joey Logano (two wins) Brad Keselowski (four) and A.J. Allmendinger (two) -- left Bristol leading in owner points, 16 ahead of JGR's No. 54.
Jack Roush won a driver title in 2011 with Ricky Stenhouse Jr. in the No. 6 Ford and an owner title with eight-race winner Carl Edwards in the No. 60.
Camping World: ... and again
Sprint Cup regular Kyle Busch continues taking trophies from the hands of drivers in NASCAR's under series, but the multi-regimen menace said if there is resentment among his peers, it has mostly been relayed through humor.

Peters
Those peers, specifically Timothy Peters after battling Busch for the Truck series win at Bristol on Wednesday, contend their antagonist is giving back as well as taking.
"Probably a couple times I've had it jokingly," Busch said of negative reactions. "They would see me walking in the gate or something like that and walk in with me and say something like, 'Aw damn, you're here again,' or something like that. Other than that, no."
Busch outdueled Peters -- who spun out and crashed at the finish line -- before performing a no-hands victory burnout that was summarily reveled in and reviled by the crowd. Busch's Truck win pushed him past Darrell Waltrip for the all-time wins lead (15).
Peters said Busch's moonlighting doesn't bother him.
"He didn't beat me up," Peters said. "I know he got the checkered flag, but it's cool for him to come down and race with us because you learn a lot. ... [I] wanted to beat him because it doesn't do nothing but make my resume better, but we'll try next time he comes down and plays with us."