Keselowski A Long Shot To Make Chase
Sprint Cup: Keselowski's chances running out
Brad Keselowski last season withstood the psychological and on-track push back of five-time Sprint Cup champion Jimmie Johnson to grapple his first crown at NASCAR's highest level.
Combining the Twitter prowess of a Gen Y and the toughness of the Gen Y used to getting his hands dirty, he had announced his arrival in 2011 by bull-rushing his way into the Chase for the Championship -- and finishing fifth in points -- after breaking his ankle in a summer testing accident.
The first driver to bring storied owner Roger Penske a Sprint Cup championship was not only a worthy successor to the identity Rusty Wallace had built for the No. 2 Miller Lite Dodge (now Ford), he was patron of the product, as evidenced by his exuberantly lubed television performance after claiming his title at Homestead-Miami Speedway. With the austere Penske refilling his massive pilsner glass throughout, no less.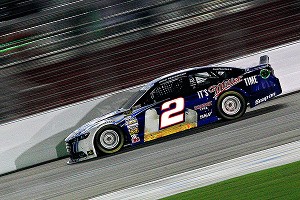 Sean Gardner/Getty ImagesSeven drivers have clinched spots for the 2013 Chase. Defending Sprint Cup champion Brad Keselowski is not one of them.
This is not a requiem for Keselowski's tenure as champion. But it's close.
After a devastating 35th-place finish because of a mechanical failure on Sunday at Atlanta Motor Speedway, Keselowski enters the final regular-season race at Richmond International Raceway 15th in driver points, winless and in need of a first win of the season, providence, fireballs and lightning. Jeremy Mayfield, circa 2004-type stuff.
"At this point it's not frustration. I'm beyond frustration," Keselowski said after his faltering engine expired with 18 laps left. "At this point you're just looking above going, 'This must be some kind of test to prove how strong we are and what our character is' because I believe in the people I'm around. I think they're doing the right things, but it's just not working. So I'm reserved to this being a test and I love challenges and this is gonna be one helluva challenge."
Keselowski's predicament is multifaceted and compounds his chances of joining Tony Stewart (2006, when the playoff field was just 10) as the only Sprint Cup champion in the Chase era to fail to qualify for a title defense.
Keselowski is 28 points behind Kurt Busch for the 10th and final Chase spot earned by standings position. Winless through 25 races -- with seven top-5s, including a runner-up finish at Watkins Glen and 11 top-10s -- he trails two-time victor Kasey Kahne (12th place), and Martin Truex Jr. and Ryan Newman (13th and 14th, respectively, one win each) for one of two available wild-card spots. There are scenarios that would allow Keselowski into the playoffs, but virtually all of them -- NASCAR's statistical division will release them on Monday afternoon -- involve the total immolation of up to seven drivers ahead of him and Keselowski driving through to victory.
Seven drivers have already clinched spots. Penske teammate Joey Logano isn't one of them, but needs only to finish 11th at Richmond after taking second on Sunday. As he did so, Keselowski was left mulling another frustrating mechanical facet to a season in which Fords -- to which Penske switched this season -- have struggled to match Chevrolet and Toyota in terms of wins. Ford has four Cup victories this season, Toyota 11 and Chevrolet 10.
Though admittedly not as confident as at this time a year ago, Keselowski had said on Friday that tests at Atlanta and Richmond made two clutch wins seem attainable, and he led on Lap 243 of 325 on Monday.
"We don't dictate our own fate, which is never good," he said. "Obviously, we have the speed and performance to get there, but we haven't put together the execution or the luck. There's only so much you can control.
"Maybe this was control and maybe it wasn't, I don't know until the guys take it apart and look at it, but we ran up front and we continue to show that we at least have the pieces of what it takes every week to be a title threat and to be in the Chase, but we just haven't put together all those pieces every week and that's what it takes. That doesn't mean we don't have what it takes, we just don't have the consistency in putting all those pieces together this year. I know that all those pieces could come together tomorrow. Unfortunately, it didn't come together today and that's what matters the most."
Contributor, espnW.com
Brant James has covered the Daytona 500, Indianapolis 500, a World Series and Stanley Cup for the big hometown daily, an NCAA tournament and a Super Bowl. He's walked to the paddock with Kentucky Derby horses before post, ridden to the top of Mount Washington with Travis Pastrana and landed on an aircraft carrier with Dale Earnhardt Jr.
Pit Studio: Chase Race Heating Up
Nationwide: Hornish on title track
The type of consistency Sam Hornish Jr. displayed in making himself a Nationwide Series championship contender appears to be re-emerging just in time to finish off his first NASCAR championship. A third-place finish on Saturday at Atlanta Motor Speedway eased the seventh-season stock car driver 10 points ahead of Austin Dillon with nine races remaining.

Hornish
Hornish posted a win at Las Vegas, four top-5s (including two runner-up finishes) and another top-10 in the first five races of the season to vault 28 points ahead in the standings before a blip in performance and two wins by Regan Smith changed the balance of power by midsummer.
But in the five races since a 34th-place finish at Indianapolis that dropped him into fourth place, 14 points out, Hornish has finished second and third twice each. His No. 12 Ford's 12th-place finish at Bristol was even passable, he said, considering it did so on only seven cylinders. Smith, meanwhile, has just one top-5 in that span with finishes of 11th, 15th and 21st.
"I've been real happy with the performance that the guys have been giving me as far as the race cars," Hornish said. "We're continually trying to evolve and even make ourselves better than where we're at, but I feel like there's not a racetrack that we go to on this last group that I don't feel like if we go out there and perform to what our ability is that we're not gonna be able to either gain some points or hopefully at least minimize the day.
"I feel like our bad days need to be a 12th-place finish, so the fact we can take days like today where we weren't as good as we probably needed to be and were probably about a fifth-place car, and were able to get a third out of it, that's great."
Hornish has been eagerly anticipating the final push of the season, completing the oddities of road courses and restrictor-plate tracks and delving into the 1.5-mile tracks that constitute the gist of the schedule.
"The mile-and-a-halves have been really good to us this year," he said. "We look at places like Charlotte coming back around and Kansas and places like I feel we've got a great opportunity to go there and run well, and then we go to a couple of short tracks like Richmond and Phoenix that I've traditionally run very well at, so my outlook couldn't be any better.
"The tracks that we're going to, Bristol was the last one where I felt like that could be a downfall for us. I feel like if we go to these next ones and we race the way that we should, we've got a pretty good shot at it."
Camping World: Elliott's bold move
It was hard to tell whether the tone in crew chief Lance McGrew's voice was apologetic or embarrassed. Maybe equal measures of both.

Elliott
His driver, Chase Elliott, had just become the youngest -- at 17 years, nine months and four days -- to win a NASCAR top-three series race in the Truck series event at Canadian Tire Motorsport Park in Bowmanville, Ontario, on Sunday, but the method was beyond the realm of even youthful impatience. And it certainly belied the legacy of his father and 1988 Sprint Cup series champion, Bill Elliott, who was 16 times voted the series' most popular driver and was considered a tough but genteel competitor.
Chase Elliott driving hard through the right rear quarter panel of race leader Ty Dillon in the final stretches, sending him into a tire barrier and to a 17th-place finish -- Elliott said he thought Dillon was out of fuel and then tried to "move him out of the way" -- put McGrew and Bill Elliott in the unenviable position of defending the shunt with the contention, however true, that the Hendrick Motorsports prospect had a strong truck, a string of strong finishes and was a deserving winner.
"I don't think anybody is happy about how it went down," said McGrew, who has overseen all six of Elliott's races this season, five top-5s and a sixth-place finish, "but there's a point in time when you have to draw the line in the sand, and if you have position on a guy and you're coming into the last corner on the last lap, I don't think anybody here wouldn't do the same thing."
Bill Elliott, who was spotting for his son in Turns 8, 9 and 10, didn't seem to justify his son's maneuver as much as provide cover.
"When they came into 8, Chase was on the outside and got through there pretty well, and Ty got into 9 pretty hard, got really loose, lost a lot of time, and then Chase kind of fanned out, so like I was watching guys do that," he said. "You've got a pretty good position, you've got a pretty good shot on him right there, and then it's up to the guy on the outside whether you give, whether you don't, what do you do when you're coming to the last lap. So you've got the position, so what do you do? It's kind of one of those, 'Well, I should have done this and I should have done that.'
"You put yourself in a position. I guarantee I've lost races like that many times, and I've won them. It all kind of comes around in the way it ends up in the sport. It's kind of the way it is."
Chase Elliott said Dillon told him after the race Elliott was "better than that" and "and we're probably going to have some problems next week at Iowa, so we'll have to play it by ear when we get there."
This is not to suggest that Chase Elliott is a dirty racer or his reputation is irredeemable. It's just that young drivers tread a fine line when merging into a top-three series. Reputations last longer than grudges and negative ones with peers are problematic.