Kevin Harvick Happy In Kansas
Sprint Cup: Chase drivers try to get a grip
KANSAS CITY, Kan. -- The line between the show and the game can be extremely fine in NASCAR, like the line between command and chaos on Sunday at Kansas Speedway.
Drivers with an innate desire to control as many variables as possible at 180 mph were not thrilled with the racing conditions presented when a new "multi-zone" Goodyear tire was deployed for the first time on a smooth, relatively new racing surface resulting in major grip deficit. Did the prospect of mayhem enhance the show or hurt it? Did a record 15 cautions, consuming 71 of 267 laps, provide the backdrop for an enthralling fourth race in the Chase for the Sprint Cup or ruin a playoff game?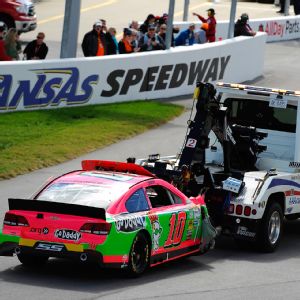 Jared C. Tilton/Getty ImagesDanica Patrick's first-lap wreck triggered a record 15 caution flags Sunday at Kansas Speedway.
Drivers never agree exactly on the details and the course of action, but on Sunday most -- including winner Kevin Harvick -- left feeling something was amiss at Kansas.
"I don't think there were any issues with the tire," Harvick said. "I think the issue is the pavement and the things they keep repaving these racetracks with that puts Goodyear in a box. It's not Goodyear's fault. They have to make a tire that's not going to blow out. So when you're running an average of 187 or 185, whatever the average speed is, they have to make the tire durable.
"The outside of the tire would be 10 degrees hotter than the inside of the tire because they've done a good job of making the inside of that tire durable. But they continuously put the tire company and the competitors in a box that we're in with the type of asphalt that they keep putting on tracks."
Drivers almost uniformly prefer older, weathered surfaces that offer an abundance of racing lines and a more predictable compromise between grip and abrasiveness. But weathering -- especially at a place like Kansas City, which is susceptible to a heavy heating and cooling cycle -- necessitates the need for new surfaces before inevitable cracking and pitting.
Less extreme heating and cooling cycles contributed to the formation of a pot hole that marred the 2010 Daytona 500. But the repaving process, Jeff Gordon said, can be done better, and in a more conducive way for racing.
"Every track is different and every surface is different, and so the biggest thing that I have going on right now with repaves is talking to the companies that pave these racetracks and talking to them about looking at the surface," said Gordon, who finished third on Sunday.
"To me it's really the surface. We're paving these racetracks with what we're paving new highways with. This is not a highway -- it's a racetrack and it's a race car and a racing tire. It needs to be looked at differently. We have the same issue in Phoenix. Darlington, we've had the same issue, every repave that we've had over the last six, seven years."
Kansas runner-up Kurt Busch said the sport's stakeholders needed to work together to create a competitive compromise to improve racing and interest fans, but there remains a debate over what that really means. Side-by-side racing, Gordon said, isn't always compelling. Maybe the edge of madness is where the show lies, if not the act of racing for race car drivers.
"I didn't watch the race or see anything, but there sure were a lot of cautions. That seems to be what everybody wants are wrecks and cautions," Harvick said. "Except the owners."
Contributor, espnW.com
Brant James has covered the Daytona 500, Indianapolis 500, a World Series and Stanley Cup for the big hometown daily, an NCAA tournament and a Super Bowl. He's walked to the paddock with Kentucky Derby horses before post, ridden to the top of Mount Washington with Travis Pastrana and landed on an aircraft carrier with Dale Earnhardt Jr.
The Rundown: Brian Vickers Crashes At Kansas
Nationwide: Hornish at crossroads
The middle-aged man with the scruffy beard was absolutely adamant when he looked Sam Hornish Jr. in the eye on Friday and instructed, "Win that championship, Sam."

Hornish
Hornish wants very much to do just that. (Finishing 17th on Saturday at Kansas Speedway and dropping from the lead to eight points behind Austin Dillon made things more complicated.) But he'd also like the chance to defend that potential first NASCAR title with Penske Racing if he does hold off Dillon. And he knows he's probably not getting the chance to do that.
Such is the odd, complicated, somewhat bittersweet, somewhat just plain bitter existence of the 34-year-old driver six weeks from possibly becoming an unemployed series champion.
"I'm making inquiries and talking to people a lot," Hornish said. "It's early right now, but this is stuff that we should have been doing in June or July, not September, October."
Hornish said the narrow job market -- teams and drivers usually hash out deals for the ensuing season by August -- likely means he would return to the Nationwide series. Furniture Row has not announced a replacement for Kurt Busch -- who is moving to Stewart-Haas Racing in 2014 -- in the No. 78 Chevrolet Cup car, but Hornish doesn't seem to consider it a realistic option.
"What Cup jobs are there out there?" Hornish pondered. "The 78 is the thing everybody is looking at but they're not sure what their decision is going to be yet and there's about 14 other things that are going on with that whole deal because of things that happened at other teams. Even on the Nationwide side, I reached out and did as much as I could do, but at this point, we'll see what happens."
Hornish, a three-time IndyCar champion, is likely done with Penske despite crafting his finest stock car season in seven years of toil because of sponsorship shortfalls and because the team has 19-year-old developmental driver Ryan Blaney -- a Nationwide winner in the Penske No. 22 Ford at Kentucky -- under contract for next season.
"Last I talked to [team owner] Roger [Penske] he said they still continue to look for money," Hornish said.
Hornish said he has managed to keep his employment crossroads from becoming a competitive distraction. Knowing he is likely leaving Penske after being a consummate team partisan since joining the IndyCar operation in 2004 is clearly unsettling. Penske, as usual, will go on. His future is uncertain.
"The 'Hey, if we don't win it this year we have a chance to win it next year' type of thing doesn't give you that great feeling, but when I'm out there driving the race car I don't think about it," he said. "I don't let any of it affect me. I drive the race the same way I would if we were on Race 1 of the season or if I was on a five-year contract."
Camping World: Dega on deck

Crafton
The Camping World Truck Series had the week off.
Points leader Matt Crafton and the gang next will race Oct. 19 at Talladega Superspeedway.
Crafton will take a 41-point lead over James Buescher into the Fred's 250. Ty Dillon sits in third place, 53 points off the pace, with five races to go.