Brad Keselowski Rolls Chase Field
Sprint Cup: Keselowski is still king
We interrupt your regularly scheduled NASCAR Chase for the Sprint Cup for an appearance by Brad Keselowski.
You remember Kez, don't you? The defending Sprint Cup titleholder, and only the second reigning champion who failed to qualify for the Chase the next year.
He may not be contending for the championship again this year, but BK has certainly managed to keep himself in the spotlight. On Saturday, he did it in the right way by winning the Bank of America 500 at Charlotte Motor Speedway.
Keselowski was his usual ebullient self after the drought-breaking victory, exulting in Victory Lane and wisecracking to the media.
But here's the thing: Nice as it was to see the reigning NASCAR champion bounce back from a statistically subpar season to score a feel-good first victory as a Ford driver, Charlotte was a virtual push in terms of the real story.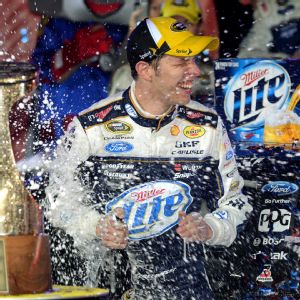 Rainier Ehrhardt/Getty ImagesBrad Keselowski used a late caution to full advantage to win at Charlotte.
With Matt Kenseth finishing third and Jimmie Johnson fourth, the change (or "delta," to use highfalutin Formula One terminology) in terms of the championship was minimal. One point.
At the halfway point of the Chase, Kenseth holds a slim 4-point advantage over five-time Cup champ Johnson. Meanwhile, Kevin Harvick, Jeff Gordon and Kyle Busch all finished in the top seven at Charlotte to remain mathematically within one race's worth of points from Kenseth, but Greg Biffle and the rest, who are 58 points back or more, are going to need a miracle.
Kenseth wasn't happy with his qualifying at Charlotte, but crew chief Jason Ratcliff methodically improved Matt's Joe Gibbs Racing Toyota to run strong at the end of the race. Kenseth narrowly missed beating Kasey Kahne for second place.
"Certainly, we're glad we're still leading," Kenseth said. "Tonight was a big positive for us. It was a little bit of a struggle this weekend more than we anticipated. But about our second or third adjustment, Jason and our group really hit it and really found something that I liked, and our car started driving really good. I could pass really good, and start working our way up through the field.
"Overall, I was really proud of my whole Dollar General team. They had a great pit stop there at the end, did a great job with adjustments."
Johnson, on the other hand, led 130 laps Saturday night and came away disappointed with his fourth-place finish. The driver of the Lowe's Chevrolet struggled on the final restart and was never able to make up ground to the top three in the closing laps.
"Down in [Turns] 1 and 2, I was just in the dirty air and I pushed the No. 5 off into 1," Johnson said. "He didn't get the best restart, and something to do with that combo got me off the bottom, and a couple of cars got into the side of me.
"If we could have restarted on the front row, I think it would have been a much different result for us, but it didn't happen," he added. "We led some laps tonight, had a good car. I'm not sure what happened in the points, but I know it's awfully tight up there right now."
Outside the Chase, points didn't matter a lick to defending champion Keselowski. Instead, the remaining races in 2013 are all about building toward another run at the title in 2014.
"We can't look back; we've got to look forward." Keselowski said. "We won here today, and I want to win every other race left in this season, and I want to win next year. So spending a lot of time complaining about missing out on opportunities early in the season isn't going to do us any good.
"We've got to look forward and we've got to find ways to win as the sport continues to evolve."
On Saturday, it looked like a stuck jack might prevent Keselowski and his No. 2 Miller Lite Ford from scoring their first victory of 2013. But despite an extra pit stop to remove it, BK was in position to race for the win at the end.
It was the first race win for a non-Chase contender since Kahne won at Phoenix International Raceway in November 2011.
"You know, the perception is, and rightfully so, that the guys in the Chase are the cream of the crop, and they should win races and probably sweep the Chase," said Keselowski. "But this is a very good team. All season long we've had the speed. We've had what we need to be a championship team. We just haven't put them all together.
"All the pieces haven't come together on the nights that count, and they for the most part did tonight."
Autos, Open-Wheel
Motorsports Writer for ESPN.com
Covered Indy car racing for 20 years
Work published in 12 countries
Pit Studio: Breaking Down Charlotte
Nationwide: Kyle the conqueror
NASCAR made Sprint Cup drivers ineligible for the Nationwide Series championship a few years ago, but it hasn't prevented them from moonlighting and often stealing the second-tier show.
Kyle Busch won his 11th Nationwide race of the season Friday night at Charlotte, but the men racing for the 2013 Nationwide title have a combined one victory between them.

Busch
Austin Dillon (a close second to Busch at Charlotte) and Sam Hornish Jr. (third) are separated by just eight points and have pulled solidly away from the rest of the Nationwide field.
The Charlotte race was kind of like the 2013 season itself: Busch winning, with Dillon and Hornish proving the class of the actual Nationwide field.
"It was a heck of a race, and we had three guys fighting it out there 'til the end with everything we had," Dillon said. "I told Sam it was the best race I felt like I was a part of all year, slicing and dicing out there.
"This isn't one of our better tracks, and to come here and do that, I'm very happy."
Hornish passed Busch for the lead and paced laps 180-192. But the handling of his Penske Racing Ford faded over the course of a long run and he faded to third at the finish.
He made up for the point he lost by finishing behind Dillon by claiming the bonus for leading the most laps.
"We could never get far enough ahead of the track to get our car right where we needed to be, and I had to work hard just to keep the car underneath me there the last 10 laps," said Hornish, a former IndyCar champion.
"I'm just happy we came in here tonight and ran well, but it's very frustrating to be leading with 10 laps to go and pulling away from the 54 car [Busch] and not be able to win."
The entire Nationwide field must be frustrated with how hard it has been to beat Busch, who claimed his series-record 62nd win at Charlotte.
Busch has qualified the No. 54 Joe Gibbs Racing Toyota on the pole nine times this year and won eight of those races.
NASCAR is unique among major sports in having its top-level stars regularly participate in lower-tier competition.
And while Busch is a past champion and the undisputed king of Nationwide Series racing, he's still in search of championship success in the Sprint Cup Series. This year, he's put together his most consistent stretch of races in the Chase, yet is fifth in the standings, 37 points behind teammate and series leader Matt Kenseth.
After basking in the glory of his latest Nationwide win on Friday, Busch termed his run to fifth place in the Cup Series race the following night "pretty frustrating."
"We certainly got a top-5, which is good," he said. "We should be happy about that, but when it's championship time, that's not what you need.
"They say you need top-5s to win a championship, but when you're getting beat by the guys in front of you, that's not good enough. We need wins, and we can't win."
Camping World: Dega on deck

Crafton
The Camping World Truck Series had the week off.
Points leader Matt Crafton and the gang next will race Oct. 19 at Talladega Superspeedway.
Crafton will take a 41-point lead over James Buescher into the Fred's 250. Ty Dillon sits in third place, 53 points off the pace, with five races to go.