Jamie McMurray Wins At Talladega
Sprint Cup: Disappointing Dega run for Kenseth
Fear of the "big one" was nearly as detrimental as the actual "big one" for Matt Kenseth on Sunday at Talladega Superspeedway.
Blame patience or risk aversion at remarkably high levels in the final laps of both a restrictor-plate and Chase for the Sprint Cup race. Blame Talladega either way, as the hulking track and the bizarre form of racing it engenders again wrested control from the drivers at a crucial moment, even though far fewer cars ended the race airborne, smoldering or otherwise scrapped.
Whatever the reason, Kenseth and his balky No. 20 Toyota fell from the top 10 late in the race to a 20th-place finish, surrendering the points lead to Jimmie Johnson.
With front-pack drivers -- championship contenders, neophytes and journeymen among them -- for some reason reticent to break from the single-line parade to the checkered flag, Kenseth had no chance to make a late run for the front that would be expected from one who later in his career has become an exemplary restrictor-plate performer, with two Daytona 500 wins and a victory at Talladega since 2009.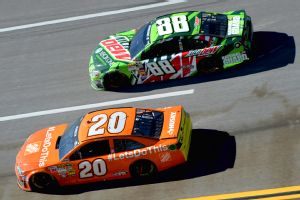 John Harrelson/Getty ImagesMatt Kenseth (20) lost the points lead to Jimmie Johnson after finishing 20th at Talladega. Dale Earnhardt Jr. (88) finished second.
"I thought everybody would mix it up at the end and try to make a race out of it, but everybody stayed up on the top and pedaled it," Kenseth said. "That was my bad. I guess I should have just been happy with 10th, but I just have a hard time doing that."
Johnson's predicament was better, but just barely, after being able to tuck up into the energized high line after the remnants of the low group abandoned him in the waning laps. A final-lap stalemate with Kenseth bogged down behind him was a boon for Johnson, because in finishing 13th, he swung a four-point shortfall entering the race into a four-point advantage and neutralized the most uncontrollable element of the Chase.
"Obviously, [I] was paying attention to where [Kenseth] was," Johnson said. "Thirteenth isn't the best finish, but with what we are trying to do and win a championship, we beat the competition today and that is good."
Now, with four races remaining, on point and embarking on a stretch of tracks where he has sown the seeds of five championships, Johnson, even with a minuscule points margin, is in control. At least in greater control, he said, of the variables that decide championships.
"I feel that the races forward now are up to where the competitors go earn it," Johnson said. "You don't have this luck issue that can take place at plate tracks. So I am happy to have the points lead, and we went through a lot of work to get there.
"We were just getting one point at a time and we got a few more than normal today and were able to get the lead. We just go racing from here and that is the thing I am most excited for."
Statistics bear out his excitement. Johnson has eight wins and an average finish of 5.3 in 23 Sprint Cup starts at Martinsville and has won the past two races there from the pole. He has two wins -- including the fall 2012 race from the pole -- at Texas and an average finish of 9.1 in 20 starts. He has four wins and an average finish of 6.4 at Phoenix. Johnson has an average finish of 15.3 in 12 starts at Homestead, but his mindset there has been an assortment of cruises to titles or desperate dashes from second place.
Kenseth has won at Texas, Phoenix and Homestead, but is statistically not nearly as successful at the final four venues as Johnson.
Kenseth said he didn't believe surrendering the points lead to Johnson would "affect my team" because "I feel like we can go everywhere else, and honestly we can race with anybody when we're at our best."
Ultimately, Kenseth seemed confounded about what didn't happen on Sunday and how this time, inaction, not overreaction, proved so damaging at Talladega.
"It was just an incredibly disappointing day," he said. "The end there ... I should have been smarter there and I guess paid attention to points, but I'm not really wired like that. I want to go up and mix it up and try to win the thing."
Contributor, espnW.com
Brant James has covered the Daytona 500, Indianapolis 500, a World Series and Stanley Cup for the big hometown daily, an NCAA tournament and a Super Bowl. He's walked to the paddock with Kentucky Derby horses before post, ridden to the top of Mount Washington with Travis Pastrana and landed on an aircraft carrier with Dale Earnhardt Jr.
The Rundown: Jeff Gordon on Talladega
Nationwide: Herring gets his shot

Vickers
Drew Herring has had a small role in attempting to win a Nationwide Series owners' title for Joe Gibbs Racing this season, and now he gets his chance to round out the schedule in a No. 20 Toyota left vacant by a recurrence of medical problems for full-time driver Brian Vickers.
On a team chock-full of veterans on its Sprint Cup and Nationwide programs, the stint could be crucial for his future with the team.
The 26-year-old made three starts in the No. 54 Toyota, with a pole at Iowa and two top-10s. The 54 leads the owner standings after being taken to victory 11 times by Kyle Busch. He will contest two of the final three events of the season in place of Vickers, who is medically forbidden from racing the rest of the season as he receives treatment for a blood clot discovered in his right calf. JGR's Denny Hamlin will drive the car on Nov. 2 at Texas Motor Speedway. Herring will take over Nov. 9 at Phoenix and the finale at Homestead on Nov. 16.
Herring made a fourth Nationwide start this season in JGR's No. 18 Toyota at Bristol, finishing 36th.
Vickers is scheduled to join Michael Waltrip Racing's Cup team next season and is finishing his current contract at JGR, which has not solidified its Nationwide lineup for 2014.
Camping World: Typical Talladega

Lofton
While the Sprint Cup race named after the Truck series sponsor displayed an unexpectedly tame finish on Sunday, the actual Truck series race was typically cataclysmic, with four melees in the final 25 laps and Justin Lofton suffering a broken thumb in a last-lap crash that consumed 12 vehicles.
Trucks plus any venue can equal calamity. Trucks plus Talladega seem like a temptation of fate, although the anticipation of smoke and shrieking metal helps form the allure for scores of fans. The experience didn't seem very alluring for several drivers engulfed in the mess.
Darrell Wallace Jr., who finished 17th, said his impact was the hardest of his fledgling career and "scared the hell" out of him.
"Man, it makes you want to go 10 miles under the speed limit in your regular car because pushing 200 or whatever we're doing and wrecking it hard ... I'd die," he said. "That's scary. I'm freaking myself out again. I just couldn't breathe."
John Wes Townley, who finished seventh, said it was "pretty eerie when you come through the med center and half the field is in there."
Johnny Sauter escaped the carnage to win his third Truck race of the season.