Jeff Gordon Gets Back In The Game
Sprint Cup: 'It's going to be a dogfight to the end'
NASCAR instituted its Chase for the Sprint Cup format because it was looking for closer championship finishes.
The powers-that-be in Daytona Beach struck it rich this year, because the title clash between Matt Kenseth and Jimmie Johnson couldn't be any closer. They're tied at the top of the Sprint Cup standings with three races remaining.
In a delightful twist of irony, the guy who inspired the Chase (Kenseth) is pitted against the guy who has dominated the Chase era (Johnson). Making things more interesting, their closest competitor is Jeff Gordon, who is in the Chase as an unprecedented 13th driver and who still remembers that he would have won his fifth Cup championship in 2004 had the Chase format not been in place.
Gordon is 27 points back, followed by Kevin Harvick (minus-28) and Kyle Busch (minus-36), and Kenseth thinks all three of them still have a shot at the crown.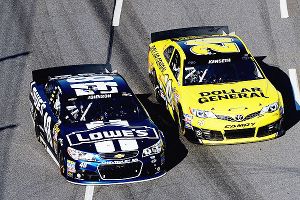 John Harrelson/NASCAR/Getty ImagesThe Chase for the Cup couldn't be any closer, with front-runners Jimmie Johnson and Matt Kenseth door-to-door with three races remaining.
"I think if you're within whatever you can get in a race -- 48 points -- anything can happen," Kenseth said after finishing second to Gordon on Sunday in the Goody's Headache Relief Shot 500 at Martinsville Speedway.
"If you're more than a race behind multiple drivers, I think that makes it tough, that's hard to overcome with three races to go. But as we've seen through the years, anything can happen."
Kenseth was in position to win a race that Johnson was tipped to dominate. But his Joe Gibbs Racing Toyota was unable to hold of Gordon's Hendrick Motorsports Chevrolet down the stretch.
It left the Wisconsin native feeling conflicted after the race. He had just scored a career-best finish on a track where his average result was 15.8, but he was kicking himself for allowing his rival to pass him in the closing laps.
"Whenever your team puts you in front for that last run and you're out there leading and you get beat, you're always a little bit disappointed," Kenseth said. "I just got beat by honestly experience and a better driver of this track. I was hesitant to change my line and do the things he was doing because what I was doing got me there. I just got too tight at the end, which I wish I could do it over. I got slowed up with some lapped cars and he got by.
"But overall it was a great day," he added. "It was an up-and-down day with our strategy and at times we got behind. But overall we had a really good car. I'm not as happy as Jeff, but happy to run second."
Gordon believes that the No. 24 team's resurgence actually started four or five weeks prior to the Chase. Although it took a ruling from NASCAR in the wake of the Richmond controversies to get him in, Gordon has performed magnificently in the Chase, culminating in his first win of the season on Sunday.
It was Gordon's eighth win at Martinsville, tying him with Johnson among active drivers.
"There's no better time to win races than right now, and to be able to carry that momentum," Gordon said. "I'm so proud to be third in the points. From where we started early in the season, heck, where we started in this Chase, to be third in points right now, I'm very proud of that."
Whether it's game over or gamesmanship, Gordon said he believes that the 27-point deficit to Johnson and Kenseth is too much to overcome in just three races.
"Let's be honest, we're all alive, but right now there's two that are in it," he said. "Our job is to go to Texas and make it three. We've got to put pressure on those guys. We're really thinking we've just got to go fight hard and see if we can't do something extraordinary. It's going to take an extraordinary three weeks for that to happen."
Meanwhile, Johnson didn't quite match his usual excellence at Martinsville but still managed to bring his Hendrick Chevrolet home in fifth place.
Johnson led 123 laps (second to Kenseth's 202), but it was a far cry from his dominance of the April Martinsville race, when the five-time Cup series champion led 346 laps and celebrated with a snide Tweet taunting his "haters."
Johnson also had to deal with an irate Greg Biffle after the race, with Biffle claiming that contact from Johnson tore off his Roush Fenway Racing Ford's rear bumper. Johnson told reporters that he didn't remember the incident and was mystified by Biffle's rage.
"It's been a great battle with the 20 car [Kenseth], and the 24 [Gordon] is really showing that he wants to be a part of this deal as well," Johnson said. "There are some other guys back there kind of close, so it's going to be a dogfight to the end.
"That's the way that I would want to go racing for a championship, and I know that's exactly what the fans want to see."
Autos, Open-Wheel
Motorsports Writer for ESPN.com
Covered Indy car racing for 20 years
Work published in 12 countries
The Rundown: Another Top-5 For Brad K
Camping World: A breakthrough
Nearly a decade after it was formed, NASCAR's Drive for Diversity program enjoyed its biggest achievement to date Saturday, when Darrell Wallace Jr. drove his Toyota to victory in the NASCAR Camping World Truck Series Kroger 200 at Martinsville Speedway.
Wallace
Wallace is the first African-American driver to win a NASCAR National series race since Wendell Scott triumphed at Jacksonville, Fla., in 1963 in what would now be considered the Sprint Cup level. Scott died in 1990, but his sons, Wendell Jr. and Franklin, were on hand to witness Wallace's historic victory.
Although the Drive for Diversity program has assisted in advancing Wallace's career, the 20-year-old from Mobile, Ala., has demonstrated that he has enough talent behind the wheel to make it to the top without any outside help.
As a member of Joe Gibbs Racing's driver development program, Wallace scored a Nationwide Series pole at Dover International Speedway in 2012, and he claimed his first NCWTS pole earlier this year, also at Dover.
A skilled short-track driver, Wallace led 96 of 250 laps at Martinsville to win in his 19th Truck series start. Wallace has 11 top-10 finishes in those 19 races.
The man nicknamed "Bubba" said he was surprised at the reaction to his victory.
"I just went out there and won the race -- finally we got us one," Wallace told reporters the day after his victory. "And then the remarks and stories and everything starts flowing in after about the history and the record set and Wendell Scott, and all of it just came in rushing after. I had no idea. I just go out there and try to do the best I can, and it all falls in.
"Definitely a surprise to me, and it's definitely great."
Wallace's victory was also a boost for NASCAR, which frequently garners criticism for its predominantly white male participants and fan base.
With two full-time foreign drivers at the Cup level and a female pilot who is more popular than many of the male stars, this is not your grandfather's NASCAR. The success of a rising star like Wallace is more evidence that NASCAR is becoming an increasingly diverse sport.
"We congratulate Darrell Wallace Jr. on his first national series victory, one that will be remembered as a remarkable moment in our sport's history," NASCAR chairman and CEO Brian France said.
"Darrell's success, following fellow NASCAR Drive for Diversity graduate Kyle Larson's win earlier this season, is indicative of a youth and multicultural movement that bodes well for NASCAR's future growth."
Wallace is appreciative of the attention that his victory has brought to himself and his African-American predecessors in NASCAR. But he will be happy to get back to the normal business of being just another race car driver.
"It usually takes a couple days for a big win to settle in; it's been over a year since my last one," he said. "But it's been great seeing all the outlets that I'm on and doing all this [media] stuff. It's for the better, it's trying to change the sport, and I'm all in for that.
"Just carrying the torch that Wendell Scott laid down for us and taking it farther, that's the biggest thing I'm trying to do," he added. "I don't really pay attention to all the media stuff and let that get to me and forget where I came from. That's not my type. I read through it, appreciate everybody for all the comments, but I've still got three races to go."
Kevin Harvick and Ty Dillon almost overshadowed Wallace's win with an ugly war of words after the race. Dillon spun out Harvick during the race when they were fighting for second place when it appeared that Harvick slowed mid-corner. During the ensuing caution period, Harvick angrily smashed his truck into Dillon's, and Dillon retaliated with a series of bumps.
The fracas continued in the pits after the race, when a member of Dillon's crew appeared to throw a mallet at Harvick's truck.
Dillon and his brother Austin are team owner Richard Childress' grandsons. Harvick is leaving Richard Childress Racing at the end of the season after 13 years with the team, a situation that undoubtedly helped escalate Saturday's antics.
On Sunday, he apologized for his comments about Dillon from the day before.
Nationwide: Texas on deck

Dillon
After a 23-day break, the NASCAR Nationwide Series rejoins the Sprint Cup tour for three races in three weeks starting with the O'Reilly Auto Parts 300 at Texas Motor Speedway on Nov. 2.
Austin Dillon holds an eight-point lead over Sam Hornish Jr. as the Nationwide championship chase enters the homestretch. The final three venues on the slate (Texas, Phoenix International Raceway and Homestead-Miami Speedway) have all been good to Hornish, dating to his days racing Indy cars. But they're even better for Dillon, whose average finish in a total of eight starts is 8.6.
For Hornish, there is the additional pressure of knowing that he doesn't have a job lined up for 2014, with Penske Racing or anyone else. Dillon, meanwhile, knows that he will move up to Sprint Cup next year with his grandfather's Richard Childress Racing organization.
Regan Smith (52 points back} still has a remote chance at the championship, while Justin Allgaier (minus-70) and Elliott Sadler (minus-78) are also long shots.