Jimmie Johnson Dominates Texas
Sprint Cup: Kenseth falls behind in title chase
The bad news for Matt Kenseth is ... actually, there was a lot of bad news for Matt Kenseth on Sunday. Jimmie Johnson, though espousing a realization of how no momentum matters until it pushes you to the presentation stage, that no lead in the Chase for the Sprint Cup is safe until that lead is final, had just run off with an oppressive victory at Texas Motor Speedway to take a seven-point advantage over his Joe Gibbs Racing foe with only two races remaining in the season.
Kenseth had been the master of 1.5-mile racetracks this season with four wins and Johnson had yet to break through on what was once the pathway to his five Sprint Cup championships. But a week after Kenseth nullified Johnson's seeming advantage by leaving Martinsville -- where Johnson was the active leader with eight wins -- tied for the points lead, the 2003 series champion had not only been outdone but thrashed at Texas despite finishing fourth.
It felt like a prairie fire whipped by gathering winds, this autumnal Johnson momentum.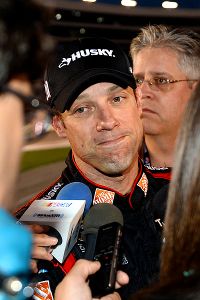 John Harrelson/Getty ImagesMatt Kenseth has two races -- Phoenix and Homestead-Miami -- to make up the seven-point gap separating him and Jimmie Johnson.
But it could have been worse, far worse, in a No. 20 Toyota Kenseth described as "wobbly" in the final quarter of the race, especially after a pit road speeding penalty had earlier knocked him from second position to 16th in the running order and necessitated a long slog back to the periphery of threatening the eventual winner. The penalty didn't matter that much, Kenseth said. Nothing really did Sunday. It was about hanging on and moving on.
"Honestly, [Johnson] had us from the time they unloaded until the time they put it back on the truck," Kenseth said. "They were just dominant all weekend.
"That speeding penalty got us behind -- we definitely didn't need that -- but really I don't know at the end of the day if that really affected our finish much."
Kenseth described Sunday as a "pretty good night" all things considered, and expressed excitement over trying again Sunday at Phoenix International Raceway (3 p.m. ET, ESPN). Strategy, he said, won't diverge and neither will the mindset. "If you're going to win a championship," he said, "you have to win races and you have to go through [Johnson]."
"We're right in it, as good as my team is," Kenseth added, "even if nobody has any trouble. If we hit everything right we can have days like he [Johnson] had today and we've had them this year."
Indeed, a title chase that has been realistically, if not statistically, distilled to a match race for weeks, is about two more head-to-head battles. With the win Sunday, Johnson not only leads in points but is just one win behind Kenseth (seven) for the series lead.
Johnson said he feels "better about Phoenix" than he did this time last year, but is fully aware how fragile even a concept momentum can be. After winning at Martinsville and Texas last fall, his aura of late-season infallibility was pierced when a right front tire failed with 76 laps left at Phoenix, leading to a 32nd-place finish, erasing a seven-point lead and allowing Brad Keselowski to assume the top spot in the standings permanently. A gear problem and subsequent 36th-place finish at Homestead-Miami Speedway finished him.
"I guess the lesson in all of that is I'm not counting on anything, and I have to go to Phoenix and race, same as Homestead," Johnson said. "It does simplify things a little bit. I'm not going to get too excited about things during the course of the week. I'm going to work real hard and train my butt off, stay in this little world that I've been living in for the last five or six months, but more so the last eight weeks, and show up ready to go these next two weeks."
Johnson's crew chief, Chad Knaus, said that although "we're in as good or maybe just a pinch better shape this year," he considers Kenseth a "little more formidable" as an opponent compared to the sometimes-mercurial Keselowski.
"I think Matt, just from his personality standpoint, is a little more controlled," Knaus said. "He's a little more mature. He's been in the sport for a long time. I think he's just a little more even-keel, so that makes him a little more challenging to get off kilter, off rocker, so we'll have to see how it shakes outcome Phoenix." And ultimately, Kenseth believes, his pursuit of a second championship -- and first in the Chase era -- is under his control no matter how Johnson performs.
"It's not insurmountable," Kenseth said of the points deficit. "The math works out if you win the last two races. It's still in our hands. It's not like we have to have somebody have trouble.
"If we go out there and can outrun everybody for two weeks, then it's ours."
If he can outrun Johnson on another day like Sunday, he will have earned his trophy.
Contributor, espnW.com
Brant James has covered the Daytona 500, Indianapolis 500, a World Series and Stanley Cup for the big hometown daily, an NCAA tournament and a Super Bowl. He's walked to the paddock with Kentucky Derby horses before post, ridden to the top of Mount Washington with Travis Pastrana and landed on an aircraft carrier with Dale Earnhardt Jr.
Nationwide: This one's for Roger

Keselowski
It's not the NASCAR title attempt that Brad Keselowski expected to pursue with just two races left in the season, but it's the one he's got. And so the reigning-but-not-defending Sprint Cup champion is settling in for a stretch run to give team owner Roger Penske another first accomplishment: a Nationwide owner title.
It's going well. Keselowski continued doing his part Saturday at Texas Motor Speedway, leading 106 of 200 laps to win and put the No. 22 Ford back on top of the owner standings. Joe Gibbs Racing's No. 54 Toyota, which finished 26th after Kyle Busch crashed midway through the race, dropped from four points in front to 26 points off the lead.
"I wanted to compete for both championships. I didn't want it to be just one and I certainly don't want to trade, but it is what it is at this point and you move on and do the best you can with the circumstances," Keselowski said.
Keselowski has done extremely well with his Nationwide circumstances, winning six times in 14 starts in the No. 22 to pace a contingent of Joey Logano (three wins), AJ Allmendinger (two wins) and Ryan Blaney (one) that became just the second known to take a single car to victory lane with four different drivers in a single season.
Keselowski missed the Chase for the Sprint Cup and a chance to defend his Cup title, but won his first race of the season at Charlotte three weeks ago in what may be a heartening thrust into a rebound effort in 2014. The driver to bring Penske his first Nationwide and Cup driver titles said winning an owner title "is about Roger."
"It is about getting him something that he hasn't done. I take a lot of pride in that," he said. "When I came to drive for him he didn't have any NASCAR championships and that was not a point escaped on me or any of you guys in the media. Together I guess you could say we have won three if you count the Sprint Cup owners' [title], drivers' and Nationwide drivers'. I think it is somewhat an incomplete feeling to not have that Nationwide owners' title. At least it is for me. I want to finish that off and be a part of it. It has been rewarding so far and it isn't over, but if we were to win it that would be very rewarding for me personally to be a part of providing that for Roger."
Camping World: Cowboy up

Ty Dillon
Those Dillon boys are fond of the silhouette they cut in a cowboy hat, so younger brother Ty was particularly pleased that his dominating run in the Truck series race Friday at Texas Motor Speedway earned him a new black lid for free. He was pleased on multiple levels.
Dillon, who was embroiled in a controversy last week after wrecking outgoing Richard Childress Racing teammate Kevin Harvick and prompting the veteran to label Ty and his brother, Austin, as spoiled products of nepotism, led a race-high 130 of 147 laps to win for the second time this season and the 100th all time for an RCR-campaigned "3" race vehicle.
"I've wanted to win the cowboy hat so bad," said Dillon, who has finished first, second, third, fifth and seventh in five starts at the 1.5-mile speedway. "It's the one race that I had to win.
"This was our race from the drop of the green flag. We've let too many wins get away this season; I wasn't going to let this one get away."