Kevin Harvick Rises At Phoenix
Sprint Cup: Johnson saves his season -- twice
What could keep Jimmie Johnson from winning a sixth Cup? What could happen to him at Homestead-Miami next Sunday?
Well, let's see ...
He could wreck just seconds after the start of the race, as he almost did Sunday at Phoenix.
But he didn't.
He could wreck midrace, just as he almost did Sunday.
But he didn't.
And he won't.
Why?
Dirt.
"I really had to fall back on my dirt-driving skills, racing out here in the desert all the years that I did," Johnson told ESPN reporters at the track, regarding two instances of contact Sunday that he had to drive his way out of. "Both of those were close."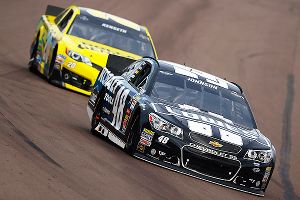 Tom Pennington/Getty ImagesJimmie Johnson takes a 28-point lead over Matt Kenseth into Sunday's Sprint Cup finale at Homestead-Miami Speedway.
As it was, Johnson finished third Sunday to Matt Kenseth's 23rd, ballooning Johnson's points lead from seven to 28 going into the season finale.
Johnson's uncanny car control, which has gotten him out of many a jam in NASCAR, comes from his years of racing motorcycles and off-road vehicles. The late Dale Earnhardt was the only other Cup driver who could make his car behave almost as an appendage, and he too came up on dirt, on the short tracks of the Carolinas.
When you've learned on dirt, learned to be comfortable sideways, then you just don't panic when you get sideways on pavement. You just drive out of it.
Race winner Kevin Harvick moved to within 34 points of Johnson in the Chase standings. But he and Kenseth both would need a really bad day for Johnson at Homestead to have any hope of snatching the Cup from his grasp.
Other than wrecking, well, Johnson could fall out with an engine failure. But he has lost only one engine all season, in August at Michigan.
Or he simply could have a very bad day with an ill-handling car, as Kenseth did at Phoenix Sunday.
But Johnson needs to finish only 23rd or better at Homestead, meaning he could have just as bad a day there as Kenseth had at Phoenix and still win the Cup. And Johnson has finished worse than 23rd only five times in 35 races this year.
No wreck, no engine failure and just a decent-handling car would add up to a sixth title, putting Johnson near Earnhardt and Richard Petty, who each won seven championships.
If Johnson were going to falter, Phoenix, where he faltered last year, would seem to be the prime place.
And twice Sunday, he looked very close to faltering.
Starting on the pole, he got loose and made contact with Joey Logano moments after the green flag, and dropped back to sixth. But he saved the car.
Then, just past the halfway point, Johnson made contact with Carl Edwards and got loose after Harvick made it three wide.
"The one with the 22 [Logano] didn't worry me too much," Johnson said of the start.
"But the one with the 99 [Edwards], at two different points as I saved it, the car pointed back at the fence, and I thought I was going to hit it."
Johnson fell back to 26th, but "I got it gathered up and got back going."
But Harvick had a stronger car and grabbed the lead on the last lap when Edwards ran out of fuel. The win was Harvick's fourth this season, his second in this Chase, and moved him within mathematical striking distance of Johnson next Sunday.
"That's all you can ask for, is to be in it," Harvick said in Victory Lane. "Obviously a lot has to happen. But a lot CAN happen."
Yeah, well, maybe. Kenseth isn't counting on that.
"We basically go there [Homestead] without a shot to win," he said.
The Rundown: Kasey Kahne Second Best
Nationwide: The Kyle Show

Busch
As Kyle Busch pillaged the Nationwide Series for a 12th win this year, the drama boiled behind him among the little guys, the regulars. And the biggest of them, points leader Austin Dillon, didn't show a lot of regard for his peers.
Dillon, winless this season, was running second to Busch -- about as well as a regular can hope for, whenever Rowdy drops in from Cup -- at the white flag. But then Justin Allgaier had the audacity to pass the grandson of team owner Richard Childress for second.
Dillon's third-place finish netted him only a two-point gain over his closest pursuer in the standings, Sam Hornish Jr., who scrambled to a fifth-place finish. Hornish is now a daunting eight points back heading into Homestead-Miami next Saturday, but Dillon could have made it a 10-point advantage by finishing second.
So, immediately after the race, Dillon went over, leaned into Allgaier's window and confronted him. Nothing physical, but a lot of verbiage.
What Dillon forgot, or didn't care about, was that "We were trying to stay in the top five in points too," Allgaier told ESPN reporters at the track.
That matters to little guys, if not to the biggest of the little guys.
At first, Dillon maintained Allgaier had hit him as they raced through the final lap. But, viewing the video, Dillon acknowledged that "It didn't look like it on the replay."
"It would have been nice if he could have helped me out there," Dillon told reporters later, "but you can't expect that."
Indeed not. Here's Allgaier, fourth in the standings, just three points ahead of fifth-place Elliott Sadler. And had he not passed for second, Allgaier's margin over Sadler would be a single point. Did Allgaier not have the right to race hard just as much as Dillon did?
Besides, Dillon left Hornish clinging largely to hope and little else, going into the season finale.
Hornish felt he had a much better day than it looked on paper.
"While it's not going to Victory Lane, it's kind of like a victory, compared to where we were yesterday," Hornish said, alluding to a poorly handling car in practice.
The fitful car continued on into the race, but Hornish stayed out during a midrace caution flag to gain track position.
"This morning I said I didn't know if we were going to be able to gain any points today," Hornish continued, "but what we need to do is keep it manageable when we go into Homestead.
"And eight points, while it's more than what we'd want, is manageable," Hornish said. "We can go out there and race hard, and lead a lap, and lead the most laps."
But to win the Homestead race outright, "You gotta beat Kyle Busch," Hornish acknowledged.
Busch dominated again Saturday, leading 168 of the 200 laps. This runaway was a little more fun than usual.
"I feel like the West Coast is a little more Busch-friendly," the Las Vegas native said in Victory Lane. "So it's nice to be out here ..."
Camping World: Youth movement
Jones
And the youth just keeps on coming. The fresh faces and new names in Victory Lane in the Trucks series just keep on illustrating how entertaining developmental drivers can be. (Are you listening, Nationwide officials and team owners?)
Friday night's duel at Phoenix could as easily have been between two veterans dropping down from Cup. But this was Erik Jones, 17, holding off Ross Chastain, 20, in the final laps.
Neither is certain what next year will bring with their current owners, Jones with Kyle Busch and Chastain with Brad Keselowski, so this finish was a classic audition -- the way a developmental series should work.
Jones, at 17 years, 4 months, undercut Chase Elliott as the youngest winner in series history. Elliott was five months older when he won in Trucks in September on a road course at Bowmanville, Ont.
Jones "looked like Kyle Busch tonight," veteran Brendan Gaughan, who finished third, told reporters at the track.
Jones is the sixth different rookie winner in the series this season, and the seventh winner age 21 or younger.
Veteran Matt Crafton, 37, scored one for the older set, finishing fifth so that he can lock up the championship just by starting next week's finale at Homestead-Miami.
On the final restart with 10 laps left, Chastain jumped out front but Jones hung close, and took the lead for keeps with just over eight laps to go.
"We just got a really good restart off Turn 2 and were able to get underneath him and run him down to make a pass," Jones said of the clincher.
"I tried taking his line away," Chastain said. "I banzai'd him on the restart, bout wrecked. I got the lead and held him off, but a lap after green, I couldn't hold him off like I needed to and he was so fast."
This was only Jones's fifth start for Kyle Busch Motorsports.
"If you look at what he's done for us in five races, it's already set a precedent," said KBM general manager Rick Ren. "In five races, he has a first, a second and three ninths. The young man has five top-10s in his first five races.
"There's not many drivers that come along," Ren continued, "that can just, out of the box, go and do that."
And the youth rolls on.