From Five-Time To Six-Time
Sprint Cup: Countdown to No. 7 has begun
Jimmie Johnson spent the past three years answering questions about his quest for a six-pack -- a six-pack of NASCAR Sprint Cup championships, that is.
On a weekend when quarterback-turned-Fox Sports pundit Donovan McNabb turned the conversation to Johnson's six-pack abdominal muscles and peerless level of fitness compared to his NASCAR rivals, JJ didn't get distracted. That mental strength allowed him and his No. 48 Hendrick Motorsports team to overcome another sterling effort from Matt Kenseth and Joe Gibbs Racing to emerge with the sixth Cup title in the past eight years for the pairing of Johnson and crew chief Chad Knaus.
The odds were stacked against Kenseth, coming in facing a 28-point deficit to Johnson. He did almost everything he could, qualifying on the pole position for the Ford EcoBoost 400 and leading a race-high 144 of 267 laps on the way to second place.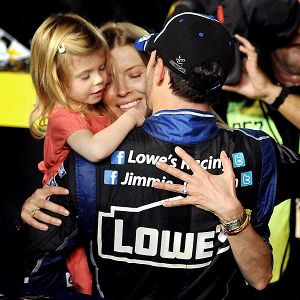 Robert Duyos/Getty ImagesJimmie Johnson enjoys a family hug after winning his sixth Sprint Cup title in eight years Sunday at Homestead-Miami Speedway.
But Knaus and Johnson countered every move, bringing Johnson home in a safe ninth place to earn that sixth crown and kick off the conversation about how long it will take him to join NASCAR titans Richard Petty and Dale Earnhardt with seven.
First things first, though. After withholding comment for three days about McNabb's polarizing "race drivers aren't athletes" remarks, Johnson responded.
"Yes, I am an athlete, and so is every other driver in one of these race cars," he told reporters.
In a subsequent news conference, he revealed he had gotten support from many other sporting figures, including NBA legend Michael Jordan.
"He's given me a hard time that I only won five," Johnson said. "I can't wait to send him a text and say, 'Hey, buddy, I've caught up!'"
Now the attention turns to how long it will take Johnson to catch up with the benchmark of seven NASCAR Cup series championships held by Earnhardt and Petty. At age 38, Johnson is relatively young by NASCAR standards. His best years may still be ahead of him.
Petty, who is NASCAR's leader in race wins with 200, said at Homestead that it is impossible and unfair to compare drivers from different eras. The reality is that Johnson is undisputedly the best in NASCAR's current Chase era, and even his competitors acknowledge that.
"Unfortunately, we're racing during the Jimmie Johnson era," remarked Sunday's race winner, Denny Hamlin. "We're just unlucky in that sense. Being out there and racing with him, I can say that I think he's the best that there ever was. He's racing against competition that is tougher than this sport's ever seen."
After three years of wearing out the hashtag "#sixpack" in his Twitter feed, Johnson and his fans will have to come up with a clever way to set up his run for No. 7.
But don't make it "#luckyseven," because there was little luck involved in Johnson's latest championship or any of the five that preceded it.
The California native simply works harder than his rivals at being the best, in and out of the car.
"I don't think Jimmie can train any harder and work any harder as an athlete to be in shape, or study what the car does, what the car needs," observed team owner Rick Hendrick. "And Chad's the same way. I don't know how they can work any harder. They don't leave any detail undone.
"I've been doing this for 30 years now, and the attention to detail that Chad goes through preparing for a race elevates the whole company," Hendrick added. "Jimmie elevates all the talent in our organization."
Given his work ethic and attention to detail, it's unlikely that Johnson will pause too long to reflect on his most recent accomplishment. For the next couple of weeks, he'll be swamped by media and public-relations responsibilities, starting on Tuesday by being the first athlete -- that's right, athlete -- to co-host ESPN's "SportsCenter."
Nor will he get bogged down trying to assess his place in NASCAR history. That can wait until after he hangs up his helmet for good.
"I want to unplug, enjoy the sixth, let it soak in," Johnson said. "We'll get to Daytona for testing soon enough. I guess by then it's probably appropriate to ask the question."
Autos, Open-Wheel
Motorsports Writer for ESPN.com
Covered Indy car racing for 20 years
Work published in 12 countries
Jimmie Johnson Among The Best Ever
Nationwide: Dillon over Hornish

Dillon
The Nationwide Series championship battle was the most exciting of the three that were decided at Homestead-Miami Speedway this past weekend.
Austin Dillon brought an eight-point advantage over Sam Hornish Jr. into the Ford EcoBoost 300, and the grandson of team owner Richard Childress was able to overcome handling problems in his Chevrolet to deliver another title for the famous No. 3 livery.
Hornish qualified his Ford on the pole position and led 37 laps early, but his Penske Racing Mustang gradually lost pace throughout the 200-lap contest.
Meanwhile, Dillon, who struggled early with his Camaro and dropped to 13th place, worked diligently with crew chief Danny Stockman Jr. to improve the car. By the closing stages, they could match Hornish's pace, although with both drivers on older tires, they weren't in contention for the race win.
While his Penske teammate Brad Keselowski used fresh tires to move from 11th to first in the space of three laps to claim the victory, Hornish finished eighth and Dillon 12th. That gave Dillon the Nationwide title by a three-point margin.
In a season when Sprint Cup stars Keselowski and Kyle Busch combined to win 18 Nationwide Series races, Dillon and Hornish won a total of one between them. That one went to Hornish, way back in the spring at Las Vegas.
"This championship is really important," said Dillon, who was scheduled to advance to the Sprint Cup in 2014 with Richard Childress Racing regardless of whether he claimed the crown. "For us as young guys, trying to make it in this sport, it's important that we do this because we got to keep sponsors coming to RCR. We have to keep people working. To do that we've got to win, win championships, win races. That's what we do it for. At the end of the day it's all about winning.
"I feel like we made it happen. Kind of ugly, but we did."
Hornish led the standings for much of the season but faltered in the late going. He spent the second half of the year facing an uncertain future when it emerged that he would not continue with the Penske organization in 2014.
He wasn't helped by a prolonged 12-lap caution to clean up an accident late in Saturday's contest that left many observers wondering why the race wasn't red-flagged.
"What can I say? Any other time there probably would have been a caution," Hornish said in a television interview. "It's just one of those things that it wasn't meant to be tonight. You can't give away points throughout the year like we did at times."
Camping World: Crafton crowned

Crafton
The biggest drama for Matt Crafton in Friday night's Camping World Truck Series race came with his finger poised over the starter button for his Toyota Tundra.
When the V-8 engine roared to life and Crafton took his place in the starting field at Homestead-Miami Speedway, the 37-year-old California native clinched his first major NASCAR-sanctioned championship.
However, Crafton was involved in one of several late-race accidents that relegated him to a 21st-place finish in the Ford EcoBoost 200. That allowed race winner Kyle Busch to claim the team owners' title on a tiebreaker for his Kyle Busch Motorsports organization.
Crafton notched 19 top-10 and six top-five finishes this season to outscore Ty Dillon by 40 points. He also became the first driver in Truck series competition to complete every lap over the course of the year.
"We wanted to get to Victory Lane and get the owners' championship, so it's a shame," Crafton said. "We were in the wrong place at the wrong time.
"It's been the greatest year of my life so far, to have a baby and win a NASCAR championship," he added. "Nobody can ever take that away from you."