Stick a fork in Denny Hamlin -- he's done

By Ed Hinton
ESPN.com
Archive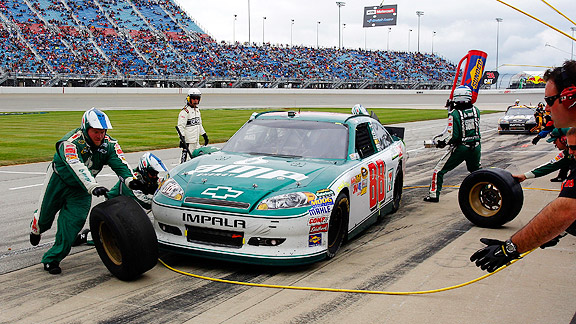 Geoff Burke/Getty ImagesIt wasn't easy, but Dale Earnhardt Jr. got the kind of finish that keeps him in the thick of the Chase.
Denny Hamlin is the current prime example of what the Chase needs most: an elimination system.
Why prolong the poor guy's misery? Why drag him through the charade?
Monday's Chase opener was bad enough for him. First a vibration in his car, then a flat left-front tire left him 31st in the rain-delayed Geico 400 at Chicagoland Speedway.
He fell 41 points -- new-system points, mind you, essentially meaning 41 race-finish positions -- behind new Chase leader Kevin Harvick, and 34 behind race winner Tony Stewart, who surged into second place in the Chase.
No wonder Hamlin didn't stick around to talk to the media. What the hell was he going to say?
And what can he say at New Hampshire, and beyond? That he clings to hope of clawing his way back? That the far-fetched math has not forsaken him?
Hamlin, who threatened Jimmie Johnson's string of championships right into the season finale at Homestead-Miami last year, is as good as done.
So why not let him go in peace, right now?
Since the inaugural Chase, in 2004, I have preached that (A) NASCAR has as much right to a playoff system as any other sport, but that (B) to have true playoffs, somebody has to lose and fall out, every week.
Eliminating one driver a week wouldn't just provide the sudden-death scenarios that electrify other playoffs in other professional sports, it would be more humane.
The way it stands now, Jeff Gordon would be next on the bubble. He fell 22 points back with a car that was fitful all Monday afternoon and then ran out of gas near the end.
Johnson, Kyle Busch and Matt Kenseth also ran out of fuel at the end, and fell near the bottom of the Chase heap, just above Hamlin.
Stewart, Harvick and Dale Earnhardt Jr. conserved enough fuel to finish 1-2-3 in the race after the other Chasers dropped out.
Stewart moved to second in the standings with his first win of 2011, even though through most of regular season, "We've had a miserable year," he conceded.
But that's how playoffs work. Some surge, some don't.
In other sports leagues, when stragglers fall out of contention in the playoffs, it's official. It's over for them. It's clear-cut.
It is therefore more interesting, week to week.
And far less painful to those who falter.
David Newton column | Racing Live! rewind | Recap | Results
Nationwide Series: Keselowski cruises
Don't you just hate to see Brad Keselowski run away with a race in a breeze? On the sheer entertainment side, whether you like him or not, a Keselowski cakewalk seems such a waste of his propensity for mischief, beating and banging, and postrace flaps.
But alas, Bad Brad sailed through the Nationwide race at Chicagoland Speedway, leading 158 of the 200 laps, barely challenged -- and not for long -- by Carl Edwards.
It was so easy that in Victory Lane, Keselowski had little to talk about, other than hyping a free-hamburger promotion from one of his sponsors.
Later, he checked off the perfection to reporters at the track: "Good strategy. Good execution. Fast car. We didn't make any mistakes."
Edwards' crew, on the other hand, miscalculated his fuel mileage just enough for him to run out of gas just before a green-flag pit stop, causing him to have to coast in, and creating a delay while fuel was poured directly into the carburetor.
That ruined Edwards' chances after he'd led 35 laps.
The final 131 laps went caution-free, and that allowed Keselowski to win by a whopping 8.568 seconds over Edwards.
Bad as that was for Edwards, the runner-up considered it a testament to NASCAR, in light of the common complaint by fans and competitors that the sanctioning body might throw "phantom cautions" to tighten up competition during runaways.
"I really applaud NASCAR for letting the race run its course," Edwards said. "You never know what is going to happen and I think too often NASCAR is quick to throw cautions.
"I think they showed me and everybody that if there is nothing out there, and no reason to throw a caution, then they won't," Edwards continued.
"I think that is good. I think it lends a lot of credibility to the series, and they showed today that they don't mind that a guy is out there with a seven- or eight-second lead."
Camping World Truck Series: Austin Dillon and crew make another star turn
You had to watch a replay to be sure Austin Dillon and his crew really did that. Surely they'd left off lug nuts or something, to get out of the pits that fast -- in less than six seconds for two tires.
But no, it was as flawless a green-flag pit stop as you'll ever see, and it left Dillon plenty of margin to sail away from Kevin Harvick and Kyle Busch, win Friday night at Chicagoland Speedway, and leap to within three points of James Buescher for the Trucks points lead.
It was Dillon's second win of the season and fourth of his Trucks career, but "This is the best one," he told TV reporters in Victory Lane. "Man, you had the Cup guys in there. That's who you want to beat."
On the track was the easy part. Harvick and Busch raced each other side-by-side for several laps in the late going, allowing Dillon to build up a cushion that was insurmountable once Harvick broke free and began solo pursuit.
But the race was won in the pits on the final stops. Harvick, who led 99 of the 150 laps, had to take four tires to eliminate a vibration in his truck. Busch took two, but his crew had trouble changing his right-rear tire.
Not that Dillon's grandfather, Richard Childress, or "Pop Pop" doesn't provide his racing grandsons, Austin and younger brother Ty, with the best of everything. He does.
But you can't buy the lightning synchronization with which Dillon tore out of the pits, with no tire spin, the millisecond his crew dropped the jack.
It was something of an understatement when Dillon said of his crew, "They got us out off the pit road first."
And how.
Ed Hinton is a senior writer for ESPN.com. He can be reached at edward.t.hinton@espn.com.
Racing Resources says …
Sprint Cup Series

• Tony Stewart won the Sprint Cup Series Geico 400 at Chicagoland Speedway on Monday, the 40th win in his 455th start. His 40 wins tie Mark Martin for 16th all-time. This was his first win of 2011, the 16th driver to win a race this season. This is his 13th straight season with a win and his third win at Chicagoland in his 11th start. His three Chicagoland wins lead all drivers. This was his seventh Chase win. He led four times for 35 laps, including the final 15.
• It was his the ninth series victory for Stewart-Haas Racing and the team's second win in 2011. It was the team's first series victory at Chicagoland.
• This was the 12th series win in 2011 for Chevrolet, the most, and also the eighth victory at Chicagoland for the maker, also the most.
• Kevin Harvick (finished second) got his sixth top-5 at Chicago in 11 starts. He is the points leader by seven over Stewart.
• Dale Earnhardt Jr. (third) had his best finish since a second at Kansas, 14 races ago.
• Carl Edwards (fourth) got his 18th top-10 finish this season, tied with Jimmie Johnson for the most.
• Brad Keselowski (fifth) has five top-5 finishes in the past seven races, for an average finish of 4.8 in the past eight races.
• Clint Bowyer (seventh) scored his second top-10 finish in the past 11 races. He has top-10 finishes in five of his six Chicago races.
• Ryan Newman (eighth) got his seventh top-10 in the past 10 races. This was his fourth top-10 at Chicago in the last five races.
• Johnson (10th) had his 55th career top-10 finish in 71 Chase races (77 percent). This was his eighth top-10 in 10 Chicago races, but he still has no wins.
Nationwide Series

• Brad Keselowski won the Nationwide Series Dollar General 300 at Chicagoland Speedway on Saturday, his 15th career win in his 162nd series race. He last won at Indianapolis in July, and this was his third win of 2011, and his third win in his past seven starts. It was his win in the series since his testing crash at Road Atlanta in early August (third series start back). This was his first win at Chicagoland Speedway, his previous best finish at the track was third in 2008.
• This was his third career win on a 1.5-mile track, the second of 2011 (Kentucky). He led four times for 158 laps, including the final 28. He started second, and has won all three races in 2011 from a top-5 starting spot.
• He is the first driver to win from the front row at Chicago in 12 races.
• This was the 20th career series win for Penske Racing and the fourth win of 2011, the third most. It was the team's first win at Chicagoland, the eighth different team to win at Chicagoland.
• This was the 28th career win for Dodge and the fourth win of 2011. It was the maker's third win at Chicagoland. • Carl Edwards (finished second) got his 14th top-2 finish this season, including the past three.
• Brian Scott (third) tied his career best finish, matching Chicagoland in 2010.
• Aric Almirola (fourth) tied his best finish this season for the third time (Lucas Oil Raceway and Chicagoland).
• Sam Hornish Jr. (fifth) got his best career finish.
• Elliott Sadler (sixth) earned his seventh straight top-10 finish and gained two points on leader Ricky Stenhouse Jr., moving to 14 back.
• Jamie McMurray (seventh) got his first top-10 this season.
• Paul Menard (ninth) has top-10 finishes in all five starts this season.
Camping World Truck Series

• Austin Dillon won the Fast Five 225 at Chicagoland Speedway on Friday, his fourth career win in his 45th series race.
• Dillon's last win came at Nashville, five starts ago, and it was his second win of 2011. He's the fourth multi-time winner in 2011. He joins Ron Hornaday Jr. as the only other series regular with multiple wins this season. Dillon has 10 top-10 finishes this season.
• This was Dillon's first win at Chicago in his second start. He finished ninth last year. He is the second winner at Chicago in three races, with Kyle Busch winning the previous two. Dillon led three times for 17 laps, including the final 14. He gained 14 points on the leader and is now second in points, only three back of James Buescher.
• This was the 25th career win for Richard Childress Racing in the series and the second win of 2011. It was the team's first win at Chicago. • This was the 10th win of 2011 for Chevrolet, the maker's first win at Chicago.
• Kevin Harvick (finished second) broke a three-race win streak for him and a four-race win streak for his team, Kevin Harvick Inc.
• Nelson Piquet Jr. (third) got his third career top-5 finish.
• Parker Kligerman (fourth) earned his fourth top-5 finish this season.
• Busch finished fifth after he had won the prior two truck races run at Chicago.
• Buescher (11th) finished outside the top 10 for the first time since Martinsville, breaking a streak of 13 races.
• The top three in points are separated by only six points (Buescher and Dillon by 3, Johnny Sauter by 6).
-- Racing Resources