Johnson, Keselowski in uncharted territory

By Terry Blount
ESPN.com
Archive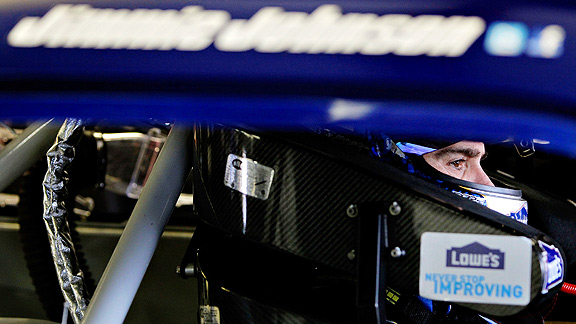 Justin Edmonds/Getty ImagesFive-time defending Cup champion Jimmie Johnson faces an uphill climb two races into the 10-race Chase.
For Jimmie Johnson and Brad Keselowski, this is new ground, a surprising place where neither driver expected to be.
Johnson never has ranked 10th in the standings two races into the Chase -- not in the past five years when he won the Sprint Cup title, and not the first two years of the Chase when he didn't.
And Keselowski never has ranked as high as third in the standings, Chase or no Chase, in his Cup career.
Can a young driver in true title contention for the first time handle the pressure down the stretch and continue to succeed?
And can the seasoned pro going for a sixth consecutive title keep his cool and get his groove back to challenge again at the end?
My guess is yes and yes. History tells us that Johnson and crew chief Chad Knaus won't panic. And this season tells us that Keselowski and crew chief Paul Wolfe are contenders to stay.
It's only two weeks into the 10-race playoff. But for the moment, it's Johnson and Knaus who seem a little rattled, and Keselowski and Wolfe who are the duo making the most of every situation.
"We needed to get through the races where we didn't feel like we were very good," Keselowski said after finishing second behind Tony Stewart on Sunday at New Hampshire. "We're just executing very well, and it's another good sign, good momentum and good mojo."
Some people are starting to wonder whether Johnson and the No. 48 Chevy team have lost their mojo.
"We didn't have a car like we thought we would," Johnson said Sunday after his 18th-place finish. "It just didn't have the speed, and some pit calls didn't work out our way. But we'll take this one on the chin and go on to the next one."
Johnson showed his frustration with the car on the team radio Sunday. He also had a couple of late-race bumping incidents with Kyle Busch that caused Johnson to drop back.
"Yeah, he was being a bit stubborn," Johnson said of Busch. "But it was racing. It wasn't like he was trying to wreck me or anything. When we got together the second time, it whipped the wheel out of my hand and bent something in the steering up front. It was just the end of a bad day."
Johnson didn't have a great car. Neither did Keselowski, but Wolfe made the right adjustments to get the No. 2 Dodge near the front at the end.
"What we've done well this year is stay focused, try to stay calm," Wolfe said. "I know it's tough for Brad when he's at the back running. We kept making adjustments to our race car each stop. We kept working on it, and we got our car where I felt like we were competitive."
Those moves over the past two months have transformed Keselowski's season. He's 11 points behind Stewart in first and only four points behind Kevin Harvick in second.
"It's funny because 10 races ago we left Loudon [N.H.] 23rd in points," Keselowski said. "Who would have ever thought we'd be third in 10 weeks?"
And who would have thought he would be seven spots and 18 points ahead of Johnson with eight races to go? Certainly not Johnson, but he knows it's a long two months to go.
"Anything is possible," he said. "Obviously, we need eight great ones from here. We can't run 10th anymore. We need a bunch of W's. My optimism is still high."
Before the Chase began, Johnson hinted that a playoff newbie like Keselowski would start hearing voices in his head as the pressure mounted.
Keselowski laughed it off at the time. A couple of more weeks like the past two, maybe he'll ask Johnson what he's hearing in his head.
Ed Hinton column | Racing Live! rewind | Recap | Results
Nationwide Series: Bring on Dover!
The Nationwide Series was off, a much-needed break after racing on 14 consecutive weekends. The Nationwide teams return to the track this weekend at Dover.
With six races remaining, the championship is down to a two-man battle between Ricky Stenhouse Jr. and Elliott Sadler, who is 14 points behind Stenhouse.
Both drivers are trying to win the title for the first time, but they are on opposite ends of the career spectrum.
Stenhouse, who turns 24 on Oct. 2, is competing in his second full season in a Roush Fenway Racing Ford. Sadler is 36, racing full-time in this series for the first time since 1998 after spending 12 years in Sprint Cup.
Camping World Truck Series: Kyle Busch dominates again
Kyle Busch won his sixth Camping World Truck Series race of the season Saturday at New Hampshire. He started on the pole and led 165 of 175 laps.
In related news that day, Hercules was pulling the wings off flies.
More importantly, and much more interesting for the series, Austin Dillon has a two-point lead over James Buescher and leads by seven points over Johnny Sauter in the title fight with six races remaining.
The trucks will be at Kentucky Speedway this weekend. My advice to those of you who plan to attend: Leave early.
Terry Blount is a senior writer for ESPN.com. His book, "The Blount Report: NASCAR's Most Overrated and Underrated Drivers, Cars, Teams, and Tracks," was published by Triumph Books and is available in bookstores. Click here to order a copy. Blount can be reached at terry@blountspeak.com.
Racing Resources says …
Sprint Cup Series

• Tony Stewart won the Sylvania 300 at New Hampshire Motor Speedway. It was his 41st career win in his 456th Cup series start, breaking a tie with Mark Martin for 16th on the all-time wins list.
• Stewart posted his eighth victory with crew chief Darian Grubb in their 100th start together. It also was his eighth win with Stewart-Haas Racing in his 100th start with that team.
• Stewart has won both Chase races in 2011, becoming only the second driver to win the first two races of the playoff (Greg Biffle, 2008).
• Stewart won for the third win at New Hampshire, but it was his first victory in the fall race at Loudon. He finished second at NHMS in June, when his SHR teammate Ryan Newman won the race.
• Stewart's eighth Chase win tied Carl Edwards for second all-time behind Jimmie Johnson with 19.
• Stewart led once for two laps, tying Jeff Burton for the fewest laps led in a Cup series New Hampshire race (Burton led only two when he won in July 1999). He moved up one spot in the points to take the lead over Kevin Harvick. Stewart leads the points standings for the first time during the Chase since he won the championship at Homestead-Miami in 2005.
• Stewart-Haas Racing posted its 10th Sprint Cup victory overall and third win in 2011. SHR has won twice at NHMS.
• Chevrolet posted its 13th Cup win in 2011, the most by any manufacturer. Chevrolet has a series-best 17 wins at NHMS.
• Brad Keselowski (second) posted a career-best finish at NHMS.
• Greg Biffle (third) had his second top-5 finish of 2011.
• Jeff Gordon (fourth) has top-6 finishes in five of the past six races. He led a race-high 79 laps.
• Brian Vickers (fifth) had his second top-5 finish of 2011.
• Matt Kenseth (sixth) rebounded from a spin early to get his first top-10 finish at New Hampshire in his past eight races.
• David Ragan (seventh) posted his best New Hampshire finish in his 10th start there. He has top-11 finishes in the past three races.
• Carl Edwards (eighth) had his fifth straight top-10 finish.
• All four Roush Fenway Racing drivers finished in the top 10 -- the second time this season RFR had all four drivers in the top 10 (Texas in April).
• Regan Smith (10th) had his fifth top-10 finish of 2011.
Camping World Truck Series

• Kyle Busch won the F.W. Webb 175 at New Hampshire Motor Speedway. It was his 30th career win in his 99th Truck series start and series-best sixth victory of 2011. He has won at least six races in each of the past three seasons. He has finished first or second in eight of his 14 Truck races in 2011.
• Busch posted his third victory at New Hampshire, tying Ron Hornaday Jr. for most wins there. He won from the pole for the second year in a row. It was his sixth top-10 finish in seven New Hampshire starts.
• Busch led twice for all but 10 laps (165 total). He led the first 130 laps before pitting under green.
• Kyle Busch Motorsports posted its 15th career victory and seventh win of 2011, a series high.
• Toyota posted its ninth win of 2011 and fifth win overall at New Hampshire.
• Austin Dillon (second) had his seventh top-5 finish this season and took the points lead by two.
• Kevin Harvick (third) has scored top-5 finishes in all seven starts this season.
• Hornaday (fourth) had his 13th top-10 this season.
• Johnny Sauter (fifth) had his eighth top-5 finish this season.
• James Buescher finished seventh and lost the points lead to Dillon.
• Three drivers made their Truck series debuts: German Quiroga (16th), AJ Russell (26th) and Bobby Santos (34th).
-- Racing Resources