Limiting the damage is half the battle

By David Newton
ESPN.com
Archive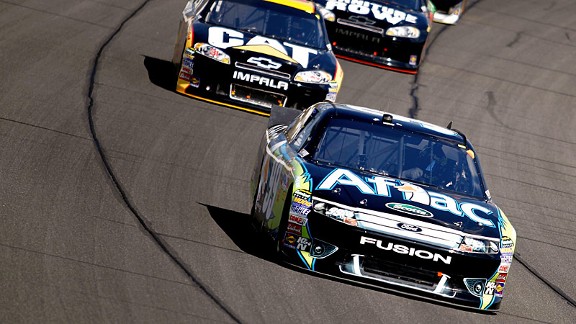 Todd Warshaw/Getty ImagesCarl Edwards kept scrapping on Sunday and got a top-5 finish to show for it.
The usually stoic Bob Osborne began singing "Tomorrow" to Carl Edwards over his driver's in-car radio three weeks ago. You know, "The sun will come out tomorrow … "
Yes, the song from the musical "Annie" was abnormal.
The crew chief could have -- should have -- sung it again on Sunday at Kansas Speedway.
Thanks to an amazing fifth-place finish after running 20th and a lap down much of the day, Edwards and the No. 99 team remain in the points lead and have a tomorrow.
Kevin Harvick also has a tomorrow after turning what he called a "terrible" day into a sixth-place finish that left him only a point out of the lead.
But for a few other drivers, tomorrow means next year.
Yep, Dale Earnhardt Jr.'s bid at the title is basically over. His 14th-place finish left him 43 points -- an entire race -- out of the lead.
Jeff Gordon's bid to win a championship under the Chase format also is over. A late blown engine left him with a 34th-place finish and 47 points back.
Gordon and Earnhardt join Ryan Newman (54 points back) and Denny Hamlin (79 points back) singing the wait-'til-next-year blues.
"I just want to win a race," Earnhardt told reporters only a few days after declaring that he still had a chance to win the title. "It's a goal of mine right now to just go out there and win. Man, if we could do that, that would really, no matter what happened in the Chase, we'd be real happy with our season."
In other words, he knows his Chase is over even if his season isn't.
"We've made some gains," Earnhardt said in what sounded like a concession speech. "I think we've learned as a team that we need to be better, and we need to work hard on the offseason to try to present a better account of ourselves next season."
Gordon didn't have to say anything. You could see the disappointment on his face as it became apparent that the hardware for a fifth championship wasn't going into his trophy case.
If Edwards or Harvick wins the title, he can look back and say Sunday was key. They pulled a Jimmie Johnson, turning a bad day into what Edwards said felt like a win.
"I feel grateful," Edwards said after watching Johnson win to move within four points of the lead. "That was very, very bad at the beginning of that race. I cannot thank my guys enough for sticking with it and working hard all day. I cannot believe we finished fifth. It feels like a win.
"That is the most we have done with a car that wasn't capable of winning ever."
That's how you win titles. Johnson will tell you that.
Sometimes survival is as big as a win, and so far, eight drivers have survived enough to be within 20 points of the lead.
But sometimes survival doesn't feel as good as it did for Edwards and Harvick. Take Tony Stewart. He was running as high as second late but finished 15th in part because a four-tire strategy failed and in part because he accidentally hit the accelerator instead of the brakes and slid through his pit stall on his last stop.
The mistakes dropped him four spots to seventh in the standings, 19 points out.
He still has a tomorrow, but it's not as bright as it was yesterday.
When you're in the Chase, the key is making sure there is a tomorrow. Sometimes it takes luck, as Edwards and Harvick got with a few late cautions and good pit calls.
"You know, we've messed up some races and some points races in the past, and I believe we've learned from that," said Edwards, who was as far back as 25th less than 100 laps in after starting on the outside pole. "So it's kind of a little test when you go through something like this to see if somebody melts down or if you can kind of keep going through it."
Escaping Kansas with a solid finish was especially key for Edwards because he's heading for a Charlotte track where he has been average, outside of his win in the May All-Star Race.
In his past five CMS starts, Edwards' average finish is 24.0. In the past three October races at the 1.5-mile track, his average is 28.0.
Harvick, despite winning the May race at CMS, has an average finish of 19.1 at the track.
Johnson, the driver whom both are trying to keep from winning a sixth straight title, has six wins and an average finish of 10.8 at Charlotte.
"That place has been a little difficult for us," Edwards said. "We have been very hit-and-miss there."
But because of Sunday's amazing finish, Edwards has a little playing room in case he misses again.
He has a tomorrow.
Others, like Earnhardt and Gordon, do not.
Terry Blount column | Racing Live! rewind | Recap | Results
Nationwide Series: Keselowski rolls; Stenhouse hangs on
There's a feud brewing in the series with a Joe Gibbs Racing driver involved, and it's not Kyle Busch.
Brian Scott vowed revenge on Aric Almirola after Saturday's race at Kansas Speedway if the JR Motorsports driver doesn't stop racing him like a "jack you-know-what."
Scott, who was spun out by Almirola last month at Richmond, was furious after Almirola "tried to pass us on pit road and tried to block us getting in the pits." The two got into a shouting match after the race.
"I'm just sick of it, and I'm not going to put up with it anymore," Scott told reporters. "He's cost me a car, and he continues to race like that, so I went and told him, and I just told him how I felt. I told him that I owed him one, and I told him if he's going to continue to race like that, I'm probably going to slip up and wreck him."
Then it got ugly, with Almirola poking at Scott's father for helping fund his son's ride at JGR.
"He races way over his head," Almirola said. "He's very fortunate his dad has a lot of money and spends a lot of money on his racing, and that's a big factor in what he's [got] going on."
Neither driver is in championship contention. Almirola is fourth, 80 points out. Scott is ninth, 226 back.
The title will come down to leader Ricky Stenhouse Jr. and Elliott Sadler, separated by 20 points heading into Friday's race at CMS. Sadler should have an advantage on the track based on his Cup experience, but Stenhouse won the pole and finished fourth in the May Nationwide race at CMS.
My advice to both: Stay far away from Scott and Almirola.
Camping World Truck Series: Ready for Las Vegas
After an off weekend, the series resumes on Saturday at Las Vegas Motor Speedway. Austin Dillon has a three-point lead over James Buescher with Johnny Sauter 19 back.
David Newton covers NASCAR for ESPN.com. He can be reached at dnewtonespn@aol.com. Follow him on Twitter at @DNewtonespn.
Racing Resources says …
Sprint Cup Series

• Jimmie Johnson won the Hollywood Casino 400 at Kansas Speedway on Sunday, his 55th career win in his 357th series start. He moved into a tie for eighth place all-time with Rusty Wallace.
• This was Johnson's 20th Chase win, the most of all drivers. He started 19th, the lowest starting position of his 20 Chase wins. It was his second victory in 2011; he also won at Talladega 21 starts ago, the longest winless streak of his career. It was his second win at Kansas in his 11th start and his sixth straight top-10 finish there. He led the race seven times for 197 laps, including the final 28. His 197 laps led are the most by a Kansas winner.
• This was the 199th series victory for Hendrick Motorsports. It was also the team's fifth victory in 2011, tying Joe Gibbs Racing, Penske Racing and Richard Childress Racing for the most this season. This was also the team's fourth series victory at Kansas, the most by any team.
• This was Chevrolet's 14th series win in 2011, the most in the series. Chevrolet has clinched the 2011 manufacturers title, and it was the maker's seventh victory at Kansas, the most all-time.
• Kasey Kahne (finished second) had his season-best finish and second straight top-5 finish. He was the best-finishing non-Chase driver for second straight race.
• Brad Keselowski (third) got his third top-5 finish in the past four races.
• Matt Kenseth (fourth) brought home his best finish in four Chase races in 2011 and his third straight finish of sixth or better. It was his third top-5 finish at Kansas.
• Carl Edwards (fifth) got his third top-5 finish of the Chase, the only driver to finish in the top 10 in all four chase races in 2011. It was his fourth top-5 finish at Kansas.
• Greg Biffle (eighth) recovered from a speeding penalty on Lap 208 to earn his sixth straight top-10 finish at Kansas. Biffle is the only driver to score 10 straight top-15 finishes at Kansas. Biffle has finished on the lead lap in the past 10 Kansas races, the longest current streak.
• Mark Martin (10th) earned his 10th top-10 finish of 2011 and fifth top-10 finish at Kansas.
• Austin Dillon started and finished 26th in his first series race.
Nationwide Series

• Brad Keselowski won the Nationwide Series Kansas Lottery 300 at Kansas Speedway on Saturday, his 16th career win in his 164th career series start. It was his fourth win of 2011, and all four wins were in his past nine starts. This was his first win at Kansas Speedway, but he finished second in this race last year. Kansas is the 14th track he has won on in the series.
• Keselowski led 173 laps, tying Kyle Busch in 2009 for the most laps led by any driver in a single race at Kansas.
• Keselowski started second, his seventh front-row start in the last eight races. He's won three of those eight races. He has won three of the past four races on 1.5-mile tracks.
• This was the 21st career win for Penske Racing and the team's fifth win of 2011, all in the past 13 races. This was the team's first win at Kansas Speedway.
• This was fifth win of 2011 for Dodge Motorsports, and the manufacturers second win at Kansas Speedway.
• Carl Edwards (finished second) earned his fifth straight top-two finish in 2011, the third straight 1-2 finish with Keselowski. This was Edwards' 125th top-5 finish in the series, ranking second all-time.
• Elliott Sadler (third) earned his first top-5 finish since Iowa, and he tied his season-best finish for the third time this season and gained two points on points leader Ricky Stenhouse Jr.
• Paul Menard (fourth) restarted 18th on Lap 149 after speeding on pit road on a Lap 143 pit stop. He has finished in the top 10 in all six series starts this season.
• Stenhouse (fifth) got his 14th top-5 finish in 2011, and he has finished in the top six in both of his series Kansas starts.
• Kevin Harvick (sixth) restarted 23rd on Lap 96 after pitting six times before Lap 96 to fix a broken front splinter. This was his seventh top-10 finish in his 13th series start of 2011.
• Brian Vickers (eighth) has finished in the top 10 in his past nine starts in the No. 32 car.
• Danica Patrick (15th) earned her fifth top-15 finish in nine starts this season.
-- Racing Resources