Jimmie Johnson the victim in 83 vs. 17 tiff

By Ed Hinton
ESPN.com
Archive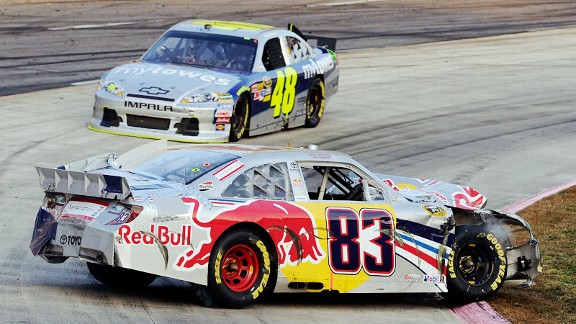 John Harrelson/Getty Images/NASCARBrian Vickers (83) was involved in six of the 18 cautions Sunday at Martinsville Speedway, including the final one that cost Jimmie Johnson (48) the win.
That the sun is sinking fast on Jimmie Johnson's run of championships is not a bad thing for NASCAR. Five straight are more than anybody is likely to equal any time soon, so on to another face at Homestead-Miami -- Carl Edwards, or, more likely considering momentum, Tony Stewart.
It's just that you hate to see Johnson go down the way he did Sunday, denied a blaze-of-glory win by a non-Chaser who deemed his momentary little grudge more important than the outcome of a race.
That Stewart is charging for the title by sheer winning is a good thing. The guy who wins the most races in the playoffs -- Stewart has won three of seven -- would be a substantive champion indeed.
But Stewart was handed that third win by the aforementioned non-Chaser. And, close as the standings are now -- Edwards is just eight points ahead of Stewart with three races left -- Sunday's outcome could affect the championship itself. Stewart earned four more points for winning than he would have for second place.
The consensus of my ESPN colleagues, on both TV and dot-com, was that Brian Vickers was involved in perhaps half the 18 cautions Sunday at Martinsville Speedway.
He wasn't. I reviewed the entire video and counted. Vickers was involved in six. Bad a day as he had, the only one that bothers me was the last one, the one that changed the outcome of the race.
In the last eight laps, "I wish he could have just driven around the racetrack, and we could have won this thing," Johnson said afterward, in tones as subdued as you'll ever hear from him.
Johnson already had held off Stewart on a restart with 22 laps left, and was breezing along out front. No more cautions, and Johnson would win. Clearly.
But Vickers wanted payback on Matt Kenseth, after both their days were ruined, and caused the final caution. Typical of Vickers' day, he ended up spinning himself after rear-ending Kenseth.
That allowed Stewart alongside Johnson on the restart with three to go. Stewart needed but one lap to make the winning pass.
No, this didn't affect Johnson's faded chances of a six-peat much. A win would have left him 39 points behind Edwards rather than 43.
But at least Johnson could have added some color to his sunset.
Payback is what it is in NASCAR and is permissible, even deemed mandatory by drivers, and conventional wisdom is to get it done as soon as possible.
I understand all that, and so does Johnson.
"Certainly I understand that if you're unfairly wrecked, regardless of who that person is, there's a chance retaliation is going to happen," Johnson said afterward.
Vickers was retaliating for Kenseth's wrecking him while they were running for position, eighth place. Kenseth seemed to feel that Vickers had been holding him up for several corners.
But with eight laps left, Kenseth's and Vickers' days -- and Kenseth's championship chances -- were already ruined. By that point, it didn't matter to them, just to the law of the NASCAR jungle, and to Stewart and Johnson.
It's all tantamount to, say, the winless Indianapolis Colts being allowed onto the field for a playoff game as a third party and disrupting the outcome of the NFL championship for their own petty purposes.
I've complained about non-Chaser antics affecting contenders since the first race of the inaugural Chase. At New Hampshire in 2004, non-Chaser Robby Gordon went after non-Chaser Greg Biffle and wound up taking out Chaser Stewart and ruining Stewart's championship chances right out of the gate.
It's bad enough that in NASCAR's version of playoffs, championship contenders have to run with the also-rans from the regular season.
At least they could admonish the also-rans to suspend the law of the jungle at moments that can affect race, and even championship, outcomes.
David Newton column | Racing Live! rewind | Recap | Results
Camping World Truck Series: Hamlin winning at Martinsville no surprise
You get the feeling Denny Hamlin could win on Martinsville Speedway in a soap box derby car, let alone Kyle Busch's truck.
So what did you expect on Saturday other than Hamlin's first career Truck series win and his fifth at the track?
He got it in flashy fashion, darting underneath Austin Dillon and Ron Hornaday Jr. with 13 laps left.
You could say Hamlin took Dillon, 21, grandson of Richard Childress, to school. Or, more accurately, you could say that Pop-Pop's truck team isn't perfect and that flawed brake pads made the youngster a sitting duck.
"It was a gift," Hamlin said of the opening, to Speed TV reporters at the track.
On the final restart, with 14 to go, Dillon jumped out to a lead that lasted only to the first turn. There he encountered the "lock and slide" problem he'd dealt with all race. His truck skated up and into Hornaday, who was challenging on the right side.
That left Hamlin an open lane at the bottom of the track.
Hamlin knew the Kyle Busch Motorsports truck was the class of the field at the end, but the crew was "reminding me on the radio that those two guys are battling for the championship," the Cup veteran said in Victory Lane. "I said, 'If they'd kindly just move right over, they can battle right behind me.'"
That's what happened. Hornaday finished second and Dillon third.
Dillon's problem was "something with our brake pads," he said. "I couldn't get going on the first few corners. I'd just lock and slide."
Dillon actually increased his lead to 11 in the series standings over second-place James Buescher, who finished 10th on Saturday.
Hornaday moved to within 15 points of Dillon but is tied for third with Johnny Sauter.
Nationwide Series: Saturday shootout at Texas
The Nationwide Series was off this week. The next race is Saturday at Texas Motor Speedway.
Ed Hinton is a senior writer for ESPN.com. He can be reached at edward.t.hinton@espn.com.
Racing Resources says …
Sprint Cup Series

Tony Stewart won the Tums Fast Relief 500 at Martinsville Speedway. It was his 42nd career Cup series win in his 461st start. It was his third win at Martinsville in his 26th start there and his first win at the track since the spring 2006 race.
Stewart has three wins in 2011, all in the Chase.
Stewart led three times for 14 laps, including the final three.
Stewart is now eight points behind Chase leader Carl Edwards, having gained 11 points on him.
Stewart scored his ninth Chase win. He ranks second to Jimmie Johnson with 20 playoff victories.
Stewart has nine wins with crew chief Darian Grubb and Stewart-Haas Racing.
Stewart-Haas Racing posted its 11th career victory and fourth win of 2011. It was SHR's first win at Martinsville.
Chevrolet posted its 16th win of 2011 and 48th overall victory at Martinsville, most of all makes.
Jimmie Johnson (second) posted his 14th top-5 finish at Martinsville. He has finished first or second there nine times.
Jeff Gordon (third) had his 13th top-5 finish in the past 14 races at Martinsville, becoming the fourth driver to lead more than 3,000 laps at the Virginia track.
Kevin Harvick (fourth) posted his third top-5 finish at Martinsville, all three having come in the past three races.
Denny Hamlin (fifth) scored his ninth top-5 finish at Martinsville and first top-5 of the 2011 Chase.
Jeff Burton (sixth) had his third top-10 finish of 2011; he finished second last week at Talladega.
Dale Earnhardt Jr. (seventh) had his second top-10 finish of the 2011 Chase.
Martin Truex Jr. (eighth) had his 10th top-10 finish of 2011.
Carl Edwards (ninth) earned two free passes Sunday. His worst finish in the 2011 Chase so far is an 11th at Talladega.
Camping World Truck Series

Denny Hamlin won the Kroger 200 at Martinsville Speedway.
It was Hamlin's first career Truck series win in his 12th start. His previous best finish was third at Atlanta in October 2008.
Hamlin became the seventh first-time winner at Martinsville, most of any track. He is the second first-time winner of 2011 (Michael Waltrip, Daytona).
Hamlin became the 23rd driver to win in all three national series. He became the 70th different winner in the Truck series.
Hamlin led twice for 68 laps.
Kyle Busch Motorsports posted its 16th career win and eighth victory of 2011. KBM posted its first win at Martinsville.
Toyota posted its 10th win of 2011 and seventh win overall at Martinsville.
Ron Hornaday Jr. (second) has top-2 finishes in the past four races.
Austin Dillon (third) extended his points lead to 11, the largest lead in the past five races.
Johnny Sauter (fourth) had his 10th top-5 in 2011.
Joey Coulter (fifth) tied his career-best finish for the fourth time.
Kevin Harvick (sixth) had his worst finish this season.
Cale Gale (seventh) posted his best career finish.
James Buescher (10th) had his series-leading 19th top-10 this season.
T.J. Duke III (34th) and Tyler Tanner (30th) made their series debuts.

-- Racing Resources