Hamlin's confidence soaring, thanks to Grubb

By Ed Hinton
ESPN.com
Archive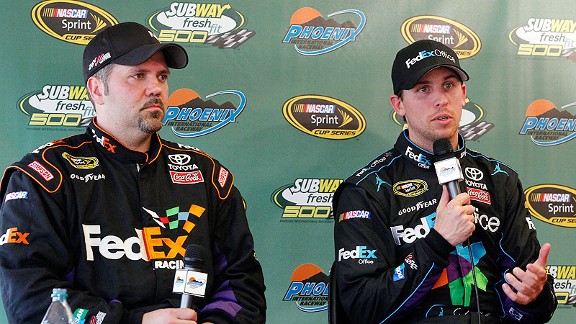 Tyler Barrick/Getty Images/NASCARCrew chief Darian Grubb, left, has won six of the past 12 Cup races with two different drivers.
Denny Hamlin has his head screwed on straight this time.
Whether it will vibrate loose through the grind of a long season remains to be seen. But he has calibrated the setting and tightened to the last snug turn of the socket wrench.
He no longer needs counseling from his buddy Michael Jordan, or from the sports psychologist he sought out during his miserable season last year.
He's got Darian Grubb, whose degree in engineering is more relevant here than one in psychology.
Grubb is directing the turning of wrenches oh so precisely on their Toyotas, and "more confidence equals speed," Hamlin said before they even started this, their first season together. "No doubt about it."
Granted, it's far too soon to make anything of Hamlin's lead in the points. But if you analyze what brought him to the top of the standings this fast, there are strong indicators for the rest of his season.
Sunday's giant step wasn't just a matter of winning, but of when, where and how he won.
He won at Phoenix, a track that had haunted him since November 2010, when his run for a Cup championship imploded due to a fuel issue that forced him to pit late.
He won the second race of the season, right off leading the most laps and finishing fourth in the heralded crapshoot known as the Daytona 500, and "we've never been in this position this early in the season," he told TV reporters in Victory Lane on Sunday.
"We've always struggled. We've always taken our time -- you know, five or six races in before we hit our stride."
And he got an immersion course in working with Grubb to adjust a car that had been fitful in practice and on into the start of Sunday's race.
"This is the first race where me and him have had to work together in a race situation where he's going to have to make a lot of adjustments," Hamlin told reporters at the track, "and needless to say, it was going forward the entire day."
By the end the car was so good that Kevin Harvick's Chevrolet was Hamlin's only threat, and Harvick ran out of gas on the next-to-last lap. Even Harvick doubted he could have passed Hamlin anyway. And Harvick was so far ahead of third-place Greg Biffle that he held off Biffle for second place just by coasting around on an empty tank.
Phoenix had been a traumatic track for Hamlin, in that he wasn't competitive there last season after the shock of pitting himself out of contention in '10 -- and the public scolding he got from then-crew chief Mike Ford, who said Hamlin should have known of the team's fuel issues.
But now, get this: "It seems like when we lock onto one racetrack and we win, we win multiple times there. Obviously this [the November Phoenix race] being the second-to-last race of the season [and one which, Hamlin demonstrated in '10, can make or break a championship run], hopefully it's a sign of things to come later."
As early as January, newly paired with Grubb, Hamlin had his head on straight and calibrated: "There's no doubt," he said, "we'll have a successful year."
And now it has been tightened to the last snug turn of the socket wrench of Darian Grubb, who has now won with Hamlin, Jimmie Johnson (the 2006 Daytona 500) and Tony Stewart (including five of the last 10 races and the championship last year).
By the way, Grubb has now won six of the past 12 Cup races with two different teams and drivers, in two different seasons. Clearly the man is in a zone. And he is taking Hamlin with him.
Terry Blount column | Racing Live! rewind | Recap | Results
Nationwide Series: Sadler back in Victory Lane
A driver who is less of a study in the human spirit than Elliott Sadler might have slipped through the cracks by now. At almost 37, Sadler could be hanging out on the fringes of NASCAR, perhaps looking for a broadcast job -- he'd be good at it -- as one of those guys who made it for a little while and faded.
But Sadler kept hanging in, and hanging in, and hanging in. And now he's threatening a comeback.
Saturday at Phoenix, for Richard Childress Racing, Sadler got his first Nationwide Series win in more than 13 years.
His winless streak wasn't quite as bad as it appeared in reports of Saturday's race win. True, he hadn't won a Nationwide race since July 1998, but in the interim he'd won a Truck race in 2010 and had two Cup wins in 2004.
Sure, he spoke of the Nationwide famines for ESPN reporters at the track.
"It's been a long time since we've been to Victory Lane," he said. "We've been thinking about it a lot."
But then he got to the real point, to the man who has opened the door for a comeback, the one to whom he'd said on the radio just moments after taking the checkered flag, "Thanks for all the tools and the confidence, boss man."
Then in Victory Lane he added: "Richard Childress … he said he was going to give us the stuff we needed to win. … Just that attitude he has about me, that he believes in me, has meant a lot to me."
"I knew Elliott could get the job done," Childress told reporters at the track. "He's been too close too many times."
Sadler's run at Saturday's victory began when rookie crew chief Luke Lambert got him out of the pits fourth with 36 laps to go, with a stop for left-side tires and just enough fuel to finish. Sadler immediately jumped to third on the restart.
With just more than 25 laps remaining, Sadler passed Brad Keselowski for the lead, then held off Keselowski and Ricky Stenhouse Jr. the rest of the way.
"It's great to see Elliott Sadler win," Cup regular Keselowski said after finishing second. "He's a Nationwide regular, and that's so important to the series. All in all, a good day for us and a great day for the series."
Brant James column: Danica finishes 21st | Recap | Results
Camping World Truck Series: Martinsville on deck
The Truck series was off this weekend. The next race is March 31 at Martinsville, Va.
Ed Hinton is a senior writer for ESPN.com. He can be reached at edward.t.hinton@espn.com.
Racing Resources says …
Sprint Cup Series

• Denny Hamlin won the Sprint Cup Series race at Phoenix International Raceway. It was his 18th career victory in his 225th series start and first Phoenix win in his 14th start there.
• Hamlin started 13th, the third time in the past five races that the Phoenix winner started outside the top 10.
• It was Hamlin's first win with new crew chief Darian Grubb.
• Hamlin led three times for 61 laps, including the final 59.
• It marked the 198th win for the No. 11, tying the No. 43 for the most in NASCAR history.
• Joe Gibbs Racing posted its 94th career win and second victory at Phoenix (Tony Stewart won in November 1999). All three JGR cars finished in the top 10 on Sunday.
• Toyota posted its second win at Phoenix, having won the fall race in 2011, also on the track's new configuration.
• Kevin Harvick (second) posted his second top-10 finish in 2012. He finished seventh at Daytona.
• Greg Biffle (third) had his second top-5 finish in two races in 2012. Biffle also finished third at Daytona.
• Jimmie Johnson (fourth) has finished in the top five in 11 of the past 12 races at Phoenix. He has never finished worse than 15th in his 18 races there.
• Brad Keselowski (fifth) had his best finish and first top-10 in six races at Phoenix.
• Kyle Busch (sixth) posted his first top-10 finish in his past six races.
• Martin Truex Jr. (seventh) has finished 12th or better in six of the past seven races.
Nationwide Series

• Elliott Sadler won the Nationwide Series race at Phoenix International Raceway. It was his sixth series win in his 166th start. His previous win came at Rockingham in October 1998 (91 starts between).
• Sadler got his first Phoenix win in his seventh start there. He took two tires on a Lap 164 stop and restarted third after entering the pits in sixth.
• Sadler led once for the final 26 laps.
• Richard Childress Racing posted its 57th career win and third victory at Phoenix. Sadler became the 10th different driver to win at Phoenix for RCR.
• Chevrolet posted its fifth win at Phoenix and is 2-0 to start the season.
• Brad Keselowski (second) matched his best Phoenix finish. He has finished in the top five in six of his past seven Phoenix starts.
• Ricky Stenhouse Jr. (third) has posted top-10 finishes in 10 of the past 11 races. He has never finished outside the top 10 in five races at Phoenix. He took fuel only on Lap 164.
• Austin Dillon (fourth) has top-10 finishes in his past five starts.
• Kevin Harvick (fifth) led all drivers with 107 laps led. He entered the pits on Lap 164 as the leader but restarted seventh after taking four tires when all the drivers in front of him took either no tires or two tires. He has finished 10th or better in his past 14 starts at Phoenix.
• Sam Hornish Jr. (sixth) has top-10 finishes in four of the past five races. He took fuel only on Lap 164.
• Danica Patrick finished 21st, three laps down. She kept the car clean all day but could never recover from starting 30th.

-- Racing Resources