Dale Earnhardt Jr. off to a blazing start

By David Newton
ESPN.com
Archive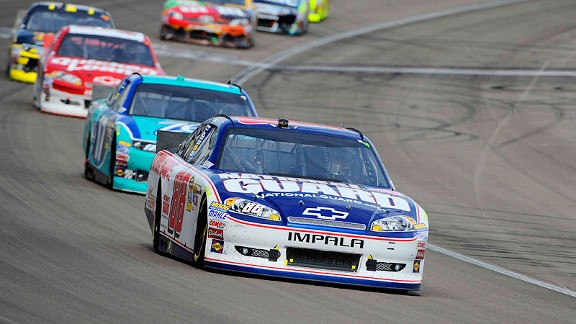 Sam Sharpe/US PresswireDale Earnhardt Jr. is fourth in the Sprint Cup standings, but he still hasn't won in 132 races.
We interrupt Tony Stewart's win at Las Vegas Motor Speedway and Greg Biffle's rare move to the top of the Sprint Cup standings for a very important news flash: Dale Earnhardt Jr. is off to the best start of his career.
NASCAR's most popular driver is a career-best fourth in the points standings with a career-best average finish of 8.6 after three races.
His previous best points position three races in was seventh in 2004, and his average points position at this point in 12 seasons is 17.5. His previous best average finish three races in was 14.0 a year ago and during his rookie year of 2000, and his average finish was 19.9.
JUNIOR'S FAST START
Don't look now, but Dale Earnhardt Jr. is off to his best start in the NASCAR Sprint Cup Series after three races:
| Year | Avg. finish | Pts. rank |
| --- | --- | --- |
| 2012 | 8.6 | 4 |
| 2011 | 14 | 10 |
| 2010 | 16.6 | 15 |
| 2009 | 25.3 | 29 |
| 2008 | 17 | 10 |
| 2007 | 27.6 | 28 |
| 2006 | 15.3 | 11 |
| 2005 | 25.6 | 27 |
| 2004 | 13.6 | 7 |
| 2003 | 23.6 | 18 |
| 2002 | 23.6 | 25 |
| 2001 | 22.6 | 17 |
| 2000 | 14.0 | 14 |
Earnhardt still hasn't won in 132 consecutive races, but these numbers, along with the 70 laps he led at Las Vegas on Sunday, should be encouraging. He led only 52 laps in all of 2011.
Before you can win races and contend for championships, you have to lead laps.
Another encouraging sign was the spunk Earnhardt showed after a late run-in with Mark Martin left his former Hendrick Motorsports teammate in the wall with about 25 laps remaining.
Instead of backing down passively and being satisfied with a 10th-place finish, Earnhardt took a strong stand in his postrace interview, just as he did on the track by not giving Martin an inch making a pass.
"Personally, yeah, I don't have a problem with Mark and have so much respect for him," Earnhardt told reporters in Las Vegas. "But to me, personally, there is an unwritten etiquette that when the guy is running the top even if you are clearing him or passing him … if you barely clear him off the corner … I'm coming 10 miles an hour faster off the top of the racetrack, you stay low.
"Don't knock a half-second off my lap time being a jerk about it. Stay low. You are going to get it in the next corner and the position is going to be yours. Don't pull up in front of somebody when they are going to come off the corner 10 miles an hour faster."
Another good sign is that Earnhardt was clearly frustrated with the finish, particularly after leading 70 of the first 73 laps.
"That just kind of really sent me over the edge there," he said of the run-in with Martin, who limped home in 18th. "We just want to win really bad and felt like we should have finished better than we did.
"I was just frustrated at that point, and that is just not the way that I understand it to be done … and I am sure he feels a different way about it, but I think we definitely disagreed right there at that moment."
A feisty driver, an unsatisfied driver, often makes for a better driver. The concern would be if Earnhardt wasn't upset.
That Earnhardt took the blame for where he finished instead of tossing it on crew chief Steve Letarte and others, as he has done in the past, also was a good sign.
"Well, we didn't keep up with the racetrack," Earnhardt said. "The car was really fast at the start of the race. I didn't give that information to Steve. I don't think I gave him a good enough understanding of where our race car was, even though it was really fast.
"The track got really tight on us at the end of the race -- something that I should have had a handle on, and should have known better, and should have not let happen."
Another good sign is that Earnhardt started fourth, the second time in three races he's started in the top five. A year ago, Earnhardt's average start in the first three races was 23rd and his season average was 19.6.
You can't make a quick move to the lead like he did on the first lap Sunday unless you're near the front.
"Hopefully we can keep bringing cars like that to the racetrack and we will get some opportunities to win," Earnhardt said. "We had good speed, led some laps.
"This is a tough series. When you get back in traffic, it gets very competitive."
There's more good news. Earnhardt is headed to Bristol Motor Speedway, where he has an average finish of 11.7. That's slightly better than the three drivers -- Biffle, Kevin Harvick and Denny Hamlin -- ahead of him in points.
It's not totally unrealistic to think Earnhardt could leave Bristol with the points lead. Biffle has the lead for only the second time in his career. When he had it last, in 2005 at Infineon Raceway, it lasted only one week.
So while Stewart winning the race and Biffle taking the points lead is big news, Earnhardt off to the best start of his career is worth the interruption.
"If we keep doing that every week, you know, we are going to be right there," Earnhardt said. "We will just keep trying."
Terry Blount column | Racing Live! rewind | Recap | Results
Nationwide Series: Random thoughts from Vegas …
Several observations on Saturday's race at LVMS:
• Trevor Bayne deserves an opportunity to drive in Saturday's race at Bristol even if Roush Fenway loses money without a sponsor. He is listed as doubtful, sad for a driver fourth in points with a pair of top-10s. He looked pretty good with a top-10 in the Vegas Cup race, too.
• Cole Whitt didn't deserve to be chewed out like he was by JR Motorsports teammate Danica Patrick for a bump at Daytona. In three races Whitt has finished fourth, 13th and sixth to rank fifth in points. Patrick has gone 38th, 21st and 12th to rank 15th. So who is the better driver?
• Patrick was right when she said she needed to work on restarts. During a late restart at Las Vegas she went from sixth to 10th in less than a lap. As much as she progressed from 2010 to 2011, she still needs to be more aggressive, not only on restarts but passing in general.
• It might be time for Richard Childress to put grandson Austin Dillon in the 33 for a few Cup races to prep for next season. It's early, but with three top-10s in three Nationwide races, Dillon is on the fast track for the big leagues.
• Defending champion Ricky Stenhouse Jr. has come a long way from 2010 when he crashed in the first two races and in five of the first 12. He has 11 top-10s in the past 12 races, including Saturday's win.
• Remember when everyone complained about Cup drivers winning all the Nationwide races? Not one has won in 2012.
• It wasn't that long ago that Kyle and Kurt Busch talked about winning all 33 races in the No. 54 Kyle Busch Motorsports Toyota. So far that car has gone 18th, 11th and 33rd.
Brant James column: Danica makes progress | Recap | Results
Camping World Truck Series: Martinsville on deck
The series is on hiatus until the March 31 race at Martinsville Speedway.
David Newton covers NASCAR for ESPN.com. He can be reached at dnewtonespn@aol.com.
Racing Resources says …
Sprint Cup Series

• Tony Stewart won the Sprint Cup Series Kobalt Tools 400 at Las Vegas Motor Speedway on Sunday, his 45th victory, ranking him 15th all-time. His last win came at the season finale last season at Homestead-Miami Speedway.

• Stewart has won a race each season for 14 years (1999-2012). This was his first Las Vegas victory in 14 series races. He is now only winless at two active tracks (Darlington and Kentucky). His previous best Las Vegas finish was second in 2000. His 15th 1.5 mile-track win ties Jeff Gordon for second all-time. Stewart has won four of the last six 1.5-mile races, and he has now won six of the last 13 races overall dating back to Chicago last season.

• This is the earliest in the season Stewart has won a race, and it was his first top-10 finish in 2012. He finished 16th at Daytona and 22nd at Phoenix. He is the third different driver to win in the first three races of 2012 and has held a lead in all three. He led three times for 127 laps Sunday, including the final 34. He has led 482 laps at Las Vegas, most of all drivers. He also passed Jimmie Johnson for 12th in all-time laps led.

• This was the 14th career win for Stewart Haas Racing and the team's first at Las Vegas. SHR is the fifth different organization to win at Las Vegas in 15 races. This was SHR's first win of 2012, and it is the third different team to win in three races in 2012.

• Stewart's victory was the sixth for Chevrolet at Las Vegas and the manufacturer's first win of 2012. Three different manufactures have won the first three races of 2012.

• Jimmie Johnson (finished second) earned his fifth top-two finish at Las Vegas and second-straight top-5 of 2012. This was the 13th 1-2 finish for Johnson and Stewart. Johnson has won seven times, Stewart six.

• Greg Biffle (third) tied his best finish at Las Vegas ('08) and has finished third in all three races of 2012.

• Ryan Newman (fourth) got his third top-5 finish at Las Vegas, and second straight. It was his first top-20 finish this season.

• Carl Edwards (fifth) has top-10 finishes in two of the first three races of 2012, and it was his fourth top-10 finish in eight races at Las Vegas.

• Clint Bowyer (sixth) got his first top-10 finish of the season and led three laps.

• Paul Menard (seventh) restarted 17th on Lap 251 after pitting for four tires on Lap 246 to earn his first top-10 finish at Las Vegas in his sixth race.

• Trevor Bayne (ninth) scored his second career top-10 finish. He won the 2011 Daytona 500.

• Dale Earnhardt Jr. (10th) led 70 laps at Las Vegas. This was his second top-10 finish of the season and his third in the top 15.

• Timmy Hill (42nd) made his series debut.
Nationwide Series

• Ricky Stenhouse Jr. won the Sam's Town 300 Nationwide Series race at Las Vegas Motor Speedway. It was his third career win in his 76th series race and his first victory at Vegas in his third start there.
• Stenhouse has top-10 finishes in 11 of the past 12 races.
• Stenhouse led once for 55 laps. He took the lead on Lap 146 during his final pit stop. • Roush Fenway Racing posted its 125th career win in the Nationwide Series and sixth victory at Las Vegas, the most by any organization.
• Ford posted its sixth win at Las Vegas -- the first since 2009. • Mark Martin (second) has an average finish of second in seven NNS Las Vegas starts.
• Elliott Sadler (third) has top-10 finishes in seven of the past eight races. He dropped to 18th on a Lap 104 restart after making adjustments to the car.
• Trevor Bayne (fourth) has finished in the top six in all three of his NNS Las Vegas starts.
• Brendan Gaughan (fifth) posted his seventh top-5 finish in his 72nd series start.
• Cole Whitt (sixth) has finished 13th or better in all three races of 2012.
• Austin Dillon (seventh) has finished in the top 10 in six of the past seven races, including all three events in 2012. He is second in the Nationwide Series standings, 15 points behind leader Elliott Sadler.
• Danica Patrick finished 12th.
• Kyle Fowler (28th) made his NNS debut.
-- Racing Resources