Penske's AJ Allmendinger catches a break

By Terry Blount
ESPN.com
Archive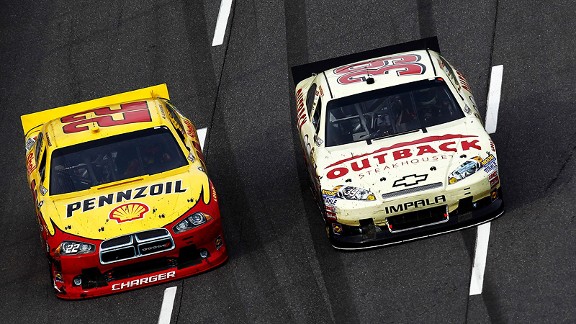 Jeff Zelevansky/Getty ImagesAJ Allmendinger, left, didn't have enough car to get past Ryan Newman on the final restart Sunday.
AJ Allmendinger knows it took a little green-white-checkered craziness for him to finish second Sunday at Martinsville Speedway, but for a team desperately needing some good news, he'll take it.
"I don't know if we had a second-place car, but with the way these races play out, you've got to put yourself in position," Allmendinger said after the race. "It was definitely a top-10 car."
Ryan Newman didn't have a winning car, either, but that's how it turned out after Hendrick Motorsports teammates Jeff Gordon and Jimmie Johnson -- driving the two best cars in the field Sunday -- got wrecked on the first overtime restart.
Sometimes things don't go your way in the end, and sometimes you catch a break. Allmendinger got one Sunday for a career-best finish and his first strong showing since making the move to the No. 22 Dodge for Penske Racing.
"We're getting better together," Allmendinger said. "It's frustrating at times. It wasn't a good feeling around here. I was kind of lost, so I'm really thrilled with the finish, but I'm happy with how we ran all day.
"I want to be up there every weekend. I'm trying my butt off, trying everything I can to get these guys up front. They're behind me. It feels good to have an organization behind you even when you feel like you're struggling a little bit."
Allmendinger feels the pressure to perform as the guy who replaced Kurt Busch, a former Sprint Cup champion who made the Chase four times in his six seasons at Penske and has 24 Cup victories.
Allmendinger still is looking for his first Cup win. He came close Sunday, but couldn't get by Newman on the final restart.
"I knew on that restart to hang on the outside of Ryan," Allmendinger said. "But he ran me really clean and I thank him for that. We were just a little too tight. We had a really good car on the long run."
Crew chief Todd Gordon said one good run can work wonders for the team's confidence.
"It's big for both AJ and myself," Gordon said. "Obviously, this 22 car is known for winning races. This kind of gives us a step in the right direction to having the success that we both know we can have."
After fuel system problems in Las Vegas and a 37th-place finish, Allmendinger has improved in each of the past three events -- 17th at Bristol, 15th at Fontana and the runner-up showing Sunday.
Allmendinger has moved up 10 spots in the standings from 30th to 20th. And for those who are comparing, he's six spots ahead of Kurt Busch and the underfunded Phoenix Racing team.
But Allmendinger realizes he's on a team now that belongs much higher in the standings than 20th.
"I'm working so hard," Allmendinger said. "I'm putting a lot of pressure on myself because these guys are used to running up front and deserve to run up front. I'm trying to learn as quickly as I can, just like Todd is. We're trying to learn together."
Allmendinger had his best race of the year on a day when he wasn't feeling his best. He welcomes the off week for Easter before heading to Texas for the next event.
"I think we all need a rest," he said. "I need to get healthy. I've been traveling so much doing a lot of fun things for Shell/Pennzoil and for AAA. I've been worn out. I think this is the right time to get a weekend off, take some notes that we learned from this weekend and go to Texas and be ready to go."
David Newton column: Martinsville madness | Live! rewind | Recap | Results | Highlights

Camping World Truck Series: Harvick dominates Martinsville
It almost seemed like a second season opener for the NASCAR Camping World Series since the hiatus between the first race at Daytona to the second one Saturday at Martinsville was five weeks.
If you like passes for the lead, the Martinsville event was not the race for you. Kevin Harvick led a record 248 of 250 laps, including the last 245 laps.
Rookie John King, who won the opener at Daytona, continues to be the surprise of the season. He finished ninth Saturday and leads the standings by one point over Timothy Peters and Justin Lofton.
The trucks will have another opening of sorts in two weeks when the series makes its debut at The Rock. The April 15 event at Rockingham will be the first major NASCAR event on the 1-mile oval since February 2004.
Nationwide Series: Texas on deck
The Nationwide Series has a two-week break before returning to action at Texas Motor Speedway on April 13.
Elliott Sadler, a former Sprint Cup winner at Texas, leads the Nationwide standings with two victories and five top-10s in the five races this season.
Terry Blount is a senior writer for ESPN.com. He is the author of "The Blount Report: NASCAR's Most Overrated and Underrated Drivers, Cars, Teams, and Tracks." He can be reached at terry@blountspeak.com.
Racing Resources says …
Sprint Cup Series

• Ryan Newman won the Goody's Fast Relief 500 Sunday at Martinsville Speedway. It was his 16th Cup win in his 374th career race and his first Martinsville victory in 21 starts there.
• Newman became the fifth different winner in 2012. He recovered from a Lap 100 speeding penalty.
• Newman led only once, for the final two laps.
• Stewart-Haas Racing posted its 16th career win and second victory at Martinsville. SHR has three wins in 2012, including the past two in a row.
• Chevrolet posted its series-leading 49th win at Martinsville and its third win of 2012.
• AJ Allmendinger (second) had his career-best finish in his 158th start.
• Dale Earnhardt Jr. (third) has top-10 finishes in the past four Martinsville races. He is second in points, only six behind leader Greg Biffle (13th).
• Matt Kenseth (fourth) had his third top-5 finish in his 25th Martinsville start.
• Martin Truex (fifth) has top-10 finishes in four of the past five races.
• Denny Hamlin (sixth) scored his 12th top-10 finish in his 14th Martinsville race.
• Aric Almirola (eighth) had his third career top-10 finish in his 41st start.
• Jeff Gordon (14th) led the most laps (328), only the second time he led more than 300 laps in a race and failed to win.
Camping World Truck Series

• Kevin Harvick won the Kroger 250 on Saturday at Martinsville Speedway. It was his 14th Truck series win in his 118th start. He hadn't won in the series since Texas in November 2011.
• Harvick has won five of his past nine Truck series starts. He won Saturday from the pole; all four times he has started on the pole in the Truck series he has gone on to win.
• Harvick won for the third time at Martinsville in his 14th start, tying Dennis Setzer and Mike Skinner for the most victories at the track.
• Harvick's 248 laps led set a series record -- the previous was 246 by Mike Skinner in March 2007.
• Richard Childress Racing posted its 25th Truck series win and third victory at Martinsville. It marked the first time RCE drivers finished 1-2 in a race.
• Chevrolet posted its 11th Martinsville win, most of all makes.
• Ty Dillon (second) scored his career-best finish in his fifth start.
• James Buescher (third) had his best Martinsville finish in his sixth start.
• Justin Lofton (fourth) posted only his sixth top-5 finish in his 52nd start. He has top-5 finishes in both races this season.
• Timothy Peters (fifth) has top-10 finishes in five of his past six Martinsville finishes. He has top-5 finishes in both races this season.
• Nelson Piquet Jr. (sixth) got his first top-10 finish at Martinsville in his third start.
• John King (ninth) leads the season standings by one point over second-place Peters. King has top-10 finishes in both races.
• Jeb Burton (13th) made his Camping World Truck Series debut.

-- Racing Resources