Eddie Gossage has monumental challenge ahead

By Ed Hinton
ESPN.com
Archive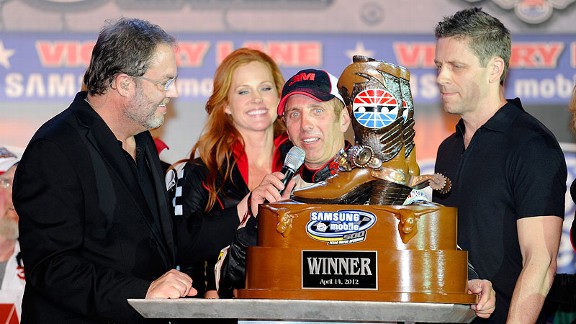 John Harrelson/Getty ImagesEddie Gossage, left, watched Greg Biffle win a wreck-free Sprint Cup race Saturday night at Texas.
Mr. Eddie Gossage
President
Texas Motor Speedway
Fort Worth, Texas

Dear Eddie,
Just a note to issue the biggest challenge of your career. Let's see you promote your way out of this one.
Not that you can't. I'm just saying that if you do, it'll be your masterpiece.
When flags whipping in 40 mph wind gusts was the most action at your place Saturday evening, TMS comes out looking like less than the nuclear proving ground you crack it up to be. Maybe you should have handed out six-shooters to the drivers before this race.
It could have been worse. Just be glad a sort of sentimental favorite, Greg Biffle, a points leader who hadn't won all season and for 43 races before that, was the one you crowned with the Charlie 1 Horse hat. Otherwise there would be no salve for the saddle sores I suspect even you got while watching the longest caution-free period of this millennium, 234 laps, nearly doubling your previous worst nightmare.
You've got until your next Cup race, Nov. 4, to make your constituency forget this promenade and bring them back.
You can always go before the Metroplex media -- particularly the ones who follow you around wagging their tails at your every word -- and say this race was wreckless. Which it was. Just say it, don't spell it. They'll think you said "reckless" and run with it.
Maybe if you keep replaying the footage of Jimmie Johnson sliding into the wall in his already desperate attempt to catch the barreling Biff, you could pass it off as action for your next promotion. And don't forget that exploding Gatorade bottle under Juan Pablo Montoya's tire.
I know, I know. You've told me often, tongue in cheek I guess, that I've negated all of your expenditures on psychotherapy for the past 15 years because I keep bringing up TMS's calamitous beginnings, the mudhole and near driver rebellion of 1997 and the leaking track and near Bill France Jr. rebellion of '98.
Sorry, but to get to the root of what happened -- or didn't -- Saturday night, you'd better lie down on the couch. We need to take you deep into your traumatic past again.
Oh, what a tangled web we weave when first we open a natural-born wrecking yard. You have drivers howling to the moon that this place won't work, and you have to revamp the track to ease that awful bottleneck going into Turn 1 and fix that wall that juts out in Turn 4. And still you've got transitions into and out of the turns that remind me of those hastily assembled roller coasters the carnies brought to town when I was a kid.
Finally, you get your track raceable, but now you've issued a challenge to drivers, owners, crew chiefs, Goodyear and especially Jack Roush, with his training as an engineer and his background as a sports-car racer who is steeped in the idea of adjusting mechanically to venues over periods of years.
Next thing you know, the Roush gang has pillaged your high-dollar dance hall to the tune of 18 wins in the various divisions, nine in Cup alone.
You let Biffle get in a tire test before Saturday night's race, and Roush tells reporters at the track that "the tire Greg helped Goodyear develop, I think, was a factor in the fact there was so little trouble in the race tonight."
You get Roush sounding like Curly Bill Brocius telling how easy it's been to take over the town. (By the way, looks like the man most noted for wearing hats in NASCAR, who owns 18 of yours, would wear a Charlie 1 Horse now and then at other venues to help you with publicity.)
"I was not surprised that it went as many caution-free laps as it did," Roush said. "Somebody brought to my attention there wasn't a single wreck tonight -- there was a couple debris cautions -- and that's unprecedented.
"But it's a testament to how well the cars throughout the field are prepared and how well they're driven and what a good tire we've got."
They've all got your number, Eddie. Nobody's scared to ride into your town anymore. No more talk of Texas two-step. It's a cakewalk now.
That's your challenge, Eddie. I know you're up to it. By the time that NASCAR bunch comes loping back into your town at an easy trot, in November, you'll have thought of something.
Regards,
Hinton
Terry Blount column: Fear the Biff | Live! rewind | Recap | Results | Highlights
Nationwide Series: Stenhouse steals Menard's thunder
Just as Paul Menard was about to take a giant step toward coming of age in NASCAR, Ricky Stenhouse Jr. stepped in front of him.
Menard led 100 of the 200 laps at Texas Motor Speedway on Friday night. But before he could close another dominant run for Richard Childress Racing's powerful Nationwide effort, along came Stenhouse to seize control of the race after a restart with 28 to go.
Even as he flew, Stenhouse questioned crew chief Mike Kelley for making no late changes in their car, but Kelley saw the lap times and let the youngster anguish all the way to the bank.
"I complain a lot," Stenhouse told ESPN reporters in Victory Lane, "but he gets the job done. I wasn't sure about the no change there, but Mike Kelley knows what he's doing."
Menard was clearly heartsick after his late resurgence was disrupted by the charging Denny Hamlin after the final restart with six to go.
"I let him get away," said runner-up Menard. "The car was so fast all night. On that last restart I kept up with Ricky good -- we both spun our tires a little bit -- but when Denny got outside of me, it just killed all the momentum.
"Man, it's frustrating."
The win was the second of the season for reigning Nationwide champion Stenhouse, bringing him within four points of leader Elliott Sadler of RCR in the standings.
Danica Patrick got her best and most aggressive finish of the season, eighth, charging up from 13th on fresh tires on the last restart, even when she had to race out of the middle of a three-wide situation.
"All in all, it's nice to have a good finish," said an encouraged Patrick. "We've kind of had tough going at the start of this year, so that was fun."
Brant James: Danica's breakthrough | Recap | Results | Highlights
Camping World Truck Series: Same ol' Rockingham
Are we done with the historical fiction yet? Has The Rock fallen back to earth from its whimsical orb in the eyes of some fans?
What you saw Sunday in Trucks was what you got for decades in Cup before the joint fell forlorn: fair to middling racing in the middle of the pack, not so hot up front, with long runaways for leaders.
When Nelson Piquet Jr. jumped to a six-second lead only 40 laps into the race and led the first 67 straight, that should have snuffed a lot of the mythmaking about the 1-mile Rockingham Speedway in the rural Sand Hills region of North Carolina. When Kasey Kahne drove away at the finish to win, that should have sealed Rockingham's place as what it is: just another battered old racetrack where tires fall off quickly. If you deem that historic, have at it.
The crowd was decent, perhaps 20,000-plus, as good or better than Trucks draw anywhere else. But consider that this was billed as a nostalgic event, and that many showed up just for that, and you have to call the attendance inconclusive.
It warranted running the Trucks again, but the jury -- NASCAR president Mike Helton came and paid due lip service to the place's history -- is still out on whether Nationwide events will come. And there was nothing to make renewal of Cup racing more than a far-fetched notion.
Kahne started 35th in a 36-truck field but moved up steadily from the start.
"I was coming up through there, and it was loose and loose," Kahne said in Victory Lane. "We adjusted and got better, and then the second time we kind of doubled up and got it really good."
The whole thing might have been more memorable had Piquet not been caught speeding on the pit road during the final caution, being knocked from second place -- and a possible shootout with Kahne -- to 13th for the final restart with 20 laps left.
That left Kahne's teammate, James Buescher, to restart alongside. Kahne easily drove away.
"After that restart, you could see him slowly pulling away, pulling away," said Buescher, who wound up second.
That's The Rock for you.
Are we clear now?
Ryan McGee: Kahne's redemption story | Recap | Results
Ed Hinton is a senior writer for ESPN.com. He can be reached at edward.t.hinton@espn.com.
Racing Resources says …
Sprint Cup Series

• Greg Biffle won the Samsung 500 on Saturday at Texas Motor Speedway. It was his 17th career win in his 337 series starts and his second win at TMS in his 17th start. He'd last won a Cup race at Kansas in October 2010, a 49-race winless streak.
• Biffle has eight straight top-10 finishes at Texas, the longest current streak.
• Biffle became the sixth different winner in 2012.
• Biffle posted his fifth top-10 finish in seven races this season.
• Biffle led seven times for 90 laps, including the final 31.
• Roush Fenway Racing posted its 127th career win and ninth victory at Texas, six more than any other team. RFR has two victories in 2012.
• Ford posted its 11th win at Texas, the most of any manufacturer, and its second win overall in 2012.
• Jimmie Johnson (second) notched his fourth runner-up finish at Texas since his November 2007 win. He led a race-high 156 of the 334 laps Saturday.
• Mark Martin (third) had his third top-10 finish in five starts this season.
• Jeff Gordon (fourth) scored his best finish of 2012 and only his second top-10 finish.
• Matt Kenseth (fifth) posted his 11th Texas top-5 finish, most of all drivers.
• Martin Truex Jr. (sixth) had his fourth straight top-10 finish.
• Carl Edwards (eighth) rebounded from a bad pit stop under caution on Lap 99 that dropped him to 30th for the Lap 101 restart.
• Dale Earnhardt Jr. (10th) posted his fifth top-10 finish in seven races this season.
• A track record was set for the fewest cautions at two, and a new track race speed was set at 160.575 mph.
• The final 234 laps were green.
Nationwide Series

• Ricky Stenhouse Jr. won the O'Reilly Auto Parts 300 on Friday at Texas Motor Speedway. It was his fourth career win in his 79th series start and first victory at Texas. His previous best finish at Texas was sixth in November.
• Stenhouse has won both races held on 1.5-mile tracks this year, winning previously at Las Vegas. He became the second driver to win multiple races in 2012.
• Stenhouse has led 123 laps in the two races on 1.5-mile tracks in 2012, more laps led than he had in his previous 22 races on 1.5-mile tracks combined.
• Roush Fenway Racing posted its 126th career victory in the Nationwide Series. RFR has a series-high eight wins at Texas, including the past four by three different drivers.
• Ford posted its ninth Texas win and second victory of 2012.
• Paul Menard (second) led 100 laps, the most he has led in a single Nationwide race.
• Kasey Kahne (third) had his best Texas finish in seven races there.
• Denny Hamlin (fourth) had his fourth top-5 finish in his past five races at Texas.
• Austin Dillon (fifth) had his fourth top-5 finish in six races in 2012.
• Danica Patrick (eighth) posted her fourth career top-10 finish. She restarted 13th on Lap 194.
• Steve Arpin (10th) posted his career-best finish in his eighth series start.
• Elliott Sadler (12th) saw his points lead reduced from 18 points to four after Texas.
Camping World Truck Series

• Kasey Kahne won the Good Sam Roadside Assistance 200 on Sunday at Rockingham Speedway. It was his fourth Truck series win in his fifth start. He became the only driver to win in four of his first five starts in that series. His lone non-win was a second place at Pocono in July 2010.

• Kahne led once for the final 46 laps. • Turner Motorsports posted its first Truck series win.

• Chevrolet posted its 179th Truck series win and second victory of 2012.

• James Buescher (second) had his second top-5 finish of 2012, tying his best career finish for the fourth time.

• Matt Crafton (third) had his best finish of the season, his first top-15 finish in the past four races.

• Johnny Sauter (fourth) posted his first finish better than 24th in 2012.

• Timothy Peters (fifth) is the only driver with top-5 finishes in all three races of 2012.

• Nelson Piquet Jr. (seventh), who led 107 laps, was penalized for driving too fast exiting the pits on Lap 181 while running second.

• Tyler Young finished 28th in his series debut.

-- Racing Resources