Big-name drivers, teams absent from Victory Lane

By Terry Blount
ESPN.com
Archive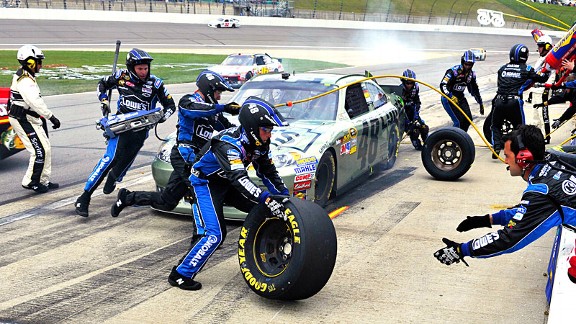 Mike DiNovo/US PresswireJimmie Johnson's effort to get Rick Hendrick his 200th Cup win stalled again Sunday at Kansas.
Take a wild guess what everyone at Hendrick Motorsports and everyone at Richard Childress Racing has in common with Carl Edwards and Kyle Busch.
None of them has won a Sprint Cup race in 2012. And all of them have a pretty strong history of winning.
Two top teams and a couple of top drivers going winless so far is a big surprise after eight of 36 races.
Edwards has the longest winless streak of the bunch at 41 races, despite falling one point short of the championship last season. Busch hasn't won in 21 races. A Rick Hendrick driver hasn't won in 14 races and RCR hasn't taken a checkered flag in the past 12 races.
But it isn't all bad. There are a lot of positives in each case beyond the absence of Victory Lane.
Edwards ranks ninth in the standings and has five top-10s, including his ninth-place showing at Kansas.
"That was a good effort," Edwards said afterward. "It wasn't a great result, but a really good effort. I had a lot of fun racing Kyle at the end. That was really neat. I acted like we were racing for the win and I think he was doing the same thing, so at least we got to have a little fun. That was a good time."
Busch earned his third top-10 of the season Sunday, finishing 10th while watching teammate Denny Hamlin win for the second time in 2012, so he knows the Joe Gibbs Racing equipment still can get it done.
"We fought hard all day," Busch said Sunday. "All we had was about a 10th-place car and that's where we ended up. We tried something a little different this weekend to help us on the long runs and I think it kind of hurt us just a little bit. We'll just have to regroup and get it better for next time."
The Hendrick guys also know they can get it done. Dale Earnhardt Jr. is fourth in the standings after finishing seventh Sunday. Jimmie Johnson is seventh in the standings. He finished second at Texas and third at Kansas.
"We had a solid race car all day long," Johnson said Sunday at Kansas. "We were just off a little bit at times. We just lacked a little bit of handling to get up there and race for the win. We were probably a second- or third-place car all day and ran third. We got what we could and we'll go home and work on it."
But the 200th Cup win for Hendrick continues to be an elusive target.
"Today it doesn't bother me," Johnson said on trying to get No. 200. "Sure, I'd love to do it. Today we ran well, but we weren't a dominant car and kind of finished where we should have. The 56 [second-place Martin Truex Jr.] and the 11 [Hamlin] at the end had more pace than we did."
RCR isn't quite up to those standards, either, but Kevin Harvick was sixth Sunday and could have been better if not for running out of gas at one point. He has finished 11th or better in seven of eight events, ranking sixth overall.
"We have fast cars right now," Harvick said Sunday. "We just are making mistakes. We will clean those up. To run out of gas under green flag and come back and finish sixth is a good rebound."
So winning isn't everything, but things could be better for two top teams and two other top drivers who expect a little more than what they've delivered in 2012.
David Newton column: Win-win for Toyota | Live! rewind | Recap | Results | Highlights
Camping World Truck Series: Buescher breaks through at Kansas
Maybe James Buescher caught a big break by winning the season-opening Nationwide race at Daytona, avoiding the last-lap carnage and going from 11th to first. But his victory Saturday at Kansas in the Camping World Truck Series race was no fluke.
If you're looking for a talented young driver on the rise, Buescher is your man. He's only 22, and the win Saturday was his first in the series, but he had a shot at winning the CWTS title last year. He finished third, only 29 points behind champion Austin Dillon.
Buescher, who grew up in the Dallas suburb of Plano, has climbed the ladder the old-fashioned way, starting out in Bandolero cars and winning the track title at Texas Motor Speedway when he was 14.
Buescher is a mature kid for his age, marrying his longtime girlfriend (Krishtian Turner) in the offseason in Costa Rica.
Young, talented, mature and grounded. That is a recipe for a future in the Cup series. And it doesn't hurt when you win a race by passing a Cup winner (Brad Keselowski) in the final laps, as he did at Kansas, to win a CWTS race.
The Trucks series used to be the pseudo senior tour of NASCAR when guys over 40 won seven consecutive CWTS championships (2004-2010), but it's nice to see the young guys taking charge now.
Four of the top eight drivers in the standings are under 25 -- Buescher, Ty Dillon (20), Parker Kligerman (21) and John King (24).
The same thing is happening in the Nationwide Series, where seven of the top nine drivers are 25 or younger -- Stenhouse (24), Austin Dillon (turns 22 this weekend), Michael Annett (25), Cole Whitt (20), Trevor Bayne (21), Tayler Malsam (23) and Justin Allgaier (25).
Nationwide Series: Richmond on deck
The Nationwide Series had an off weekend, but returns to the track this weekend at Richmond.
Elliott Sadler has a four-point lead over Ricky Stenhouse Jr., who won at Texas on April 13. Rookie Austin Dillon has been impressive, ranking third in the standings with four top-5s in six races.
Terry Blount is a senior writer for ESPN.com. He is the author of "The Blount Report: NASCAR's Most Overrated and Underrated Drivers, Cars, Teams, and Tracks." He can be reached at terry@blountspeak.com.
Racing Resources says …
Sprint Cup Series

• Denny Hamlin won Sunday's STP 400 at Kansas Speedway. It was his 19th Cup series win in his 231st start. He joined Tony Stewart as the second repeat winner of 2012.
• Hamlin picked up his first win at Kansas in his ninth start there. He became the ninth different driver to win in 13 races at Kansas.
• Hamlin led twice for 32 laps, including the final 31 laps.
• Sunday's win was the 199th victory for the No. 11 car, most of all numbers after breaking a tie with No. 43.
• Joe Gibbs Racing posted its 95th Cup win overall and second victory of 2012. JGR has two wins at Kansas.
• Toyota posted its first Kansas win and second victory of 2012.
• Martin Truex Jr. (second) has top-10 finishes in the past five races, a career best. His best Kansas finish in his eighth start there puts him a career-best second in points. Truex led 173 laps, the most of all drivers, but was passed by Hamlin for the final lead change with 31 laps to go.
• Jimmie Johnson (third) posted his seventh straight top-10 finish at Kansas and his fifth top-10 finish of 2012.
• Matt Kenseth (fourth) has top-5 finishes in five races in 2012, including four of the past five races.
• Greg Biffle (fifth) had his fifth top-5 finish of 2012 and his seventh straight top-10 finish at Kansas. He leads the Cup standings by 15 over Truex.
• Kevin Harvick (sixth) has finished 11th or better in all but one of the eight races of 2012.
• Dale Earnhardt Jr. (seventh) has top-10 finishes in four straight races, only the second time he has finished in the top 10 in four straight races in his HMS career.
• Kasey Kahne (eighth) had his second top-10 finish of 2012; both top-10 finishes came in the past two races.
• The 144.126 mph race average set a track record.
• Only three cautions for 18 laps, the fewest at Kansas.
• It marked the ninth time in 13 races at Kansas that the driver who led the most laps failed to win.
Camping World Truck Series

• James Buescher won the SFP 250 on Saturday at Kansas Speedway. It was his first career win in his 76th series start. He has finished second four times.

• Buescher became the 72nd driver to win in Camping World Truck Series and the 12th different driver to win at Kansas in 12 races at the track. His previous best finish at Kansas was fourth last year.

• Buescher became the fourth different driver to win in the first four races of 2012. He is the second first-time winner of 2012. He notched his third top-3 finish of 2012.

• Buescher led five times for 103 laps, including the final 11, the most laps he's led in a race.

• Turner Motorsports posted its second career win (won last week at Rockingham). Turner became the ninth different organization to win at Kansas.

• Chevrolet posted its fifth Kansas win and third victory of 2012. • Timothy Peters (second) has top-5 finishes in all four races this season.

• Brad Keselowski (third) had only his second top-5 finish in the series.

• Nelson Piquet Jr. (fourth) had his third straight top-10 finish.

• Todd Bodine (fifth) posted his 37th top-5 on a 1.5-mile track, most of all drivers.

• Ron Hornaday Jr. (sixth) recovered after a near spin on Lap 42 for his best finish of the season.

• Justin Lofton (seventh) has top-10 finishes in all four races this season.

• Ty Dillon (ninth) has finished in the top 10 in his past six starts.

• Scott Stanzel finished 23rd in his series debut.

-- Racing Resources