Kyle Busch wins, and wins again

By Ed Hinton
ESPN.com
Archive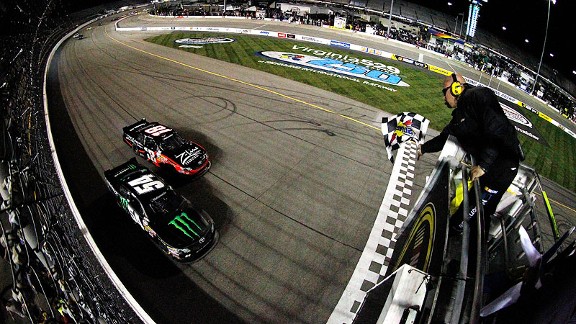 Tyler Barrick/NASCAR/Getty ImagesKurt Busch edged out Denny Hamlin at Richmond on Friday night, but it was in doubt down to the wire.
Maybe Dale Earnhardt Jr.'s fans could taste a win when he surged into second place on the final restart Saturday night, but he couldn't.
He started shaking his head before a TV reporter's question was even finished about whether he had anything at the end for winner Kyle Busch.
Earnhardt answered with a flat "No."
Maybe Junior Nation senses enough momentum to deem a victory next Sunday at the giant track where he used to romp, Talladega Superspeedway, a virtual entitlement now.
But Junior doesn't.
"I don't think momentum is a real thing," he told reporters later Saturday night at Richmond International Raceway, even though he'd wound up second to Busch and moved to within five points of Greg Biffle for the lead in the Cup standings.
Even in a spring of good finishes, "We ain't really raced for a win yet and lost one, so I wouldn't count tonight," Earnhardt said.
As for Talladega, even after a second-place showing in the only restrictor-plate race so far this season, the Daytona 500, "There's too many variables going into races at Talladega whether you feel confident winning or not," Earnhardt said. "There's just too much going on there."
You'll pardon Earnhardt if, after losing 137 races in a row, dating back to June 2008 at Michigan, he doesn't rush into we'll-get-'em-next-week optimism.
"We're getting better at running the top-5 and top-10s," he said. "We'll just try to keep doing that."
That mindset has served him well thus far in the points. Taking the lead from Biffle at Talladega next Sunday is well within the realm of possibility.
But at Richmond, "We had some brake problems all race long," Earnhardt said. When the final caution ended with nine laps to go, "I had a great restart and I ran really great for one lap, and then the pedal went back to the floor."
So he couldn't drive deep into the corners in pursuit of Busch, lest the rear end of Earnhardt's car loosen up disastrously.
And, oh, by the way, "Even with the brakes working, I think the 18 [Busch] was a little bit better than us all night," Earnhardt concluded.
So, safe to say, Earnhardt was the happiest non-winner leaving Richmond.
Tony Stewart, who finished third, was leading before the final caution fell, and he thought it frivolous at best.
"When the caution is for a plastic water bottle on the backstretch, it's hard to feel good about losing this one," Stewart said.
NASCAR officials said the debris in question was sheet metal.
Even less happy was Carl Edwards, who dominated the race before being penalized for jumping a restart with 82 of the 400 laps left.
Edwards said his spotter was told by NASCAR that he was the leader, giving him leeway to restart at his pace. Yet officials had lined up Edwards on the outside, when the leader is supposed to have the choice of lanes and he would have chosen the inside.
"I thought, 'OK, NASCAR made a mistake, they lined us up wrong,'" Edwards said. "I was at a disadvantage to be on the outside, so I thought, 'I'm getting the best restart I can.'"
He took off, just before the "start box" area drivers are told to watch for, while beside him, Stewart spun his tires and fell back.
But NASCAR firmly maintained that Stewart, not Edwards, had been the leader for that restart, and that it was Edwards' responsibility to know that. So Edwards was black-flagged and sent to the back of the field.
Busch, on the other hand, was elated at the "gift" he got with the final caution. He wasn't catching Stewart before the field bunched up for the final time. And under that caution, Busch's crew got him out ahead of Stewart.
Again, Stewart got an awful restart, and Busch shot out front, taking Earnhardt with him on the inside.
"Wherever that last caution came from, that was the saving grace, just the luck of the day," Busch said. Coming out of the pits first "was a huge advantage, just being able to give me control of the restart and not have to wait on Tony or cause myself to spin my tires …"
From there it was a breeze for Busch. Even Earnhardt could see that.
David Newton column: Kyle's gift | Live! rewind | Recap | Results | Highlights
Nationwide Series: Kurt Busch, Denny Hamlin do it the right way
The real lesson of Friday night got buried under the nice but superfluous story of Team Monster or Kyle Busch Racing or whatever you want to call it getting its first Nationwide win.
The larger, finer point was that terrific racing can be clean, and that slam-bang finishes can be executed with no controversy whatsoever in the aftermath.
Kurt Busch's win by a bumper, jammed door-to-door with the sliding Denny Hamlin, is as close as you'll see to ideal NASCAR racing.
"Kurt ran him really tough," Kyle Busch told ESPN pit reporters, "and Denny ran us clean."
Hamlin "came out of nowhere," as Kurt Busch put it, and ran up on the leader in the waning laps.
"I could have just moved him up and got him out of the groove," Hamlin said, "and it would have been over with." But "I wanted it to be fair."
"It's great to race a guy like that," Kurt said, "where he's using his head and we can both rough up our cars but still finish the race 1-2."
NASCAR shows just don't get any better than the final lap, regardless of driving tactics.
"I slipped up going into [Turn] 3 coming to take the white flag," Kurt said. "I was on the outside at that point."
Hamlin pulled alongside coming under the white, and from there they traded the lead by bumper widths. At the moment it appeared Hamlin had the advantage from the inside, but …
"I had a flashback to an IROC race I lost here before, when I was on the inside," Kurt said. "I said, 'You know what? I gotta hold him down, I gotta pinch him a little bit, and it's gonna be rough coming off Turn 4.'"
It was. But it remained ethical.
Kept low, Hamlin's car naturally broke loose and he slid up into the KBM car and shoved it momentarily against the wall.
But both drivers held onto their cars, and Kurt Busch won by a bumper.
"It's a great feeling," Kyle Busch said, "for me, for [wife] Samantha, for Grandma at home, for my dad [the brothers' mentor, Tom Busch], for everybody."
Had to be a great feeling for Denny Hamlin too.
Newton: Pastrana impresses | James: Danica so-so | Recap | Results | Highlights
Camping World Truck Series: Gearing up for Charlotte
Off this week, next race May 18, Charlotte Motor Speedway.
Ed Hinton is a senior writer for ESPN.com. He can be reached at edward.t.hinton@espn.com.
Racing Resources says …
Sprint Cup Series

• Kyle Busch won the Sprint Cup Series Capital City 400 at Richmond International Raceway on Saturday, his 24th career victory. That ties him with brother Kurt Busch for 26th all-time. It was Kyle's first victory in 2012, ending a 20-race winless streak since Michigan in August. Busch is the seventh different race winner in 2012.
• Busch started fifth and earned his fourth Richmond win in his 15th start. His four Richmond wins are the most among all active drivers, and he has won the last four Spring races at Richmond. This was his ninth short-track win, ranking third among active drivers, and he has won five of the last 13 short track races.
• This was the 96th series victory for Joe Gibbs Racing and the team's third victory in 2012, tying Stewart-Haas Racing for most this season. This was JGR's ninth series Richmond victory.
• Busch's victory was the sixth Richmond win for Toyota and the manufacturer's third win of 2012.
• Dale Earnhardt Jr. (finished second) got his seventh second-place finish since his last win (138 races ago).
• Tony Stewart (third) led 118 laps, but lost the lead on pit stops with 13 to go; It was only his third top-5 finish of the season.
• Denny Hamlin (fourth) earned his seventh top-5 in his 13th start at Richmond.
• Kasey Kahne (fifth) had best finish of the season and has gotten top-10 finishes in the last three races after none in the first six of 2012.
• Jimmie Johnson (sixth) recovered after being penalized for an uncontrolled tire in the pits on Lap 308. His worst finish in the last eight races is 12th.
• Carl Edwards (10th) led a race-high 206 laps, but was penalized for jumping the restart on Lap 319.
• Martin Truex Jr. (25th) has his first finish outside the top 10 in the last six races.
Nationwide Series

• Kurt Busch won the Nationwide Series Virginia 529 College Savings 250 at Richmond International Raceway on Friday, his fourth series win in his 15th start. His last series win was at Watkins Glen in August 2011 (two starts between). It was his first win at Richmond in his first start there, and three of his four series wins came in his first start at a track. He's the fifth driver to win in 2012 and the 31st driver to win a series race at Richmond. He led three times for 68 laps, including the final 29.
• This was the first series win in seven starts for Kyle Busch Motorsports, the 24th Team to win at Richmond. KBM is the fifth different team to win in 2012.
• Busch's victory was the second win of 2012 for Toyota.
• Denny Hamlin (finished second) earned his fourth Richmond top-5 finish in his 12th start. He has top-10 finishes in his last three series starts.
• Kevin Harvick (third) got his 14th top-5 finish at Richmond tied Mark Martin for the most among all drivers at the track; he led 158 laps, the fourth time he led the most laps at Richmond and the first time he failed to win there after leading the most laps.
• Ricky Stenhouse Jr. (fourth) has finished sixth or better in the last six races of the season. It was his third top-5 finish in the last four Richmond races.
• Sam Hornish Jr. (fifth) earned his best finish of the season and only his third career top-5 finish.
• Elliott Sadler (sixth) has top-10 finishes in all but one of the seven races this season. It was his sixth Richmond top-10 finish in his 18th start, including top-10s in the last three races there.
• Ryan Blaney (seventh) had the best finish by a driver making their debut on an oval since Joey Logano finished sixth at Dover in May of 2008.
• Michael Annett (eighth) had his best finish of the season and sixth straight finish of 13th or better.
• Travis Pastrana (22nd) made his series debut, and was penalized for too-fast exiting on Lap 200 during green-flag stops.
• Tanner Berryhill (29th) made his series debut.
-- Racing Resources