Kurt Busch misbehaves at Darlington Raceway

By Terry Blount
ESPN.com
Archive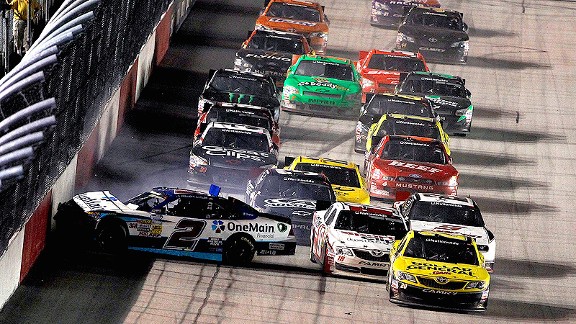 Todd Warshaw/Getty ImagesElliott Sadler had his sights set on Victory Lane at Darlington before getting turned by Joey Logano.
Kurt Busch doesn't need to win this year. He doesn't need to make the Chase. He doesn't even need to finish in the top 10 except for a race here and there.
But Saturday night Busch showed he couldn't do the one thing he needs to do this season: behave.
The weekend's races at Darlington were a lesson on how to handle disappointment and how not to handle it.
Showing everyone the right way to deal with things was Nationwide Series driver Elliott Sadler, who appeared headed for a victory before getting wrecked by Joey Logano late in the race Friday night.
And showing everyone how to lose your cool and endanger others was Busch near the end of the Sprint Cup race Saturday night.
After the feel-good moment of Jimmie Johnson getting team owner Rick Hendrick his 200th Cup victory, there weren't any good feelings between Busch's team and Ryan Newman's crew.
Busch was having a good night and headed toward a possible top-10 finish when he cut a tire and wrecked with six laps to go, collecting Newman's car in the process.
Obviously, Busch was disappointed, as he should be. But his temper got the best of him again.
When he left his pit box after the accident, Busch did a burnout and went through Newman's pit box, which was directly in front of Busch's pit stall. Crew members for Newman and race officials were still standing on pit road and reportedly had to avoid Busch's car.
When the race ended and the cars were coasting onto pit road, Busch bumped into Newman's car, which was directly in front of Busch.
"It's easy to say that Kurt blew a fuse again," Newman told SI.com's Dustin Long afterward. "I think the chemical imbalance speaks for itself. Kurt drilled me in pit lane and said that he was taking his helmet off and he didn't see where he was going.
"I'm pretty sure there were 42 other guys that are taking their helmets off and doing whatever for the last 10 years, and that's the first time that's happened to me. Circumstances, I think, are he lied and was so frustrated that he doesn't know how to deal with his anger."
Members of Newman's crew were furious with Busch about the earlier pit road incident, and the two teams had a shoving match after the race.
That's boys being boys after a tough night racing on the Lady in Black, but the more serious issue is Busch possibly endangering crew members and race officials while leaving the pits.
NASCAR officials will review the incident before determining whether any penalties are forthcoming.
Newman and Busch were teammates at Penske Racing. Busch even pushed Newman to victory on the last lap of the 2008 Daytona 500.
Busch didn't speak with reporters after the race. His publicist said Monday that Busch has a full schedule this week, but he plans to address the issue on Friday at Charlotte Motor Speedway.
Newman was asked Saturday night whether he is concerned about Busch. "Everybody has been for the last 10 years," Newman said. "He's proven that. When you can't keep a job, it's pretty obvious."
Busch, the 2004 Cup champion, is one of the most talented drivers in NASCAR. But he lost his ride at Penske after last season because of his anger issues and his constant berating of his pit crew.
He was hired by the underfunded Phoenix Racing team in what almost everyone saw as a transition year to prove he could play nice and get along with others.
If so, he likely would land a ride with a top team in 2013. Saturday was a major step backward if he hopes to reach that goal.
Ed Hinton column: JJ closes the deal | Live! rewind | Recap | Results | Highlights
Nationwide Series: 'Heartbreaking' race for Sadler
On the opposite end of the spectrum was Sadler, the man who had everything to gain but was wrecked by the guy who had nothing to lose.
That sums up what happened near the end of the Nationwide race at Darlington on Friday night when Joey Logano aggressively bump-drafted Sadler on a late restart when Sadler was leading the race.
Sadler is trying to win a championship. Logano is a Cup driver just trying to win the race, which he did. Sadler finished 24th after Logano punted him into the wall.
"It's just a shame, man," Sadler told ESPN as he walked back to his hauler. "You just don't bump-draft every place you go, especially not at a place like Darlington. I'm just out here fighting for my life to be a part of this sport. It's heartbreaking."
And that was it. Sadler handled his unhappy moment without losing his composure.
Logano apologized and clearly didn't intentionally wreck Sadler. But this is a sad result of two drivers on different agendas.
Cup regulars should be a little more aware of what's at stake for the Nationwide championship drivers in a situation like the one that occurred Friday.
Sadler could have won the race and left Darlington as the season points leader. But he's now 23 points behind leader Ricky Stenhouse Jr. in the standings.
Brant James: Danica's Darlington debut | Recap | Results | Highlights
Camping World Truck Series: Gearing up for Charlotte
The Camping World Truck Series was off but returns to the track for its fifth race of the season Friday night at Charlotte.
Timothy Peters leads the standings thanks to four consecutive top-5s to start the season. Peters has a four-point lead over James Buescher and is 11 points ahead of Justin Lofton. Rookie Ty Dillon, who has four top-10s, is fourth, 14 points behind Peters.
Terry Blount is a senior writer for ESPN.com. He is the author of "The Blount Report: NASCAR's Most Overrated and Underrated Drivers, Cars, Teams, and Tracks." He can be reached at terry@blountspeak.com.
Racing Reso urces says …
Sprint Cup Series

• Jimmie Johnson won the Bojangles Southern 500 on Saturday night at Darlington Raceway. It was his 56th Sprint Cup win in his 374th start, breaking a tie with Rusty Wallace for eighth all time. His previous win was at Kansas in October 2011 (16 starts between).
• Johnson became the eighth winner in 11 Cup races in 2012.
• Johnson won his third Darlington race in his 14th start. It was his first win since the fall of 2004.
• Johnson led a race-high 134 laps, including the last 44.
• Hendrick Motorsports posted its 200th Sprint Cup win, joining Petty Enterprises (268 wins) as the second team to reach the 200-win plateau. It was HMS's first win of 2012 and 14th Darlington win, the most of all teams.
• Chevrolet posted its 40th win at Darlington, the most of all makes, and series-leading fourth victory of 2012.
• Denny Hamlin (second) has an average finish in seven races at Darlington of 5.87, best of all drivers with more than two starts (six top-10 finishes).
• Tony Stewart (third) matched his best Darlington finish in his 20th start. It was only his fourth top-5 finish of the season.
• Kyle Busch (fourth) has four top-5 finishes in 2012, including the past three races. It was only his second top-5 finish in eight races at Darlington.
• Martin Truex Jr. (fifth) posted his fourth top-5 finish of 2012, only the second full-time season he's had more than three top-5 finishes.
• Kasey Kahne (eighth) has finished in the top 10 in the past five races after no top-10 finishes in the first six races of 2012.
• Marcos Ambrose (ninth) had his first top-10 finish of 2012. It was his first top-10 finish in four races at Darlington.
• Joey Logano (10th) had his third top-10 finish of the season but first since Race 2 at Phoenix. It was his second top-10 finish in four Darlington races.
• Greg Biffle (12th) had only his fourth finish outside the top 10 in 2012.
• Dale Earnhardt Jr. (17th) had his worst finish of the 2012 season and first finish outside the top 15.
• Danica Patrick (31st) was the third woman to compete in a Cup race at Darlington.
• Jeff Gordon (35th) had his seventh finish outside the top 20 this season, including the past four races.
• It marked the fourth green-white-checkered finish of 2012.
Nationwide Series

• Joey Logano won the VFW Sport Clips Help a Hero 200 on Friday night at Darlington Raceway. It was his 12th Nationwide Series win in his 96th start.
• Logano has won a series-high three races in 2012, having won three of his past five starts. It was his first Darlington win in his second start there.
• Logano won for the fourth time with crew chief Adam Stevens in their 28th race together.
• Logano led three times Friday for four laps, including the final two. The four laps led tied the record for fewest laps led by a winner, set by Matt Kenseth in May 2009 and Jack Ingram in April 1985.
• Joe Gibbs Racing posted its 71st Nationwide Series win and third win of 2012. JGR has seven victories at Darlington, including six of the past seven races there.
• Toyota posted its fourth victory of 2012 and fourth win overall at Darlington.
• Denny Hamlin (second) has finished first or second in his past five Darlington starts. He led the most laps (103) but failed to win for only the second time in the past 10 races after leading the most laps.
• Brad Keselowski (third) had his first top-5 finish in his sixth Darlington start, ending a three-race streak of finishing outside the top 10 this season.
• Sam Hornish Jr. (fourth) had his fourth career top-5 finish in his 42nd career race. It was his second top-5 of 2012 and first at Darlington.
• Austin Dillon (fifth) posted his seventh top-10 finish of the season in his first Nationwide start at Darlington.
• Ricky Stenhouse Jr. (sixth) got his eighth top-10 finish this season, most by any driver.
• Danica Patrick (12th) had the best finish by a woman at Darlington in her first Nationwide start. The previous best was 13th by Patty Moise in September 1995.
• Travis Pastrana (17th) finished on the lead lap in his second career start.
• It was the third race at Darlington to end with a green-white-checkered finish and second of 2012.
-- Racing Resources