How do you repair competition issues?

By David Newton
ESPN.com
Archive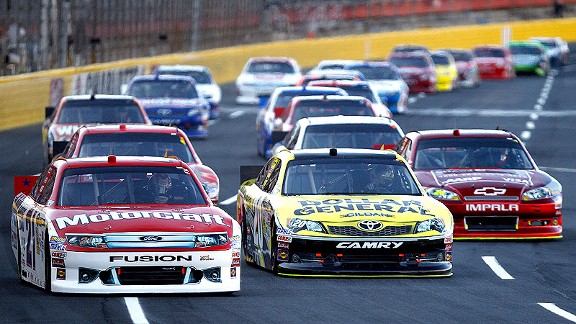 Chris Graythen/Getty ImagesRacing in tight quarters hasn't meant much mayhem on tracks 1.5 miles or longer in the Sprint Cup Series this season. Sunday's Coca-Cola 600 wasn't any different.
CONCORD, N.C. -- Before Sunday's fastest-ever Coca-Cola 600, before Kasey Kahne joined the impressive list of winning drivers for Hendrick Motorsports, the newest member of NASCAR's Hall of Fame made a comment that many of you latched on to.
That at least one driver latched on to, as well.
Rusty Wallace, when asked what he thought about the state of NASCAR, said the season was too long. He suggested less is better, that 32 races instead of 36 would make for a more compelling season for the fans and the drivers.
Many of you on Twitter agreed. Brad Keselowski responded with, "Yes, please."
Sorry to say, that's not going to happen anytime soon. The governing body has no plans to reduce the schedule or the money four races bring to its pocketbook.
NASCAR's big issue, one chairman Brian France addressed a week ago before the All-Star race at Charlotte Motor Speedway and was reaffirmed in Sunday's Coca-Cola 600 that was run in a record 3 hours, 51 minutes and 17 seconds, is aerodynamics.
That's especially true at 1.5-mile tracks such as CMS that make up a majority of the schedule.
Because the cars are so equal, because downforce and clean air gives the lead car a huge advantage, because it's so difficult to pass, because the drivers are so skilled they seldom wreck anymore, these races turn into long green-flag runs without much of the slam-bang action fans have been accustomed to.
Sunday's race took almost five less minutes to complete than the previous record for a 600 in 1995, only 53 minutes longer to finish than the Indianapolis 500 took with a hundred less miles in cars that went about 25 mph faster.
Were it not for four debris cautions -- the only other caution was a single-car accident -- the race would have been over well before the 10 p.m. local news.
It continued a season-long trend that has NASCAR's recently-challenged Research and Development shop searching for ways to improve competition. Making the cars tougher to handle, putting the drivers back in control instead of the machines, might be a good place to start, as some have suggested.
The weekly "why are there not more wrecks" questions have become so much a part of news conferences that Denny Hamlin offered comic relief after finishing more than four seconds behind Kahne in second.
"Everybody is trying to make last call," the Joe Gibbs Racing driver said when asked why once again it was such a clean race.
The 600 was so clean and over so fast that Kahne had time to make last call after more than two hours of postrace interviews.
"Everyone is so used to these cars now," Hamlin said in a more serious tone. "At the beginning, these cars were a tremendous handful to drive. Obviously, we saw some wrecks because of it, especially on restarts.
"Bottom line, everyone is so concerned with points nowadays, you know if you wreck and you finish in the 30s, you're going to take 10 races to get that back. Everyone's just a little bit more patient on restarts, as crazy as that sounds. It's just not as wild on restarts as it used to be a couple years ago. Everyone is minding their Ps and Qs, trying to get the best finish out of their day, knowing the one thing you can't overcome in a race is a crash."
Kahne agreed, saying the number of drivers experienced with the car that was introduced in 2007 has gotten to the point that "drivers keep the cars under 'em."
The most heated action in Sunday's race happened on pit road. Kahne avoided disaster when he and Carl Edwards almost collided late. Tony Stewart had to do a donut-type burnout to get back into his pit box after a tap from Keselowski.
"You have to be consistent in this sport," said Kahne, whose average finish of 5.5 over the last six races has put him back into Chase contention after a disastrous start. "It's how the points are. You have to finish races. If you're crashing, you're not finishing, you're losing points."
Perhaps the solution is as simple as some have suggested. Cut back the spoiler and take away the splitter to make these cars a handful again.
Or perhaps it'll all be taken care of when the 2013 car is introduced.
And not everybody is complaining. Dale Earnhardt Jr. is loving that he already has nine top-10s, three fewer than he had all of last season, and is fourth in the standings. Greg Biffle is loving that he is first in the standings with seven top-5s, more than double what he had a year ago.
But fans, judging by comments, aren't loving everything they're seeing -- particularly at 1.5-mile tracks.
There hasn't been a multicar wreck in 2,353 miles of Cup racing on 1.5- and 2-mile ovals in 2012 between Las Vegas, Fontana, Texas, Kansas and Charlotte.
Perhaps Wallace was on to something. Shorten the schedule, preferably by four intermediate tracks. Provide more short-track action that encourages contact, that creates more of a supply versus demand scenario for fans.
As Keselowski tweeted, "Yes, please."
David Newton column: He told you so | Live! rewind | Recap | Results | Highlights
Nationwide Series: Former IndyCar star on the move
Don't look now but there's a former IndyCar star making a move in the standings.
Not Danica Patrick, although she has climbed to ninth.
Check out Sam Hornish Jr. His ninth-place finish in Saturday's race at CMS was his fifth top-10 of the season and left him in fourth place, 57 points behind Ricky Stenhouse Jr.
He's quietly having the kind of season owner Roger Penske was hoping for when he said last year he'd like to get Hornish back fulltime in Cup in 2013.
Hornish attempted full Cup seasons from 2008 to 2010, never finishing higher than 28th in points. Penske believes the former Indianapolis 500 winner and IndyCar Series champion was rushed into the top series, and that a full season in Nationwide will better prepare him for a second attempt.
So far, so good.
Patrick also is on the rise. Her 13th-place finish after a rough start continued her gradual climb up the standings after being 17th seven races ago. She showed perhaps more maturity than at any point of her career Saturday when she took leadership of the team after a meltdown by crew chief Tony Eury Jr. over a bad pitstop.
But the biggest winner of the day was Elliott Sadler. Stenhouse broke a driveshaft that left him 26th, allowing Sadler to pick up 21 points on the defending series champion with his ninth top-10 in 11 races.
By the way, rumors that Stenhouse might be headed to Stewart Haas Racing in 2013 are just that. Roush Fenway Racing officials say there are no plans to let their rising star go, and the plan remains to put Stenhouse in the No. 6 Cup car next year if sponsorship is found.
Recap | Results | Highlights
Camping World Truck Series: Gearing up for Dover
The series will resume Friday at Dover. Justin Lofton leads the standings by one point over Timothy Peters.
David Newton covers NASCAR for ESPN.com. He can be reached at dnewtonespn@aol.com.
Racing Resources says …
Sprint Cup Series

• Kasey Kahne won the Sprint Cup Series Coca-Cola 600 at Charlotte Motor Speedway on Sunday, his 13th career win in his 300th start. Kahne is the third driver to win in his 300th start, joining Rusty Wallace and Ned Jarrett. Kahne's last win was at Phoenix last November, 12 starts between victories. He's the 16th driver to win for Hendrick Motorsports. HMS is the fourth team Kahne has won for. His win Sunday was his fourth series win at Charlotte in his 17th start. His third Coca-Cola 600 win ties Jimmie Johnson and Jeff Gordon for most among active drivers. This was Kahne's first win of 2012, making him the ninth driver to win a race this season. He led six times for 96 laps, including the final 44.
• Kahne's victory was the 201st career win for Hendrick Motorsports and the team's 17th Charlotte win, the most of any organization. It was HMS' 10th Coca-Cola 600 win, the most all time. This was the team's second win of 2012, and it has won back-to-back points races. The team has won the last three races held, including the All-Star Race last weekend. • This was the 40th Charlotte win for Chevrolet, the most of any manufacturer and the 21st win in the Coca-Cola 600. Chevy has won the most races in 2012, five.
• Denny Hamlin (second place) had his sixth top-5 finish of 2012 and second straight second-place finish. It was his best Charlotte finish in his 14th start.
• Kyle Busch (third) got his ninth top-10 finish in the last 10 Charlotte races. It was his fifth straight top-10 finish of the season, and fourth straight top-5.
• Greg Biffle (fourth) had his seventh top-5 finish of 2012. He had only three in 2011. He led 204 laps, the most of all drivers.
• Brad Keselowski (fifth) earned his best Charlotte finish in his sixth start after recovered from a speeding penalty on pit road earlier in the race.
• Dale Earnhardt Jr. (sixth) took home his ninth top-10 finish of 2012. He had only 12 in 2011.
• Jeff Gordon (seventh) got only his third top-10 finish of 2012. He ended a four-race streak of finishes of 21st or worse.
• Jimmie Johnson (11th) has finished in the top 12 in all but two races in 2012. He had a removing equipment penalty on Lap 354 while running third. • The race speed of 155.696 mph set a record for the race.
Nationwide Series

• Brad Keselowski won the Nationwide Series History 300 at Charlotte Motor Speedway on Saturday, his 18th career series win in his 178th start. His last win came at Homestead last November, nine races ago. This was his first win of 2012. His previous best finish in 2012 was third at Auto Club Speedway. Keselowski is the sixth winner this season. It was his second win at Charlotte in his 12th start. He won at Charlotte in fall 2010. He has finished in the top 10 in his last nine races at Charlotte. This was Keselowski's sixth win on a 1.5-mile track. He has won five of his last 10 starts at 1.5-mile tracks. This is his fifth straight season with a series win. • This was the 24th career win for Penske Racing and the team's first win of 2012. The team has won three times at Charlotte. • Keselowski's victory was Dodge's fourth win at Charlotte and the manufacturer's first win of 2012. • Denny Hamlin (second) matched his best Charlotte finish, set in his last race in May 2008. It was his third straight second-place finish in the series.
• Kyle Busch (third) earned his 13th top-5 finish at Charlotte, tying Mark Martin for the most of all drivers.
• Kevin Harvick (fourth) led the most laps for the third time this season but is still winless in 2012. He led 92 of 200 laps.
• Elliott Sadler (fifth) got sixth top-5 finish of 2012. He gained 21 points on series leader Ricky Stenhouse Jr. and is now only 13 behind after entering 34 points behind.
• Joey Coulter (10th) made his Nationwide Series debut. He's the third driver of 2012 to finish in the top 10 in his debut.
• Mike Wallace (15th) earned his best finish of the 2012 season.
• Kasey Kahne (17th) ran out of fuel on Lap 199 while running fifth after last pitting on Lap 127.
• Stenhouse (26th) had his worst finish of the season after pitting from third on Lap 65 with a driveshaft issue that put him behind the wall for 22 laps. He lost 21 of his 34-point lead in the series standings.
-- Racing Resources