Kurt Busch still struggling with anger

By David Newton
ESPN.com
Archive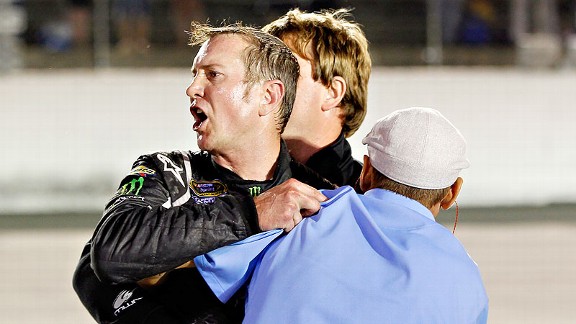 Geoff Burke/Getty Images Kurt Busch was put on probation by NASCAR after the May 12 Sprint Cup race at Darlington where he and Ryan Newman -- and Newman's crew -- had a disagreement.
We interrupt your regularly scheduled Monday Rundown programming on the Sprint Cup Series to discuss Kurt Busch's one-race suspension for threats made to a reporter following Saturday's Nationwide Series race at Dover.
It appears the 2004 Cup champion won't be satisfied until he has chewed out every member of the NASCAR media.
Or has been banned from NASCAR entirely.
Busch took a step in that direction on Monday when NASCAR suspended him from Sunday's Sprint Cup race at Pocono Raceway.
The suspension came because of comments Busch made to Sporting News reporter Bob Pockrass after being asked if his May 12 probation for an incident at Darlington with Ryan Newman impacted the way he handled a racing incident with Justin Allgaier at the "Monster Mile."
"It refrains me from not beating the s--- out of you right now because you ask me stupid questions," Busch told the reporter after the race. "But because I'm on probation I suppose that's improper to say as well."
Well, yes. And Busch realizes it now -- two days too late.
"I put them [NASCAR] in a box, they had to take action and it's my fault for putting them in this position," Busch said of NASCAR in a prepared statement. "I apologize for the comments I made to Bob Pockrass."
This is not the first time Busch has apologized for abusive behavior toward the media. It probably won't be his last, unless this suspension turns into a career-ending moment.
It could. Busch already was on shaky ground looking for a top team and owner to drive for in 2013. Now his current owner, James Finch, isn't sure he wants Busch around when the suspension is lifted on June 13.
Finch told ESPN.com he would meet with Busch over the next couple of days to discuss whether they would keep the handshake agreement they made before the season.
He didn't sound like a man convinced the arrangement could or would work.
"If he's going to kill himself, I'm not going to be in the airplane with him," Finch said by phone. "If that's what he's planning on doing, I am going to get out."
Finch made it clear after Busch was released by Penske Racing following a profanity-laced tirade against ESPN's Dr. Jerry Punch at Homestead-Miami Speedway last November that if Busch embarrassed him like he did Roger Penske "he would have gotten his ass beat on pit road."
"He needs to simmer down a while," Finch told ESPN.com in December. "There are a lot of people that don't like Kurt. He's never done anything to me personally. He just needs to look in the mirror and see what the problem is."
Now Busch has done something to Finch personally, even though the incident came while Busch was driving a Kyle Busch Motorsports Nationwide car for his little brother.
Finch made it clear there are several qualified drivers to take over Phoenix Racing's No. 51 Chevrolet.
Busch's abusive behavior toward the media starting getting out of control last season. He had to be restrained from confronting a NASCAR.com reporter following the September Cup race at Richmond after being asked about his relationship with Jimmie Johnson heading into the Chase.
That same night he ripped up a transcript on the desk of an Associated Press reporter after she showed him his comments that he had denied.
Busch cursed out this ESPN.com reporter before practice at Charlotte Motor Speedway in October when I was asking a member of his then-public relations staff at Penske Racing if crew chief Steve Addington could address reports he was headed to Stewart-Haas Racing after the season.
After his season ended early with a transmission failure at Homestead-Miami Speedway, Busch unleashed a profanity-laced tirade on Punch shortly after delivering an obscene gesture in the direction of First Lady Michelle Obama's motorcade when entering the garage.
Then came Saturday's outburst, which led to Monday's suspension.
You can question whether Busch deserved to be placed on probation for his Darlington run-in with Newman. He didn't come within three feet of hitting one of Newman's crew members exiting his pit box, although Newman's crew members made it sound like a life-and-death situation.
Busch insists to this day that his bump of Newman's car on pit road after the race was an accident, that he was taking off his helmet when the cars in front of him checked up.
There's no questioning that Busch's comments on Saturday were threatening.
NASCAR is in a tough position here. The governing body wants its drivers to show personality. It also wants its drivers to show common decency.
Busch getting angry with a driver after a heated moment on the track is understandable. Getting angry with a reporter asking legitimate questions isn't.
The media didn't place Busch on probation. The media didn't cause Busch to lose his job at Penske Racing and force him to drive for underfunded Phoenix Racing. The media didn't cause Allgaier to question how aggressive Busch drove him in Saturday's Nationwide race. The media didn't cause Busch's transmission to fail at Homestead.
But Busch chooses to pick battles with the media anyway. Perhaps he feels the media is free game. Perhaps he's afraid to pick battles with other drivers for fear of the repercussions, either from NASCAR or owners who could be potential employers.
Shortly after his tirade Saturday, Busch told a TV reporter, "I'm on probation so I can't even pick my nose the right way."
When you behave like Busch has, you can't.
Had Busch shown any restraint after Saturday's race, the Nationwide portion of this story would be about the race won by Joey Logano and Elliott Sadler taking the points lead from Ricky Stenhouse Jr.
But whatever therapy Busch is getting for anger management -- which he acknowledged he was seeking after last season -- isn't working. If it was, we wouldn't be spending the Monday Rundown spot reserved for Sunday's Sprint Cup race on this.
If it was, Busch's future in the sport might not be in jeopardy.
And if it doesn't get fixed soon, we may be back here discussing his behavior again.
James: Patrick wrecks again Recap | Results | Highlights
Sprint Cup Series: Another frustrating day for Jeff Gordon
You can't blame Jeff Gordon for being frustrated. Were it not for a loose left-rear tire and debris caution on Sunday at Dover, were it not for a crazy dive-bomb move by Clint Bowyer on a green-white-checkered restart at Martinsville, the four-time champion could have two wins and be a solid 17th in points.
He would own the second wild-card spot for the Chase.
Instead, he's 21st in points with no wins.
And not very happy about it.
"It's always more frustrating when you've got a car that can win; and you show it by going up there and taking the lead,'' Gordon said after finishing 13th. "We don't care about finishing top-15 or top-10 right now. That does nothing for us. We need wins."
Gordon thought he would have one on Sunday. He felt he had a car at least as good as teammate Jimmie Johnson, who won for the third time in the past four weeks counting the All-Star Race.
"Until that debris caution?'' Gordon told reporters at the track after leading 60 laps. "Yeah, I can't wait to see that debris on TV. I'd like to see it because I certainly never saw it. I'm not going to make any comments until I see what their reasoning for it was.''
Fortunately for Gordon, there are plenty of tracks coming up where he traditionally is strong and can win. And he's only one point out of the top 20 needed to qualify for a wild-card spot.
There's still plenty of time to make the Chase.
But the frustration is there.
"The fastest car doesn't always win the race,'' Gordon said. "And we're sitting here in 13th or whatever. It's silly.''
Terry Blount column: JJ slays The Monster | Live! rewind | Recap | Results | Highlights
Camping World Truck Series: Todd Bodine gets much-needed win
Nothing against Kevin Harvick in his continued effort to win a race at Dover, but good for Todd Bodine. He needed the win more than Harvick, even if it was rain-shortened.
The two-time series champion is trying to keep his career going with Red Horse Racing at a time when sponsorship is hard to come by. A win can't hurt.
"You don't like to win them this way, but I've lost them this way and we're going to take this one to the house,'' Bodine told reporters after winning his first Truck race at Dover.
The win gave Bodine, 48, three straight top-5 finishes and moved him from ninth to fifth in the standings, 37 points behind leader Justin Lofton. It came a few days after Red Horse Racing announced it suspended John King's team due to lack of sponsorship.
Harvick may have wanted the win badly, but Bodine needed it.
David Newton covers NASCAR for ESPN.com. He can be reached at dnewtonespn@aol.com.
ss
Racing Resources says …
Sprint Cup Series

• Jimmie Johnson won the Sprint Cup Series FedEx 400 benefiting Autism Speaks at Dover International Speedway on Sunday, for his 57th career win in his 376th start. His last win came at Darlington, two races ago. His 57 wins remains eighth all-time. Johnson got his seventh Dover win, tying Richard Petty and Bobby Allison for the most. Johnson has won one third of the 21 races he has entered at Dover.
• He led the most laps at Dover for the ninth time including the past seven. Johnson led six times for 289 laps, including the final 76. This was his second win of 2012, joining Tony Stewart, Denny Hamlin and Brad Keselowski as multiple winners this season. Johnson has only one finish worse than 12th since the season-opening Daytona 500 (35th at Talladega).
• Johnson's victory was the 202nd for Hendrick Motorsports and the team's third win of 2012. It was also the team's third straight points race win this season, and fourth straight victory overall including the All-Star Race. The team has now won 14 times at Dover, the most by any organization. • Johnson's win was the sixth for Chevrolet in 2012 and 32nd win at Dover for the manufacturer. Both marks are the most for any manufacturer.
• Kevin Harvick (finished second) had his best Dover finish and only his third top-5 finish there in 23 races.
• Matt Kenseth (third) got his 13th top-5 finish and 18th top-10 finish at Dover, most of all tracks he has competed on. He pulled to second in points, only 1 point behind teammate Greg Biffle.
• Dale Earnhardt Jr. (fourth) earned his fifth top-5 finish of 2012. He had only four in all of 2011.
• Clint Bowyer (fifth) got his best finish of 2012, and best finish at Dover in his 13th start.
• Aric Almirola (sixth) had his second-best finish in his 48-race Sprint Cup career. It was his first Cup start at Dover.
• Kasey Kahne (ninth) got his seventh top-10 finish of 2012, all in the past seven races.
Nationwide Series

• Joey Logano won the Nationwide Series 5-Hour Energy 200 at Dover International Speedway on Saturday, his 13th career series win in his 98th start.
• It was his first win at Dover in his sixth race, with his best previous finish being second twice. He's the 40th different driver to win a race at Dover, which ties Bristol for the most at any track. Dover is the ninth different track that Logano has won on.
• This was his fourth win of 2012, most of all drivers and this is the fastest he has reached four wins in a season (10 races). It was his eighth career win from the front row, and second of 2012. He has now won three races in the No. 18 this season and one in the No. 20. Logano led 154 laps including the last six. • This was the 72nd career win for Joe Gibbs Racing and the sixth Dover win, most of all organizations, breaking a tie with Roush Fenway Racing. JGR has won six of the past 10 Dover races, and Logano is the third different JGR driver to win at Dover. JGR has four wins in 2012, the most of all organizations.
• Logano, Ryan Truex and Brian Scott completed the first 1-2-3 team sweep in the series. • Logano's victory was the fifth at Dover for Toyota, and the manufacturer's fifth win of 2012, most in the series. • Truex had his career-best finish in his 29th start.
• Scott matched his career-best finish for the third time.
• Kurt Busch (finished fourth) had his sixth top-10 finish in seven races this season.
• Justin Allgaier (fifth) got his seventh top-10 finish of 2012 including four in the past five races.
• Elliott Sadler (seventh) took over the points lead by 12, gaining 25 points on Ricky Stenhouse Jr. after getting his 10th top-10 finish of the season.
• Ty Dillon (eighth) is the fourth driver in 2012 to get a top-10 finish in his NNS debut.
• Jeremy Clements (10th) matched his career-best finish
• Stenhouse (32nd) had his worst finish of the 2012 season and it dropped him to second in points, 12 behind Sadler. Stenhouse lost 46 points to Sadler in the past two races.
Camping World Truck Series

• Todd Bodine won the Lucas Oil 200 Friday at Dover International Speedway. The race was shortened due to rain (147 of 200 laps). • Bodine won his 22nd career Truck race in his 196th start. He'd last won at Kentucky in September 2010, a 37-race winless skid. It was his first Dover win in his eighth start there.
• Bodine became the sixth different winner in 2012. He recovered from a spin while running 10th on Lap 68. He was 12th at the Lap 120 red flag. • Red Horse Racing posted its seventh win overall and second victory of 2012. It was RHR's first win at Dover. • Toyota posted its fifth win at Dover and second victory of 2012.
• Parker Kligerman (second) tied his career-best finish for the third time.
• Kevin Harvick (third) led 96 laps.
• Nelson Piquet Jr. (fourth) tied his best finish this season and best at Dover.
• Cale Gale (fifth) had his career-best finish.
• Ty Dillon (sixth) has finished in the top 10 in the past eight races.
• Timothy Peters (ninth) has top-10 finishes in all six races this season.
• Justin Lofton (10th) has finished in the top 10 in all six races this season. He leads the points by one.
-- Racing Resources