Earnhardt, Gordon play it safe at Pocono

By David Newton
ESPN.com
Archive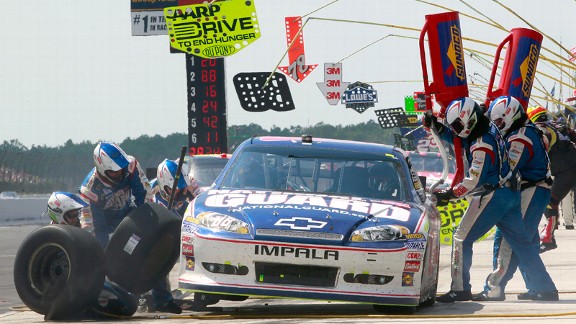 Geoff Burke/Getty Images, NASCARSteve Letarte called for Dale Earnhardt Jr. to stop for fuel with 22 laps left Sunday at Pocono.
It's time to play Monday morning quarterback, or crew chief, if you will.
Should Hendrick Motorsports drivers Dale Earnhardt Jr. and Jeff Gordon, running third and fourth at the time, have pitted when caution came out with 22 laps left in Sunday's Sprint Cup race at Pocono Raceway?
Earnhardt told reporters at Pocono that he and crew chief Steve Letarte simply "didn't want to run out of gas." He said they didn't know that caution and an ensuing yellow on Lap 150 of the 160-lap race would last so long, helping winner Joey Logano and a few others stretch their fuel mileage to the end.
"We're not taking those kind of chances -- just yet," Earnhardt said after the race.
Which begs the question: Why? Earnhardt is second in points, only 10 behind Matt Kenseth. Even if he gambled, ran out of gas and finished 28th -- the furthest he likely would have dropped -- he'd be tied for fifth in points. He'd still be 47 points clear of falling out of the top 10 guaranteed a spot in the Chase.
Wouldn't it have been worth it to at least stay out longer to see how things played out, to see whether he could end a losing streak that will reach its four-year anniversary on Sunday at Michigan? Perhaps the nine laps run under the final two cautions could have made up the four or five laps he was short on fuel and given him a chance to battle Logano for the win.
We'll never know.
But when you've lost 143 consecutive races, don't you need to take a chance every once in a while to win?
You could make a similar case for Gordon. He's 22nd in points after a 19th-place finish. His best bet to make the Chase is to win a couple of races and go in as a wild card. Had he gambled and failed, he would have lost only nine more points than he did. Had he gambled and finished where he was before the caution, he could have moved to 18th in points.
Maybe he would have challenged Logano.
We'll never know.
So when is the right time to gamble for wins? Is it really too early, as Earnhardt suggested? There are only 12 races before the Chase field is set. What's the magic number?
Ten? Six? Four?
"That's something you need to ask Steve," Earnhardt said. "He's better and smarter about that stuff than I am. I back his call that he made today. I don't like running out of gas. I ran out of gas here one year, and that pisses me off so bad that it's just hard to recover from it, mentally, you know.
"There's just no excuse in running out of gas. You put fuel in it, and you go run."
Perhaps Earnhardt is right. Perhaps the risk wasn't worth the reward, a complaint many make about points racing in general.
But if you're going to challenge for a title, you have to roll the dice at some point, right? Wins and the bonus points that go with them are pretty valuable, as Carl Edwards found out last season when he lost the championship on a tiebreaker because Tony Stewart had five Chase wins to his none.
"I like the call we made today," Earnhardt defended after recording his series-best 11th top-10, one fewer than he had all of last season. "We raced back up to eighth and didn't win the race; [we] might not have won the race. We might have run third -- I don't know.
"But it was the right call for us at this time. We had a really, really good car. That was the funnest car I've had all year and the best car I've had a Pocono in a long, long time. So I'm just really trying not to be too upset about it because we did a lot of good things today, and we've got a lot to look forward to."
Maybe it was the right call. Earnhardt is in a good place mentally, and there's no need to disrupt that.
But Logano was in a pretty good place, too, and he thought it was worth the fuel gamble to win. Crew chief Jason Ratcliff actually said the team owed it to Logano to give him a chance to win.
Logano, like Earnhardt and Gordon, was several laps short when the calculators began churning with about 34 laps to go. Had it gone green the rest of the way, he might have fallen short.
We'll never know.
But if you're playing Monday morning crew chief, you're probably wondering why Earnhardt and Gordon didn't at least wait until five or six laps remained to see what happened. Maybe they would have had to pit anyway. Maybe they wouldn't have.
Maybe Logano would have won anyway to move into contention for a wild-card spot.
It was kind of damned if you do, damned if you don't as far as Earnhardt was concerned.
"It's frustrating, and it really changed the way we had to call our race," Earnhardt said of three debris cautions over the final half of the race. "So everybody was really set to go. The guys at the end gambled, and a few of them beat us. It's all right. It was fast, though, huh?"
That the race was 100 miles shorter than its traditional length was a positive nobody can second-guess. It still turned into fuel-mileage strategy, but it was as good a race as there has been all season.
Outside of Logano, the big winners were the fans and drivers who have been begging for years for this race to be shortened. Thanks to a gamble by the Mattioli family to do away with history, they got it.
No Monday morning crew chief will argue that wasn't the right call.
K. Lee Davis column: Logano takes Pocono | Live! rewind | Recap | Results | Highlights
Camping World Truck Series: Lofton a rising star?
Maybe it's time to add Justin Lofton to the list of young drivers destined for Cup in the next few years.
Lofton led a race-high 55 laps on Friday night at Texas, recorded his seventh top-10 in seven starts and extended his points lead to five over Timothy Peters.
Were it not for a tire rub that set him back in the field, Lofton might have contended for his second win instead of finishing ninth.
"This team has a way of not giving up," Lofton said. "We had a few near misses from tire rubs to caution flags and other issues out of our hands, but we didn't give up, and that is what got us back up there. We're doing it every week, and we're going to keep it up."
Johnny Sauter won the race.
Nationwide Series: Bring on Michigan
The series resumes after an off weekend with a Saturday race at Michigan.
Elliott Sadler has the points lead thanks to three straight finishes in the top seven and some misfortune from defending series champion Ricky Stenhouse Jr., who has finished 26th and 32nd in the past two races.
Michigan should be a good track for both drivers. Stenhouse finished second to Carl Edwards a year ago. Sadler was eighth.
David Newton covers NASCAR for ESPN.com. He can be reached at dnewtonespn@aol.com.
Racing Resources says …
Sprint Cup Series

• Joey Logano won the Pocono 400 at Pocono Raceway on Sunday. It was his second Sprint Cup win in his 125th start. His previous victory came at New Hampshire in June 2009 (104 starts between).
• Logano became the 10th different winner of 2012.
• Logano won from the pole, ending a 30-race winless skid for the pole winner, the longest streak in Cup history.
• At 22 years and 17 days, Logano became the youngest driver to win at Pocono.
• Logano gave crew chief Jason Ratcliff his first Cup win.
• Logano led five times for 48 laps, including the last four.
• Joe Gibbs Racing posted its 97th Cup win and fourth victory of 2012, most of all teams. All three JGR Cup drivers have at least one win in 2012. JGR's ninth Pocono win tied Penske for second behind Hendrick Motorsports with 12.
• Toyota posted its fourth win of 2012 and third win at Pocono.
• Mark Martin (second) had his seventh second-place finish at Pocono in his 51st start.
• Tony Stewart (third) had his fifth top-5 finish of 2012 and third third-place finish since his March 25 win at Auto Club Speedway.
• Jimmie Johnson (fourth) notched his third straight fourth-place finish at Pocono and 10th top-10 finish of the season.
• Denny Hamlin (fifth) had his eighth top-5 finish in 13 races at Pocono.
• Clint Bowyer (sixth) has finished 11th or better in five of the past six races. It was his best Pocono finish since he finished third there in August 2009.
• Matt Kenseth (seventh) posted only his second top-10 finish in the past eight Pocono races. His 10th top-10 finish of the season gives him the points lead by 10 over Dale Earnhardt Jr.
• Earnhardt (eighth) had his 11th top-10 finish of the season, most of all drivers.
• Greg Biffle (24th) had his worst finish this season, dropping to third in the standings, 16 out of the lead.
• Kasey Kahne (29th) broke a streak of seven top-10 finishes.
• The 22 speeding penalties are the most in documented infraction history (since summer 2006).
Camping World Truck Series

• Johnny Sauter won the WinStar World Casino 400 at Texas Motor Speedway on Friday. It was his fifth career Truck series win in his 93rd start and his first Texas victory in eight starts at the Fort Worth track.
• Sauter became the seventh different winner in seven races of 2012. The seven different winners to start a season is the most in series history.
• Sauter posted only his second top-10 finish this season.
• Sauter led 41 laps, including the final 22.
• ThorSport Racing posted its eighth career win but only its first victory at Texas and its first of 2012.
• Toyota scored its 10th win at Texas and third victory of 2012.
• Matt Crafton (second) had his third runner-up finish at Texas and best finish this season. It was his 50th career top-5 finish.
• Joey Coulter (third) had his career-best finish. His previous best was fifth, done five times.
• Brendan Gaughan (fourth) had his first top-5 finish since Kentucky last year.
• Nelson Piquet Jr. (fifth) had his fifth top-10 in seven races this season.
• Ty Dillon (seventh) has finished in the top 10 in the past nine races.
• Justin Lofton (ninth) finished in the top 10 in all seven races this season and leads the points by five over Timothy Peters. He led a career-high 55 laps -- the most of all drivers.
• Timothy Peters (11th) had his first finish outside of the top 10 this season.
-- Racing Resources