What's good for Dale Jr. is good for NASCAR

By Terry Blount
ESPN.com
Archive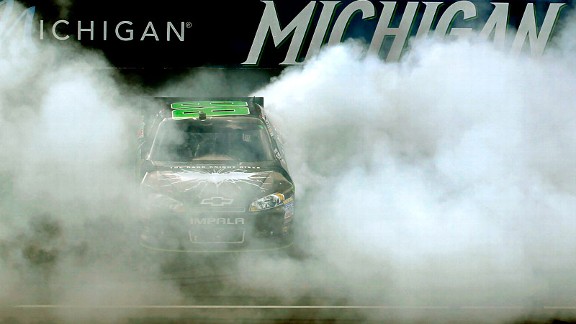 Jeff Zelevansky/Getty ImagesIt had been four long years since Dale Earnhardt Jr. smoked the Goodyears after a points race, so he made the most of it Sunday at Michigan International Speedway.
This just in: NASCAR now will run six races a year at Michigan International Speedway.
OK, I'm pulling your throttle leg a little on that one, but one could understand the desire for it. If Dale Earnhardt Jr. has an on-track happy place, Michigan is it.
He has two Sprint Cup victories since winning at Richmond in 2006, and both came on the 2-mile oval in the Irish Hills, including the one Sunday that ended his 143-race winless streak.
The endless questions of "Will Junior win again?" now are over, at least for a few weeks. More importantly, what's good for Dale Jr. is good for NASCAR.
Even through his long losing streak, Earnhardt continued to be the most popular driver in the sport by a wide margin. He has his critics, but Earnhardt is well-liked by the majority of fans and the majority of people in the Cup garage. They want him to do well.
"That's the way I feel about people," Earnhardt said Sunday after his victory. "I want to see good people do good things, and I want to see people who I think are good people have success and be happy."
Some of the first people to greet Earnhardt on pit road after the win were Jimmie Johnson's pit crew, including crew chief Chad Knaus, who reached into the car to shake Earnhardt's hand. Earnhardt's No. 88 Chevy team works in the same building at Johnson's No. 48 crew.
Greg Biffle, who ended his 49-race winless streak earlier this season at Texas, expressed how many drivers felt about watching Earnhardt go to Victory Lane on Father's Day.
"I am really excited for Junior," Biffle said. "What a great day for him to win on. There has been a lot of pressure on him and I am glad he won."
Finally winning is the icing on the cake this season for Earnhardt. He has been a contending driver all season, easily his best year since joining Hendrick Motorsports in 2008.
He's only four points behind Matt Kenseth for the top spot in the standings. Earnhardt also has a series-best 12 top-10s in 15 races. If the Chase started today, Earnhardt would be tied for fifth in the standings, only three points behind the four drivers tied for first.
Things have continued to improve since Rick Hendrick paired Earnhardt with crew chief Steve Letarte last season. Earnhardt finished outside the top 20 in the standings in 2009 and 2010, but made the Chase last year in his first season with Letarte.
Earnhardt had come close to winning several times with Letarte, but now with the elusive victory out of the way, they can focus on contending for the title.
"It was pretty tough for a couple years," Earnhardt said. "Back when me and [former crew chief Lance McGrew] were trying to figure it out, we worked hard together. We didn't beat on each other too bad, but just couldn't get it figured out.
"It takes a unique combination. You can put the best people together and sometimes not get it to work. It takes a certain combination. We found one that works for me."
David Newton column: Junior's time | Live! rewind | Recap | Results | Highlights
Nationwide Series: Cup boys coming on strong
With a surge in the past seven races, the Cup regulars are back to running roughshod in the Nationwide Series, taking a 7-6 lead this season in victories over the Nationwide guys.
Things started so well, with the non-Cup drivers winning five of the first six Nationwide races (including Camping World Truck Series regular James Buescher winning at Daytona), but it's back to the same old Cup domination now.
Joey Logano is leading the way. His victory Saturday at Michigan was his second consecutive Nationwide win and his fourth in the past six races.
No Cup driver is running the full Nationwide schedule this year, but Logano and Brad Keselowski are close to full time. They each have raced in 11 of the first 13 events.
Only two drivers competing for the Nationwide championship have won a race this year -- three wins for Ricky Stenhouse Jr. and two for Elliott Sadler. But winless rookie Austin Dillon is a serious contender to win the title, one year after winning the Truck championship.
Dillon is only eight points behind Sadler for the top spot in the standings. But Dillon might want to stay away from Danica Patrick the next few races.
Patrick's crew chief, Tony Eury Jr., was not happy after the race, feeling Dillon was one of the drivers who caused her car to get loose and spin. So Eury told Patrick it's time for some pay back.
Camping World Truck Series: Kentucky on tap
The Camping World Truck Series is off until a rare Thursday night race on June 28 at Kentucky Speedway. Justin Lofton leads the standings by five points over Timothy Peters. Rookie Ty Dillon is only 12 points back in third.
Terry Blount is a senior writer for ESPN.com. He is the author of "The Blount Report: NASCAR's Most Overrated and Underrated Drivers, Cars, Teams, and Tracks." He can be reached at terry@blountspeak.com.
Racing Resources says …
Sprint Cup Series

• Dale Earnhardt Jr. won the Quicken Loans 400 on Sunday at Michigan International Speedway. It was his 19th Cup series win in his 450th start. It ended a 143-race winless streak that dated back to Michigan in June 2008. Earnhardt finished second seven times between wins.
• It was the second straight week that a driver broke a winless streak of more than 100 races; Joey Logano broke a 104-race winless streak last week at Pocono.
• Earnhardt became the 11th driver to win in 2012. It was his first win with crew chief Steve Letarte, who ended a 115-race winless streak that dated back to Texas in April 2009 with Jeff Gordon. Letarte is the fourth crew chief Earnhardt has won with in the Cup series.
• It was Earnhardt's second win with Hendrick Motorsports.
• Earnhardt leads all drivers with 12 top-10 finishes in 2012.
• Earnhardt led five times for 95 laps, including the final 30.
• Hendrick Motorsports posted its 203rd Cup win overall and fourth victory of 2012, all in the past five races. All four HMS drivers have won in 2012. HMS has six career wins at Michigan.
• Chevrolet posted its seventh win of 2012 and 20th victory at Michigan.
• Tony Stewart (second) had his sixth top-5 finish this season and his fifth straight top-10 at Michigan.
• Points leader Matt Kenseth (third) had his 12th top-10 in 26 races at Michigan.
• Greg Biffle (fourth) had his eighth top-5 finish of 2012, falling to third in points.
• Jimmie Johnson (fifth) posed his fourth top-5 finish at Michigan in 21 starts. Johnson, who is winless at Michigan, started at the rear after changing an engine following the "bonus" practice.
• Jeff Gordon (sixth) had just his fourth top-10 finish this season -- his second-best finish of 2012.
• Juan Pablo Montoya (eighth) matched his best finish this season. It was only his second top 10 of 2012.
• Marcos Ambrose (ninth) matched his best finish of 2012.
• Carl Edwards (11th) recovered after starting 42nd due to fuel issues in qualifying.
• Austin Dillon finished 24th in his first start this season.
• Joe Nemechek finished 40th in his 600th Cup series start.
Nationwide Series

• Joey Logano won the Alliance Truck Parts 250 on Saturday at Michigan International Speedway. It was Logano's 14th career win in his 99th start and his first victory at Michigan in his fourth start there. He is the 15th different driver to win at Michigan in 21 races.
• Logano posted his fifth Nationwide Series win of 2012, most of all drivers. He tied his career best for wins in a season (2009). He has won four of the past five Nationwide Series races.
• Logano took the lead for the final time on Lap 102 (led twice for 31 laps).
• Joe Gibbs Racing posted his 73rd career victory. It was JGR's second win at Michigan and fifth victory of 2012.
• Toyota posted its first Michigan win and sixth victory of 2012, most of all manufacturers.
• James Buescher (second) had his sixth top-10 finish of 2012, including his past five starts.
• Kurt Busch (third) has had top-10 finishes in all but one of his eight starts this season.
• Cole Whitt (fourth) matched his career-best finish set at Richmond in April 2012.
• Austin Dillon (fifth) had his 10th top-10 finish of 2012. He has gained 35 points on the leader in the past three races.
• Paul Menard (eighth) led the most laps for the second time in two starts this season, finishing in the top-10 in his past 10 Nationwide Series starts.
• Elliott Sadler (11th) finished outside the top 10 for only the third time in 2012. He leads the standings by eight points over Austin Dillon.
• Danica Patrick finished 18th.
• Ricky Stenhouse Jr. (25th) finished outside the top 10 for the third straight race and lost 61 points to the leader in those three races. He finished in the top 10 in all but one of the first 10 races of the season.
-- Racing Resources