Kurt Busch shows his mettle at Sonoma

By David Newton
ESPN.com
Archive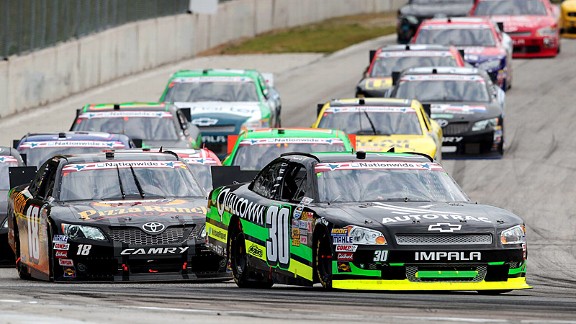 Dilip Vishwanat/Getty ImagesThe last-lap tussle between Jacques Villeneuve and Danica Patrick stole the spotlight from Brazilian driver Nelson Piquet Jr., who won his first Nationwide Series race Saturday at Road America.
What you saw Sunday on the road course at Sonoma is why Phoenix Racing owner James Finch stuck with Kurt Busch when the 2004 Sprint Cup champion gave him every reason to let him go. What you saw is why Busch's mechanics and crew members can't say enough good things about their driver when the rest of the world is bashing him.
What you saw is why Busch likely will land a top ride in 2013.
He's an amazing driver.
Busch drove an underfunded, non-sponsored, single-car team within one good move of the lead as the 110-lap race wound down. He drove it to third place on a green-white-checkered finish despite suspension problems of his own doing that might have handcuffed a lesser driver.
He did this two weeks after being suspended by NASCAR for threatening comments to a reporter that continued his long laundry list of issues with the media.
"If I can get my head on straight here and after the race, then I'm able to race every weekend and go for victories," Busch told reporters afterward.
A few weeks ago, Busch's chances of landing with a top-tier team next season didn't look good. Then he reminded everyone that he is one of the top drivers in the sport, and that if an owner can harness that talent and control his anger issues, Busch could be championship material again.
The effort Busch made after hitting the tire barriers to damage the suspension with eight laps remaining was at least heroic.
"I was watching him, and it was honestly … I don't know how he kept it on the racetrack with how much the rear end was moving around on that car," said Tony Stewart, who passed Busch for second behind Clint Bowyer on the final lap of the GWC finish. "I thought he did a really phenomenal job of just hanging on to what he had."
Busch was visibly emotional after the win. Perhaps the finish, combined with another minor run-in with a media member last week at Michigan and the thought of losing his ride at Phoenix Racing the rest of this season, opened his eyes.
But what stood out more than his composure during the GWC finish and postrace interviews was the way he handled himself on the track. Nobody could have blamed him had he moved Bowyer out of the way after harassing him for several laps when it appeared he had the faster car.
Instead, he showed amazing patience.
"No banzai moves here," Busch said. "There's a lot of respect that I was trying to give."
In the process, Busch earned respect.
Busch also earned respect with his postrace comments. When given the opportunity to take credit for nearly winning the race he won a year ago for Penske Racing, Busch praised everyone but him.
"It's definitely not the driver," he said. "You know, a lot of thanks has to go to Penske Racing and the commitment that they gave to me to help me on road courses and all of the testing we did to arrive at this point. I can't pat myself on the back too much.
"But there was a car on the front row [Jeff Gordon] with my setup from last year, and there was a [Jimmie Johnson] car out there with my setup. Hendrick Motorsports is a great organization. They give us engines and chassis. This weekend we wanted to help them with a bit of setup notes."
For the record, Johnson finished fifth and Gordon sixth.
Those weren't surprises, though. Busch's finish was, considering he's 27th in points and had no top-5s before Sunday.
If Busch can maintain his postrace demeanor the rest of the season and keep wheeling the No. 51 the way he did on Sunday, his options for next season should increase.
Then he really would have a reason to get emotional.
"I really want to deliver for my guys today, and being that close, and make one mistake, it's a tough game," Busch said. "That's why it's Sprint Cup."
And Cup teams need people who drive like Busch.
Terry Blount column: Bowyer arrives | Live! rewind | Recap | Results | Highlights
Nationwide Series: Public sympathy on Danica's side
A majority of you apparently believe Danica Patrick was wronged by Jacques Villeneuve when he moved her out of the way -- OK, punted her -- on the final lap battling for a top-5 finish on Saturday at Road America.
Around 65 percent of you, according to an informal survey taken on ESPN.com's live race chat on Sunday.
Guess what? Villeneuve doesn't care. He said so much after the race.
Penske Racing apparently isn't concerned, either. Villeneuve reportedly will drive in the Aug. 18 Nationwide road course race in Montreal.
But judging by our informal poll, sympathy is on Patrick's side after she saw a great run turn into a 12th-place finish. The driver who seemingly gets criticized every week for not getting better finishes has public opinion on her side.
She should. She wasn't the only driver Villeneuve punted on Saturday. A road course ringer knocking a Nationwide regular out of the way on the final lap to gain one spot was unwarranted.
Here was Villeneuve's recollection of the moment, in case you missed it:
"Well, we were racing hard and I wasn't fighting with Danica," he said. "I was fighting with Max Papis, and just before the braking, I guess he wanted to cross over and go to the inside of Danica. He probably didn't know I was there, so it pushed me in the grass.
"You don't slow down that much in the grass, so by that time I was on the racetrack again, I was going a little bit faster than Danica. That's all."
This didn't appear to be a male driver taking advantage of Patrick because he didn't want to lose to a female driver, as Patrick's crew chief, Tony Eury Jr., suggested a week earlier at Michigan.
But it wasn't necessary.
Sam Hornish Jr., who took advantage of the incident to finish fifth and maintain his position at fourth in points, stayed out of the conflict after the race the way he did during the race.
"I couldn't race those guys the way that you would want to because I have a lot more to lose," Hornish said. "I know Danica [10th in standings] is running for points, but she's not fourth in points and chasing down a championship.
"She's able to run a little bit harder, and Max, Jacques … they're coming to run the road courses and see what happens. It's kind of like you've got one hand tied behind your back. At least I didn't put myself there."
Patrick wasn't trying to, either.
Oh, and by the way, Nelson Piquet Jr. won the race.
Brant James: Danica gets turned, finishes 12th | Recap | Results | Highlights
Camping World Truck Series: Kentucky on tap
The series resumes on Thursday night at Kentucky Speedway. Justin Lofton leads the standings by five points over Timothy Peters.
David Newton covers NASCAR for ESPN.com. He can be reached at dnewtonespn@aol.com.
Racing Resources says …
Sprint Cup Series

• Clint Bowyer won the Toyota/Save Mart 350 on Sunday at Sonoma. It was his sixth Sprint Cup Series win in his 233rd start. His previous win was at Talladega in October 2011 (19 starts between).
• Bowyer notched his first win at Sonoma in his seventh race there. His previous best finish was fourth (three times). It was his first road course win in 13 tries. It was his first win with Michael Waltrip Racing and crew chief Brian Pattie.
• Bowyer became the eighth different winner at Sonoma in the past eight races there.
• Bowyer is the 12th different Cup Series winner in 2012.
• Bowyer led three times for 71 laps, including the final 39.
• Michael Waltrip Racing posted its third Sprint Cup win overall and first victory of 2012. It also was MWR's first win at Sonoma.
• Toyota posted its second win at Sonoma and fifth victory overall in 2012.
• Tony Stewart (second) has finished in the top three in the past three Cup races.
• Kurt Busch (third) had his best finish of the season; his previous best was ninth at Auto Club Speedway.
• Brian Vickers (fourth) posted his second top-5 finish in three races in 2012. Sunday marked his first finish better than 14th in seven starts at Sonoma.
• Jimmie Johnson (fifth) has top-5 finishes in five of the past six races of 2012. Johnson posted his fourth straight top-10 finish at Sonoma after finishing in the top 10 in only two of his first seven races there.
• Jeff Gordon (sixth) got his fifth top-10 finish of 2012 and for the first time this season finished in the top 10 in consecutive races.
• AJ Allmendinger (ninth) got his second top-10 finish of 2012. It was his second top-10 finish at Sonoma in his fifth start.
• Jeff Burton (11th) posted only his second finish better than 15th in the past 12 races of the season.
• Matt Kenseth (13th) leads the Cup standings by 11 points over Greg Biffle and 14 over Dale Earnhardt Jr. Speaking of Earnhardt (23rd), he had his worst finish of the season.
• Two cautions set a track record for fewest cautions at Sonoma.
Nationwide Series

• Nelson Piquet Jr. won the Sargento 200 on Saturday at Road America. It was his first career Nationwide Series win in his third start. His previous best finish was seventh at Watkins Glen in 2010.
• Piquet became the 18th driver to win within his first three Nationwide starts; Joey Logano previously did it in 2008. Piquet is the fifth foreign-born winner in the series, and Saturday's race was the 11th won by a foreign-born driver.
• Piquet became the seventh driver to get his first Nationwide Series win on a road course. He also is the seventh different winner in 2012.
• Piquet, who has 28 Formula One starts, is the first Brazilian to win a NASCAR National Touring Series race. He led twice for 19 laps, the most of all drivers, including the final 17.
• Crew chief Trent Owens got his fifth Nationwide Series win, including the past two at Road America.
• Turner Motorsports posted its fifth career win, all five with different drivers, and second victory of 2012. Turner Motorsports has two wins at Road America.
• Chevrolet posted its fourth win of 2012 and second overall victory at Road America.
• Michael McDowell (second) had his career-best finish in his 80th start. His previous best was third.
• Ron Fellows (third) has finished in the top three in all three Nationwide races at Road America.
• Max Papis (fourth) posted his third career top-5 finish in his 11th start and his first at Road America.
• Sam Hornish Jr. (fifth) got his fifth career top-5 finish and his third of 2012 in his first Nationwide Road America start.
• Jacques Villeneuve (sixth) posted his fifth top-10 finish in his eighth start.
• Brian Scott (seventh) has top-11 finishes in five of the past six races. It was his best road course finish.
• Danica Patrick (12th) had her best Nationwide road course finish in her second start. She was running fifth on the last lap before being spun by Villeneuve.
• Elliott Sadler (15th) recovered from a spin on Lap 39 that dropped him to 27th to maintain his points lead over Austin Dillon.
-- Racing Resources