Upon further review, two-car tango not so bad

By David Newton
ESPN.com
Archive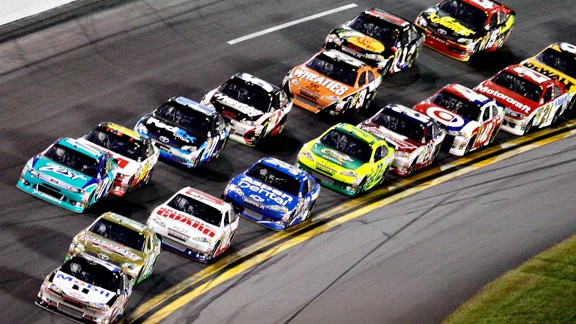 Sean Gardner/Getty ImagesThere were only 12 lead changes in Saturday night's Coke Zero 400, compared to 57 in the 2011 race.
CHARLOTTE, N.C. -- Did NASCAR go too far?
In an effort to eliminate two-car dancing at Daytona and Talladega, the governing body went Dr. Frankenstein on us and created a package that forced drivers to return to pack racing that long had been a staple at restrictor-plate tracks.
They did this on a mandate from chairman Brian France because fans overwhelmingly said they preferred packs over tandems.
I was with them.
But upon further review, after watching the tandem racing in Friday night's Nationwide Series race and pack racing in Saturday night's Sprint Cup race at Daytona International Speedway, there has been a change of heart here.
While 73 percent of you on Saturday's ESPN.com chat indicated in an informal poll that packs were your plate race of choice, I sided with the minority that tandem racing produced a better show.
First, what we saw on Saturday wasn't the pack racing we grew up with. Cars had to stay farther apart than normal to prevent overheating, and the outside lane looked like it had an anchor attached to it.
Passing was nearly impossible until the very end, when drivers threw caution and overheating to the wind and danced with partners. Without a late big push from Kasey Kahne, we wouldn't be talking about Tony Stewart winning for the fourth time in eight July races at DIS.
The most drama before the final 16 laps came with Sam Hornish Jr. racing from a television set in Charlotte to DIS to replace Penske Racing teammate AJ Allmendinger, who was suspended a few hours before the 7:53 p.m. green-flag start for failing a drug test.
Hornish made it about eight minutes before engines were fired, then had his night spoiled by a blown tire.
Otherwise, the pack racing was mind-numbing. Points leader Matt Kenseth and Roush Fenway Racing teammate Greg Biffle spent most of the night leading what looked more like a parade than a race. Kenseth led 89 of the 160 laps and Biffle 35 before a late melee dropped them back.
The only way they climbed back into contention at the end was to pair up and dance in the outside lane, and even that was challenging.
Carl Edwards, who survived a late rash of wrecks to finish sixth, summed it up best:
"Frustrating describes this whole type of event,'' Edwards told reporters after the race. "It's very difficult. It's great when you're out front, but any other spot, you're just really trying hard not to wreck and not to try too hard and ruin your day or other people's day, so it's a tough race.''
Many drivers admittedly just rode around hoping to avoid the wrecks and have an engine capable of pushing to the front at the end without overheating.
"They wanted to separate tandem racing, and they've done it,'' said Jeff Burton, who finished second after riding near the back much of the night. "They've made it where you can't push anybody for too long. You can do it for three or four laps maybe at the end of the race, but you can't do it at any other time.
"I rode around in the back all night, so it's hard for me to judge it. ... I'm not going to judge the quality of races. That's just not my place. I have a perspective that's different than perhaps a fan's perspective.''
The numbers say it all. There were 57 lead changes when David Ragan won this race for RFR a year ago. There were only 12 Saturday night.
It was no different in the Daytona 500 won by Kenseth. There were 25 lead changes in that race compared to 74 a year earlier, when Trevor Bayne won.
It was no different at Talladega, either. There were 34 lead changes in the spring race, which employed changes to eliminate dancing. There were 88 a year earlier.
There needs to be a middle ground.
"It's really difficult to pass,'' Jamie McMurray said. "It seemed like the bottom line would get a row of 10 or 12 cars and the outside lane could only get to like the fifth-place car, and you could never make the pass. It was a little bit frustrating out there because once the start would cycle through, you were just kind of where you were, and there were very few cars that could actually make the pass.
"I like this way better than the tandem, but we need something kind of in between because it's just too hard to pass right now."
It's not all NASCAR's fault. In 2005, two years before the new car that created tandem racing, there were only seven lead changes in the July Daytona race dominated by Stewart.
But it is ironic France and NASCAR president Mike Helton were so outspoken against the idea of mandatory cautions floated by Speedway Motorsports Inc. chairman Bruton Smith a week ago because it was gimmicky when everything that was done to create pack racing seems just as gimmicky.
That's not to support Smith's idea, which was bad, to say the least. But it does support the theory that manipulating the rules or packages doesn't always create excitement, that it has to happen naturally.
Perhaps everything will be different when the new car is introduced in 2013. Perhaps we will be back to the old form of pack racing, in which the outside line can surge past the leaders. Perhaps we will have some sort of mix of pack racing and tandem racing.
Bill Elliott, who has raced almost every package there has been at plate races, didn't have an answer after a Lap 123 crash spoiled his night.
"You couldn't hardly pass, man,'' he said. "I mean, when I was running third there early on in the race, I ran every lap wide open and never came off the bottom, you know. And that's kind of where you were.
"But, man, it was just so hard to ever position yourself. And my car ran really hot on the outside line, but it ran great and cool on the inside line. Man, guys, I don't know."
I do. Dancing was better.
Ed Hinton column: A hollow victory? | Live! rewind | Recap | Results | Highlights
Nationwide Series: Busch puts Phoenix Racing in Victory Lane
Beyond the 42 lead changes that made for a great show Saturday at Daytona, watching Kurt Busch put an underfunded, unsponsored Phoenix Racing car in Victory Lane for the first time since 2009 has to rank among the highlights of this season.
The raw emotion on the faces of crew members -- and even Busch -- as they ran to meet their driver at the start-finish line was priceless.
"It's all about heart, and it's all about passion with these guys,'' Busch told reporters afterward.
The last time James Finch's organization won a Nationwide race was with Mike Bliss at Charlotte on May 23, 2009.
But as big as the moment was for Phoenix Racing, it was just as big for Busch in his ongoing effort to prove he deserves a top Cup ride in 2013.
"I'm a racer," said Busch, who lost his Cup ride at Penske Racing after several public blowups last season and was suspended for a race after a public blowup this season. "I don't know much about anything else. You get caught up in marketing or PR and everything else that goes along with it, but you've got to do all the steps in this day and age.
"I keep saying I grew up 30 years too late, and I still haven't grown up, even though I'm 33. But back in the '80s, that's what this team reminds me of. It's family. And you go hard, or you go home."
And when you win, it's unbelievable.
Brant James: Disappointment for Danica | Recap | Results | Highlights
Camping World Truck Series: Iowa on deck The Truck series resumes on Saturday at Iowa Speedway. Timothy Peters leads the standings by four points over Justin Lofton and Ty Dillon, with James Buescher nine back.
David Newton covers NASCAR for ESPN.com. He can be reached at dnewtonespn@aol.com.
Racing Resources says …
Sprint Cup Series

• Tony Stewart won the Coke Zero 400 Saturday night at Daytona International Speedway. It was his 47th career Cup win in his 482nd race. His 47 wins rank 14th all time.
• Stewart won his fourth race at Daytona, all in the 400. He has won four of the past eight 400s.
• Stewart won from the 42nd starting position, lowest of a winner at Daytona.
• It was Stewart's third win of 2012, tying Brad Keselowski for most.
• Stewart led twice for 22 laps.
• The race marked the fifth last-lap pass at Daytona in the last 12 races.
• Stewart-Haas Racing posted its 17th career win and second victory at Daytona (July 2009). SHR has four wins in 2012.
• Chevrolet posted its 41st Daytona win, most by all manufacturers. Chevrolet has eight victories in 2012.
• Jeff Burton (second) had his best finish of the season. Both of his top-5 finishes in 2012 were at Daytona.
• Matt Kenseth (third) has finished third or better in four of the past five restrictor-plate races. Kenseth recorded his third straight top-3 finish at Daytona after leading the most laps (89).
• Joey Logano (fourth) notched his third Daytona top-10 finish, all in the past three races.
• Ryan Newman (fifth) had his best finish at Daytona since his win in the 2008 500.
• Carl Edwards (sixth) posted his best finish since finishing fifth at Auto Club Speedway in the fifth race of the season.
Nationwide Series

• Kurt Busch won the Subway Jalapeno 250 Friday night at Daytona International Speedway. It was his fifth Nationwide Series win in his 23rd start and his second victory in 2012. Busch has one Daytona win in two starts.
• Busch posted his 10th top-10 finish in 2012 in his 11th start.
• Busch led six times for a race-high 23 laps.
• Phoenix Racing posted its 13th Nationwide Series win. It had last won at Charlotte in May 2009 with Mike Bliss. Phoenix Racing has won twice at Daytona -- Randy LaJoie won there in February 1999.
• Chevrolet posted its 29th Nationwide Daytona win overall and sixth victory of 2012.
• Ricky Stenhouse Jr. (second) had his first top-5 finish in the past six races. It marked his best finish at Daytona.
• Michael Annett (third) posted his career-best finish; his previous best was fourth the week prior at Kentucky.
• Austin Dillon (fourth) recorded his ninth top-5 finish this season. He has top-5s in both career Daytona starts.
• Joey Logano (fifth) posted his fourth top-5 finish at Daytona, all coming in the summer race.
• Twenty-six different drivers were involved in accidents, including 16 in the Lap 66 "big one."
• The 42 lead changes set a track record; the old mark of 38 was set in February.
• The 16 leaders tied the track record set in February.
• It was the seventh Daytona race to end under green-white-checkered conditions -- all in the past eight Daytona summer races.
• It was the eighth race to end with a last-lap pass at Daytona, most of all tracks and the fourth straight.
-- Racing Resources