Pairing Johnson and Junior teams paying off

By Ed Hinton
ESPN.com
Archive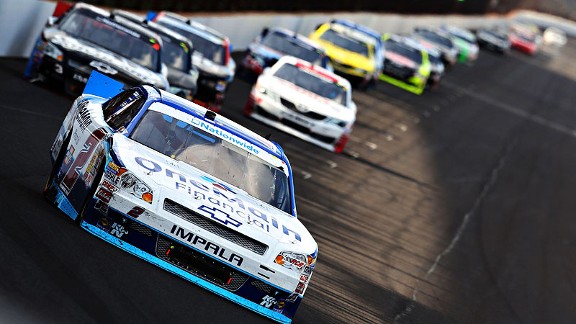 Nick Laham/Getty ImagesElliott Sadler looked like he was ready to run away with Saturday's Indianapolis 250, but he was black-flagged by NASCAR for jumping a late restart.
INDIANAPOLIS -- The big beneficiary of the housing maneuver at Hendrick Motorsports last year was supposed to be Dale Earnhardt Jr.'s No. 88 team, moved into the same building with Jimmie Johnson's juggernaut, five-time-champion No. 48 unit run by crew chief Chad Knaus.
And that has come to pass: Earnhardt moved atop the Cup standings Sunday with his best finish ever in the Brickyard 400, fourth.
Not so obvious is what Johnson pointed out after dominating the Brickyard for his third win this year: that he and Knaus are where they are right now, tied for the lead for the top Chase seed with enormous momentum, largely because of the day-to-day good influence of working alongside Earnhardt's unit, run by Steve Letarte.
Previously, the 88 team needed all the help it could get. Now, it's helping.
"Stevie and Junior have really brought a lot to the table," Johnson said. "The stuff Junior has liked in the car, and what he's felt, has opened up doors for us to pursue and a road for us to go down, where we've made our stuff better."
This is the sea change: "We can really lean on them and pull from them, and it's a two-way street," Johnson said. "That's something that's new this year …"
Knaus is even beginning to compare the pairing to the storied "24-48" years when his unit was housed with Jeff Gordon's team.
"The best season that we had, as far as I'm concerned, at Hendrick Motorsports was when we won 16 races out of the 24-48 shop a couple of years ago, and finished 1-2 in the points," Knaus said.
Actually that was in 2007, when Johnson won 10 races and the championship, and Gordon won six and finished second.
"We're working toward that again out of the 48-88 building," Knaus said. "We pushed one another when we were coupled with Jeff Gordon and Steve Letarte [then Gordon's crew chief], and we won a bunch of races. Right now we're with Steve Letarte and Dale Jr., and we're running up front, and they're leading points."
Johnson is fourth in points, 27 behind Earnhardt. But Johnson's three wins have him tied with Brad Keselowski and Tony Stewart for most in Cup and tied for the top Chase seed to this point. Earnhardt has one win but has bundled consistently high finishes, nine top-5s and 15 top-10s.
So it's entirely possible that the duel for the 2012 championship may be played out in the 48-88 building, just as it was in the 24-48 building in '07. But that won't hurt the close communication, team owner Rick Hendrick said.
"A lot of organizations -- it tears them down when they have that kind of competition," Hendrick said. "I think it makes us stronger. I think we all have bought in."
Ed Hinton column | Terry Blount column | David Newton column | Live! rewind | Recap | Results | Highlights
Nationwide Series: Sadler might not have been robbed, but ...
You couldn't necessarily say Elliott Sadler was robbed, because the NASCAR rule is black and white: You can't beat the leader to the start-finish line on a restart.
But poor Sadler sure did look like a victim -- of that unyielding rule, of circumstances and of his aggressive teammate.
Sadler took the lead on the last restart of the inaugural Nationwide race at Indianapolis Motor Speedway, Saturday's Indiana 250, with 18 laps to go. But beside him, leader Brad Keselowski appeared to spin his tires. And from behind, Sadler was propelled by a hard knock from teammate Austin Dillon.
Bottom line, Sadler, through no intention of his own, got to the line before Keselowski and was black-flagged, handing Keselowski a cakewalk to the win from there.
Sadler, on the radio to his crew as he passed beneath the black flag, was the best narrator of his plight.
"They're black-flagging me! He [Keselowski] spun his damn tires!" Sadler protested. Further, "The 3 [Dillon] had me jacked up. I couldn't do anything."
With the black displayed to him a second time, Sadler said on the radio, "That is so wrong to penalize me for a mistake they made. NASCAR is just taking the championship right from me."
Well, not exactly. Sadler held on to a one-point lead over Dillon, even after falling back with a pass-through penalty and finishing 15th. But had he won, he'd have gotten about 25 more points than the 29 he wound up with.
Was Keselowski lagging back? He admitted to reporters at the track that "certainly I wasn't going full throttle, but I was not in the [restart] zone when Elliott took off. It appeared that Elliott got a push from behind … and maybe he just couldn't slow down, I don't know."
Keselowski's team owner, Roger Penske, has 15 Indianapolis 500 victories since 1972. But this was Penske's first NASCAR victory at Indianapolis Motor Speedway.
Recap | Results | Highlights
Camping World Truck Series: Ready to resume
The Trucks were off this past weekend. Their next race is at Pocono on Saturday.
Ed Hinton is a senior writer for ESPN.com. He can be reached at edward.t.hinton@espn.com.
Racing Resources says …
Sprint Cup Series

• Jimmie Johnson won the Sprint Cup Series' Crown Royal Presents the Curtiss Shaver 400 at The Brickyard on Sunday at Indianapolis Motor Speedway.
• It was Johnson's 58th career win in his 383rd start and his first since winning at Dover in June. He also won at Darlington this season, and his three wins ties him with Tony Stewart and Brad Keselowski.
• Johnson's 58 career wins remains eighth all-time. His fourth Brickyard 400 win ties Jeff Gordon for most all-time.
• Indy was his 10th top-5 (most) and 15th top-10 of 2012, tied for the most. He led the race five times for 99 laps, including the final 29. • This was the 205th career win for Hendrick Motorsports, and the team's sixth of 2012, most in the series. It was HMS' eighth win at IMS, the only team with more than three.
• Johnson's win was the 14th at IMS for Chevrolet, most in the series. It was also Chevy's 10th straight IMS win and 10th overall win of 2012.
• Kyle Busch (finished second) had his best Brickyard 400 finish in his eighth start and first top-5 finish since Charlotte in May.
• Greg Biffle (third) matched his best Brickyard 400 finish with his fifth straight Brickyard 400 top-10, his longest current streak and 12th top-10 finish of 2012.
• Dale Earnhardt Jr. (fourth) got his ninth top-5 finish of 2012. He had only nine in all of 2009-2011 combined. He also tied Gordon's record for most consecutive lead-lap finishes in Cup history with 21 and took over the points lead for the first time since New Hampshire in September 2004.
• Gordon (fifth) had his eighth top-10 finish of 2012, including five in the past six races.
• Ryan Newman (seventh) has top-10 finishes in the past three races after an 11-race streak of finishes outside the top 10.
• Tony Stewart (10th) has finished in the top 12 in 12 of his 14 Brickyard starts, with 10 top-10s.
• Carl Edwards (29th) has only one top-10 in the past eight races. He fell to 12th in points and is 61 points out of the top 10.
• Matt Kenseth (35th) had his worst finish of the season and is now 14 points out of the points lead and in second.
Nationwide Series

• Brad Keselowski won the Indy 250 at Indianapolis Motor Speedway on Saturday night. It was his 20th win in his 183rd Nationwide Series race and his third victory of 2012.
• Keselowski has won at 17 tracks in the Nationwide Series. He has 14 wins with Penske Racing.
• Keselowski led twice for 33 laps, including the final 29.
• Penske Racing posted its 26th career victory. Penske has three wins in 2012, all with Keselowski. It was Penske Racing's first victory at Indianapolis Motor Speedway in a stock car and the team's 100th NASCAR National Tour win.
• Dodge posted its third win of 2012.
• Sam Hornish Jr. (second) had his best finish of the season, giving Penske Racing its third Nationwide Series 1-2 finish.
• Ty Dillon (third) has finished eighth or better in both of his Nationwide starts.
• Denny Hamlin (fourth) has finished fourth or better in five of his past six races.
• Austin Dillon (fifth) posted his 11th top-5 finish of 2012, most of all drivers.
• Michael Annett (sixth) has finished sixth or better in four of his past five starts; he won the $100,000 Dash4Cash bonus.
• Ricky Stenhouse Jr. (ninth) had his 14th top-10 finish, including the past five races.
• Jeremy Clements (10th) matched his career-best finish for the third time.
• Travis Pastrana (13th) had his best finish in his seventh start.
• Elliott Sadler (15th) was black-flagged on Lap 83 for jumping the restart running second, came back out on the track on Lap 90 in 24th and maintained his points lead by one over Austin Dillon.
• Danica Patrick crashed on Lap 38 and finished 35th.
-- Racing Resources