Suddenly, Jeff Gordon back in Chase picture

By Ed Hinton
ESPN.com
Archive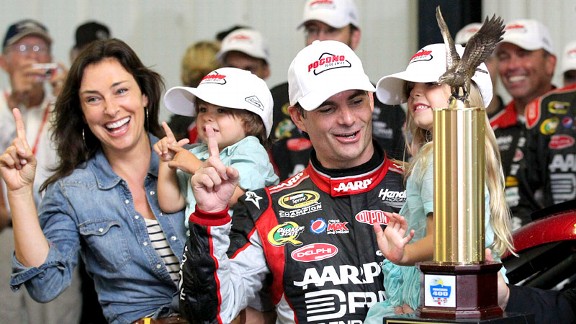 Anthony Gruppuso/US PresswireJeff Gordon's victory at Pocono on Sunday was a family affair with wife Ingrid Vandebosch and children Leo Benjamin and Ella Sofia.
Once, Richard Petty, relegated to a remote end of a garage area in the twilight of his career, remarked wryly that "This is where they put you when they don't need you anymore."
Jeff Gordon's crew chief, Alan Gustafson, got just a smidgeon of that feeling on the Cup tour's first stop at Pocono this year, the weekend of June 10.
"I can remember here, our garage stall was on the very end," Gustafson told reporters at Pocono Raceway on Sunday, after Gordon had received not so much a gift as a makeup call from the gods of racing.
Gustafson recalled that they were "25th or 26th in points" though actually they were 21st, but the point was, they were mired far from Chase contention at that point.
"When you're in that position with Jeff Gordon as a driver, it's not a good feeling," Gustafson said. He didn't mean a sense that Gordon was over the hill, but that the team just couldn't catch a break.
And the clock is running down on Gordon's career. If he isn't in twilight, sundown is hurrying. He turned 41 this past Saturday -- not old for Petty's era, but old for Gordon's -- and has long indicated he won't press on into his 50s as Petty did.
NASCAR really did need Petty back then, and fans longed en masse for a comeback, whether they'd been fans of his or not in the glory years. But he just couldn't recover, with a team that had been left far behind by technology.
NASCAR needs Gordon now, as its senior statesman, its elder star, the man from whom nearly all of NASCAR fandom would love to see resurgence, whether they booed him or not during the Wonder Boy years. Legions sympathized through the 31-race losing streak he broke Sunday, and especially through his wretched luck this season.
Petty never got to see "the seas part" as Gordon said he did Sunday, when teammate Jimmie Johnson, leading on the final restart before rain shortened the race, got sideways with a flattening tire and took out second-place Matt Kenseth, while Gordon got an excellent restart and shot safely into the lead.
From there, it was just a matter of waiting for the certain rain so that Gordon could be declared the winner. It wasn't a gift. He'd earned it all season, running strong but just never quite getting to a win.
"I felt we could have won two or three races this year," Gordon told ESPN reporters afterward. "We had to have this one, and I think we might have to have another one."
To make the Chase, that is.
Maybe he won't need another win. Gordon is now the leader for the second wild-card berth, with teammate Kasey Kahne leading for the first wild card. If the Chase started today, Gordon would win a tiebreaker, two fifth-place finishes to one, with Ryan Newman, otherwise his equal with one win and 611 points.
But his chances of adding a second or even a third win look bright now that the drought has broken. The Cup tour now heads to Watkins Glen, N.Y., where Gordon has won four times. On Aug. 25 comes Bristol, Tenn., where he has won five times. And on Labor Day weekend comes Atlanta, site of Gordon's last win before Sunday, last Sept. 6.
And his Hendrick Motorsports team is peaking just right for the season. Dale Earnhardt Jr. still leads the regular-season standings even after falling out with a broken transmission Sunday, and Johnson is fourth in points but tied for the lead in Chase seeding with three wins, including the Brickyard 400 last week.
In January, before this season started, team owner Rick Hendrick said openly he would be disappointed if the team didn't put all four cars in the Chase. For months afterward, it looked like too tall an order. HMS didn't even win a race until May, when Johnson won at Darlington, S.C.
Now, Hendrick's expectations are at the brink of fulfillment, although Gordon cheerfully scolded reporters at Pocono, "you guys start getting ahead of yourselves."
Still, he acknowledged, "we're really fired up for next week's race, and the coming weeks, to legitimately have a come-from-behind season and get ourselves in there, live up to the pressure of our boss."
Unlike Richard Petty, Jeff Gordon now has a real chance to draw nostalgic roars from the grandstands, a chance to make a major comeback.
David Newton column | Live! rewind | Recap | Results | Highlights
Nationwide Series: Redemption and breakthrough
Hard to pick the better story out of Iowa Speedway on Saturday. Elliott Sadler's was blatant, resounding, a shake of his fist at the fates of NASCAR regulations. Darrell Wallace Jr.'s was subtle, promising, perhaps strategic for the future of the sport.
Sadler made a real statement: "They are NOT going to take this championship from ME!" he shouted with a joyful resolve on the radio to his crew as he took the checkered flag Saturday evening in the U.S. Cellular 250, healing a heart wound he suffered last week when he was penalized out of a likely win at Indianapolis.
Wallace made it clear that he's the real deal at age 18 -- not only the strongest candidate for a major breakthrough in the eight-year history of NASCAR's Drive for Diversity program, but one of the most promising teenage drivers in recent memory, period.
Wallace started alongside pole-sitter Sadler, drove past the veteran soon after the green flag and kept the lead for the first 37 laps. Only after a duel with Austin Dillon did Wallace drop to second place, and he blamed himself for that.
"I think I got out too hot at the beginning and used the tires up," Wallace, who is African-American, told ESPN's Shannon Spake after the race. "Then we fell off on the pit road -- a mistake on my part."
He was running second when NASCAR threw a competition caution for a tire check after 50 laps, but his cautious avoidance of a pit-road speeding penalty dropped him back to seventh, where he wound up finishing. His conservatism in the pits cost him on every stop, but he worked his way back after falling as far back as 16th.
On the racetrack, Wallace, who grew up in the rich short-track racing culture of Mobile, Ala., kept digging himself out of the holes.
"I definitely learned a lot from just running in the pack," he said.
Up front, Sadler dominated the late stages, and the win padded his lead in the standings over teammate Dillon to 18 points. Last week, he'd howled that NASCAR officials "are taking this championship from me" when he was penalized at Indy for jumping a late restart.
Sadler admitted to Spake that his head was down last week until his father shoved his chin up as he headed for Iowa.
"He gave me the best advice I ever could get from my father," Sadler said in Victory Lane. "He said, 'Do NOT let them take this championship from you. Go to Iowa and kick their'" -- and here the ever-polite Sadler hesitated, measuring his words -- "'butts.'"
He did.
Recap | Results | Highlights
Camping World Truck Series: 'Opportunity of a lifetime'
Something old and something new came out of Saturday at Pocono. The new was Joey Coulter's first Truck series win, showing that team owner Richard Childress doesn't give superb equipment only to his grandsons, Austin and Ty Dillon.
The old was a blast from the past of the Brothers Bodine, once known as the Battling Bodines when older brothers Geoffrey and Brett got into payback modes. This time, younger brother Todd verbalized perhaps the family's masterpiece at the blame game.
Todd Bodine drove right across the nose of the car of Nelson Piquet Jr. -- this in the estimation of all three Speed Channel analysts, all drivers, Michael Waltrip, Phil Parsons and guest commentator Jeff Burton, and in the eyes of most reasonable observers. With 18 laps left, Bodine wrecked and Piquet continued, and Bodine threw his helmet at Piquet's car as it passed by the crash scene under caution.
Then, beautifully Bodinesque, Todd tried to portray Piquet as the villain.
"I'll take blame for that whole thing," Bodine started off subtly, to Speed reporters, "because I should have known better than to trust an idiot. … I should have known that Nelson wasn't smart enough to go with me -- side-draft me."
"He just moved into me -- I had nothing to do," the Brazilian Piquet told the Speed broadcast crew via radio under caution, after Bodine threw his helmet. "I think it's a little unfair the way he got pissed off, because he knows I don't do that to people."
No, he doesn't know -- or said he didn't, claiming Piquet was seeking revenge from a past race at Kansas City.
"He thinks he owes me one," Bodine said. "I know that's what went through his mind: 'Here's perfect payback; I'm gonna turn him around.'"
Piquet, a former Formula One driver perhaps rattled by the NASCAR fuss, let Coulter get past him on the final restart with seven laps to go, and Coulter shot from third to first and was never headed after that.
Moments after RCR teammate Ty Dillon congratulated Coulter with a splash of energy drink in the face, Coulter called it "the opportunity of a lifetime to come drive for these guys. ... It's just awesome to close the deal ... to finally put one together for these guys."
Ed Hinton is a senior writer for ESPN.com. He can be reached at edward.t.hinton@espn.com.
Racing Resources says …
Sprint Cup Series

• Jeff Gordon won the rain-shortened Pennsylvania 400 at Pocono Raceway on Sunday. The race was called after 98 of the 160 laps.
• Gordon picked up his 86th Sprint Cup victory in his 674th start, ranking him third all time in Cup wins. His previous victory was at Atlanta in September 2011, 31 starts between. It was Gordon's series-leading sixth win at Pocono in his 40th start there.
• Gordon has six rain-shortened wins.
• Gordon led once for eight laps, only one under green.
• Hendrick Motorsports posted its 206th Cup win and series-best seventh victory of 2012. HMS has 13 wins at Pocono, a series high.
• Chevrolet picked up its 26th Pocono win, most of all makes, and 11th win of 2012, also a series high.
• Kasey Kahne (second) earned his third top-2 finish in the past five races.
• Martin Truex Jr. (third) matched his best Pocono finish, set in 2007, posting his first top-5 finish of 2012 since finishing fifth at Darlington in May.
• Brad Keselowski (fourth) got his 11th top-10 finish of 2012, including the past five races.
• Tony Stewart (fifth) posted his sixth top-10 finish in the past eight races, collecting five top-5s during that stretch.
• Carl Edwards (seventh) got only his second top-10 finish in the past nine races.
• Regan Smith (ninth) posted his first top-10 finish of the season in his second start with crew chief Todd Berrier.
• Marcos Ambrose (10th) earned his fifth top-10 finish of 2012 and second at Pocono in his eighth start there.
• Dale Earnhardt Jr. (32nd) got his worst finish of the season, failing to finish on the lead lap for the first time this season. His streak of 21 lead-lap finishes was broken.
Nationwide Series

• Elliott Sadler won the U.S. Cellular 250 at Iowa Speedway on Saturday. It was his ninth career win in his 184th start but only his first Iowa victory in his fourth race there. His previous-best finish at Iowa was second place in May. Sadler became the fourth different driver to win there in six races.
• Sadler posted his fourth Nationwide win of 2012, most by a series regular and second to Joey Logano, who has five. Sadler's four wins in a single season is a career best.
• Sadler led twice for 60 laps, including the final 58.
• Sadler leads the Nationwide standings by 18 over Austin Dillon.
• Richard Childress Racing posted its 61st career Nationwide Series win but only its first victory at Iowa. RCR has five wins in 2012, tied for most.
• Chevrolet posted its first Iowa win and its eighth victory of 2012.
• Justin Allgaier (second) had his best finish of the season and his best finish at Iowa in his sixth start there after leading the most laps (101 of 250).
• Sam Hornish Jr. (third) got his eighth straight top-10 finish, the longest streak of his career, and won the $100,000 Dash4Cash bonus.
• Michael Annett (fourth) earned his fourth career top-5 finish, all in the past six races.
• Ricky Stenhouse Jr. (fifth) posted his 15th top-10 finish of 2012, tying Elliott Sadler and Austin Dillon for the most this season.
• Michael McDowell (sixth) has finished in the top 10 in eight of his nine starts with Joe Gibbs Racing, including all four this season.
• Darrell Wallace Jr. (seventh) has finished in the top 10 in both of his Nationwide starts, both at Iowa.
• Brett Moffitt (ninth) became the fifth driver in 2012 to finish in the top 10 in his Nationwide Series debut.
• Ryan Blaney (10th) had his second top-10 finish in his fifth start. He made his first Nationwide start with Penske Racing.
• Austin Dillon (15th) failed to finish on the lead lap for the first time in 2012.
Camping World Truck Series

• Joey Coulter won the Pocono 125 at Pocono Raceway on Saturday. It was his first career win in his 36th start. His previous-best finish was a third place at Texas in June.
• Coulter is the fourth first-time winner in 2012. He is the ninth different winner this season.
• Coulter led once for the final seven laps.
• Richard Childress Racing posted its 26th career win in the Truck series but first at Pocono. RCR has two victories in 2012.
• Chevrolet has won all three races at Pocono. The manufacturer has seven victories in 2012.
• James Buescher (second) had his sixth top-3 finish of 2012.
• Nelson Piquet Jr. (third) led 33 of the 50 laps en route to his career-best Pocono finish. It was his fifth top-3 finish of 2012.
• Matt Crafton (fourth) posted his fifth consecutive top-5 finish. It was his second top-5 finish at Pocono in his third race there.
• Denny Hamlin (fifth) made his first Truck series start of 2012.
• Ty Dillon (sixth) had his 12th career top-10 finish in his 14th start.
• Points leader Timothy Peters (22nd) had his worst finish of this season.
-- Racing Resources