Kyle Busch's post-Glen silence speaks volumes

By David Newton
ESPN.com
Archive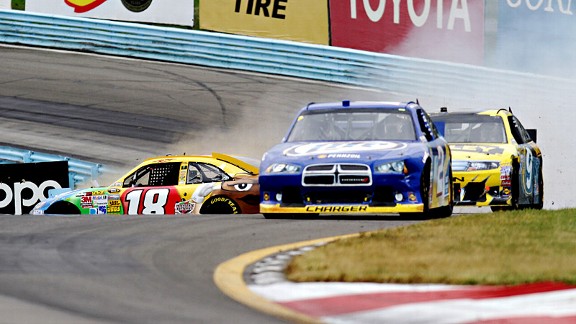 Jerry Markland/Getty ImagesWith a sideways Kyle Busch in their rearview, Brad Keselowski and Marcos Ambrose duel to the finish.
CHARLOTTE, N.C. -- Kyle Busch sometimes gets criticized for not talking to the media following a race.
This is not one of those times.
Had Busch talked to reporters after losing Sunday's Sprint Cup race at Watkins Glen thanks in part to an untimely oil spill and a no-call by the governing body, nothing good would have come of it. His lone words -- "I have nothing good to say" -- as he left the NASCAR hauler said it all.
Had Busch said more, he may have questioned why the race wasn't called as soon as Bobby Labonte in the No. 47 began spewing oil, apparently like one of those gushers you see on the television series "Dallas." Had he said more, he may have lambasted Brad Keselowski for spinning him after a mishap in the oil allowed Penske Racing driver and eventual winner Marcos Ambrose to make up a one-second gap on him.
Had he said more, he may have said something that would have drawn a fine from NASCAR and damaged his Chase hopes further.
You could argue that Busch should have gathered his composure and shared his thoughts, as most drivers did.
But Busch isn't like most drivers. He is passionate to a fault and apparently needs time to let everything sink in before speaking.
We may not like that, but we have to respect it.
And before you ask, Busch was under no obligation to address the media. Only the top-five finishers are stopped on pit road for interviews after a race, and only the top three are taken into the media center.
Busch finished seventh.
In case you missed it, Busch was cruising to his second win of the year, a victory that would have solidified him in one of the two wild-card spots with four races before the Chase is set. But as he began the last lap and got into Turn 1, he skidded with his tires covered in oil from Labonte's car.
That allowed Keselowski and Ambrose to quickly close, and it led to Keselowski getting into Busch's rear bumper to turn the No. 18 Toyota sideways.
In NASCAR's defense, the oil was not clearly visible. Series director John Darby said spotters around the track were contacted after Labonte started having issues and all came back with "all good." All they saw was smoke.
"If we thought oil was on the track they would have addressed it," Darby said after the race.
Although some drivers told reporters they noticed oil on the track with two laps to go, Jimmie Johnson and several others said they didn't see it until it was too late.
ESPN broadcasters didn't notice it, either. They believed something was wrong with Busch's car before learning it was oil on the track.
But there was oil and apparently plenty of it, enough that more drivers than just Busch were angry.
Among those was Jeff Gordon, who saw a top-10 finish turn into a 21st after spinning out on the last lap.
"We can't control what other people do," Gordon said. "We can only control what we do. And today, we took back control when we got off, and we were coming. It's just unfortunate that that gets taken away from you because NASCAR doesn't want to end the race under yellow.
"I understand. You want to keep it entertaining and give the winner a shot at it, but there are a lot of other things going on out there too. I think they completely disregarded that."
Dale Earnhardt Jr., who was a victim of his own mistake and not the oil, costing him the points lead, called it "a bad deal."
"The track shouldn't have oil on it," he said. "It's a tough deal, I guess. But it finished out with all that oil on the track. I don't really like that. It was a bad, ugly finish at the end."
The oil had a huge impact on the Chase picture. Here's what not throwing the caution allowed:
• Ambrose to win instead of Busch, keeping Busch from his second victory, which would have solidified his position for the second wild-card spot.
• Ryan Newman to move ahead of Gordon for the second wild-card spot. Newman finished 11th and moved to 13th in the standings. Gordon dropped two spots to 15th.
• Newman to stay ahead of Busch, who would have been tied for 13th with the wild-card tiebreaker in his favor even if he'd finished second.
• Ambrose to go from a non-Chase factor to a wild-card contender at 17th in points.
• Johnson to take over the points lead instead of Greg Biffle, who got in the oil and lost two spots on the final lap. Instead of being one point up on the five-time champion, he's one down.
But nobody was impacted more than Busch, who made what appeared to be the move of the race on the last restart when he dove past Keselowski and Ambrose for the lead.
So he was angry, and had good reason to be, as crew chief Dave Rogers documented.
"There was another car in the field that blew a motor, went by us," Rogers said. "We knew he blew a motor, and instead of getting off the racetrack like he should have, he tried to stay out there and run the extra two laps. And when he did, he ran right through the groove.
"That was a mistake by another driver -- oil on the field -- and the rest of us had to deal with it. Kyle was just the first one there."
Keselowski called it great racing, racing the way it should be. And it was. You probably won't find a much more exciting final lap all season.
But you can understand Busch's frustration and why he had nothing good to say, why he didn't say anything at all. He probably didn't understand, as Keselowski said he should, that "I had to make that move" that took him out.
"No different than the move he had to make on the restart with his position," Keselowski told reporters. "I could have held the position and wrecked us all, but I didn't. I showed understanding of his situation and hopefully he'll show understanding of the situation I was in. I think he will.
"But it was just one of those unavoidable deals where the whole track was undriveable. Somehow we all found a way to get back around -- or some of us did. I regret that Kyle wasn't one of them."
And you can't blame him for not talking about it.
K. Lee Davis column | Live! rewind | Recap | Results | Highlights
Nationwide Series: Hornish making progress
Sam Hornish Jr. made his strongest case yet to drive the No. 22 Penske Racing Cup car in 2013.
Yes, this spot is reserved for NASCAR's second-tier series, and that is part of the equation. Hornish ran third in Saturday's Nationwide Series race, moving up a spot into third place in the standings, only 24 points behind Elliott Sadler.
He followed that with a fifth in Sunday's Cup race.
That is the kind of consistency Penske Racing officials are looking for if Hornish is to become a serious contender to replace suspended driver AJ Allmendinger in the 22.
And how good would it look to have a Nationwide title on the résumé? It's not farfetched. Hornish has three consecutive finishes of third or better and nine straight top-10s.
He has shown that this former IndyCar star deserves a shot in the top series.
"We had to come a long way from the back [17th] to start the race, but I knew that the car was fast enough to make my way up through the pack," Hornish told reporters after the Cup race. "I just had to be patient and not wear the car out before the end of the race."
Patience was not one of Hornish's virtues when he was rushed into Cup in 2008 with only 11 Nationwide starts. His 8.3 average finish in the Nationwide Series coupled with an average finish of 15.5 in the past four Cup races shows he's heading in the right direction.
To put that into perspective, Allmendinger had an average finish of 21.2 in 17 Cup races before he tested positive for amphetamines.
Hornish apparently has eight more races -- four each in Nationwide and Cup -- to prove worthy of the No. 22. Team owner Roger Penske reportedly said at Watkins Glen that he'd like to make a decision by the Chase opener at Chicagoland.
"I've got five or six people that have contacted us," Penske told Fox Sports. "We're going to see how Sam does. We have a certain amount of loyalty to him. We're trying to assess where we're at."
Hornish's teammate likes what he's seen.
"Roger and I have even talked about it," Keselowski said. "He's done a phenomenal job of growing as a driver. Running in both series has been huge for him. He's gaining a lot of confidence and starting to come into his own in a way.
"Certainly the question is, can he have those performances on the ovals? That's really what's going to matter for him and his future."
Oh, Carl Edwards won Saturday's race.
Recap | Results | Highlights
Camping World Truck Series: Michigan on deck
The series took the weekend off and will resume Saturday at Michigan International Speedway.
David Newton covers NASCAR for ESPN.com. He can be reached at dnewtonespn@aol.com.
Racing Resources says …
Sprint Cup Series

• Marcos Ambrose won the Finger Lakes 355 at The Glen on Sunday at Watkins Glen International. It was his second career Cup win in his 141nd start. His other career win came at Watkins Glen last year.
• Ambrose has top-3 finishes in all five Watkins Glen starts. He has top-10 finishes in nine of his 10 road course starts. He is the only repeat road course winner in the past seven races.
• Ambrose became the 14th different winner in 2012. It was his first top-5 finish this season.
• Ambrose led twice for eight laps, including a last-lap pass, the first final-lap pass at Watkins Glen.
• Richard Petty Motorsports posted its fourth career win and first victory of 2012. Three of RPM's four career wins have come on a road course, including last year's race at the Glen.
• Ford posted its third win of 2012, snapping a 14-race losing streak. The manufacturer has seven wins at Watkins Glen.
• Brad Keselowski (second) matched his best Watkins Glen finish set last season to get his sixth straight top-10 finish, tying his career longest streak.
• Jimmie Johnson (third) matched his best Watkins Glen finish set in 2007. It was his 11th top-5 finish of 2012, most of all drivers. He took over the points lead.
• Clint Bowyer (fourth) got his fifth top-5 finish of 2012 and first at Watkins Glen.
• Sam Hornish Jr. (fifth) recorded only his third career top-5 finish in his 115th Cup race.
• Greg Biffle (sixth) posted only his third top-10 finish in his 10th Watkins Glen start.
• Kyle Busch (seventh) led three times for 43 laps, the most of all drivers, and got his seventh straight top-10 finish at Watkins Glen.
• Regan Smith (ninth) scored his second top-10 finish of 2012 -- both were in the last two races.
Nationwide Series

• Carl Edwards won the Zippo 200 at Watkins Glen International on Saturday. It was his 38th career Nationwide Series win in his 245th start and his first victory at WGI, the 20th different track where he has won a race. It was Edwards' third career Nationwide road course win.
• Edwards's win at WGI was his first Nationwide Series start of the year.
• Edwards won with crew chief Scott Graves in Graves' first series start as a crew chief. Edwards has won with six different crew chiefs in this series.
• Edwards is the ninth different driver to win in 2012. He led twice for nine laps, including the last six.
• Roush Fenway Racing posted its 128th career win and first victory at Watkins Glen. RFR has four wins in 2012.
• Ford collected its third win at Watkins Glen and fourth victory of 2012.
• Brad Keselowski (second) had his best Nationwide Series road course finish in his 10th start. He led the most laps at 44.
• Sam Hornish Jr. (third) got his ninth straight top-10 finish and best series road course finish in his fourth start.
• Ricky Stenhouse Jr. (fourth) posted his first top-5 finish in his seventh series road course start, his series-best 16th top-10 finish of 2012. He moved to second in points, only 13 behind Elliott Sadler.
• Ron Fellows (fifth) earned his 11th Nationwide road course top-5 finish, most of all drivers.
• Kyle Busch (sixth) ended a four-start streak of finishes of 22nd or worse to get his fifth straight top-6 finish at Watkins Glen.
• Paul Menard (eighth) got his 11th straight top-10 finish in the Nationwide Series in a race that required the team to use three batteries.
• Austin Dillon (23rd) had his worst finish of the season. His previous worst was 18th at Road America.
• Danica Patrick (43rd) had her sixth DNF of 2012 after a Lap 1 accident with Ryan Truex.
-- Racing Resources