A weekend to remember in NASCAR

By David Newton
ESPN.com
Archive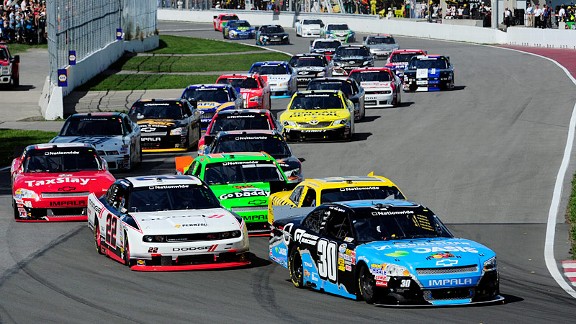 Robert Laberge/Getty ImagesMontreal again provided the kind of action any fan would like to see ... even in the Chase to the Cup.
CHARLOTTE, N.C. -- As Jimmie Johnson exited his car in the Sprint Cup garage and bypassed the door to his hauler, heading straight to his motor coach and then to an SUV out of Michigan International Speedway, comparisons to Kyle Busch began.
If Busch was wrong for leaving the track without talking to reporters at Watkins Glen, critics cried, then so was Johnson.
Wrong.
Not that Busch deserved criticism a week earlier at The Glen. He was under no obligation by NASCAR to discuss how oil on the track allowed Brad Keselowski and Marcos Ambrose to catch him on the last lap, or what he thought about Keselowski spinning him out.
But to compare Johnson's post-race demeanor to Busch's borders on ridiculous. Johnson has given the media more time over the years than most. During a recent test at Martinsville, when not required to come into the media center, he gave four reporters almost 10 minutes to critique the 2013 car and whatever else they wanted to discuss.
Yes, he was frustrated that a blown engine with six laps remaining cost him a bid to knock Michigan off the list of four tracks where he hasn't won. Watkins Glen, Chicagoland and Homestead-Miami Speedway are the others.
Yes, there were reporters who wanted to ask about that frustration and fans that wanted to read about it.
But there were a lot bigger stories on Sunday than Johnson not talking. Perhaps the biggest is the competitive advantage Johnson and the Hendrick cars have found that allowed the No. 48 to drive from the back of the field to the front.
Keselowski hinted about it last month at Indianapolis and stayed on that soap box on Sunday. It is a competitive advantage that will make Johnson the odds-on favorite to win the Chase unless the rest of the field catches up.
"I just think there's big discrepancies in the cars now," Keselowski told reporters after finishing second. "There's certain parts and pieces on the cars that are making them quite a bit different to where we're seeing different paces throughout the field.
"There's probably half a dozen to a dozen cars that are drastically faster than the rest of the field. That's disrupted the parity, created a lot of sidebyside action that is maybe good, maybe bad, depends on who you are. Right now in the sport the cars are probably the most separated we've ever seen."
But as we saw with the four HMS engine failures -- Johnson in practice and the race; Tony Stewart and Jeff Gordon in the race -- advantages can be wiped out quickly.
The competition has to be smiling that HMS, particularly Johnson, showed some vulnerability with the engine woes at a time when many were ready to hand Johnson his sixth title.
Winner Greg Biffle certainly doesn't seem intimidated by whatever Johnson and HMS have found.
"I know that a lot of people don't expect us to win the championship, but I don't care what they say or who they want to talk about or what they want to talk about," he said after the race. "We will be a factor when it comes down to [the season finale]. I promise you that."
Keselowski doesn't seem intimidated after finishing second for the second straight week and recording his seventh straight top-10.
"I can taste the legitimacy of being a championship contender," he said.
HMS' engine issues are what people should be talking about around the water cooler when recapping the race on Monday. Those are issues that could decide the title.
People also should be talking about the need for SAFER (steel and foam energy reduction) barriers on the openings on pit road to assure a driver's life isn't put at risk the way Mark Martin's was on Lap 64 when the wall went behind the driver's seat like a knife through butter.
Not just at Michigan, but all tracks.
But for some reason people get fixated more on what people don't say -- or say as was the case with Johnson teammates Gordon and Dale Earnhardt Jr.
Gordon felt NASCAR's most popular driver was a bit aggressive in creating a four-wide situation that could have taken him out during an early restart. Maybe Earnhardt was. But Gordon was more at fault for criticizing the driver of the No. 88 when there really was nothing to criticize.
"He can thank me for not wrecking him," Gordon radioed to his crew after the incident. "That was stupid."
Let's be real. Gordon's critique came more out of frustration than anger toward Earnhardt. He was a week removed from a last-lap spin in the oil at Watkins Glen that knocked him out of a top-10 finish and temporary ownership of the second wild-card spot. He's in a bit of a desperate situation now, needing another win to have a realistic shot at the 10-race playoff after a 28th-place finish that dropped him to 16th in points.
Earnhardt simply was in the way.
"At the moment I was [mad]," Gordon told reporters after seeing his day end with an engine issue. "I get mad. That happens. I didn't think it was very smart what he did. He took me four-wide and then he slid up in front of me. If I hadn't checked up, I would have wrecked him and a bunch of us. So it happened and we move on."
Don't look for this one to linger. Team owner Rick Hendrick didn't seem concerned, telling Earnhardt over the radio, "Man, you didn't do anything. Just drive that thing to the front."
Don't look for Johnson to let the frustration from Sunday linger, either. He broke his silence on Twitter on Sunday night and will be ready to face the media again on Friday at Bristol. He didn't win five consecutive titles by hanging on to the past.
"Today was a tough one," he wrote on Twitter. "We blew up and I'm disappointed, not much else to say. Now it's on to Bristol."
Terry Blount column | Live! rewind | Recap | Results | Highlights
Nationwide Series: Montreal proves to be a thriler again
On the Saturday night before the April 22nd Sprint Cup race at Kansas Speedway -- with the help of a couple of other sports writers -- a mock dream Chase schedule was written on a bar napkin.
We put the second race at Montreal.
Saturday's Nationwide Series race won by Justin Allgaier reaffirmed why the Cup series needs to consider the Circuit Gilles Villeneuve road course not only for the schedule, but the 10-race playoff.
As has been the case almost every year since the Nationwide series began racing there in 2007, there was high drama and excitement. It's time to bring that drama and excitement to the top series.
Saturday's race had everything to keep you on the edge of your seat. It had Danica Patrick leading before a (insert your own adjective) fan tossed a shoe onto the track that led to a broken axle. It had hometown favorite Jacques Villeneuve getting bumped from the lead by Allgaier on the final lap of the second green-white-checkered finish after half a dozen excruciating laps for Villeneuve of wondering if he had enough fuel to hang on.
It had Sam Hornish Jr. coming from way back after getting punted late in regulation to finish second and moving into a tie with Ricky Stenhouse Jr. for second in points, 22 behind Elliott Sadler.
It had so much strategy that you needed a degree in physics to keep up.
And it had a surprise winner.
It also raised the question of whether road-course specialists should be allowed in a race where they have nothing to lose and often cost those who are racing for a title a good finish. Just think about Montreal native Alex Tagliani going for broke several times.
Road-course racing gives NASCAR fans a taste of the beating and banging they once got at Bristol. It's time for a road course in the Chase, and it's time to go international by going to Montreal.
Recap | Results | Highlights
Camping World Truck Series: Piquet Jr. looks like he has the right stuff
Perhaps it's time to add Nelson Piquet Jr. to the list of hot prospects in NASCAR.
The son of a three-time Formula One champion, Piquet won Saturday's race at Michigan two weeks after finishing third at Pocono. He also won the Nationwide Series race at Road America in June and a K&N Pro East Series race at Bristol in the spring.
Toss in he's only 57 points behind Timothy Peters in the Truck standings and the Brazilian driver could land on the fast track to the Cup series.
What made this win really special was Piquet had "Piket" on his car in honor of his father, who used his mother's maiden name as a kid running go-karts to keep his identity secret from his father, who wanted him to become a professional tennis player.
"This victory is for my team as much as my father, who has been helping me throughout my whole career," Piquet told reporters after the win.
Keep an eye on this one.
David Newton covers NASCAR for ESPN.com. He can be reached at dnewtonespn@aol.com.
Racing Resources says …
Sprint Cup Series

• Greg Biffle won the Sprint Cup Series Pure Michigan 400 at Michigan International Speedway on Sunday, his 18th career win in his 353rd race. It was his third win at Michigan, the first since 2005. It was his second win of 2012, the other at Texas. Biffle is one of six drivers with multiple wins in 2012. His three Michigan wins ties Homestead for the most career wins at a track. This is Biffle's sixth multiwin season in his career and he took over the points lead. He led the race three times for 26 laps, including the final seven.
• Biffle's victory was 128th career win for Roush Fenway Racing. The team's 12th win at Michigan breaks a tie with Wood Brothers for the most. It was the team's third win of 2012.
• It was the fourth win of 2012 for Ford and the manufacturer's 32nd win at Michigan, the most of any make.
• Brad Keselowski (finished second) got his seventh straight top-10 finish, his longest career streak and the longest current streak in the series.
• Kasey Kahne (third) moved to 33 points out of the top 10 with his 12th top-10 finish of the season. He holds the first wild-card Chase position with two wins.
• Dale Earnhardt Jr. (fourth) got his 10th top-5 of the season and sixth at Michigan. He is third in points, 22 out of the lead. He started at the rear after going to a backup car.
• Marcos Ambrose (fifth) has top-10 finishes in the past three races, matching his career-long streak. He finished in the top-10 in both races at Michigan in 2012.
• Ryan Newman (eighth) got his sixth straight top-11 finish, and currently holds the second wild-card position.
• Paul Menard (ninth) earned his fifth top-10 finish of the season and first since Pocono in June.
• Jimmie Johnson (27th) had his worst finish of the season in non-restrictor-plate races. He blew an engine on Lap 195 as the leader after starting the race in 39th with an engine change.
• Jeff Gordon (28th) and Tony Stewart (32nd) also had engine issues, meaning that three of the six cars with Hendrick Motorsports engines failed to finish due to an engine failure.
• No driver has clinched a chase position.
Nationwide Series

• Justin Allgaier won the Nationwide Series NAPA Auto Parts 200 presented by Dodge at Circuit Gilles Villeneuve in Montreal on Saturday, his third series win in his 130th start. His last win was at Chicagoland Speedway in June 2011 (41 starts in between). It was his first win at Montreal in his fourth start. He is the sixth different driver to win in six races at Montreal. It was Allgaier's first road-course win in his 11th start. He is the seventh different winner in the past seven races on road courses. He led only the final lap, and has led only two laps in his past two wins combined.
• Allgaier's victory was the sixth career win for Turner Motorsports. Five of the team's six wins have come when leading only the final lap. Allgaier is the only team driver to win more than once. It was the team's third win of 2012 and first at Montreal. The team has won three of the past six road-course races.
• It was the ninth win of 2012 for Chevrolet, and the manufacturer's third win at Montreal.
• Sam Hornish Jr. (finished second) earned his 10th straight top-10 finish, including top three in the past four races.
• Jacques Villeneuve (third) had his sixth top-10 finish in nine career starts, all road courses.
• Elliott Sadler (fourth) got his 16th top-10 finish of 2012, tying Ricky Stenhouse Jr. for the most of 2012 and added nine points to his lead. Sadler now leads by 22.
• Ron Fellows (fifth) has top-5 finishes in all three road-course races this season
• Michael McDowell (sixth) has top-10 finishes in nine of his 10 starts with Joe Gibbs Racing.
• Mike Wallace (seventh) had his best finish since fifth at Road America in 2011.
• Billy Johnson (eighth) first top-10 finish in his third series start.
• Austin Dillon (ninth) finished outside the top 15 in his other two previous road-course starts.
Camping World Truck Series

• Nelson Piquet Jr. won the Camping World Truck Series VFW 200 at Michigan International Speedway on Saturday, his first career win in his 42nd start. He is the second foreign-born driver to win in the series (Ron Fellows).
• Piquet is the fifth first-time winner of 2012 and the third first-time winner at Michigan overall. He is the 11th different winner at Michigan and the 10th different winner of 2012. Piquet led three times for 26 laps including the final 12. He pitted last on lap 57.
• Piquet's victory was the fifth career win for Turner Motorsports, all in 2012. It was the team's first win at Michigan.
• It was the eighth win of 2012 for Chevrolet and the manufacturer's third at Michigan.
• Jason White (finished second) had his best career finish in his 140th start.
• Dakoda Armstrong (third) had his best career finish.
• Parker Kligerman (fourth) earned his second best finish of 2012 in his first race with Red Horse Racing.
• James Buescher (fifth) got his seventh top-5 of 2012, and is now just six points behind leader Timothy Peters.
• Brad Keselowski (eighth) is still winless in the series, and had finished in the top three in the past three starts.
• Ty Dillon (sixth) had his 13th career top-10 in his 15th start, and is tied for the points lead.
• Kurt Busch finished ninth in his first series start since 2001.
• Peters (13th) is still the points leader but tied in points with Dillon. His two worst finishes of 2012 were in the past two races.
-- Racing Resources