Last-chance Chasers get one more shot

By Terry Blount
ESPN.com
Archive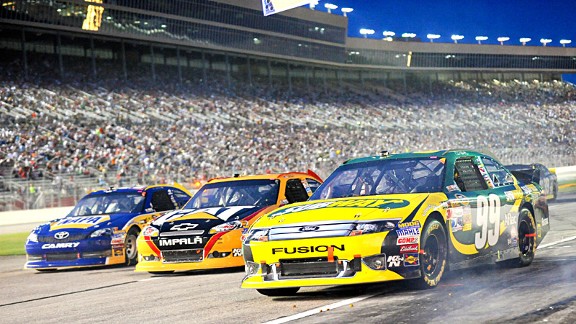 Kevin Liles/US PresswireCarl Edwards needs to win Saturday at Richmond and get help to make the Chase after a disastrous ending Sunday night at Atlanta.
Now it's one last chance with one spot on the line for the Chase.
OK, officially it's two spots. Kasey Kahne could fall out of a wild-card position, mathematically speaking, but there's a better chance of Duke winning the ACC football title this year than Kahne dropping out of the playoff.
So this is it, a Saturday night showdown at Richmond with seven drivers still hoping to earn that final Chase spot.
For five of those drivers with one victory this season -- Kyle Busch, Jeff Gordon, Ryan Newman, Joey Logano and Marcos Ambrose -- it's win and you're in the 2012 Chase ... probably, unless Tony Stewart drops out of the top 10 and some other unusual things happen. Busch or Gordon still can make it in on points. Busch leads Gordon by 12 points for the 12th and final spot.
Winless Carl Edwards also still has a shot, but winning Saturday won't be enough. Edwards needs to win the race and hope Busch has a terrible night while Gordon doesn't have a good one. Edwards is 26 points behind Busch and 14 points behind Gordon. He has to finish ahead of both of them in the standings, along with winning the race.
Paul Menard is in the same boat as Edwards, but 10 points below him in the standings. In other words, he's unofficially done.
And in all likelihood, the Chase is a no for Edwards, the man who finished one point short of winning the 2011 championship. A blown engine ruined his chances Sunday night at Atlanta.
"But we'll go to Richmond to win and somehow, maybe, a miracle will happen," Edwards said Sunday. "I don't ever quit and this team doesn't ever quit.
"But man, [a blown engine] is getting kicked when you're down right there. I'm just trying to come to grips with how pivotal this is for our season, how bad it is, but that's just the way it is."
Gordon came one spot short of possibly earning a Chase spot Sunday night when Denny Hamlin beat him by 0.378 seconds for the victory.
"We know how bad we needed that win," Gordon said after the race. "It's pretty disappointing to come up short like that. We've got a lot of pressure on us. We're going [to Richmond] guns loaded and ready to do battle. We're just going to fight all the way to that last lap."
Gordon knows better than to hope he can catch Busch in the points standings at Richmond. Busch has won three of the past five Richmond races, including earlier this year. He has finished sixth or better in the past seven Richmond races.
"I'm not going into it thinking we've got to finish 12 positions ahead of Kyle," Gordon said. "I'm thinking we've got to win. We know Kyle is going to be tough there.
"If we don't make it, as long as we put our best effort forward, then we'll go try to win races in the final 10. Man, this team, I'm so proud of how hard they fought through this whole season."
Busch, who finished sixth Sunday night, knows he owes one to Hamlin.
"Our [Joe Gibbs Racing] teammate did us justice tonight and kept the 24 [Gordon] from Victory Lane," Busch said.
Busch enters Richmond as a big favorite to keep the final Chase spot. But four other drivers -- Gordon, Newman, Logano and Ambrose -- know they likely can throw all the math scenarios out the window and take it from him.
If they win, they're probably in.
"We've done it before and we can do it again," said Newman, who won the September race at Richmond in 2003. "The battle is certainly not over."
Ed Hinton: Hamlin in Chase driver's seat | Live! rewind | Recap | Results | Highlights
Nationwide Series: Harvick stewing over debris caution
The Water Bottle 300 (the one thing most people will remember about the Nationwide race Saturday night) has given NASCAR officials another controversy to sort out.
Brad Keselowski's water-bottle toss late in the race probably didn't cause a late yellow flag, but it left Kevin Harvick furious and brought questions about what NASCAR should do when drivers toss a plastic bottle out the window.
Ricky Stenhouse Jr. was a surprising winner when it appeared Harvick's car was unbeatable before the last restart.
Making matters worse for Harvick was Keselowski giving Stenhouse a little push to help Stenhouse get to the front. In Harvick's view, none of that would have happened if Keselowski hadn't thrown the bottle out of the car.
But NASCAR officials said the bottle toss didn't cause the debris caution. And there was an accident after that caution that caused a red flag.
Nevertheless, NASCAR now has a question to answer: Should a driver be penalized for throwing anything out of his car during the race?
"Everybody throws that stuff out the car," Keselowski said afterward. "NASCAR knows that, and if they decide to throw a yellow, that's their prerogative. But most times they don't. That's their call. I can't speak for NASCAR."
Robin Pemberton, NASCAR's vice president of competition, said drivers are allowed to throw water bottles out of the car.
Why? And what's next? A shoe?
Brant James: Familiar finish for Danica | Recap | Results | Highlights
Camping World Truck Series: Good news, bad news for Busch
The good news for Kyle Busch is Friday's night Camping World Truck Series race turned out a lot better for him than his last truck race did.
The bad news came when rookie Ty Dillon passed him for the lead with six laps to go, giving Dillon his first victory in the series.
But it beats the heck out of the Texas truck race last November, when Busch intentionally wrecked Ron Hornaday Jr. under caution. NASCAR officials didn't allow Busch to race the rest of the weekend.
By comparison, no drama and almost winning at Atlanta looks pretty good.
Dillon, 20, stays in the hunt for the Truck series championship. His victory moved him within nine points of series leader Timothy Peters. James Buescher is second, only six points behind Peters.
If Dillon manages to win the title, it would be the first time in series history that brothers had won Truck series championships. Older brother Austin Dillon won the 2010 title before moving to the Nationwide Series this season.
Terry Blount is a senior writer for ESPN.com. He can be reached at terry@blountspeak.com.
Racing Resources says …
Sprint Cup Series

• Denny Hamlin won the AdvoCare 500 at Atlanta Motor Speedway on Sunday. It was his 21st Cup series win in his 248th start. His previous win came a week earlier at Bristol. Sunday marked the second time he has won consecutive races.
• Hamlin has four wins in 2012, most of all drivers. It was his first Atlanta win in 13 starts there. His previous best at Atlanta was third in 2008. Atlanta is the 12th different track he has won on.
• Hamlin led seven times for 106 laps, including the last six.
• Joe Gibbs Racing posted its 99th Cup series win and sixth victory of 2012. JGR has 10 wins at Atlanta and has more wins there than at any other track.
• Toyota posted its seventh win of 2012 and second victory at Atlanta.
• Every driver in the top 10 in points has clinched a spot in the Chase: Greg Biffle, Dale Earnhardt Jr., Matt Kenseth, Jimmie Johnson, Martin Truex Jr., Brad Keselowski, Denny Hamlin, Clint Bowyer, Kevin Harvick and Tony Stewart.
• Jeff Gordon (second) recorded his 16th top-5 at Atlanta, most of all active drivers. It was his sixth top-5 of the season, including four in the past six races.
• Keseloski (third) has finished in the top four in four of the past five races. It was his first top-5 finish at Atlanta.
• Truex (fourth) got his sixth top-5 finish of the season and 14th top-10, matching the most he'd ever had in a single season (2007). It was his first top-5 at Atlanta.
• Harvick (fifth) got his first top-5 in the past 12 races.
• Earnhardt (seventh) earned his 17th top-10 finish of 2012.
• Paul Menard (eighth) got his seventh top-10 finish of the season, including the past three races.
• The race ended with a green-white-checkered finish, the fourth at Atlanta and seventh of 2012.
Nationwide Series

• Ricky Stenhouse Jr. won the NRA American Warrior 300 at Atlanta Motor Speedway on Saturday. It was his sixth win in his 97th start and his fourth victory of 2012, tied for second most with Elliott Sadler (Joey Logano has six). Three of Stenhouse's wins have come on 1.5-mile tracks. It was his first Atlanta win in his third start there.
• Stenhouse led 16 laps, taking the lead on the final lap. He gained seven points on the leader Sadler, now only 12 back.
• Roush Fenway Racing posted its 129th career win and seventh victory at Atlanta, the most by any team. RFR has five wins in 2012.
• Ford posted its ninth victory at Atlanta and fifth win of 2012.
• Brad Keselowski (second) got his seventh top-2 finish of 2012, coming back from two laps down after two speeding penalties.
• Kevin Harvick (third) was passed on the last lap after leading 157 laps. He has a 30-race winless streak, the longest of his career.
• Sadler (fourth) got his 11th top-5 of 2012.
• Justin Allgaier (fifth) is the only driver to finish in the top 10 in all 1.5-mile races this season.
• Austin Dillon (sixth) got his 18th top-10 of 2012 in his first Atlanta start. He went a lap down early and got the first pass on Lap 85.
• Michael Annett (10th) earned his seventh top-10 in the past 10 races.
Camping World Truck Series

• Ty Dillon won the Jeff Foxworthy's Grit Chips 200 at Atlanta Motor Speedway on Friday. It was his first career win in his 17th start. He is the sixth first-time winner of 2012. Dillon became the first driver to win his first race from the pole since brother Austin Dillon and Elliot Sadler both did it in 2010.
• Dillon led five times for 40 laps, including the final six.
• Richard Childress Racing posted its 27th career win but only its first victory at Atlanta. RCR has three wins in 2012.
• Chevrolet posted its eighth Atlanta win, most by any manufacturer. It has a series-leading nine wins in 2012.
• Kyle Busch (second) picked up his sixth top-2 finish in eight starts at Atlanta. He led 75 laps in his first series start of 2012.
• James Buescher (third) has top-10 finishes in his past five races.
• Parker Kligerman (fourth) got his sixth straight top-10 finish.
• Aric Almirola (fifth) earned his second top-5 finish in three starts at Atlanta.
• Kyle Larson (sixth) had his career-best finish. He has top-10 finishes in both series starts.
• Timothy Peters (13th) leads the Truck series standings by six.
-- Racing Resources