Hamlin, Bowyer and Truex looking tough

By Ed Hinton
ESPN.com
Archive
Not to dim the afterglow of Jeff Gordon's dogged midnight ride into the last Chase berth in the wee hours of Sunday, but a couple of other points shouldn't be neglected from the regular-season finale at Richmond: (1) Clint Bowyer did win the race and did improve his Chase seed, and (2) just because Denny Hamlin and crew lost a gamble on rain doesn't mean he's not still hot.
Those two afterthoughts both involve Toyota, which has never won a Cup championship in five seasons in the series but now has more drivers in the Chase, three, than at any time since 2008 -- and that year, Hamlin, Tony Stewart and Kyle Busch finished in the last three spots in the playoffs.
Bowyer's Richmond win pushed him past Dale Earnhardt Jr. into the sixth seed. Bowyer would be tied for fifth if not for a tiebreaker in top-5 finishes with Greg Biffle, right behind the cluster of three-win drivers, Jimmie Johnson, Brad Keselowski and Stewart.
So you have Hamlin as top seed with four wins, and Bowyer almost as good at fifth. Pretty good position for Toyota entering the Chase, along with 10th-seeded Martin Truex Jr., who has been oh, so close to winning -- e.g., Atlanta on Sept. 2 -- and could break through anytime, especially on 1.5-mile tracks such as Chicagoland next week.
Hamlin is from Joe Gibbs Racing, and Bowyer and Truex drive for Michael Waltrip, but, "We're all teammates," Hamlin said after his Atlanta win. "Toyota teammates."
Hamlin in 2010 came closest to a Cup for Toyota, faltering only in the final race at Homestead-Miami. But he's a vastly more seasoned driver now and easily could be entering the Chase with five wins, including three straight, had he not stayed out at Richmond in hopes that NASCAR would call the race after the third rain shower.
When NASCAR restarted the race after all, Hamlin, who had dominated with 202 laps led and was leading until the last rain, had to pit, was snookered and wound up 18th. Busch wound up 16th in the rainy melee, and he lost the last wild-card spot to Gordon by three points.
Bowyer's win was a masterful job of conserving fuel and tires.
"There for a while I lifted [to save gas] and it was saving so much tire [as a bonus] I wouldn't spin the tires up off [the corners]," Bowyer told reporters at the track. "I wasn't using any brake, so it didn't over-temperature the front tires and the thing just kept turning … "
"It sucks to not have Kyle in the Chase," Hamlin said of his JGR teammate.
But because of the closeness of the Toyota teams, if Busch runs out the Chase as a de facto test driver for Gibbs, he likely also will have the same role for Michael Waltrip Racing.
"We're eager to get to Chicago because we think we have a chance to make some noise in these last 10 races," said Lee White, president and general manager of Toyota Racing Development USA. "We've had a great year, and are looking forward to making the Chase an exclamation point on our season."
That exclamation point could be a landmark in NASCAR history: the first championship for a foreign-based manufacturer.
David Newton: Gordon steals show | Terry Blount: Who wins the Chase? | Live! rewind | Recap | Results | Highlights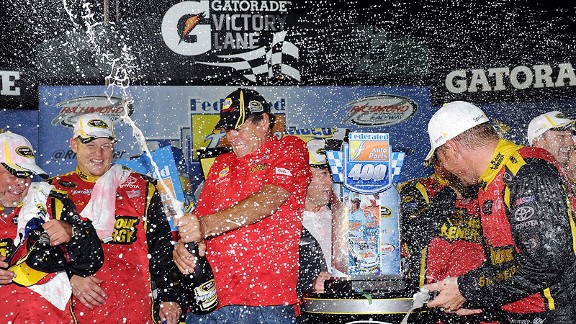 Patrick Smith/Getty Images/NASCARTeam owner Michael Waltrip got both of his full-time drivers in the Chase.
Nationwide Series: Harvick wins, but subplots abound
Kevin Harvick dominated again -- ho-hum, what's new? The difference Friday night was that, on the sixth occasion this season when he has led the most laps of a Nationwide race, he got all the way to Victory Lane.
And he threw his own water bottle out the window just before his celebratory burnout, a little mockery of last week's race at Atlanta, where he accused Brad Keselowski of throwing a water bottle to cause the caution that let Ricky Stenhouse Jr. beat Harvick on the final restart.
This time, Stenhouse finished a distant second.
"I think we've led more laps in this series in 10 races this year than anybody else that's run all year," Harvick, who competes in Nationwide only occasionally, told ESPN reporters at the track. "[Our] cars have been there week after week."
But because Harvick's dominance was nothing new until he closed the deal at Richmond, there were better subplots during the race.
Elliott Sadler staged a spectacular comeback to keep the lead in the Nationwide standings by a single point over Stenhouse. The two were dueling with 65 laps left when Sadler got loose and crashed into the wall. That left Sadler 29th, but he clawed his way back to a 12th-place finish.
Sadler blamed no one but himself for his trouble.
"I made a big mistake," he said. "I got in there too loose under Ricky."
Before that, "We were in position to win the race," Sadler said. "I just got a little too impatient and got in a little bit over my head."
And then there was 18-year-old Darrell Wallace Jr., whose performance was more remarkable than his 10th-place finish indicates. Wallace jumped into fourth place after the final restart by passing senior teammate Denny Hamlin with 16 laps left.
After Hamlin repassed a lap later, Wallace engaged in successive side-by-side duels with Michael Annett and Ryan Blaney. But because Wallace couldn't get back into the inside lane, he lost both duels and also was passed on the inside by opportunistic Austin Dillon, Ty Dillon and Joe Nemechek.
That left Wallace 10th on the rundown sheet.
"We were fourth … that's what's the heartbreaker," said Wallace, an African-American who is emerging as the most promising graduate of NASCAR's Drive for Diversity program. In two previous Nationwide starts this season, both at Iowa Speedway, Wallace recorded finishes of ninth and seventh, and he had meant at least to equal his best finish Friday night at Richmond.
"It's tough when you set a goal for seventh, and you have the car to beat it, and you come home 10th," Wallace said. "I'm beating myself up about it. I'm just frustrated with myself."
Brant James: Danica causes own problems | Recap | Results | Highlights
Camping World Truck Series: Ready to roll again
The series was off, but it gets back in action at Iowa Speedway this Saturday.
Ed Hinton is a senior writer for ESPN.com. He can be reached at edward.t.hinton@espn.com.
Racing Resources says …
Sprint Cup Series

• Clint Bowyer won the Sprint Cup Series Federated Auto Parts 400 at Richmond International Raceway on Saturday, his seventh series win in his 243rd start. It was his second win of 2012, the other coming at Sonoma. Bowyer is the seventh multiple winner in 2012. It was his second win in his 14th start at Richmond. Bowyer is the 27th driver to win multiple races at Richmond. It was his second career short-track win, both at Richmond. Bowyer is the only driver to finish in the top 10 in all five short-track races of 2012. He led once for the final 86 laps and makes the Chase for the fourth time
• Bowyer's win was the fourth in the series for Michael Waltrip Racing and the team's second of 2012. It was MWR's first win at Richmond. • Toyota earned its eighth win of 2012 and seventh win at Richmond. • Jeff Gordon (finished second) had his third straight top-three finish and drove his way into the Chase for his eighth Chase appearance.
• Mark Martin (third) got his third top-5 finish of 2012.
• Tony Stewart (fourth) had his first finish better than 19th in the past five races and his 10th top-5 of 2012.
• Matt Kenseth (fifth) got his first top-10 at Richmond since the spring of 2007 and only his fourth top-5 finish at Richmond in 26 starts.
• Jeff Burton (sixth) had his fifth top-10 of 2012.
• Kyle Busch (16th) missed the Chase by three points. It's the third time he has missed the Chase.
• Carl Edwards (17th) missed the Chase for the second time in his full-time career. He finished second in points last season.
Nationwide Series

• Kevin Harvick won the Nationwide Series Virginia 529 College Savings 250 at Richmond International Raceway on Friday night, his 38th series win in his 288th start. Harvick's 38 wins are tied with Edwards for third all time. Harvick ended a 30-race winless streak, the longest of his career. He led the most laps eight times and finished second five times since his last win. It was his sixth win at Richmond in his 23rd start. His tally of six Richmond wins leads all drivers.
• Harvick is the seventh different winner in the past seven races of the season, the longest streak of the year, and he's the 11th different winner of 2012. He led three times for 141 laps, the most of all drivers.
• Richard Childress Racing earned its 62nd series win and sixth win of 2012. It was also RCR's sixth win at Richmond.
• Chevrolet got its 21st win at Richmond and 10th win of 2012. • Ricky Stenhouse Jr. (finished second) had his best Richmond finish and fourth top-5 in six races. It was his ninth top-two finish of the season.
• Kurt Busch (third) had his 11th top-10 finish in 14 races of 2012.
• Denny Hamlin (fourth) got his ninth top-10 finish in 13 series Richmond races.
• Michael Annett (fifth) got his fifth series career top-5 finish, all in the last 11 races of the season.
• Ty Dillon (seventh) has finished in the top 10 in all three career series starts.
• Joe Nemechek (eighth) had his first series top-10 finish since finishing 10th at Richmond last September.
• Ryan Blaney (ninth) earned his fourth series top-10 finish in his seventh start.
• Darrell Wallace Jr. (10th) has finished in the top 10 in all three career series starts.
• Elliott Sadler (12th) hit the wall while running third on Lap 186 but maintains his points lead by one point over Stenhouse. Sadler was as far back as 19 points behind Stenhouse during the race.
-- Racing Resources