Good Victory For Dale Earnhardt Jr.
Sprint Cup: A dream scenario all around
In a season in which it will undergo intense scrutiny, NASCAR certainly had itself an opening week to remember.
From a public relations standpoint, everything that could have gone right for NASCAR did go right for NASCAR. Even a 6-hour, 22-minute rain delay during the Daytona 500 played into its hands.
Think about it:
1. Austin Dillon claimed pole position for the biggest race of the NASCAR season in the return of Richard Childress Racing's legendary No. 3 car.
2. Lots of Danica Patrick news.
3. During the rain delay, Fox ran a replay of the 2013 Daytona 500 that had thousands of viewers convinced Jimmie Johnson had just won for the third time, setting off a social media trend.
4. Once the real race got restarted in prime time, the Sprint Cup drivers put on a clean and competitive show.
5. NASCAR's most popular driver, Dale Earnhardt Jr. (sorry, Danica), took the checkered flag to score the most exuberant Daytona victory since his father broke through after 20 tries to finally win the 500 in 1998. It was Junior's second Daytona 500 triumph, and it came a full 10 years after his first.
If all of that wasn't enough to fill NASCAR's cup with joy, people are already talking about the 2014 Chase for the Sprint Cup -- after the first of 26 races leading up to the revamped, elimination-style playoffs.
Plenty of people grumbled about the changes that NASCAR is proactively making to the Chase, but after Sunday night's result, it looks like mission accomplished for the gang from Daytona Beach.
Earnhardt's hard-fought Daytona 500 victory came at the perfect time for NASCAR, not to mention the driver's legion of patient, loyal and enthusiastic fans.
By already all but locking himself into the Chase, the sport's most recognizable star went a long way toward validating NASCAR's "win and you're in" philosophy for the controversial new way of determining the season champion.
Earnhardt also diffused doubts about whether he and crew chief Steve Letarte will be distracted in Letarte's last year on the pit wall before he joins NBC as a television analyst for 2015 and beyond.
But most of all, Earnhardt did something he had done only once previously in the past five years: He won a Sprint Cup race, and the sport's biggest one at that.
His joy and happiness after the fact were infectious and heartwarming.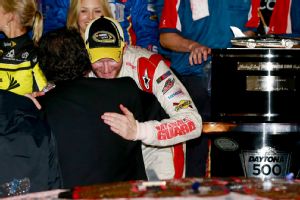 Chris Trotman/NASCAR/Getty ImagesDale Earnhardt Jr. got a hug from NASCAR president Mike Helton after Earnhardt won the Daytona 500 on Sunday.
"Man, it feels incredible," Earnhardt told reporters. "You know, I was looking at winning this race in 2004. It's the greatest feeling you can have as a driver in NASCAR at a single event in a single day. I've been trying to tell people for 10 years what that felt like. It's just hard to put it into words what winning this race really means you.
"But this one is even more special," he added. "Obviously it's the biggest race and most important race we run. But the people you do it with is really the icing on the cake."
Earnhardt joined Hendrick Motorsports in 2008 after driving for the family team, Dale Earnhardt Inc., for his entire career. But the change to NASCAR's most dominant team didn't really improve Junior's results, and he went through a four-year winless drought in the Cup Series.
Team owner Rick Hendrick refused to give up on Earnhardt, and teamed him with Letarte starting in 2011. Results were not immediate, and even when he broke back into Victory Lane, at Michigan International Speedway in 2012, it didn't appease the critics.
Last year proved winless for the No. 88 car, but Earnhardt was almost always competitive and fixed his tendency to often fade late in races. In fact, had NASCAR's new Chase format been in place in 2013, Earnhardt would have won the Sprint Cup.
Nobody is suddenly making him a favorite this year over contenders such as Matt Kenseth and teammates Johnson and Jeff Gordon, but Earnhardt certainly served notice early in the season that he intends to compete for a championship.
"I'm pumped up, man!" he exclaimed. "Trust me, we are going to have a blast this year."
Dillon wasn't able to back up his pole position, but despite being involved in a couple of incidents, he brought the No. 3 car home in ninth place to start his quest for rookie of the year honors in the Cup Series.
Meanwhile, Patrick made the news before the race when NASCAR legend Richard Petty said she couldn't win a Sprint Cup race unless the other 42 drivers didn't show up.
Danica was deluged with Petty questions at Daytona 500 media day, which she handled very diplomatically. Patrick's NASCAR team owner, Tony Stewart, then stepped in, offering to supply identical cars for a high-speed grudge match between Petty and Patrick.
Patrick, who took pole position and finished eighth in the 2013 Daytona 500, had a rougher run this year. She got swept into a multicar accident on Lap 145 and solidly impacted a concrete wall unprotected by the SAFER barrier. She finished 40th.
Autos, Open-Wheel
Motorsports Writer for ESPN.com
Covered Indy car racing for 20 years
Work published in 12 countries
Nationwide: Smith gets redemption

Smith
Dale Earnhardt Jr. was having a pretty good weekend even before he won the Daytona 500 on Sunday night.
Regan Smith won the Nationwide Series DRIVE4COPD 300 at Daytona International Speedway for Earnhardt's JR Motorsports team on Saturday afternoon, edging Sprint Cup stars Brad Keselowski and Kyle Busch and fellow Nationwide contender Trevor Bayne.
Smith, 30, banished bad memories of being involved in a last-lap crash in 2013 and raced hard for the win.
With Bayne pushing, Smith used the side draft to edge ahead of the charging duo of Keselowski and Busch to win by .013 of a second, or about 3 feet.
But it wasn't a perfect day for Earnhardt, because as a participant in the race, he managed to wreck after the checkered flag after crossing the line in 11th place.
Racing hard across the line with Kyle Larson on his quarter panel, Earnhardt ran into some slower cars ahead, including those of Joe Nemechek and Ryan Sieg.
"Totally my fault," Earnhardt said in a television interview, offering to hang new bodies on the cars he damaged. "Really wasn't paying attention. I hate it for Joe and those guys because they don't need to be tearing up race cars."
Camping World: Some downtime

Peters
The trucks do not resume racing until March 29 at Martinsville, giving Timothy Peters a few more weeks as the points leader after finishing second at Daytona.
Johnny Sauter is two points back and veteran Ron Hornaday Jr. four off the pace.
Sauter claimed his second of three wins of the season at Martinsville last spring en route to finishing fourth in the final points standings.