Harvick's Fifth Win At Phoenix
Sprint Cup: Early, but feeling late
The pace of Brad Keselowski's comeback campaign should have the sensation of gathering speed. But the new system NASCAR will use to stock its expanded 16-team Chase for the Sprint Cup has left him and others feeling stagnant.
So a third-place finish in the second race of the season on Sunday at Phoenix International Raceway, on the heels of the same finish in the Daytona 500, doesn't feel much like the foundation for a high points finish to pay dividends after a 26-race regular season. With victories being a major factor, and winners virtually guaranteed playoff spots, the past two weeks have felt like missed opportunities.
"It feels good to run up front, be competitive," said Keselowski, who started from the pole and led three laps on Sunday. "Under this system, wins are the only things that count. Last year you would have said seconds and thirds are great, but this year they're not. They're so‑so."
The fact that neither he in his chartreuse Deuce or anyone else in the field had anything made Sunday look far more like a lost weekend for everyone but Kevin Harvick, who led 224 of 312 laps. Harvick, like Daytona 500 winner Dale Earnhardt Jr., can race the vast majority of the regular season with impunity, as the first 15 Chase spots are reserved for race winners in the top 30 in points. The final spot -- or spots, if there aren't at least 15 race winners -- goes to the driver highest in the standings without a victory.
A start as strong as Keselowski's -- he is second in the standings, six points behind Earnhardt -- very well would culminate in a Chase berth, given the fact there have been at least 15 winners in just four seasons since the Chase era began in 2004. Playoff spots would be filled out by points order in that event. And Keselowski's results, even this early, suggest that a win is plausible in the coming weeks.
But the win-centric nature of the new points system has already created the perception of a season as a series of segments instead of a linear path to the Chase. In a sense, that's a shame for Keselowski, the 2012 series champion who missed the 2013 Chase amid misfortune and sub-standard performance and finished 14th in points.
His championship season was a cascade of performance and momentum beginning midseason that yielded 5 wins, 13 top-5s and 23 top-10s.
Keselowski said the new system already has affected the pitch of racing in crucial situations.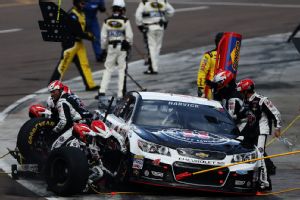 Todd Warshaw/NASCAR/Getty ImagesKevin Harvick and crew were just too tough on Sunday.
"I would say probably a little, yeah," he conceded. "It would be unfair to say 'not at all.' When I got out of the car, my teammate and I, Joey Logano, talked about some moves he tried to pull on the restarts, thought he might have or might have done something different under different scenarios. I could say to that effect he would say yes."
Logano, who led 71 laps on Sunday, had every intention of letting the new mindset affect his approach on two late restarts, but Harvick was simply too fast.
"On that last restart, the last two restarts, I figured I might as well go for it," Logano said. "With a win being so important, you might as well go for it and I tried to stuff [the car] in there three-wide and gave up a spot by doing that, but overall it is all about the win."
And with one already banked, Earnhardt was not nearly as anxious as usual when crew chief Steve Letarte requested he attempt to save fuel on the final stint.
"It wasn't as nerve‑racking today," he said. "Normally you're just biting your fingernails when he says, 'We're two laps short. We have to find two laps.' The yellows are coming out, you think you're saving, but you don't know how much. Today, if we run out, we run out, no big deal. We can gamble with a better conscience."
Keselowski's conscience was clear in hoping that Logano's bid to catch Harvick on two final restarts created a scenario that would benefit him in the No. 2 Ford. Logano was third on a final restart with nine laps remaining, but ultimately finished fourth when his plunge to the bottom lane proved fruitless.
"I thought, 'Get him, go, maybe I can sneak by all of you,' " Keselowski said with a chuckle of Logano's effort. "I kind of was remembering Clint Bowyer at Martinsville [wrecking Jeff Gordon and Jimmie Johnson with two laps left in 2012] in that moment. I was thinking about how everybody wrecked and where to be to get through the wreck to take the lead. That's really what was on my mind. That didn't happen."
It's early -- even though it feels late already.
Contributor, espnW.com
Brant James has covered the Daytona 500, Indianapolis 500, a World Series and Stanley Cup for the big hometown daily, an NCAA tournament and a Super Bowl. He's walked to the paddock with Kentucky Derby horses before post, ridden to the top of Mount Washington with Travis Pastrana and landed on an aircraft carrier with Dale Earnhardt Jr.
Nationwide: Kyle too strong

Busch
The real Nationwide Series schedule began on Saturday at Phoenix -- as in the portion of the schedule routinely dominated by Sprint Cup regulars in general and Kyle Busch in particular.
Busch, who leads the under series with 64 wins all time, became the first to win three consecutive Nationwide races at Phoenix. He did it in dominating fashion, leading 155 of 168 laps in his No. 51 Joe Gibbs Racing Toyota before rain halted the event with 32 remaining.
Sprint Cup regulars consumed the top five, as Kevin Harvick was second, followed by Brad Keselowski, Kyle Larson and Matt Kenseth.
The occasion was feted like a holiday the week before, when Nationwide regular Regan Smith claimed the season-opener at Daytona International Speedway.
That was in part because Smith is a JR Motorsports employee, but also because he seems primed for a title run this season after fading last summer. And he led series regulars last season with a paltry two wins. Plus, a Nationwide regular actually winning a Nationwide race is a novelty. Austin Dillon was winless in capturing the series title last season, and runner-up Sam Hornish Jr. managed one victory.
So in the prickly debate of making the Nationwide Series more about development, not a low-hanging-fruit exercise for NASCAR's established stars, what is to be done?
NASCAR officials have assessed negative fan reaction on the subject -- stoked, no doubt by the dominance of the often-unpopular Busch -- but have yet to decide upon any limits on moonlighting Sprint Cup regulars. Three seasons ago, the sanctioning body required drivers to declare in preseason for which series they wished to accrue points, as Cup regulars had won five consecutive Nationwide titles.
The tangle for NASCAR and its teams is the fact that the presence of some Sprint Cup stars is a marketing boon for the second-tier series and promoters. And in the complicated case of Busch, there is the question of whether a driver should be punished for being better than everyone around him.
"People don't like it. I'm stealing candy from a baby," he said after winning the truck series opener last week. "Until the rules are changed or everybody else grows up and can beat me, then we're racing, so ... "
Busch also owns the truck series team for which he won the season-opening event at Daytona -- he shares the ride with 17-year-old Erik Jones -- and once owned a Nationwide operation.
Camping World: Some downtime

Peters
The trucks do not resume racing until March 29 at Martinsville, giving Timothy Peters a few more weeks as the points leader after finishing second at Daytona.
Johnny Sauter is two points back and veteran Ron Hornaday Jr. four off the pace.
Sauter claimed his second of three wins of the season at Martinsville last spring en route to finishing fourth in the final points standings.