Sprint Cup: This is getting good
Not only is NASCAR's new championship system working -- wondrously at that -- it is the right thing to do. It has been all along.
After decades of languishing in an archaic points system that rewarded riding around, yet wondering why its audience was so deep in malaise, NASCAR has broken out of the doldrums and set sail on a gale called winning.
Winning at last is as it should have been all along: what racing is all about.
Win-you're-in has led immediately to win-or-else. Win, and you're free to try to win some more. No falling back to play it safe for points.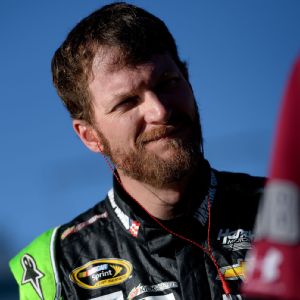 Patrick Smith/NASCAR/Getty ImagesDale Earnhardt Jr. said there's no doubt he would have driven more conservatively if he didn't already have a victory this season.
"It gives us freedom, and it's nice to have that freedom to do the things that we did today," Dale Earnhardt Jr. told reporters at Las Vegas Motor Speedway on Sunday.
What he'd done was stay out, running hard on fumes, to battle Brad Keselowski right into the final lap.
And Keselowski, with his Vegas win, now can feel the kind of freedom Earnhardt has felt since winning the season-opening Daytona 500 on Feb. 23.
"Locked into the Chase!" Keselowski gushed in Victory Lane. "I don't have to hear that crap all year about not being in the Chase." He'd failed to make the playoffs last year after winning the championship in 2012.
The new system simply couldn't work better than it has thus far. NASCAR's two most outspoken drivers, beloved for their candor, Keselowski and Kevin Harvick (who won last week at Phoenix), are all but playoff-bound already.
So is Earnhardt, long NASCAR's most popular driver but now its hottest, with a win and two second-place finishes out of the gate. He won his class at Phoenix when Harvick was running away from the field into a different zip code. Then Earnhardt made Vegas a memorable show by refusing to pit for gas when he needed to, and instead dueling Keselowski.
Even after Earnhardt ran out of fuel coming off the second turn on the final lap, he had enough momentum to finish second with a sputtering engine.
Even last year, when fretting about points was foremost, would Earnhardt have stayed out to take on Keselowski for the win?
"Absolutely not," Earnhardt confirmed. "I can say that without a doubt."
Even last year, he would have, ho-hum, pitted for a splash of fuel to preserve, ho-hum, that decent finish for the maddening math's sake, for the points.
And his legions of fans would have felt deflated. Now, they're still sky-high on adrenalin.
"I think the way the new format is -- nothing is perfect, right? -- but it definitely is showing it has tons of positives," Earnhardt said, "and it's better as far as entertainment for our sport."
Keselowski preferred the fight to a cruise because, he said, "That's what you live for as a driver. Those moments when you're side by side, and you lay it all out on the racetrack and you bring back the car with the tires smoking, engine smoking, and you're worn out inside because you gave it all you had."
And from here on, drivers get to do what they live for. They, fans and casual audiences -- and journalists -- love the same thing.
Better late than never, for doing the right thing.
Nationwide: Beating Busch good

Keselowski
Kyle Busch took a rare whuppin' -- straight up, head to head, he just flat got outrun -- in a Nationwide race on Saturday.
That just might be a glimmer of challenge this year for the man who dominated and won at Phoenix last week, implying continuation of the 2013 season when he turned the division into the Busch League, winning 12 of the 26 races he entered, often in runaways.
He wasn't beaten by a Nationwide regular, although series rookie Chase Elliott was fifth -- so there is hope for the up-and-comers of 2014.
This was a usual suspect, another Cup regular dropping down. Brad Keselowski, even on a dying battery with alternator failure in the final laps, held off Busch with surprising ease, even in heavy lapped traffic.
So Busch remains winless at his home track, Las Vegas Motor Speedway, in Nationwide. He did win a Cup race there in 2009.
When it was over, Busch seemed drained -- not upset over any inadequacies in his usually dominant Toyota, nor any sort of wrongdoing on the track. Just whipped: "That's all we had today," he said, with a resigned finality, to ESPN reporters.
"The best motor won today -- that's for sure," Busch said of the one in Keselowski's Penske Ford Mustang. "Probably the best car. He was really good."
Running on dwindling power, "I knew it was just a matter of time before he caught me," Keselowski said in Victory Lane. "I was just trying to get through as much traffic as I could and extend that time, just counting down the laps."
It turned out not to be much of a problem for the driver with a better car -- for a change -- than Busch's.
Dale Earnhardt Jr., who finished fourth ahead of his new JR Motorsports teammate, was full of praise for young Elliott.
"He's better than he knows he is," Earnhardt said of the 18-year-old son of former Cup champion Bill Elliott. "He's a lot better than most of the rookies are when they come into this series. I'm real happy for him, but I'm not surprised.
"The guy's got a ton of talent and he's gonna go a long way. He's got a great mentor in his father."
And with young Sprint Cup rookie Kyle Larson, 21, winding up third in a car damaged in an early scrape, there is, all in all, some indication that Nationwide won't necessarily be the Busch League again this season.
Camping World: Still waiting

Peters
The Trucks stayed parked in the teams' shops again this weekend, and they will remain there until it's time for Martinsville on March 29.
More than a month's silence has become standard -- it happened last year -- between Daytona and the second race. So there's no way fans get burned out on too much Truck racing nowadays.
Kyle Busch won the opener at Daytona but is not a series regular and is ineligible for the championship. Timothy Peters remains the points leader among full-time Truck drivers, with his second-place finish at Daytona.
So the anticipation continues, heading to one of the beatingest, bangingest tracks for Trucks.