Sprint Cup: The risk vs. reward factor was high
Goodyear told 'em. They listened. Then they went right on doing what Goodyear told 'em not to.
And so, Sunday's Auto Club 400 looked -- looked, mind you -- like the worst tire debacle in a NASCAR race since the 2008 Brickyard 400.
But at the end of the race in Fontana, Calif., two drivers whose teams didn't keep on doing what Goodyear told 'em not to, Kyle Busch and Kyle Larson, finished 1-2.
Who felt robbed of a win? Jimmie Johnson stood first in line. Jeff Gordon was right behind him. Clint Bowyer could make a case. Dale Earnhardt Jr., Brad Keselowski, Carl Edwards and Marcos Ambrose could have joined a class action complaint. All suffered from shredded tires, mostly left side, mostly left rear.
But any judge would have thrown out their case.
To understand why, let's take Sunday's tire issues right into your own driveway. Say for the tires on your car that the manufacturer recommends pressure of 32 pounds per square inch, but you decide the car handles better through corners if you lower the pressure to 19 psi, about 60 percent of what is recommended.
Out on the highway, a tire shreds. You blame the manufacturer. You complain, as Johnson did to Fox reporters after falling out of a nice lead with just seven laps to go, that "something out of our control let us down."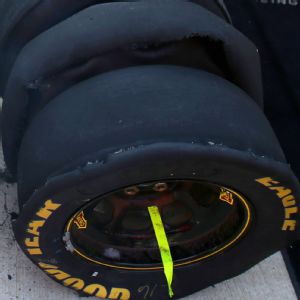 Todd Warshaw/Getty ImagesTires were under serious stress at Fontana, but much of that was due to decisions made by teams.
The hell it was out of your control, even Judge Judy might say. You chose to run 12 pounds of pressure, 60 percent of the 20 pounds Goodyear recommended, and the tire gave up. You abused the tire.
And now you're whining? Get out of my courtroom.
Gordon had a more rational, if not winnable, argument after pitting out of the lead under caution with two laps left to get tires because a vibration told him he needed them.
"I hate Goodyear was not prepared for what happened today," Gordon said.
And that is correct. Goodyear probably should have been prepared for teams running dangerously low pressures against recommendations -- even on the worn surface at Fontana that wears out tires quickly -- because they do it all the time.
For 20 years, teams have lowered tire pressures, at high risk to their drivers, to make their cars handle better. Ernie Irvan was critically injured and his career essentially ruined under such circumstances at Michigan in 1994.
Goodyear caught the blame for the Indianapolis debacle of 2008, when teams couldn't run more than about 10 laps without changing tires, and did penance of massive testing in preparation for the 2009 Brickyard.
But this time, the star witness for the defense after Sunday's mess was winning crew chief Dave Rogers.
Goodyear racing director Greg Stucker wouldn't reveal just how far some teams went below the recommendation of 20 points on the left rear and 22 on the left front.
But Rogers would. "Twelve pounds," he said the ill-fated teams were running. "You put 12 pounds in left sides and you're running 200 miles an hour in California, you might have a left-side tire problem.
"That's awful low. That's dangerous."
Then Rogers glanced at his driver, Kyle Busch, in the winner's interview and said, "I wouldn't do that to you."
Quipped Kyle, "I appreciate that."
Regarding the entire race, "I don't think we had any tire issues today," Busch said.
"I think we lacked some speed on the stopwatch," Rogers said, "and I was pretty confident that I could drop left-side pressure and pick some of that speed up … but it just wasn't worth it. It wasn't worth putting the car in jeopardy, putting Kyle in jeopardy."
California native Larson, who dazzled a sellout crowd by going from ninth to second during a green-white-checkered finish, said his team "didn't have any tire issues the whole race. [After] every pit stop, my crew chief would tell me my tires were great."
Seeing the tires shredding all around them, both the Busch and Larson teams took four tires under the final caution, even for the two laps of G-W-C. Kurt Busch, Kyle's older brother, and his teammate Tony Stewart got out of the pits first by taking only two tires each.
But once the green flag flew, the two Kyles were on the leaders and blew into the first two positions off the second turn on the final lap.
Kurt Busch, who wound up third, said his team got the message after blowing a tire in practice Saturday and went "into a conservative approach overnight."
Kurt added, taking into account new technical regulations this year: "We have faster cars, more downforce, and NASCAR is allowing us to put whatever camber [essentially the angle of the wheels against the axles] we want into the cars. …
"And therefore it's up to the team's discretion if you're going to have a problem or not."
Case dismissed.
Kyle Busch Breaks Down His Win
The Rundown: Fontana
"The Rundown" talks to Kyle Busch, Kevin Harvick and Joey Logano about the Nationwide race at Fontana.
Nationwide: Larson shines

Larson
Any more questions about why Kyle Larson has been so highly touted? Any more doubts that, at 21, he is the next truly amazing, astounding, thrilling talent on the NASCAR horizon?
If there are, then you didn't see the last 17 laps of Saturday's Nationwide race at Fontana, Calif., after the final restart.
And you damn sure didn't see his victory donuts, done without his steering wheel -- you read that right -- which he detached and held out the window in a whole new celebratory gesture as he spun back and forth.
He was looping his car using just the throttle. That's car control that would have left the late Dale Earnhardt's mouth agape. That's flashier application of dirt-track sprint-car skills than Jeff Gordon or Tony Stewart brought with them to NASCAR.
It was a postrace extension of the winning car control that drew Kyle Busch to Victory Lane to hug Larson and shake his hand in admiration, the car control that left Kevin Harvick looking as drained as he ever has upon climbing out of a second-place car.
Exactly what, you may ask, is car control? It is the ability to make an automobile behave like an appendage of the driver himself, obeying his will as surely as an arm or a leg would. Earnhardt was a prime example.
Harvick and Busch, as fierce and savvy competitors as you'll find at the Nationwide level, had given everything they had. So had Joey Logano, who led 96 of the 150 laps at 2-mile Auto Club Speedway.
None of that was enough. Larson's brilliance, which began to bud in Nationwide last season, bloomed this time into his first victory after five second-place finishes at this level.
Time after time after time during the waning laps, Busch or Harvick would dive to the bottom of the wide surface and pull alongside, or even nose ahead of, Larson. Again and again and again, he would ride his imaginary cushion from his dirt-track days, up high, to hold them off and retake the lead.
It's the kind of racing that makes sprint cars such an attraction to their following. And it's the kind NASCAR surely could use on a regular basis.
Just last week at Bristol, Tenn., it was Larson who had ridden high until he slipped up and scraped the wall to finish second to Busch. This time, it was Busch who scraped the wall, with seven laps left, as Larson prevailed.
"He's great," Busch told reporters at the track. "He's definitely a great talent. That's why he's here. That's why he's made it this far. That's why he's in Cup [where Larson is a rookie this season]."
"Those last 11 or 12 laps were the longest laps of my life," Larson told ESPN reporters in Victory Lane. "I would see the 54 [Busch] and the 5 [Harvick] just racing hard behind me [with each other, usually a break that allows the leader to get away], and they weren't getting any further back."
Together, Busch, who finished third, and Logano, fourth, had won 27 Nationwide races between last season and this one.
"It was very cool to beat those guys," Larson said. "The 54 and the 22 [Logano] have dominated this series for a while, and Harvick is with a good team. So I'm sure we'll be battling them for a while."
Stay tuned. There is no word in NASCAR for what Larson did Saturday. You have to turn to baseball, and the late Yankees and Mets manager Casey Stengel, for the proper description:
"Uh-MAZ-in'."
Camping World: Ready to roll!

Peters
After more than a month's layoff, Trucks will return to competition Saturday at Martinsville.
For points leader Timothy Peters of nearby Danville, Va., barely 20 miles from the track, the downtime has been both "the bad part" and "the good thing," he told Martinsville publicists during a test last week.
"We've had lots of time to work on things, and we think we've made [progress] by leaps and bounds," Peters said. "But we're ready to get back at it next week."
Peters finished second to Kyle Busch at Daytona in the season opener, but Busch is ineligible for Trucks points, so Peters will arrive at Martinsville as both the top driver on the tour and the local favorite.