Kurt Busch Wins At Martinsville
Sprint Cup: Another letdown by the 48
Feeling frisky yet, all you yawners at Jimmie Johnson Humdrum?
Six races this season, six different winners, and old Six-Time isn't among them. Furthermore, he has flat-out lost two straight races after dominating them.
Sure, it's early, but not too soon for Anti-JJ Nation to pay attention. This could be the start of something flawed.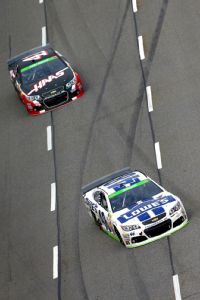 Chris Graythen/Getty ImagesJimmie Johnson, front, simply didn't have enough race car to hold off Kurt Busch at Martinsville.
Sunday, after Kurt Busch outdid him in the very sort of late duel Johnson isn't supposed to lose at Martinsville, Johnson told reporters at the track that "I couldn't have done any more. I just got beat."
As usual, he was being ultra-polite. What got beat was his No. 48 team. You know, the one that Anti-JJ Nation claims has propped him up, made him look so good this past decade.
What got beat last week, at Fontana, Calif., was his team. You know ...
Not that Busch didn't do a masterful job of dueling Johnson at Martinsville, a track that previously "you just draw a line through" on the schedule, Busch said in Victory Lane, "like 'there's no way I'll be able to challenge those Hendrick guys ...'"
But Busch's performance might not have been as superb as it appeared, with Johnson being vulnerable in a very loose race car. That's crew. Not driver.
And at Fontana, it was the crew -- led by Chad Knaus, whom Anti-JJ Nation has cited for years as the main propper-upper of Johnson -- that literally blew a win for the driver. They dropped the air pressure dangerously low in his left-side tires, against Goodyear engineers' warnings, so that he shredded one while leading, dominating, with just seven laps to go.
Sunday, Johnson told Fox reporters that "I'd been loose in the final third of the race and was hanging on there when he [Busch] got back by me [with 28 laps left]. I was hopeful that he would wear his stuff out and I could get back by him, and then I did [with 17 to go].
"And then I couldn't hold him off," and Busch took the lead for keeps with 11 laps left.
So, rather than Johnson's methodical, ultra-polite, often barely audible analysis of a win, you had the volatile Busch, who just couldn't contain himself, even in victory, regarding a just-flared feud with Brad Keselowski.
Busch and Keselowski had collided in the pits during a competition caution early in the race, and each blamed the other. Keselowski's car was heavily damaged, and after subsistence repairs, he came out gunning for Busch, and they slammed on each other until one-fifth of the race was complete.
Busch called Keselowski's retaliation "a punk-a-- move, and he will get what he gets back when I decide to give it back."
So the bonus, Johnson yawners, is that in place of Johnson Bland, you've got two volatile personalities, Busch and Keselowski, who don't stop seething easily or quickly.
Going into Texas next week, just pay attention.
Camping World: Bang-up finish

Crafton
Put Trucks on little Martinsville Speedway, where they can run three-wide like Cup cars at Talladega, and you figure this was about normal.
Matt Crafton won five straight restarts in the last 19 laps and thanked everybody who "raced me clean," while the guy who lost all five of those restarts was wrecking his teammate after the checkered flag.
"Martinsville, baby," was the way Timothy Peters, the biggest loser of the nightcap of Sunday's NASCAR doubleheader, told Fox reporters in summing up his set-to with teammate German Quiroga Jr. just before and just after the checkered flag.
On the last restart -- a second attempt at green-white-checkered -- Peters got shoved out of second place by Darrell Wallace Jr. but counted that as just racing. It was moments later, when Quiroga pushed him up the track and back to a seventh-place finish, that Peters went into fender-bashing mode.
Peters ran into Quiroga on the cool-down lap, then Quiroga cut him off, then Peters rear-ended Quiroga hard, heavily damaging both team trucks.
"First the 54 [Wallace] kind of moved us up out of the way, but I wasn't expecting my own teammate to do it," said Peters of nearby Danville, Va.
"So, it's Martinsville. Tempers are going to flare," Peters said before quickly adding, "I apologize to all the guys back at the shop for two teammates getting into it."
The finish was fine by Crafton, though.
"Those guys raced me clean," he said in Victory Lane. "Peters was back there at the end. Bubba [Wallace's nickname] was back there [restarting third, just behind Crafton, each time]. He could have moved me. I can't thank those guys enough."
The Trucks race, rained out on Saturday, was moved to Sunday following the Martinsville Cup race to make a rare doubleheader.
Peters' mishaps dropped him into a tie in the standings with Johnny Sauter, who finished fourth. But this was only the second race of the season, more than a month after the opener at Daytona. And it will be more than a month again before the Trucks run next, in Kansas.
Nationwide: The Kyle & Kyle Show

Larson
After losing the latest Nationwide round of the Kyle and Kyle show on March 22, Kyle Busch said, "We'll see what happens next week."
But Busch was off a week, in that the Nationwide Series had this past weekend off. He gets his next shot in the rapidly emerging rivalry at Texas on Friday night.
Busch did hold off Larson in the Cup version of Kyle and Kyle on March 23 at Fontana, Calif. Busch won, and Larson finished second.
But it's in Nationwide that Kyle and Kyle are rocking. They finished 1-2 with Busch on top at Bristol on March 15, then again with Larson on top at Fontana the next week.
So, call the Friday night race at Texas the rubber match for Kyle and Kyle.