Emotional Win For Joey Logano
Sprint Cup: Playing It Straight Leads To Win
Mother Nature made it a tiring weekend for Sprint Cup Series teams stuck an extra day at Texas Motor Speedway. Some of that time was spent fretting whether tire issues would make Monday even more tiresome.
That it largely didn't was a testament not only Goodyear but to crew chiefs who showed a willingness to adapt; whether it was their equipment or by listening to the tire manufacturer's guidance.
A prime example of that adaptation was standing in Victory Lane, where Joey Logano and crew chief Todd Gordon celebrated after a dominating effort that culminated with a pass of Jeff Gordon during a green-white-checkered finish. That Logano and Team Penske teammate Brad Keselowski were fast wasn't surprising; that they had equally durable setups was the determining factor in strong runs for both.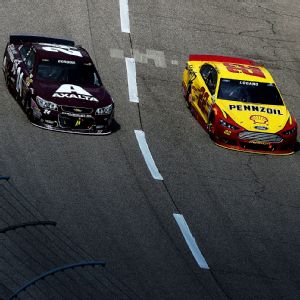 Patrick Smith/Getty Images)Jeff Gordon, left, and Joey Logano had a classic duel to the finish at Texas.
Keselowski won earlier at Las Vegas and both were fast at Auto Club Speedway in Fontana, Calif., two weeks later. A broken gear left Logano 39th, after he'd had tire issues in the practices beforehand. Logano didn't have tire issues during the race, but Keselowski wasn't as lucky, coming home 26th in California.
Before Texas, Robin Pemberton, NASCAR's vice president of competition, said teams were free to use whatever setups they desired in terms of camber and air pressure in the tires. Then, if teams ignored Goodyear's guidelines on minimum tire pressures, they had no one to blame but themselves.
Logano admitted concerns before the first practice at Texas despite knowing Goodyear makes every effort possible to bring the best tire to the track.
"We want more grip, we want a softer tire, we want a tire that wears out, and then we're putting so much load on them with these heavy cars it's almost impossible to do both, so it's very, very difficult to make that happen," said Logano, who toured Goodyear's plant in the offseason. "They're always constantly adjusting on their blends and constructions and what they're doing with their tires, so it's not from a lack of effort on their part.
"… I've got the most faith in those guys that anyone can have, and that's why I try to help them as much as I can is to give them the best insight of what we're fighting. I know as Team Penske, we give them all the information we possibly can to help them make decisions when they're back at their shop."
At Texas, it was a two-way street -- one that led Logano and Gordon to a 1-2 finish. Gordon said conversations he had with Goodyear's engineers helped him change his approach to ensure the tires held up.
Similar decisions seemingly were made throughout the garage as Kurt Busch was the lone driver with tire issues throughout the day at Texas.
"I think we were cognizant of where we were vs. the limit and I thought we played that smart," said Gordon, who was thankful of the input received from Goodyear.
Logano's concerns entering the weekend were allayed quickly during the race, and he's grateful he found the balance necessary for victory.
"That means you have to take a little bit of performance out of the car," Logano said. "I felt like this week was obviously way smoother than California. You look at green-flag stops and very limited tire issues today at all, so Goodyear brought us something that I feel like was reliable. Yes, we were worried about it, but, at the same time, we were able to run hard the whole [fuel] run."
Even though this was just the seventh race of the season, Logano was already concerned that he was winless entering Texas. It was to the point that discussions were held Saturday about how the team would use its allotted tests.
Those talks are now for naught as Team Penske's testing program can focus solely on Homestead and other tracks hosting Chase races. To say winning was a relief for Logano would be putting it mildly.
Now, instead of worrying about optimizing things to get a win in August, the focus is on September and beyond.
"I'm not saying we're not gonna work hard to win more races throughout the rest of the year," Logano said. "Like Todd said, we need to still run well and keep ourselves up in points and win some more races because you want to go into the Chase with momentum, but, as far as updating specs and stuff like that, we can start focusing on Chase stuff."
Sure, the No. 22 team will focus on the long haul now that it has a win, but Gordon knows the team can also take a few more chances in search of additional wins through the first 26 races.
"The short answer to that question is yes, within reason," Gordon said. "You can't be stupid about it, but it does open up your box to be a little more aggressive on how you call a race."
Sometimes, the aggressive approach works best. But, as Gordon and Logano showed at Texas, sometimes playing things close to the book also can lead to Victory Lane.
NASCAR
• Ashenfelter is an Event News Editor at ESPN.
• Worked at NASCAR Scene for eight years.
• Has covered NASCAR since 1999.
Joey Logano Wins At Texas
The Rundown: Texas
"The Rundown" talks to Kevin Harvick, Kyle Larson and Kyle Busch about their finishes at Texas Motor Speedway in the Nationwide Series race.
Nationwide: No Mere Rookie

Elliott
Rookies make mistakes. They drive it in too deep and hit the wall, or spin by themselves trying to pedal the car quicker than it's capable of going.
Bent sheet metal is expected; owners hoping young drivers don't tear up so much equipment that the crew becomes demoralized, losing faith before the driver has a chance to settle in.
Then there's Chase Elliott, an 18-year-old who appears wise beyond his years. It's always surprising when a newcomer bursts onto the scene displaying such poise, even when the driver has championship bloodlines.
Bill Elliott won what is now the Sprint Cup title in 1988, seven years and eight days before Chase was born. Bill's 44th, and final, Cup win came in 2003, when Chase was just 8, so, although he made trips to Victory Lane, they came before he could soak up the nuances that propelled his father's career.
What Chase has inherited is the innate ability to get the most out of a race car. He also appears to have inherited the low-key demeanor that characterized Bill Elliott's career, one that surely will culminate with a berth in NASCAR's Hall of Fame.
There's no telling whether Chase will build such a résumé, but his potential appears unlimited even as he's focusing on graduating high school along with upcoming races at tracks he's never raced before. Of course, Daytona, Las Vegas, Fontana and Texas were new challenges he met head-on.
Although Friday's win at Texas garnered the most attention, he already had impressed Greg Ives, his JR Motorsports crew chief, well before then with his overall approach.
"I don't need to overload him [with information], because he does his homework before he gets to the racetrack, so, when he gets to me, we can have a conversation [about setups]," Ives said after the race. "… He already talked to Kevin [Harvick], Dale [Earnhardt Jr.], Jimmie [Johnson], all those guys, and he leans on them pretty heavily, and obviously one of the best [resources] is probably Bill."
Although Chase wasn't born in his father's prime -- Bill finished no worse than sixth in points while racking up 33 wins 1983-90 -- Dale Earnhardt Jr. knows just how strong "Awesome Bill" was in that span.
Having also followed in his father's footsteps, Earnhardt has a unique appreciation for what lies ahead for Chase. Bill Elliott might not have won seven titles like Dale Earnhardt, but he was the sport's most popular driver 16 times.
It's a lot to live up to, but Dale Jr. says Chase has intangibles that work in his favor.
"He just seems to understand what's happening around him and how he needs to handle it, and he just had a real calm and smooth demeanor that's going to benefit him and really take him a long ways," Earnhardt said. "It's pretty impressive … how his temperament is and personality is, and I'm having a lot of fun working with him and look forward to the future."
Asked who Chase reminded him of, Earnhardt said Bill Elliott without missing a beat. It's heady praise, but it seems unlikely to go to Chase's head. In his postrace interview, Chase pointed out that he struggled all night on restarts and has to be better this Friday at Darlington.
Told he doesn't seem excitable, he promised that winning excites him, so he hopes to do it again so people see that side of him. He said winning at Texas is atop his list of accomplishments and was at a loss when asked why he seems wise beyond his years.
"I don't know how to answer that, other than that's just kind of how I've grown up and I don't know if that's the right or wrong way to be but that's how I am and hopefully it will work out for us," he said.
Camping World: Waiting Game

Crafton
When it comes to the Camping World Truck Series, the waiting truly is the hardest part. With just 22 events, compared with 36 points races for the Sprint Cup Series and 33 for the Nationwide Series, there are obviously going to be long gaps in the schedule.
Instead of trying to fight Mother Nature early in the year, NASCAR elects to schedule 20 of the races from May to November, something that isn't an option with its other two series because of the number of events run. Although that saves teams the expenses that come with extra days on the road if races are rained out, it's also hard to build momentum in the early going.
Matt Crafton likely would have loved the chance to build upon his Martinsville win this past weekend but instead will have to wait until May 9 at Kansas Speedway for his next opportunity.
It's undoubtedly frustrating in many regards, but the slow ramp-up of the schedule also provides teams more time to get their equipment ready for the grind ahead. And, in a series where many teams have smaller crews, the time between races can be a blessing more than a curse.