Joey Logano Doubles Up At Richmond
Sprint Cup: Consistency fuels Gordon ... so far
It's a pretty simple formula for Jeff Gordon, albeit not a easy one: Keep amassing top-5 finishes while avoiding the disastrous ones, hold onto the Sprint Cup points lead for a mere 16 more races and jaunt into the Chase for the Sprint Cup as a winless points leader in a season in which NASCAR has mandated winning as more important than ever.
The four-time series champion isn't sure he'll go that route, however. Or, rather, that he'll need to.
Though a proviso to the first-year system to seed the playoffs and determine the series champion allows for a winless points leader to advance into the field of 16 title hopefuls, another second-place finish Saturday at Richmond International Raceway has encouraged Gordon that he will soon ensure a spot with a win. That's a reasonable assumption after leading a race-high 173 of 400 laps and again putting himself in a late-race position for victory.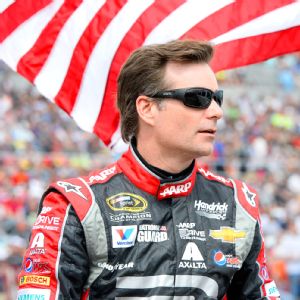 Mike DiNovo/USA TODAY SportsSprint Cup Series points leader Jeff Gordon has four top-5s and seven top-10s, but no wins.
"As good as we're running, I definitely feel like we can win races just about anywhere that we go, and if we continue to perform like this, we are going to win," said Gordon, who has four top-5s and seven top-10s in nine races. "That's how you win.
"There's sometimes when you just pick the right pit strategy. There's other times you get a good restart, and then there's times when you just go and outrun them. I'll take outrunning them more times than any because I think that's when the multiple wins are going to come."
Gordon leads winless Matt Kenseth -- who paced the series with seven victories last season -- by five points in the driver standings. He reached the quarter pole of the season as more than just a points leader in a season in which points are supposed to be devalued.
With the early-season run of new race winners halted at seven, the series' most prolific victors of 2014 are beginning to identify themselves. And subsequently the manic speculation over the amount of individual race winners has ended. Multiple drivers seem more likely to reach the Chase on points positions as the elite winners begin amassing victories.
Kevin Harvick followed a win at Phoenix with a second at Darlington to assure himself a playoff spot, and Joey Logano did the same by winning at Texas three weeks ago and Richmond on Saturday, following a boisterous last 10 laps battling Gordon, Kenseth and teammate Brad Keselowski.
With the series' top winners of 2013 -- including defending series champion Jimmie Johnson (six wins) -- yet to break through, nine drivers, stretching down to 14th-place Denny Hamlin, would advance to the Chase if it began tomorrow.
It doesn't. So Gordon knows he needs to begin converting near-miss runs into trophies. With an average finish of 6.8 -- Harvick is at 21.2 and in 20th place -- he led in the waning laps at Fontana and Richmond and until the final lap at Texas before being overcome by various circumstances, the most annoying a rash of tire failures that cost him a lead at Auto Club Speedway.
"Normally I'd be ecstatic with leading the points and where we're at and consistency, but right now those wins are just so important," he said. "I mean, I'd rather be 12th in points right now with three wins than be leading the points.
"We're running really good. I'm excited about that. And any time you're running this good consistently week in, week out on all different types of racetracks, it gives you confidence as a driver, as a team. But you also know, especially this year more than ever, you've got to go close that out."
Simple, but not easy.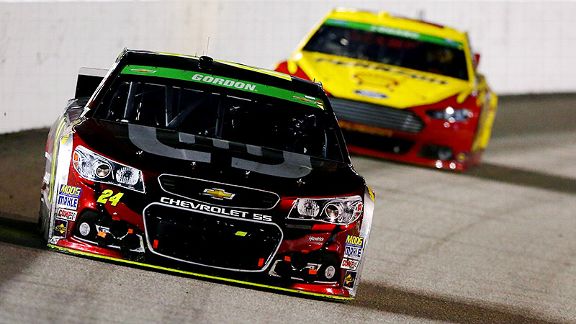 Streeter Lecka/Getty ImagesJeff Gordon led a race-high 173 laps at Richmond on Saturday but finished second to Joey Logano.
Contributor, espnW.com
Brant James has covered the Daytona 500, Indianapolis 500, a World Series and Stanley Cup for the big hometown daily, an NCAA tournament and a Super Bowl. He's walked to the paddock with Kentucky Derby horses before post, ridden to the top of Mount Washington with Travis Pastrana and landed on an aircraft carrier with Dale Earnhardt Jr.
The Rundown: Richmond
"The Rundown" features Elliott Sadler talking about a crazy night at Richmond that saw him get through a wreck and finish sixth in the Nationwide race.
Nationwide: Motoring along

Harvick
It's all icing from here for JR Motorsports -- and history.
Kevin Harvick's victory Friday at Richmond International Raceway was the fourth of the season for the 10th-year organization in the Nationwide Series, tying its mark for wins in a season with 25 events left on the 2014 schedule.
Four of JRM's 16 all-time Nationwide wins have come this season. Maintaining a .500 winning percentage is unrealistic, but co-owners Dale Earnhardt Jr. and sister/general manager Kelley Earnhardt Miller wouldn't be overly optimistic in expecting revisions to be needed for the team CV.
Regan Smith opened the season with a redemptive win at Daytona International Speedway and rookie wunderkind Chase Elliott claimed trophies at Texas Motor Speedway and Darlington Raceway before Harvick ran the organization's win streak to three at Richmond.
"That is huge for this entire team," Smith said.
Elliott leads the driver standings, 19 points ahead of Smith.
In finishing second on Friday, Elliott logged his seventh top-10 of the season in his first start at Richmond. Harvick, moonlighting from his Sprint Cup gig at Stewart-Haas Racing, won for the first time in Nationwide this season. Together, he and Elliott comprised JRM's first 1-2 finish in organization history.
"We're just really blown away by the performance and grateful for Kevin to be a part of our team," Earnhardt said. "Kevin, as an owner in the past, has a lot of great ideas. He's really influenced our company in a lot of positive ways.
"All the performance on all the cars is a direct reflection of everybody that works there. It's working good, and I hope we can keep it going. I think we can get even better and continue to get stronger."
Camping World: Waiting game
Wallace
The long spate of inactivity in the NASCAR Truck series schedule makes Darrell Wallace Jr. anxious. And no wonder. After finishing second at Martinsville in the second race of the season March 30, he's still waiting out May 9 for the ensuing race at Kansas Speedway.
Wallace will have a little something to clear, or perhaps creatively clutter his mind this weekend, joining Joe Gibbs Racing's Nationwide Series stable at Talladega Superspeedway. Wallace will make his fifth start in the series and first this season.
Wallace, who races in the Truck series for JGR driver Kyle Busch, had a pole and three top-10 finishes in Nationwide with JGR in 2012.
"We're excited to be able to provide this opportunity for Darrell in Talladega," JGR president J.D. Gibbs said in a release. "He has been doing a great job in the Truck series with his KBM team and we want to make sure he continues to gain experience in our Nationwide Series cars as well."
Wallace will drive the No. 20 Toyota that Matt Kenseth has used to compile three top-5s and Daniel Suarez finished 19th in at Richmond.
"I know they have a good Toyota Camry, and Matt has been running it all season long and posted good finishes," Wallace said. "Hopefully we can go out there, stay out of harm's way and add to that by posting a good, strong finish."