NASCAR Now: Moment Of The Week
Sprint Cup: Patrick finally puts together full race
It is the month of May. She is Danica Patrick. So maybe it should have come as no surprise at Kansas Speedway on Saturday night when the second-year Sprint Cup driver crafted her best-ever finish in NASCAR's top series.
But statistically, historically, it didn't figure. She recorded a rousing seventh-place finish at Kansas -- the third-best ever for a female in NASCAR's top series. In six IndyCar attempts at the 1.5-mile speedway, though, she surpassed that finish only once. Her NASCAR performance on these intermediate staples of the Cup series had been, graciously, middling since she began transitioning from open-wheel to stock cars in 2010. She had finished 22nd the previous week at Talladega Superspeedway in the restrictor-plate racing vein that had so far offered the highlights of her brief NASCAR career. And that was in May, too.
But there she was on Saturday, managing a competitive No. 10 Chevrolet for the first half of the race, picking spots, then picking off tenured and accomplished drivers to race into the top three in the final 100 laps. This, maybe better than at any point in her stock car career, was the confluence of competitive race car and confident driver managing, and then exploiting it to its fullest potential. A driver known even in her open-wheel career as methodical, calculating, was attacking.
And she liked it.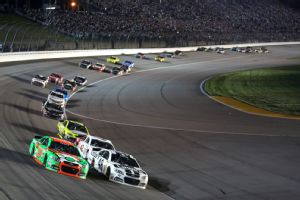 Jerry Markland/Getty ImagesAmong Danica Patrick's aggressive moves Saturday at Kansas was passing Jimmie Johnson on the outside.
"I guarantee you we're going to work even harder now. It's not just sitting back," she said after posting her second top-10 in 57 Cup races. "We're going to work harder because we love where we're at and this is what we work for. When you taste it, race winner, you don't want to let it go."
Maybe crew chief Tony Gibson, after the race aglow much like his driver, had struck upon something. Maybe a Stewart-Haas Racing organization that had notably struggled for much of last season and into 2014, even considering two victories by Kevin Harvick and another by Kurt Busch, had turned a corner and the most junior member of a veteran team was beginning to make an evolutionary leap. Race winner Jeff Gordon noted on Saturday the quality of cars the shop is currently deploying.
Maybe, heading back to Charlotte Motor Speedway for this Saturday's All-Star Race and the Coca-Cola 600 on Memorial Day weekend, Patrick is ready to replicate her record-setting 2005 rookie-year IndyCar exploits when she set the record for highest start and finish (fourth, reset by her at third in 2009) and led the first 19 laps by a female in the Indianapolis 500.
Maybe not. But for a driver who at times has been so flummoxed and frustrated by the myriad of new variables in stock car racing, a beachhead was welcome. Much seemed plausible on Saturday night.
"This is probably one of our best-ever weekends, and hopefully this will be something that we can build on," said Gibson. "We have two big weeks coming up at Charlotte with the All-Star Race and the Coca-Cola 600, and I think she showed what she's capable of tonight."
Patrick has flourished in early big-stage moments throughout her career, from her rookie effort at Indianapolis in 2005 to winning the pole in her first Daytona 500 as a full-time driver last year, then becoming the first female to lead laps and finish as high as eighth.
Two years into her full-time career as a Sprint Cup driver, she has the opportunity to spin the same sort of whirlwind heading into NASCAR's lengthy late-afternoon answer to the Indianapolis 500.
She has a way of foreshadowing such things. A superlative month of May in 2005 was preceded by a starting position of second and a finish of fourth at Motegi, Japan, where she would win her only IndyCar race in 2008. This time, drama could be built off what she described as a "drama-free" weekend in Kansas in which the team unloaded a car that could be readily adjusted, qualified with intent, and raced. Winner Jeff Gordon described Patrick as "aggressive, real aggressive." Patrick qualified ninth, her best at a non-plate track.
"[Interior mechanic] Jay [Guarneni] said this is what we call putting a whole weekend together," said Patrick, whose average finish this season is 24.8. "We weren't great-great in practice, but we came through in qualifying, smart about the changes. Gibson did a good job making changes for the race. It was good from the get-go. What it says even more is two things: Really good on restarts and when it wasn't quite right, really good on long runs. That just goes to show this is a new car, and they build a great one. We've got more of these coming. That's the even better news."
Gibson praised the mechanical aspect of the race, but lauded his driver.
"That was one heck of a run by her," Gibson said. "She drove a really smart, solid race. I know that we got pretty excited with some of the moves she was making when she was passing guys on the outside. It was just fun to watch. It was just a really good weekend for us. We had a good car right off the truck, a good qualifying effort, and we backed that up with a good race. I'm really proud of what Danica did."
As was Kevin Harvick, who joined Stewart-Haas Racing this season after spending the first 14 years of his Cup career at Richard Childress Racing. A friend of Patrick even before he joined the team, he was able to impart several key pieces of advice about competing at Kansas -- where he has won consecutive poles, the race last fall and was second on Saturday -- but ultimately, he just told her to trust her equipment and run like hell.
"We talk a lot, and I think for her it's just the confidence in knowing exactly what the car is going to do," he said. "Obviously, she's run well all weekend, qualified well, raced well all night. There's a lot of hurdles to overcome for her to make up that experience. I feel like we can help her speed that process up by just telling her some of the things that she should expect and do.
" … But I guess the one thing I did tell her was just to quit thinking about it and smash the gas."
Patrick seemed to revel in that advice, mincing with race leaders and former champions on restarts and making an outside line pass of defending and six-time titlist Jimmie Johnson.
"Honestly, the most rewarding part of my night was probably when I drove around the outside of the No. 48 on a restart," she said. "That was probably my most rewarding thing of the night. I say that with all the respect in the world. It's a big deal because he is Jimmie Johnson. Aside from that, I was really just overall proud that we stayed up front all day. That was the biggest thing. When the race started, it was about finishing the weekend off right and just staying up there. You know you are going to go up, you are going to go down a little bit, and we sure enough did that, but we more than held our own through the whole race."
One of Patrick's snapshot moves of the race came with 96 laps left when she swooped past Dale Earnhardt Jr. and teammate/co-owner Tony Stewart for third place.
"When I was fifth, I was thinking, 'This is good, you know? I feel faster than them,'" she said. "They got caught up in traffic in [Turns] 3 and 4 and got checked up, and I got underneath them. But when I'm running third, I'm honestly trying not to think about the fact that I'm running third, and the fact that I've been looking at that car in front of me the whole race and I need to go pass that car."
A return to the Indianapolis 500 is a desire that becomes less likely and perhaps less desired each year, yet Patrick still holds the race that minted her in fond regard. But forging the same sort of success in NASCAR has clearly become her focus. She watched the inaugural IndyCar road course race at the speedway on Saturday, and then moved on mentally to her best-ever performance in the task at hand.
"I had someone say they get a little sad when May comes and I'm not there, and I said, 'You know, there's so many great memories.' Times change, things change," she said, "and I'm really happy where I'm at and proud of the progress we made."
Contributor, espnW.com
Brant James has covered the Daytona 500, Indianapolis 500, a World Series and Stanley Cup for the big hometown daily, an NCAA tournament and a Super Bowl. He's walked to the paddock with Kentucky Derby horses before post, ridden to the top of Mount Washington with Travis Pastrana and landed on an aircraft carrier with Dale Earnhardt Jr.
Nationwide: Waiting for Charlotte
Team Penske continues to plumb open-wheel for part-time Nationwide road racers, with versatile Canadian Alex Tagliani set to drive the No. 22 Ford at Road America on June 21 and at Mid-Ohio Sports Car Course on Aug. 16.
Tagliani, a former Indianapolis 500 pole winner, has four career Nationwide starts. He started and finished second -- after leading 11 laps -- for Penske at the inaugural series race at his home track of Circuit Gilles Villeneuve in Montreal in 2011.
Jacques Villeneuve had a top-5 and two top-10s in the No. 22 Ford in 2012.
Camping World: Kyle Busch rolls

Busch
While moonlighting Sprint Cup driver Kyle Busch demolished the field that wasn't demolished by a series of wrecks on Friday night, series regular Matt Crafton finished second to reclaim the points lead.
Crafton, the defending series champion, vaulted two spots, over Timothy Peters and Johnny Sauter, to assume the top spot after three races. Crafton put himself in position by winning at Martinsville in March in the second race of the season, which matched his win total from 2013.
Peters finished 14th, nine laps down, dropping to second in the standings. Sauter was caught in an early accident and lasted just 85 laps, finishing 21st and dropping to fifth overall in points.
Crafton admitted Busch pushed and annoyed him in the waning laps, so the veteran might get honorary extra credit. Busch won the pole and led 104 of 167 laps.
"Crafton, we're good buddies … I'm really, really mad at him right now, but I'll get over it," Busch said. "He just raced me really hard, just trying to keep second. [I was] trying to go after the win, trying to pass the Chevy [of fourth-place finisher Austin Dillon]. Once he kind of saw he couldn't get there and I got next to him, he let me by that time."