Sprint Cup: McMurray Stars At Charlotte
Sprint Cup: Another wow moment for Ganassi
Scott Dixon once snickered that he deserved a trophy for becoming Chip Ganassi's longest-tenured driver. It was those other trophies, three for IndyCar championships and the Borg-Warner for claiming an Indianapolis 500 victory since 2002, that helped build job security with a team owner who in the past has often made sweeping lineup changes trying to stoke his open-wheel, sports car and NASCAR teams.
Jamie McMurray also began racing with Ganassi in 2002, having logged nine seasons years with him -- abbreviated by a lucrative but unfulfilling four-year junket with Roush Fenway Racing. McMurray has never finished higher than 11th in the Sprint Cup driver standings, but he has a talent for creating scrapbook moments. That has value, too. But it's not all they value about the relationship.
And it makes for nice meetings in Victory Lane.
On Saturday, the former Daytona 500 and Brickyard 400 winner added a first win in the Sprint Cup All-Star Race, outdueling Carl Edwards in the final laps to win at the track where he claimed his first Cup win in just his second start in in 2002.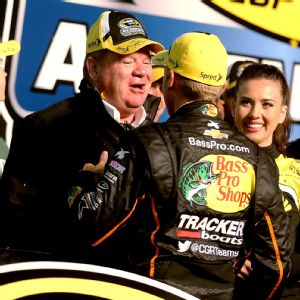 Nick Laham/Getty ImagesChip Ganassi, left, and Jamie McMurray have a penchant for celebrating in Victory Lane at major NASCAR events.
"[McMurray] said to me in Victory Lane tonight, he said, 'We've won a lot of great races together, haven't we?'" Ganassi said. "I said, 'Yes, we have.' You know, it was kind of special for him to think of that, as well, because he's that kind of guy. He understands what it takes to be in this sport and be a driver."
McMurray's relationship with Ganassi has changed since he returned to the organization in 2010, he said. Certainly, becoming just the third driver to win NASCAR's most storied race and the Brickyard 400 in his return season with Ganassi set them positively back on their way. Making Ganassi the first owner to win both the Daytona 500, Brickyard 400 and Indianapolis 500 in the same season didn't hurt either. But the relationship between the often brusque car owner and the sometimes wistful driver with a propensity for tears in sentimental moments has evolved to a point where good feelings last beyond the last pose and hoist of a trophy.
"Since I came back in 2010 Chip is one of my best friends," McMurray said. "When we talk during the week on the phone, we talk a little bit about racing, but we talk more about families and anything but racing. I was so excited that he was here tonight. He showed up, came over after qualifying and I was really upset with myself after qualifying, didn't feel like I did a good job, didn't feel like I was aggressive enough. He came in the hauler, and after the race that's like one of the first things I thought of, was I'm so glad that Chip and [co-owner] Felix [Sabates] are here and I get to share this with them because they were in Daytona, they were in Indy, and when I look back at those races, the memories of Chip being there are really special to me.
"Chip is somewhat unique, I feel like, in racing in general because most car owners have a separate business, and they don't depend on racing to put food on the table, where Chip is all about racing. You know, he did a book a while back of his hundred wins, and I got to be a part of that, and when I look back at some of the memories of my racing career, almost all of them I've experienced with him, and that's really special to me. When I pulled into ... got up on the stage, I gave him a hug, and I'm like, man, we get to have another one of these incredible memories together."
With a win, albeit in an exhibition, there will be optimism that McMurray could, at 37, could finally become the title contender Ganassi Racing has lacked since Sterling Marlin finished third in 2001, Ganassi's first season in the series. Although 24th in points, McMurray has been greatly impacted by catastrophic finishes. He crashed at Bristol and last week at Kansas, which relegated him to 38th- and 39th-place finishes, respectively, and he had a devastating 42nd-place finish at Martinsville after qualifying ninth. His win Saturday was worth $1 million, but a points win would likely be worth a spot in the Chase for the Sprint Cup under a new NASCAR points system.
"When I look at our year, we've been like one of the better cars at a lot of races at certain points in the race, and it just seems like every race this season that we've had a car really capable of running well," McMurray said. "Bristol, we were running fifth and [Kevin] Harvick blew that oil line in front of us. Last week, we blew a tire out. It seemed like every time we had a good car something would happen.
"That's really frustrating and that gets your confidence down. But I texted [crew chief] Keith [Rodden] last week, and I'm like, keep your head up ... our cars are really fast, and that's the hardest part of our sport is to have fast cars. Good luck, bad luck, that happens, but if your cars are slow, that's hard to fix in a short amount of time, and we've had awesome cars."
And he took full advantage Saturday in bringing Ganassi another signature moment. And in eliciting the praise not easily given.
"[Professional sports] can be trying at times, and in the ups and downs and the mental side of the sport can be very difficult, and I think Jamie has shown great resilience over the years to hang in there and perform at a high level when the opportunity presents itself, and he did that here tonight," Ganassi said. "I'm sure that that obviously ingratiates Jamie in the mind of a lot of people, and his future is bright, I can assure you."
Contributor, espnW.com
Brant James has covered the Daytona 500, Indianapolis 500, a World Series and Stanley Cup for the big hometown daily, an NCAA tournament and a Super Bowl. He's walked to the paddock with Kentucky Derby horses before post, ridden to the top of Mount Washington with Travis Pastrana and landed on an aircraft carrier with Dale Earnhardt Jr.
Nationwide: Hornish rocks Iowa

Hornish
It's been an informative season of semi-employment for Sam Hornish Jr. He's learned the value of time spent and memories shared with three young children after missing too many the previous years becoming a title-contending driver. And he's learned that given the right opportunity, he can still do the job.
The former Indianapolis 500 winner turned NASCAR journeyman won his third career Nationwide Series race on Sunday at Iowa Speedway, leading 167 of 250 laps and perhaps inserting himself into some team's plans for 2015 in Nationwide or Sprint Cup. Perhaps that could include Joe Gibbs Racing, for whom Hornish won his first race in just his second of seven scheduled starts in a No. 54 Toyota normally campaigned by Kyle Busch.
Hornish lost his ride with Team Penske after last season despite finishing second in points to Austin Dillon. Hornish is making a strong case for another chance, winning the pole and finishing fifth at Talladega Superspeedway before breaking through Sunday.
"I feel like I should have one," he said of a full-time ride. "But it's not always about what I want, not particularly about what teams want. Timing is a big thing."
JGR vice president of Nationwide operations Steve DeSouza said the organization would like to expand what has been a mutually beneficial relationship. The team fields three full-time Nationwide cars, with Elliott Sadler second in driver points, the No. 54 Toyota leading in owner points and multiple drivers -- led by Cup regular Matt Kenseth -- splitting the No. 20.
"Our job for Sam is to help him win races, and if those opportunities present themselves for him to go full time, then great, we've accomplished that," DeSouza said. "Even better if we can put him in something we have. That would be our dream."
Camping World: No catching Kyle

Busch
Kyle Busch keeps bumming out Matt Crafton. But Busch continues not to care.
Busch led practice, qualifications and 130 of 134 laps on Friday to oppress his opponents at Charlotte Motor Speedway. Busch edged Crafton, the defending series champion, by .0201 seconds. Fellow Sprint Cup driver Brad Keselowski finished third.
"It's real frustrating to finish second to him two weeks in a row. It just sucks," Crafton said, referring to Busch's win at Kansas Speedway. "Whatever they've got figured out, they've got it right, right now."
Busch, who has won 38 of his 118 Truck series starts, including all three this season and four consecutively at Charlotte, defended his right to thoroughly demoralize the championship contenders of NASCAR's third-tier developmental series.
"I want to win. I want trophies," he said. "When I've got a good truck, why would I want to finish second?"
Keselowski quipped: "It would have been a great race if Kyle wasn't here."
That might happen next year with NASCAR considering a limit on the amount of underseries races Cup drivers could enter. If Busch, the all-time Nationwide wins leader who amassed a series-high 13 last season, doesn't get to hoard as many trophies, at least he can console himself with providing the unofficial name for what will be undoubtedly be in spirit "The Kyle Busch Rule."