Sprint Cup: Back-To-Back Wins For JJ
Sprint Cup: Let the 48 team domination begin
Here we go again, full throttle, wide open, on Jimmie Johnson.
Not just his getting on another roll, but all the baggage -- nitpicking, criticism, resentment and suspicion -- that comes with it.
This time, he and crew chief Chad Knaus asked for it. Talk about red meat for their detractors. They threw a 2-pound porterhouse onto the fire Sunday.
No sooner had Johnson taken the checkered flag at Dover, for his second straight win, than Knaus, on the radio, got it started.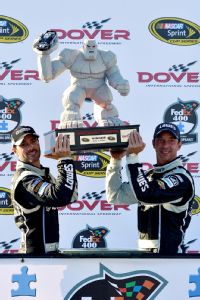 Drew Hallowell/Getty ImagesJimmie Johnson and Chad Knaus did the heavy lifting again Sunday at Dover.
"I told you you were gonna like that race car, didn't I?" Knaus said. "Told you last week."
Then, in Victory Lane, Johnson told Fox reporters that "We've got a new-generation car that Chad just had a lot of faith in, put a lot of time and effort into. He told me I'd love the car, and sure enough, we unloaded and got on the track and it was right."
Then, after TV signed off, the pair's in-depth interviews with reporters at the track added several more oversize roll-aboards to the baggage.
"Going into the 600 last weekend, I told Jimmie we were taking his favorite race car to [Charlotte], and I told him his new favorite car was going to Dover the following week, and I told him his next favorite car was going to be going to Indianapolis [in July]," Knaus said. "So far I'm doing pretty good, and hopefully we can keep it true."
Indy, this far out? That's like calling a Ruthian shot nearly two months in advance. But first, "definitely looking forward to getting to Pocono," Knaus said of this week's task at hand.
Johnson and Knaus were just being honest, credit them for that. But maybe they should consider just who they are and just how they're resented and criticized. (Or maybe they just don't care anymore.)
Anyway, here we go again, same song, new verse, from the throngs of detractors who'll claim Johnson is just riding a missile handed to him by Knaus … that Knaus' technology is, er, uh, hrrmph, suspect … that all that Hendrick Motorsports money and all those engineers and micrometers and robotic machines and seven-post-shaker simulators are what have added up to six championships and this run toward a seventh.
(Oh, and this new-generation car within the Hendrick compound is sure to pique the curiosity and close scrutiny of the NASCAR inspectors every week -- yet another verse in the same song about the 48 team.)
This new Knaus creation seems to have something to do with taking advantage of NASCAR's removal of ride-height restrictions. Ride height was long one of Knaus' favorite areas for high-tech tinkering, and "the advantages we had last year were minimized with these new rules," he said Sunday.
You have to have seen just how hard, how long, Knaus works to produce those rocket ships. You have to know how hard, how much, Johnson trains physically, and how deep his dirt-racing background runs, to give him all that car control.
Only then can you understand this: They win because they want it more.
Oh, while we're at it, let's get as nitpicky as one of those celebrity gossip shows and treat Johnson's offseason hernia surgery as if it were as big a deal as Peyton Manning's neck surgery a couple of years ago, and act as if Johnson was keeping some humongous secret.
"Any other 'non-secrets' you should definitely tell us about like the hernia stuff?" he was asked.
"When did you have your teeth cleaned?" Johnson countered.
So here we go again. Another stretch of 48 domination on the horizon, another load of baggage Knaus can provide the cars to haul, and that won't hinder Johnson's car control.
And this time it's for a record-tying seventh title, to join Richard Petty and Dale Earnhardt.
Let the howling begin.
SportsCenter: Johnson Tames Monster Mile
Nationwide: Cleaning up dirty air
NASCAR has a chronic, apparently incurable condition that flares up some places worse than others. It saps the energy out of competition. Its most common symptom is single-file racing without much if any passing.

Busch
It's called "dirty air," and the Nationwide tour ran into a debilitating outbreak of it Saturday at Dover. Sometimes diagnosed specifically as "aero push," it seemed to manifest as aero loose, as well -- just aero everything, really.
It was so bad that Kyle Busch, even in a fitfully loose car that would loosen up even worse when he ran up on lapped traffic, was able to win anyway.
That's because the drivers behind him were in a lot worse shape.
This was not a matter of a driver or two whining here and there. This was pandemic, by consensus. Listen to the runners-up, in order, as they spoke to ESPN reporters afterward.
Trevor Bayne, second, Ford: "These restarts, you just had to treat 'em like they were green-white-checkered because once you got in line, that's kind of where you ran. It was just so tough to pass. ... There were times when I'd run [Busch] down and get within reach, and then I'd get tight."
Joey Logano, third, Ford: "I felt like if I'd had clean air I would have won the race ... whoever got out front would have won the race."
Matt Kenseth, fourth, Toyota, after being caught on camera angrily taking off his helmet and gloves and then exchanging words with Logano: "We were just talking about how tough it was to pass. Wherever you put a car in front of another one, that was about where you were going to run."
Chase Elliott, fifth, Chevrolet, after jumping out to an easy lead at the start, then dropping back on an early pit stop and never quite recovering: "I didn't think our car was as good at the beginning of the race as it was later. But the difference was, we had clean air [at the start]. It's so hard to pass."
Now hear Busch, the beneficiary of a JGR Toyota crew that was just better at getting him out of the pits in front.
"The last 30-40 laps there, I was just holding on, trying to hold those guys at bay. Man, lapped traffic was kind of tough -- just the way they'd loosen up your car when you got to them."
Maybe that's why Busch wasn't all up in the air about the potential for a Dover sweep Sunday after winning Friday's Trucks race and Saturday in Nationwide. He had won in an iffy car, in mostly clean air, while all behind him fought the turbulence and lost.
Camping World: Rowdy's protégé
Kyle Busch seems to get the public weariness with his relentless winning in Trucks, 4-0 this season. So, rather than taking more candy from babies, he's going to put a baby in his truck.
After yet another dominant win Friday, leading 150 of the 200 laps at Dover, Busch announced another significance of the day, and addressed "my little buddy" from Victory Lane.
"Happy 18th birthday to Erik Jones," Busch told Fox reporters. "He's in five of the next six [Truck races], I think -- so everybody can get rid of Kyle Busch."
There were times Busch got shuffled back in the pack, but, after coming out of the pits first under caution with 64 laps left, he was never headed. Ryan Blaney finished second, more than two seconds behind, and Johnny Sauter was third.
Busch's only real competition disappeared when Matt Crafton, running second, smacked the wall when a tire let go with 44 to go.
Jones, of Byron, Michigan, has won the prestigious Snowball Derby for late models in Pensacola, Florida, the past two years running, but because of NASCAR age restrictions has run only one Truck race for Busch, at half-mile Martinsville, Virginia.
He's a similar story to Chase Elliott, finishing high school this spring. And like Elliott, now that he's 18, Jones will be allowed to compete on NASCAR's bigger, faster tracks.
Busch's No. 51 truck, with a crew led by Eric Phillips, is the best outfit on the Trucks tour, so the candy gobbling might continue even with the baby in the seat.
But at least Busch's detractors will get some relief from that Vegas stage bow this summer. Rowdy understands.