Sprint Cup: Dale Jr. Prevails At Pocono
Sprint Cup: BK's trash is Earnhardt's treasure
It wasn't as simple as the hot dog wrapper. Trash happens.
And Dale Earnhardt Jr.'s win wasn't nearly the gift it might appear at first glance.
"You gotta be there, and we were," Earnhardt told TV reporters in Victory Lane at Pocono on Sunday. "Somebody had an issue, and we capitalized."
For this win to fall into his lap, he had to be sitting right there, very close by.
And besides, Brad Keselowski might have freed his grille of the wrapper that cost him the race. His move just didn't work out.
Many a hot dog wrapper has stifled many an engine in NASCAR, down through the decades, so you really can't call this a heartbreaker for Keselowski after he'd led 95 of the 160 laps and Earnhardt had led only 11, including the last four.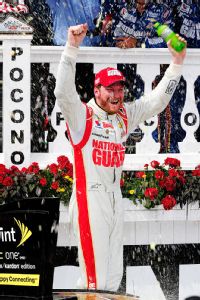 Jeff Curry/Getty ImagesDale Earnhardt Jr. won more than one Cup race in the same season for the first time since 2004.
Feeling and hearing his engine in a death rattle due to overheating, "I tried to make a move to get behind the 10 [the lapped car of Danica Patrick] and use the air to pull the debris off," Keselowski said on TV. "And when she went into the corner, she got loose and I just chased her up there and lost too much momentum."
Before that, "I couldn't get to him," Earnhardt said.
Regardless, a movie title nails the closing laps of the race: "It's Complicated."
In his postrace interview with reporters at the track, Keselowski wouldn't even buy the bromide that the best car doesn't always win the race.
"I thought we were pretty equal," he said of his Ford and Earnhardt's Chevrolet. "I thought there were five or six cars that were really equal, the 4, the 14 [Kevin Harvick and Tony Stewart, who fell back with issues], the 41 [Kurt Busch, who finished third behind Keselowski], the 88 [Earnhardt] and us.
"I thought it was kind of a lottery draw as to whoever had the clean air was going to win it," Keselowski said. "And Dale, once he got up front, he was a little better than I was in the clean air."
For a moment for Keselowski, the clean air had gotten dirty with the hot dog wrapper. Earnhardt picked up some sort of debris on his grille, too, but it was smaller than what had stifled Keselowski's engine.
What's more, even if Keselowski hadn't broken his momentum, "I think I was going to get passed [by Earnhardt] because I was really down on power down the straightaway."
So Earnhardt didn't steal it. He was just there to catch it when it slipped from Keselowski's fingertips.
"I've lost some in some strange ways," Earnhardt said. "So it feels good to win one like that."
Keselowski has a rap with his detractors for blaming other drivers in wrecks, but say this for him: When he loses races, he blames himself.
His team had "good execution today on probably all ends but mine," he said. "I feel like this one is kind of on me and the circumstances."
Nah. Nothing on him. Trash happens. And it's complicated.
Camping World: Winning on fumes
If you gotta run out of gas on a racetrack, what better time than during your victory burnout?
That way, Matt Crafton added just a few extra yards to his ecstatic sprint across Texas Motor Speedway's front stretch to collect his checkered flag from Friday night's Trucks race.

Crafton
You'll forgive the extra thrill that came of bouncing back just a week after he crashed out late with a tire failure while contending for the win at Dover.
"That one hurt last week, and it's good to come back in style," said Crafton's crew chief, Carl "Junior" Joiner, who masterminded a Texas hold 'em-class gamble on fuel that left jaws dropping in other pits.
Joiner said this on Fox Sports 1, whose telecast team had reported just minutes earlier that other crew chiefs reckoned nobody -- NOBODY -- could go the distance on fuel.
With flawless calculation in the pits and a soft right foot on the throttle, Crafton cruised 61 laps after his final fuel stop. His foot went along with this, but his heart didn't.
"My god, that's hard -- to just save, when you have SUCH a fast truck," he said in Victory Lane after leading 118 of the 167 laps.
Joiner never blinked visibly, but admitted he'd winced inside as, one by one, other contenders -- Ryan Blaney, Ron Hornaday Jr., Darrell Wallace Jr., et al. -- dropped onto the pit road for splashes of gas.
"It started to worry me when everybody came down pit road -- you know, you always have your doubts," Joiner said. "But that just gave us that cushion where Matt could save [gas] a little bit more at the end."
All those splashes did was leave the others farther behind. Crafton won by more than 13 seconds over Justin Loftin, who inherited second after the cautious dropped back. Veteran Joe Nemechek, in the process of launching a new Trucks team, used his fuel-saving savvy to finish third.
Nationwide: Michigan madness
After a week off since Kyle Busch dominated at Dover, the Nationwide Series heads to Michigan on Saturday afternoon.
The wide 2-mile Michigan International Speedway gives young stars such as Chase Elliott and Kyle Larson room to roam at very high speeds, with none of the crapshooting of restrictor-plate racing.
So there could be quite a show, with lots of players, after the 2 p.m. ET start.