Sprint Cup: Johnson Soars At Michigan
Sprint Cup: Hendrick horsepower surges to front
It was already evident that Hendrick Motorsports had surged ahead not yet halfway through the Sprint Cup season. But Jimmie Johnson winning his third race in four weeks, giving NASCAR's most successful organization five consecutive wins at the sport's highest level, seemed to emphasize the point, painfully -- painfully for everyone not drawing paychecks or leasing equipment from Hendrick on Sunday at Michigan International Speedway.
Not only had Hendrick's in-house stable won at least five straight for the third time since 2007, but six of the top eight finishers at Michigan used Hendrick engines.
Certainly, the unaffiliated were behind in terms of horsepower. But Brad Keselowski, who had finished second twice and third on Sunday to Hendrick drivers the past three weeks, put a figure on it. Maybe it's accurate. Maybe it's in the neighborhood. But even if it's off drastically, it was the assessment of a former series champion toiling each week for a resourceful Team Penske outfit to keep up on tracks where brute power matters. And the number was jarring.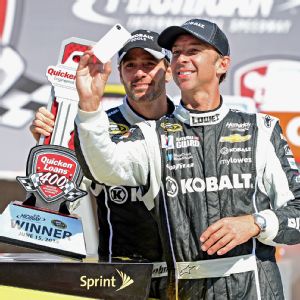 Patrick Smith/Getty ImagesJimmie Johnson and Chad Knaus have given Rick Hendrick three wins in the past four Cup races.
"It's pretty obvious that the Hendrick engines are way ahead of everyone else," he said. "Usually that's not something you catch up with in one season. As far ahead as they are right now, they're probably a full season ahead of everyone."
A full season. So, time to phase into 2015 research and development?
Keselowski was quick to assert that Penske could contend for a championship with gains the rest of this regular season because of its status "kind of just maybe a half a nose behind the Hendrick cars or Hendrick-powered cars" and because his team's cars are better "when it comes to balance to the track."
And with a new elimination-style playoff format, the unexpected is expected in terms of results. But the likely contenders have identified themselves, Keselowski said, and with few breakthroughs likely to be made in this development cycle, "I think what you're seeing right now is probably the top five or 10 is what it's going to be when it comes down to money time in the Chase."
That could be encouraging, sort of, to the non-Hendrick faction, given that every other team has 11 regular-season races in which to improve before the race to the Sprint Cup. Maybe there is an advance to be made in aerodynamics or some other area to narrow the gap, although Keselowski doubts there are big opportunities. With three of its four drivers already qualified for the Chase -- two of those with multiple wins -- Hendrick-powered two-time winner Kevin Harvick and Martinsville winner Kurt Busch at Stewart-Haas in the fold, and Chip Ganassi Racing's contingent threatening, HMS is no stationary target.
Johnson, the defending series champion, began the season behind in development to Harvick, according to Johnson's crew chief Chad Knaus, as winning a sixth title so consumed the team's time last season that preparation for new aerodynamic packages was stunted. There is still room to improve, Knaus said, citing Dale Earnhardt Jr.'s hot dog wrapper-aided win at Pocono and briefly understating Johnson's victory Sunday.
"The teams that have run with our engines have run very, very well as well. It's been pretty awesome, and I couldn't be prouder of the guys in the [Johnson/Earnhardt] shop to be able to win four races in a row," Knaus said. "I think that speaks volumes about how well both of our race cars are running out of that one team, out of that one building. The fact of the matter is I think we've got to be a little bit better. Last week, we were a whisker away from losing that one. This weekend, maybe we were one pit call away from not winning this one. We've got to continue to improve our product so by the time we get to the Chase we're where we need to be."
Johnson, diplomatic, still deems Harvick -- who finished second Sunday, leading a race-high 63 laps -- as the benchmark of consistency and speed. And he's not about to dissect in which areas his team has gained an advantage.
"I'm not smart enough to tell you whether it's aero or motor. I just know our cars are fast," he said. "They run good. It's hard to say.
"The cars are all pretty equal aero-wise with what the rules are from NASCAR. But I'm not good enough to pick it out and tell you that we've got people beat in just one area."
Rick Hendrick, even more diplomatic in straddling his roles as juggernaut team owner and wildly successful business man, let the understatement of the season sum it all up.
"I think we were a little off early in the year," he said, "and we've been kind of clicking here lately."
Contributor, espnW.com
Brant James has covered the Daytona 500, Indianapolis 500, a World Series and Stanley Cup for the big hometown daily, an NCAA tournament and a Super Bowl. He's walked to the paddock with Kentucky Derby horses before post, ridden to the top of Mount Washington with Travis Pastrana and landed on an aircraft carrier with Dale Earnhardt Jr.
Nationwide: Opportunity knocking

Smith
So here Regan Smith is again. Another chance to deliver or wither through the summer in the Nationwide Series.
In finishing seventh and one place behind rookie teammate Chase Elliott on Saturday at Michigan International Speedway, the former Sprint Cup journeyman -- who finished third in NASCAR's top developmental series last year with JR Motorsports -- increased his points lead from four to 14 points over Elliott Sadler after 14 races.
Elliott remains third, but he decreased his deficit from 22 to 20 points after finishing one place ahead of Smith and gaining a point for leading twice for six laps.
Paul Menard won the race.
Leading is nothing new for Smith. He paced the Nationwide standings last year from the eighth race of the season at Talladega until the 17th at Loudon before being overtaken by eventual series runner-up Sam Hornish Jr. Smith left Michigan with a 51-point lead after winning there last June but immediately lost 23 points off the margin with a devastating 32nd-place finish at Road America, the site of next week's race.
The good news for Smith is that the points catastrophe wasn't his fault or a result of poor skills on the 4-mile road course, but of being in the wrong place at the wrong time, collected in an incident involving Parker Kligerman and Owen Kelly. And it's unlikely he would again follow his worst result of the season with something as uncharacteristic as a 30th-place finish at Kentucky.
Smith left Kentucky last season with just an eight-point advantage and withered in the late season after losing the lead, eventually finishing 72 points behind champion Austin Dillon.
If Smith pushes through the difficult Elkhart Lake-Kentucky gauntlet this time, a first NASCAR championship is within reach.
Camping World: Wallace wins again
Wallace
Kyle Busch did not win the Truck series race on Saturday. But then again, he did.
Darrell Wallace Jr. matched his rookie-season win total and teammate Erik Jones battled for the lead in the waning laps before crashing back to 23rd as NASCAR returned to Gateway Motorsports Park.
The 20-year-old led a race-high three times for 85 laps, assuming the front spot permanently on Lap 158 of 160 to claim victory for Kyle Busch Motorsports.
The win was the 30th in the series for Truck chief Chris Showalter, who has never missed a series race dating to its 1995 debut at Phoenix.
Busch has won all four Truck races he has entered this season.
"That was wild at the end. Erik and I were so fast all race," Wallace said. "Kyle was not in the race tonight, but he dominated all race."