SportsCenter: Junior aiming for Daytona sweep
Sprint Cup: Hendrick shows dominance
NASCAR's revised championship format, which almost guarantees a place in the 16-driver Chase for the Sprint Cup for race winners, made road course specialists focus even harder than usual on the Toyota Save-Mart 350.
Yet, as so often happens, a driver not perceived as a road racing ace ended up prevailing at Sonoma Raceway as Carl Edwards scored a much-needed victory for Roush Fenway Racing. It was Edwards' first victory in 22 Sprint Cup Series road course starts.
As for the road course specialists? AJ Allmendinger qualified on the front row for JTG Daugherty Racing and led 35 of the 110 laps, but he ended up on the wrong side of a collision with Dale Earnhardt Jr. and wound up 35th. Marcos Ambrose finally found his way to the front after starting 23rd, but he immediately lost the lead to Edwards on a Lap 85 restart and faded to eighth place at the checkered flag in a Richard Petty Motorsports Ford that trailed off badly over a long green-flag run.
Although Edwards' second win of the 2014 season and the plight of the road racers were the two main storylines from Sonoma, the underlying theme of the weekend was the continued strength of Hendrick Motorsports on any kind of track.
Sprint Cup championship points leader Jeff Gordon finished a close and charging second to Edwards. Afterward, Gordon said he believed he would have won had he not made a costly mistake at Turn 4, blunting his momentum with four laps remaining.
Earnhardt, who had never achieved a top-10 finish at Sonoma, was right on Gordon's rear bumper at the finish, and Kasey Kahne worked through the field after a disappointing qualifying that left him 30th on the grid to claim sixth place, one spot ahead of six-time Cup champion Jimmie Johnson.
Hendrick might not have won Sonoma, but, with four cars in the top seven, the team had plenty to be proud of. Gordon believes that Hendrick's consistent strength at every kind of circuit, rather than emphasis on one type of track (such as the 1.5-mile intermediate speedways that make up half the 10-race Chase) will make the team a serious championship threat.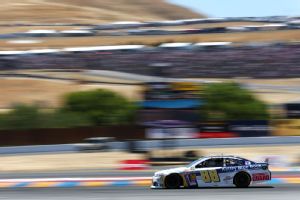 Tom Pennington/Getty ImagesHendrick Motorsports placed four drivers in the top seven at Sonoma, including Dale Earnhardt Jr.'s third-place finish -- his best-ever at Sonoma.
"It's certainly the most consistent, in terms of great cars that I've had going week in and week out, to have cars that are capable of either winning or running up front," Gordon said after the race. "I'm very confident in what I'm getting behind the wheel of every weekend, and that just is because of all the hard work that's going on at Hendrick and all the data and work that everybody behind the scenes is doing, as well as Alan [Gustafson, his crew chief] and our engineers.
"I'm just working really well with them, clicking with them," he added. "The cars are just really, really good, and that's making a lot of fun for me."
The fact that Earnhardt ran in the top 10 almost all day at what was statistically one of his worst tracks demonstrated the sweet handling of the Hendrick cars on the undulating Sonoma layout. Earnhardt threw his Chevrolet around with abandon, hopping curbs and shaving apexes to mix it up with much more experienced road racers.
Earnhardt gave a lot of credit to his crew chief, Steve Letarte, who adopted a relaxed approach to the weekend. The No. 88 team skipped a test session at Sonoma and did very little development work at other road courses where NASCAR teams routinely test, such as Road Atlanta and Virginia International Raceway.
"We sort of relied on our teammates a little bit that tested, and all that helped the most -- really leaning on Jeff and those guys, kind of leaning on that and just trusting what we were seeing in the data," Earnhardt said.
"It really gave us a bit of a better attitude when we got here, and I think that helped us be more productive on Friday. That's really important during those two practices to get everything you can, and if I get frustrated, Steve gets frustrated, and we just don't really figure anything out. We stayed calm, and I felt like we put a good car on the racetrack today."
Letarte's masterstroke Sunday was calling Earnhardt in for fresh tires during the final caution of the race on Lap 93. That gave his driver Goodyear rubber that was at least 12 laps fresher than most of his competitors' tires, and Junior put it to good use, carving up to third place in the final 20 laps.
"I told Steve I think I figured out the trick to being a really, really good crew chief is to call the season like it's your last, because his strategy is aggressive and a little bit out of the box," Earnhardt said with a smile of his retiring crew chief. "That pays off in most cases because if you do everything everybody else is doing, you're racing a lot more people trying to do everything else they're doing. So when you do something different and get off the pattern pitwise, get off the strategy and stuff, it allows you to be a lot more aggressive.
"Aside from holding a trophy, this is like a win for us," he added. "I've been in the top 10 in a lot of these races with two or three laps to go, but we've just never been able to finish. So to be clear of the mess and just have an advantage with the tires at the end, there was a lot of confidence, and knowing we were going to be able to wrap it up felt really good."
The two road races and the three restrictor-plate races were expected to offer drivers the biggest opportunity for a wild-card entry into the Chase, but three of those five events haven't produced any surprise winners. That makes Saturday's 400-mile Daytona night race and the Aug. 10 road racing tilt at Watkins Glen "last chance" opportunities in a way.
"We fought hard, led some laps and got ourselves into position at the end, but that's all we had," said Ambrose, a two-time winner at Watkins Glen who will need a race win to make the Chase unless he makes up a lot of ground from his current 21st place in the standings.
"I was just hanging on at the end. I burned the rear tires up and the front tires up, and we just didn't have enough for them. We came here with a commitment to try to look after our tires and had a package that wasn't necessarily the fastest, but we thought might have kept our tires better than the rest.
"It didn't quite work out that way."
Autos, Open-Wheel
Motorsports Writer for ESPN.com
Covered Indy car racing for 20 years
Work published in 12 countries
Nationwide: Gaughan's wait over

Gaughan
Much of the focus before rare NASCAR road races such as the Nationwide Series' Gardner Denver 200 at Road America usually centers on road course ringers or "Buschwhackers" from the Sprint Cup Series.
That made NASCAR Nationwide Series regular Brendan Gaughan's victory in the rain-afflicted 53-lap road race even more satisfying.
With the Cup stars competing nearly 2,000 miles away at Sonoma Raceway on the same weekend, only Landon Cassill and J.J. Yeley attempted the double, and neither was a factor.
Indy car veteran Alex Tagliani, brought in for the event by Team Penske, nearly stole the show. The French Canadian led more than half the race but ran out of fuel on the 49th of 50 scheduled laps. Quickly thrust back into the fray, Tagliani came from the back of the field in 23rd place over the course of two laps to ultimately trail Gaughan home in second place by 0.82 seconds in a green-white-checkered finish.
Although Tagliani crossed the line second, the battle for the win came down to a pair of Nationwide Series regulars: Gaughan, a 38-year-old journeyman who was chasing his first Nationwide race win in 98 starts, and Chase Elliott, the teenage son of NASCAR icon Bill Elliott who has taken the Nationwide circuit by storm this season.
Elliott seized the lead from Gaughan on the crucial restart for the sprint to the finish, but he was able to hold it for only three corners before he slid wide and allowed Gaughan back out front. From there, Gaughan held the lead to the finish to win one for the old guard.
The third wet race in NASCAR history was made even more difficult for Gaughan by a nonfunctioning windshield wiper. His vision was helped by the fact that the track dried in the closing laps.
All that came after a Lap 4 off-course excursion that required Gaughan to go off strategy to pit to have grass removed from his Chevrolet's grille.
"We were the first one on our strategy, but I believe I forced our strategy," Gaughan remarked. "We were fast on strategy everybody else ran, and I screwed up. We were fast when we were running our second strategy, and I screwed up. Then we were fast on our third strategy, and I finally didn't screw up.
"It's fun to watch guys who haven't done it in the rain," he added. "They don't understand the rain line, and fortunately for me, I did. Winning, after not winning for a while, was special for me."
Gaughan's last victory came in a NASCAR Truck Series race at Milwaukee in 2003. Elliott, meanwhile, has already reached Victory Lane twice in his rookie Nationwide season.
The 18-year-old might be competing for the Nationwide championship now -- he ranks third, 11 points behind Regan Smith, who finished 13th at Road America -- but it's a foregone conclusion that his time in the developmental series will be brief.
Elliott was not especially happy after finishing fourth.
"A long day, really," he said. "To race in the rain was a handful. I think anybody will tell you that. We were fortunate just to be there in the top five at the end, much less have a shot at the win. I probably chose too much on the conservative route those last couple of laps."
Camping World: Trucks to Kentucky

Sauter
The NASCAR Camping World Truck Series had the weekend off. Action resumes at the UNOH 225 at Kentucky Speedway on June 26.
Johnny Sauter leads Matt Crafton by 10 points after seven of 22 races. Ron Hornaday Jr., Timothy Peters and Ryan Blaney round out the top five.