Brad Keselowski A Cut Above At Kentucky
Sprint Cup: Love him or hate him, we know BK
The thing about Brad Keselowski is, we know him. Good, bad, angry, mischievous, sore loser, good loser, flawless effort, or flawed ... magnanimous or petty ... ebullient or somber ...
He is what he is, take him or leave him, love him or hate him or just be neutrally amused by him. We know him.
To put him in a nutshell, he is the guy who should have dominated the Nationwide race Friday night but lost with one momentary mistake, speeding on the pit road ... and the guy who did dominate, and did win, the Cup race at Kentucky on Saturday night ...
... And then lacerated his hand on a broken champagne bottle in Victory Lane, playing as usual, and had to go get four stitches in the infield care center before he could show up for the in-depth interview with reporters at the track.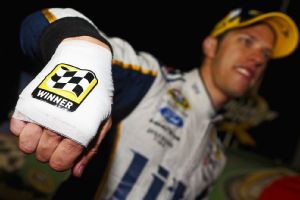 Sean Gardner/Getty ImagesBrad Keselowski's bandaged right hand told the story Saturday night at Kentucky Speedway.
That is all just SO Brad.
The same one who made ESPN and NASCAR history when, on the night he won the Cup in 2012, appeared on "SportsCenter," live, tipsy. The truth serum branded Miller Lite made him the most candid Cup winner ever, on the spot, and got in return the damnedest endorsement any sponsor ever got from a driver.
"Brad," my son told his girlfriend just recently, "would fit right in at Nana's." That's their favorite watering hole.
"Absolutely!" she replied.
They have never met him face-to-face. They are young. I am old. You probably are somewhere in the middle. But we all feel like we know him. He wears his whole self on his sleeve. Political correctness only rarely and mildly afflicts him.
I have covered Jeff Gordon and Jimmie Johnson since their rookie years. I can't say I really know either. I'm not sure anybody does, outside their families. They are typical of today's generation of drivers -- too cloistered, too coached by handlers, too corporate-conscious, too managed, too staged.
I think I know Tony Stewart pretty well, having spent more time with him than with any other of today's drivers. But of course there are two Tonys, sometimes three, and so my understanding of him is fragmented.
Dale Earnhardt Jr. I feel I know, because I've been around him off and on since he was 5 years old, and in our one-on-one times he has told me private things, just between us, because he knows I know how his daddy was.
Back before his daddy was the Intimidator, I got to know Dale Earnhardt really well, and we were closer than any sports figure and sports journalist should have been, not objective enough -- once, after he'd lost a Daytona 500, he introduced me to someone in the Wrangler hauler as "a sports writer, but really he's more family than anything else."
And that's why, when we fell out, it was deep and it was forever. Nobody falls out worse, harder, than good friends do.
But back when he could go out in public, a bunch of us were sitting in a wonderful old joint, long gone now, in Daytona Beach called the Boar's Head. It was a Friday night before the Saturday "Sportsman," now Nationwide, race in February.
"Who's gonna win the race tomorrow?" I asked him.
"Me!" Earnhardt said. "I ain't got enough sense to lose."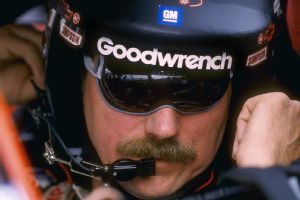 David Taylor/Getty ImagesDale Earnhardt had but one Cup championship by age 30. He won his seventh title in 1994.
That moment flashed back, just now, the moment I read in the transcript of Keselowski's winner's interview from Saturday night's race that he'd kidded that he must have "a concussion" from the beating he took on bumpy Kentucky Speedway, and "bleeding of the hand" from the broken champagne bottle in Victory Lane.
"I don't have enough to lose upstairs to worry about the first one," he told the group, "so the champagne -- I should have stuck to beer."
After that, the transcript reads, parenthetically, "(Laughter)." They don't denote (Laughter) in those transcripts unless it is big laughter -- out loud and en masse.
That's Brad. And that was Dale Earnhardt, before he became a superstar, and became something of a recluse seeking relief from all the public demands.
And then the media at Kentucky heard the somber side: "I turned 30, and I'm going through a bit of a midlife crisis," Keselowski said. "I want to win another championship. I don't want to win just one ... the urgency is now."
When Dale Earnhardt was 30, he had but one championship, and his detractors wrote him off as washed up already.
"Dale Earnhardt will never win another race," wrote one colleague of mine, in Virginia.
"A self-destructive little loser," another colleague, from Atlanta, called Earnhardt, in conversation.
This was in 1981, when Earnhardt, at 30, was foundering, fun-loving, lost and adrift, hell-raising, unfocused, before all that potential was rescued by owner Richard Childress. The rest is more than history -- it is legend, for the ages.
How dare I compare Brad Keselowski to Dale Earnhardt?
I would ask you how you think Earnhardt became legend, far and above what his racing records show. It is because Earnhardt let us into his life, WFO, as he said, for "wide f-----g open." He let us relate to him, identify with him.
Regardless of how he races from here on out, Brad Keselowski's life is WFO.
We knew Earnhardt. We know Brad. Either would fit right in at Nana's. Or any such place, anywhere.
The Rundown: Ol' Kentucky
Nationwide: Harvick gets to Kyle
Just before the final restart, Adam Stevens, crew chief for Kyle Busch, figured enough of a good show was enough.

Harvick
"There's just a little too much excitement in the Nationwide Series tonight," Stevens told ESPN reporters at Kentucky Speedway, just before the green flag flew with five laps left.
The thing was, Stevens and Busch weren't used to having this much competition at the end of a Nationwide race, and even when they did, Busch has been so good on restarts that he usually handled the challenges.
Busch had Kevin Harvick, who'd been pestering him for nearly 50 laps, starting alongside. And right behind Busch, who chose the outside for the restart, was Brad Keselowski, who'd fallen back with a pit road speeding penalty but had flown back through the pack, from 17th to fourth.
Stevens saw what was coming, and sure enough, it got a whole lot worse for the No. 54 team under the final green.
Harvick, after losing two straight restarts to Busch, got it right the third time. He rocketed out front from the inside lane and stayed there, making the win look easy after several duels with Busch earlier.
As Harvick pulled away, Keselowski came up and challenged Busch, and took a second-place finish away from Rowdy.
Although Keselowski had the dominant car most of the evening before a stop-and-go penalty for speeding with 50 laps left, he didn't come up with the usual "ran out of laps" excuse for failing to catch Harvick.
"They were really fast there at the end," Keselowski said of the winning JR Motorsports team. "I wasn't gaining on them. If I'd been able to stay in the lead [without the penalty] I might have been able to use the clean air.
"But he was definitely a little faster at the end."
Harvick, as he is wont to do, had chewed out his crew on the radio for bad stops earlier, but they nailed the final stop and made his car just right.
"In the end we had a good restart," Harvick said in Victory Lane, "and they made the car better there at the end."
Camping World: KBM sweeps
Poor Kyle Busch. He's hungry. He wants more. Bless his heart.

Busch
All he's done is won five of five Trucks races he has entered this season. All his Kyle Busch Motorsports team has done is won nine of its past 12.
But now he's tasted a 1-2 finish by his team, something of an appetizer for KBM to get even more dominant before the competition catches up.
"Proud to see the first KBM 1-2," Busch told Fox reporters in Victory Lane on Thursday night after winning with ease, while teammate Darrell "Bubba" Wallace Jr. fought past Ryan Blaney for second place.
"Bubba fought his butt off there at the end to finish second," Busch said. "I think I was more pumped for having a 1-2 finish than winning, honestly."
Wallace indicated he had virtually no chance of beating his boss at the end, though.
"He knew what he was doing," Wallace said. "He's hard to beat, and he's so good. But I wouldn't want to be with anyone else. Kyle Busch Motorsports is so strong."
Yeah, you might say that.
And it made 10 wins in a row for Toyota.
Blaney, who finished third in a Ford driving for Brad Keselowski's team, summarized both the race and the season when he said, "We still need to find a lot to get Kyle. At the end of the day we're not happy to see that same truck in Victory Lane. We need to beat that, and that'll prove we've really gone to the next step as a whole team."